Planning your honeymoon? Why not spend your honeymoon in Malaysia?
Being a tropical country, Malaysia offers perfect weather all year round, although there is the occasional rain every now and then. Any travel review site about Malaysia will tell you that this country is a wonderful place to visit, especially if you want to shop till you drop, have a relaxing holiday by the beach or at a resort, go on a culinary adventure of some of the most delicious food ever eaten, explore rainforest, caves and all that nature has to offer, experience a mixture of three unique cultures in one country, and many, many more.
Here are six honeymoon destinations in Malaysia, together with the best hotels, resorts and rates. P/S: Rates may differ based on peak and non-peak seasons.
See Also:
Island and beach views
1. Redang Island, Terengganu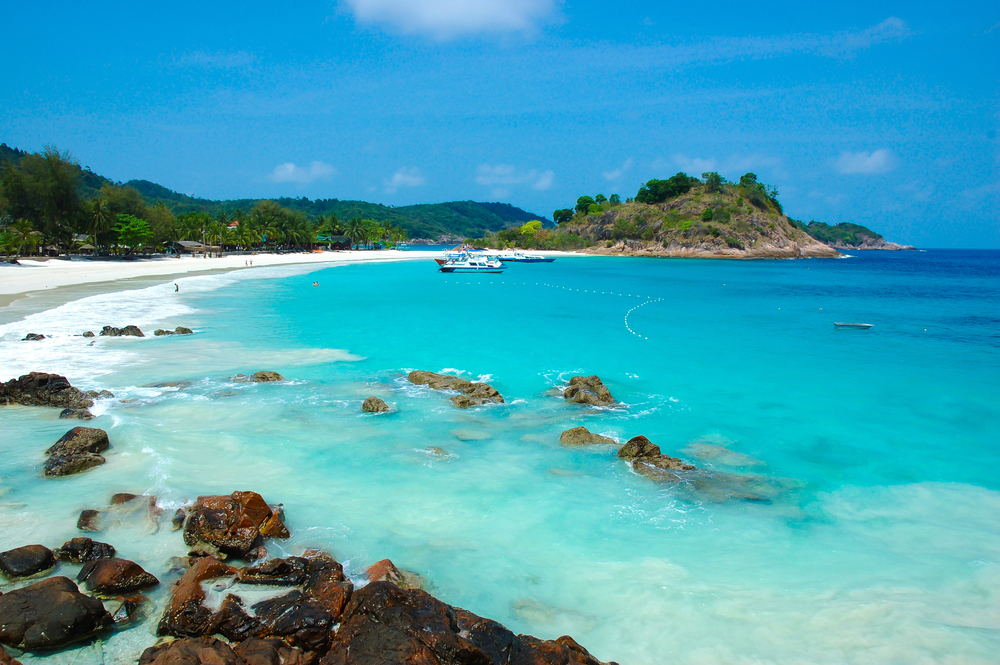 A honeymoon on a beach is paradise, and the beach on Redang is divine! Soft white sand, jungles surrounding the island, corals and fishes visible through the crystal clear turquoise water; Redang Island is definitely a good choice as a honeymoon destination in Malaysia!
The island is one of the largest islands off the east coast of Malaysia and is big on conserving marine life especially sea turtles. In fact, to protect the marine life, jet and water skies are not allowed. Also, a honeymoon on the beach doesn't mean just lying around soaking up the rays. There are a bunch of activities to partake in with your spouse.
Things to do on Redang Island:
• Snorkeling and discover interesting sights through the crystal clear water
• Diving
• Play volleyball on the beach
• Island hopping (there are about nine islands in the archipelago)
• Wind surfing
• Hiking through the jungle
• Kayaking on the shoreline
• Take a romantic stroll on the beach while enjoying the beautiful sunset
Where to stay on Redang Island: Taaras Beach & Spa Resort
This resort is perfect to vacation at for your honeymoon. Located against the backdrop of soft, powder white sand and crystal clear waters, Taaras Beach & Spa Resort is said to be a lovely place to stay at.
Choose from the Garden Deluxe, Hill Deluxe, Garden Suite, Cliff Bay View, Cliff Bay View, Cliff Sea View, Cliff Sea View Twin, Cliff Sea View Premier Suite, Cliff Sea View Premier Twin, Ocean Front Suite, Ocean Front Master Suite and The Taaras Villa.
We suggest you get the Cliff Sea View room which has a walk through closet, a huge bathroom with an oversize monsoon shower, a balcony and a freestanding bathtub overlooking the ocean.
Taaras Beach & Spa Rates: The rates at Taaras start as low as RM490 for a Garden Deluxe, and goes up to RM1580 for a Cliff Premier Twin, Sea View. The Cliff Sea View is priced at RM1080. The prices may vary depending on promotions and holidays.
Take a look at Taaras Beach & Spa Resort on Agoda.
See Also: Holiday at Three Redang Beach Resorts
5. Tanjung Aru, Sabah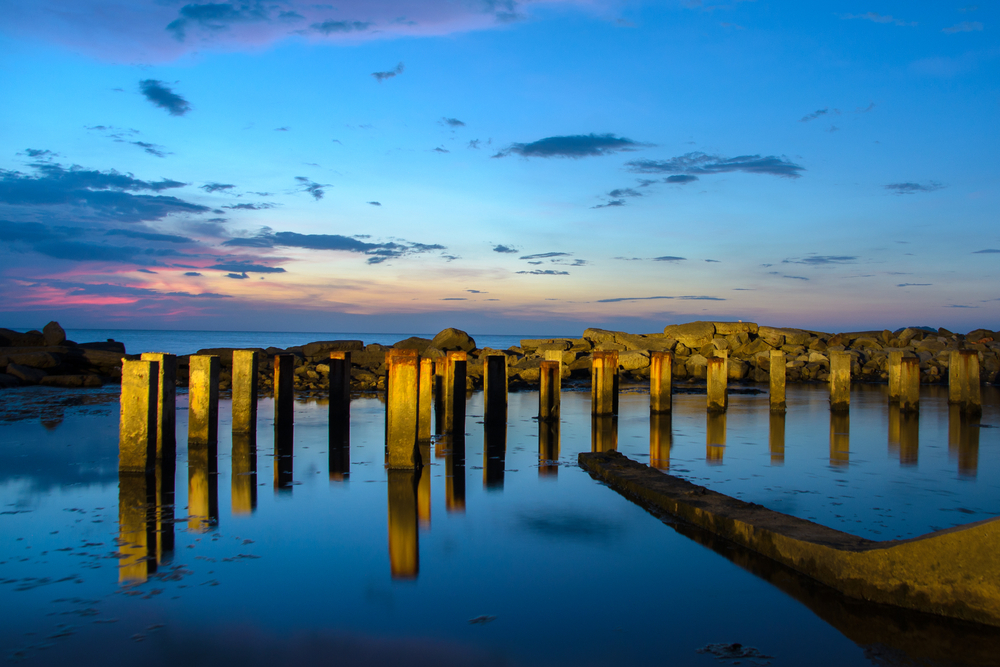 Tanjung Aru is a sub district of Kota Kinabalu in Sabah. The main feature here is the dazzling white beach which is a favourite among couples, especially during sunset. Activities at Tanjung Aru is not as plentiful as other places, but the view and the beach is worth the trip.
Things to do in Tanjung Aru:
• Walk along the shoreline and see if you can spot the famous Sand Bubbler crabs
• Go horse-back riding on the beach front
• Go deep-sea fishing
• Go on a sunset cruise around the offshore islands
• View beautiful coral reefs and marine life through a glass bottomed boat ride
• Trek through the jungle
• Come nightfall, explore the many food stalls and take in some local flavour
• Visit the Kinabalu National Park
Where to stay in Tanjung Aru: Shangri-La's Tanjung Aru Resort and Spa
This Shangri-La is described as a paradise for the senses. The beautiful resort is the perfect tranquil getaway you seek for your honeymoon but it also offers you the chance to partake in exciting activities outside the resort. For those who would rather stay indoors, a visit to the Chi spa is a must to relax your senses.
Shangri-La's Tanjung Aru Resort and Spa has about 492 rooms and suites in two different wings; the Kinabalu Wing and the Tanjung Wing. The Kinabalu Seaview rooms and suites offer a view of the ocean and Mount Kinabalu, while the rooms in the Tanjung Wing give you a view of the South China Sea.
Tanjung Aru Resort Rates: For a couple on their honeymoon, a stay in the Tanjung Wing Seaview room is pretty decent. The room offers basic amenities with a large bathroom and a spacious balcony for you to watch the sunset and have a beautiful view of the sea. The rate for this room starts at RM1000 a night. If you don't mind paying a little extra, the Tanjung Wing Deluxe Seaview Suite offers a private wrap-around balcony with a sundeck, a spacious marble bathroom with a bathtub and private Jacuzzi. The rate for this room starts at RM2260 a night. Prices may vary.
Take a look at Shangri-La's Tanjung Aru Resort and Spa on Agoda.
See Also: 3 Sabah Beach Resorts You Should Know
Heritage and culture getaways
3. Batu Ferringhi, Penang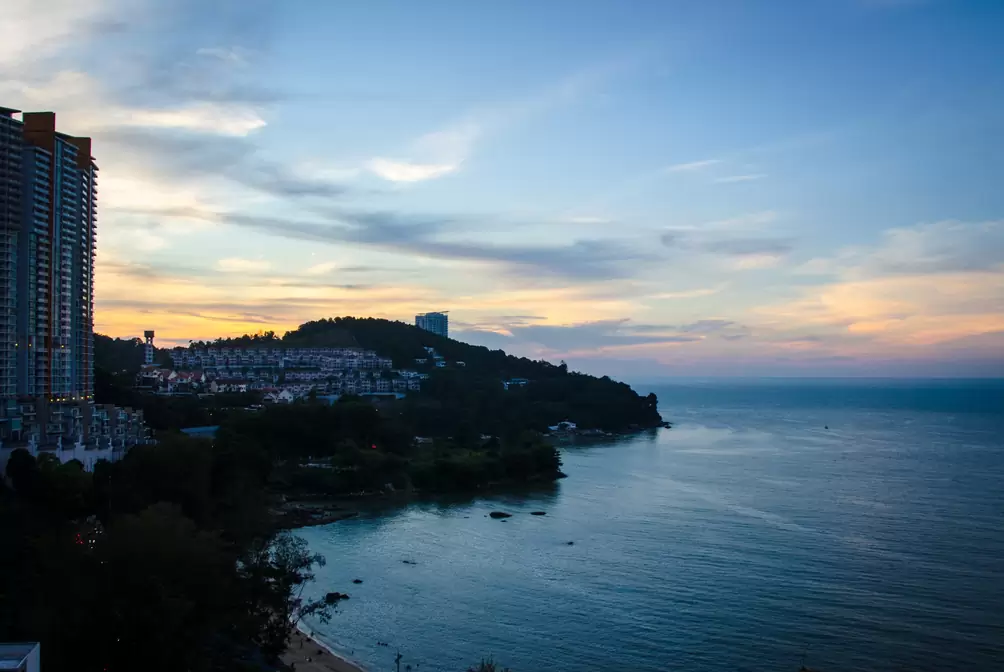 Honeymooning at Batu Ferringhi will allow you to relax by the beach, participate in water sports and indulge in local life. To have the best time, stay in one of the many scattered resorts, enjoy the nightlife, visit art galleries and antique shops, shop at the night bazaar or visit George Town to take in some city life and culture.
Batu Ferringhi, also known as Foreigner's Rock, is a favourite tourist area in Penang and is a must visit in Penang. Remember, it is important to be adventurous and try as many different types of food here as Penang is famous for its culinary delights!
Things to do in Batu Ferringhi:
• Lounge on the beach and sun bathe
• Visit the Tropical Fruit Farm and learn more about the tropical fruits available in Malaysia and try some as well
• Visit art galleries
• Go to a spa
• Take a trip into George Town to explore the George Town heritage walk (listed as a UNESCO World Heritage Site)
• Visit the Penang Botanical Garden
• Shop at the Batu Ferringhi night market
• Indulge in local food such as ikan bakar, the Malaysian style of grill fish
Where to stay in Batu Ferringhi: Shangri-La's Rasa Sayang Resort & Spa
Shangri-La's Rasa Sayang Resort & Spa is a luxurious and relaxing place to spend your honeymoon in Batu Ferringhi. Many well-known people have stayed at this resort, namely former Cambodian King Norodom Sihanouk, novelist Barbara Cartland and actress Stephanie Powers. The resort is well known in Penang for being one of the best in terms of accommodation, service, location and overall ambiance.
The Resort has 304 luxurious guestrooms and suites in two separate wings; the Deluxe Garden Wing (Deluxe Garden View, Deluxe Seaview, Superior Family, Deluxe Family and Executive Family) and the exclusive Rasa Wing (Rasa Superior, Deluxe and Premier). Both rooms and suites offer a beautiful view of the sea.
Rasa Sayang Resort Rates: The most expensive room is of course the Rasa Wing Premier room which starts at RM1730 a night. But for a couple on honeymoon, the Garden Wing Deluxe Seaview room is pretty decent. The current rate starts from RM664 a night and staying in this room means you get to enjoy a private balcony with a view of the resort's 30-acres of lush landscaped gardens and pool. Prices may vary.
Take a look at Shangri-La's Rasa Sayang Resort & Spa on Agoda.
See Also:
4. Malacca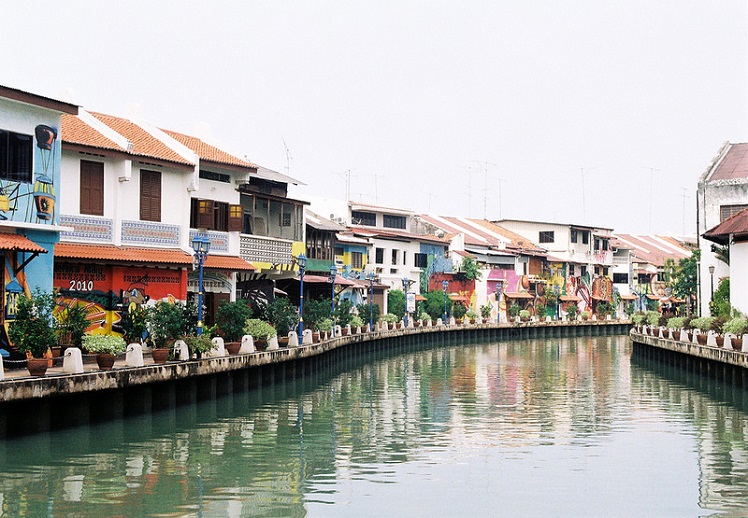 Malacca (Melaka in Malay) is the third smallest state in Malaysia. It is also known as Malaysia's historical city and has been listed as a UNESCO World Heritage Site.
Although Malacca is very much focused on history, honeymooners will still find plenty of things to do for a relaxing break such as sightseeing, shopping, eating and overall relaxing. For history buffs, the historical city is a dream come true while shoppers and foodie lovers will find plenty to satisfy themselves.
Things to do in Malacca:
• Visit historical sites such as the old Dutch town hall, check out the many museums
• Visit a replica of the old Sultanate Palace
• Visit the remains of the old Portuguese fort and church
• Go on the Melaka River Cruise and learn about Malacca's maritime and trading industry
• Visit the zoo and Melaka's Butterfly and Reptile Sanctuary
• Visit the cowboy town at night
• Play golf at A'Famosa's golf course
• Have a splashing good time at Malacca's A'Famosa Water World
• Eat and shop at Jonker Street (only on weekends)
Where to stay in Malacca: Casa del Rio
Caa Del Rio is one of the best places to stay in Malacca. The place is located right by the Melaka River and is a five minute walking distance to Jonker Street. This Mediterranean style hotel is also a stone throw's away from the city centre. The hotel also has a spa for those wanting a little pampering and relaxation time and an infinity pool.
One can choose to stay in the Deluxe Lago Room, the Deluxe River Room, the Studio King Room, the River Suite, the Melaka Suite or the Cheng Ho Suite. For a couple on their honeymoon, space and privacy is important, hence we suggest you stay in the Melaka Suite. This luxurious suite has a balcony entry, an outdoor courtyard with a jet bubble bath and an outdoor dining set. Perfect for a little privacy once you are done exploring the city.
Casa del Rio Rates: Price for the Melaka Suite starts at RM2138 a night if you book during promotional period and can go up to RM3858 a night. If that's too pricey, then the Deluxe Room is a little more affordable at RM778 a night (RM478 if you book during promotional period). The Deluxe Room has no balcony entry or jet bubble bath outside, but you still have a large balcony overlooking the Melaka River. Prices may vary.
Take a look at Casa del Rio on Agoda.
See Also: Melaka's Jonker Street is the Place to Go
From the country to the city
5. Cameron Highlands, Pahang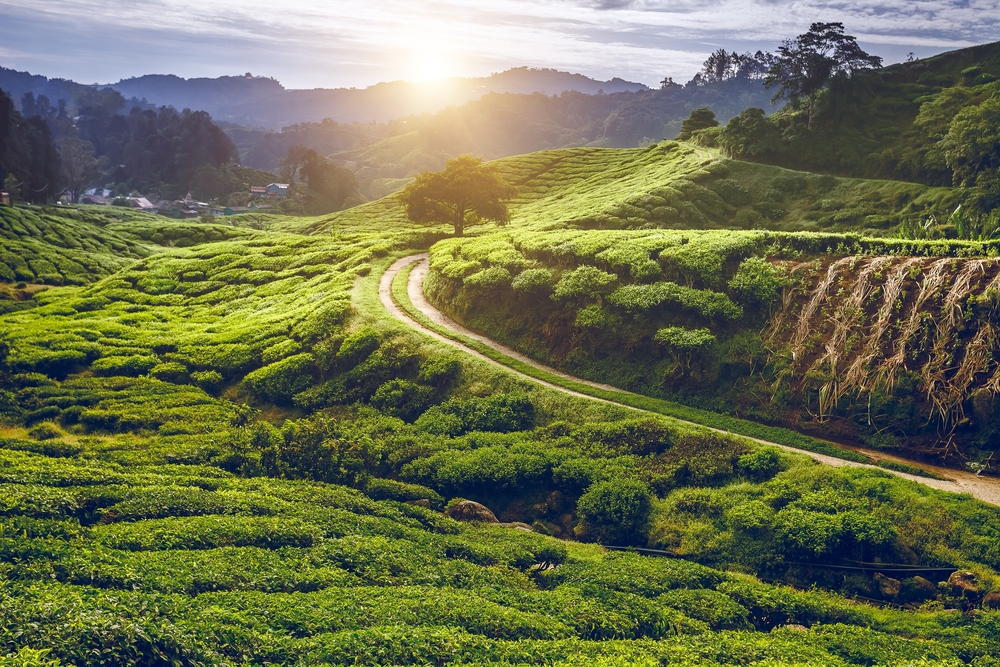 If you can't stand the hot weather and want something a little cooler – but not freezing cold – then a honeymoon in Cameron Highlands, Malaysia, is the perfect choice.
Located at the north-western tip of Pahang, Cameron Highlands provides breath-taking scenery with tea plantations, strawberry farms, lush green hills, and Tudor styled cottages. Although Cameron Highlands is known as a relaxing place to be, there are a number of exciting activities you can enjoy with your partner.
Things to do in Cameron Highlands:
• Visit tea plantations and strawberry farms
• Play golf
• Go jungle trekking
• Go on a nature walk and explore beautiful waterfalls
• Visit the Time Tunnel museum
• Indulge in a steam boat dinner – the best to have during the cold weather
• Visit the weekend night market and shop for fruits, vegetables, food and other knick knacks
• Relax and consume copious amount of tea, scones and strawberries
Where to stay in Cameron Highlands: Cameron Highlands Resort
Peace, romance and tranquility is what you'll get when staying at the Cameron Highlands Resort. The resort has organised many wedding functions, and many go there for their honeymoon.
There are four types of accommodation to choose from; Deluxe Room, Two-Bedroom Suite, Junior Suite, the Cameron Suite and the Jim Thompson Suite.
Cameron Highland Rates: The average rates start at RM380 a night for the Deluxe Room, RM580 a night for the Junior Suite and RM2180 a night for the Signature Suite. Prices may change in time.
Besides booking your preferred rooms, indulging in their honeymoon package called Treasured Moments will make your stay feel more special. The package cost RM1000 (excluding accommodation) and includes champagne, chocolates, strawberries and cream, in your room, breakfast in bed, a trip to the tea plantation, a relaxing experience at the Spa Village, a romantic dinner with your own personal chef and fresh rose petals on your bed.
Take a look at Cameron Highlands Resort on Agoda.
See Also: Rediscovering Cameron Highlands
6. Kuala Lumpur, Wilayah Persekutuan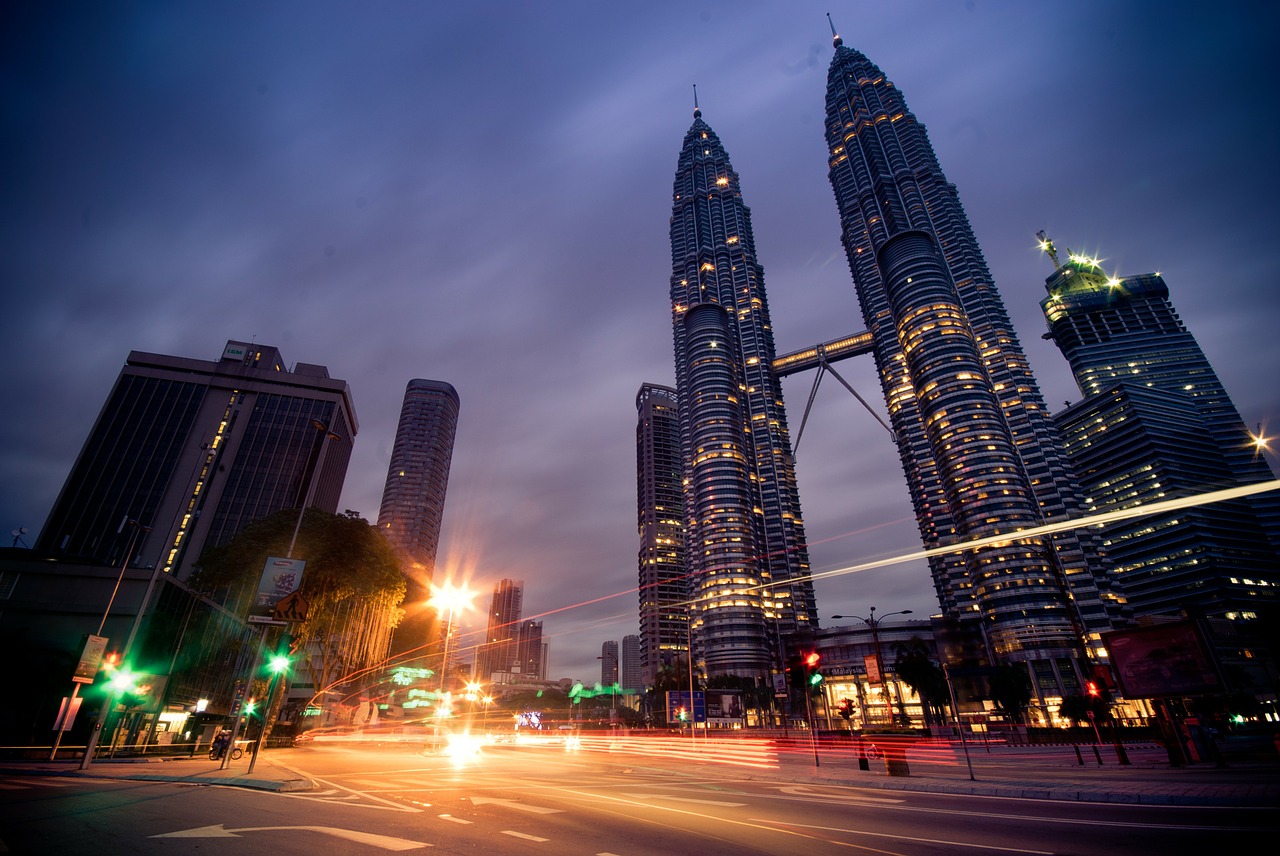 Spending your honeymoon in Kuala Lumpur is a great way to get a little bit of everything in one trip; food, culture, shopping, easy transportation, arts, entertainment, resort style living and more. The city is huge but getting around it is easy thanks to the transportation system.
Things to in Kuala Lumpur:
• Visit a spa
• Explore the city by foot or take a train around town
• Go on a shopping trip around China Town, or one of the many malls
• Catch a play or musical
• Visit Malaysia's indoor theme park at Berjaya Times Square or visit Sunway Lagoon's Theme Park
• Visit one of the many bars and clubs around Changkat Bukit Bintang for an ice cold beer or cocktail
• Experience Malaysia's street food at Jalan Alor
• Visit the iconic Petronas Twin Towers and the KL Tower
• Register and go for Malaysia's Heritage Walk at Central Market
• Catch a classical music performance at the Malaysian Philharmonic Orchestra
• Be mesmerized by the underwater world at Aquaria KLCC and tons more!
Where to stay in Kuala Lumpur: Stay at the Grand Hyatt Kuala Lumpur, which is located right in the middle of Kuala Lumpur city. This luxurious hotel has the largest rooms in the city, apparently, with floor to ceiling windows that offer a magnificent panoramic view of the city. The choices for rooms are; Grand King, Grand Twin, Grand View King, Grand View Twin, Grand Deluxe King, View Deluxe King, Club King, Club Twin, Club View King, Club View Twin, Grand Suite, Grand Executive Suite, Diplomat Suite and Presidential Suite.
For honeymooners, a stay in the Deluxe King room is recommended. The highlight in this room is the marble bath tub and shower in the bathroom, surrounded by an LCG glass cube which can be adjusted for privacy. There is also a special Romance Package for couples which include a late checkout option, and a complimentary bottle of champagne.
Grand Hyatt Kuala Lumpur Rates: The rates starts at RM670 (Grand King) with breakfast, and can go up to RM30670 for the Presidential Suite. Prices may vary.
Take a look at Grand Hyatt Kuala Lumpur on Agoda.
More Resorts in Malaysia:



" ExpatGo welcomes and encourages comments, input, and divergent opinions. However, we kindly request that you use suitable language in your comments, and refrain from any sort of personal attack, hate speech, or disparaging rhetoric. Comments not in line with this are subject to removal from the site. "



Comments