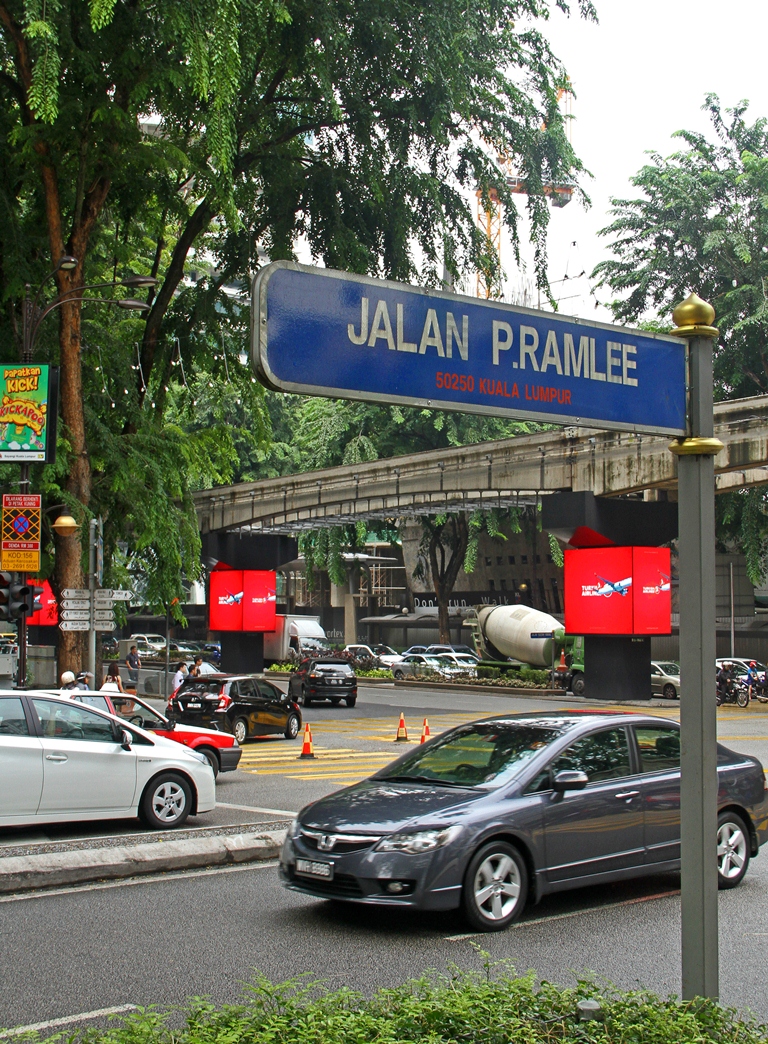 While Jalan P Ramlee in the centre of downtown Kuala Lumpur may be one of the city's shortest streets, it is named after one of Malaysia's longest standing entertainment legends. Tan Sri Datuk Amar Dr P Ramlee was one of the country's greatest singers and movie stars and probably deserves a longer street named after him. Old timers still talk lovingly of the famous singer, and his movies and his songs still receive airplay on Malaysia's radio and television stations.
'P' (and it's unclear what the 'P' refers to) was born in Penang in 1929 and died in Kuala Lumpur in 1973. He was born Teuku Zakaria bin Teuku Nyak Puteh and rose to fame in Malaysia and then in Singapore, where he spent a lot of his adult life. He returned to Malaysia later in life but didn't attain the same success as he had in his younger Malaysian days. He died penniless, having given most of his money away, and many of his titles were awarded posthumously. His music still lives on in the hearts of many Malaysians, and there are other streets, schools, and buildings throughout the country named after him.
The street was formerly known as Jalan Parry and was renamed in 1982. Many who pass down the street that extends from Jalan Rajah Chulan to Jalan Pinang probably have no idea who the street is named after as some of the legendary bars and the nocturnal activities that occur here on most nights of the week have little to do with a Malaysian singing legend.
As it's less than 500 metres long, it's best to walk this street, with the most accessible KL Monorail Station being Raja Chulan although Bukit Nanas is another possibility, especially for those who want to explore the forest reserve near here as a side excursion. While the literature talks of the 'Golden Triangle', very few locals would know where such a place is as it really isn't in their vernacular. Perhaps the best geographical landmark here is the bar called Beach Club and there aren't too many single men who visit the city who don't know of this place, but more on that later.
Bird's Eye Views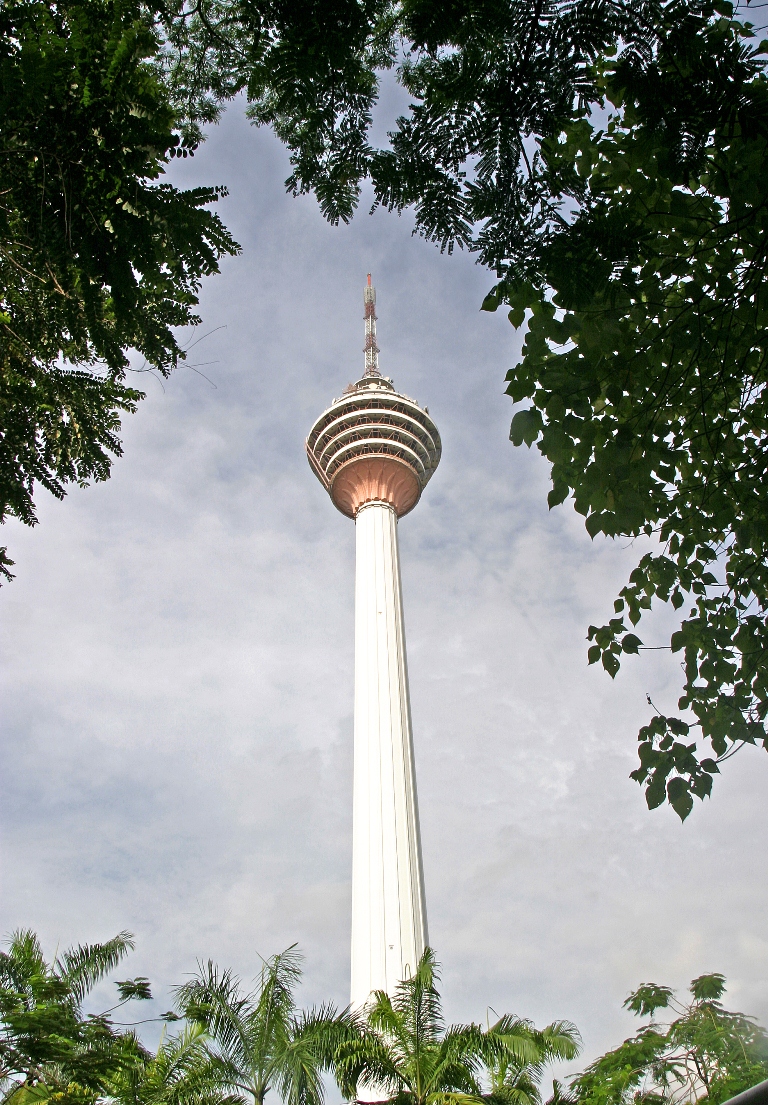 Explore Jalan P Ramlee from either the KLCC end or the Raja Chulan end. From the latter, start with a short deviation via a left-hand turn into Jalan Puncak to Menara KL, or Kuala Lumpur Tower, an exceptionally prominent landmark at 421m high. In its day (it was completed in 1995), it was one of the tallest towers in the world and just goes to prove how rapidly the world is changing as several towers have since held this title in the intervening years. High-speed elevators whisk visitors to an enclosed observation deck near the summit where an uninterrupted view of the city centre is the attraction. On a clear day, distant features such as the Genting Highlands can be seen. The city's main features are identified and information provided from an excellent array of signs and other sources of electronic information. There are restaurants and souvenir shops on the ground floor and a revolving restaurant at the top. Evening buffet dinners for mostly overseas groups of tourists are popular here.
Just opposite Menara KL is one of several places to stay on and around Jalan P Ramlee. Pacific Regency Hotel Apartments offer apartment-styled accommodation that is popular with those staying a little longer in the city. At the top of the building is Luna Bar, one of the city's popular rooftop and semi-open nighttime venues centred on the swimming pool.
Really adventurous visitors may want to head off from the base of Menara KL into Bukit Nanas Forest Reserve with its well-signposted trails to experience all the classic features of a tropical rainforest. There are towering emergent trees, huge buttress roots, entwining liana vines, orchids, flowers, ferns, and understorey vegetation. This is a small patch of remnant rainforest that, no doubt, once blanketed much of Kuala Lumpur.
It provides an accessible rainforest experience and the opportunity to see some rainforest fauna for observant and patient visitors. Most rainforest animals are well-camouflaged and not easy to see but there are insects, reptiles, birds, butterflies, and even monkeys living here. While the views from within the reserve don't match those from the tower, there are some interesting photographic perspectives to be found from the rainforest looking out over the city.
City Streetscape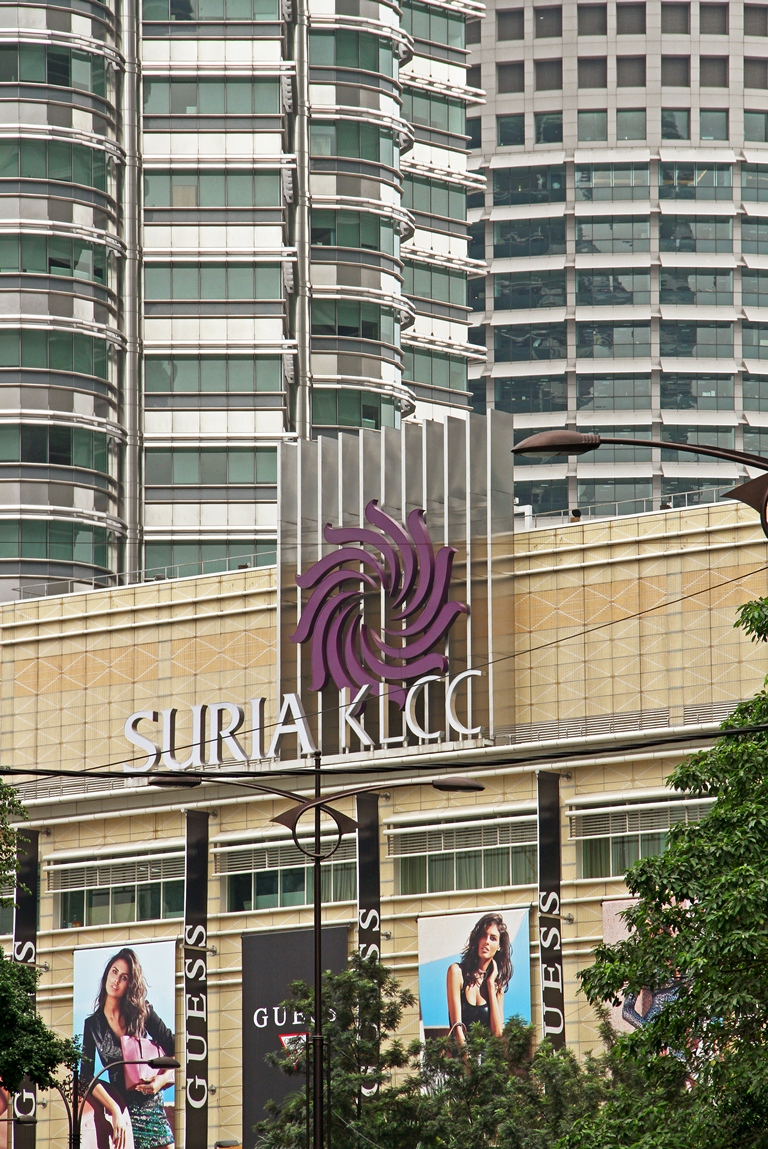 Retrace your steps to Jalan P Ramlee and turn left, heading towards KLCC. Immediately on the left-hand side is Menara Taipan with one of the city's finest restaurants located at street level. Gourmet Cuisine by Natalie serves innovative and modern French cuisine in stylish surroundings.
On the other side of the road is the Weld Shopping Centre (in Wisma Weld); one of Kuala Lumpur's oldest 'modern' malls that now seems so petite and outdated compared to the other mammoth shopping centres that are found in the city.Walk out the back door of the centre onto the one-way street of Jalan Tengah. Immediately on the footpath is a small Indian temple that appears so out of place in the city rising ever skyward around it and further up the street, streetside hawker stalls feed hungry office workers at lunchtime.
Further down Jalan P Ramlee isWisma Hap Seng with restaurants and bars at street level. One bar of interest is the Brussels Beer Café where a cleansing ale or two makes for a refreshing break during a walk. Several airlines are located here and UBN Towers on the other side of the street. Sections of the Hotel Shangri-La creep into the streetscape here with Arthur's Bar and its panoramic windows providing the perfect venue to watch the busy street life at the intersection of Jalan P Ramlee and the major thoroughfare of Jalan Sultan Ismail.
Monorail Intersection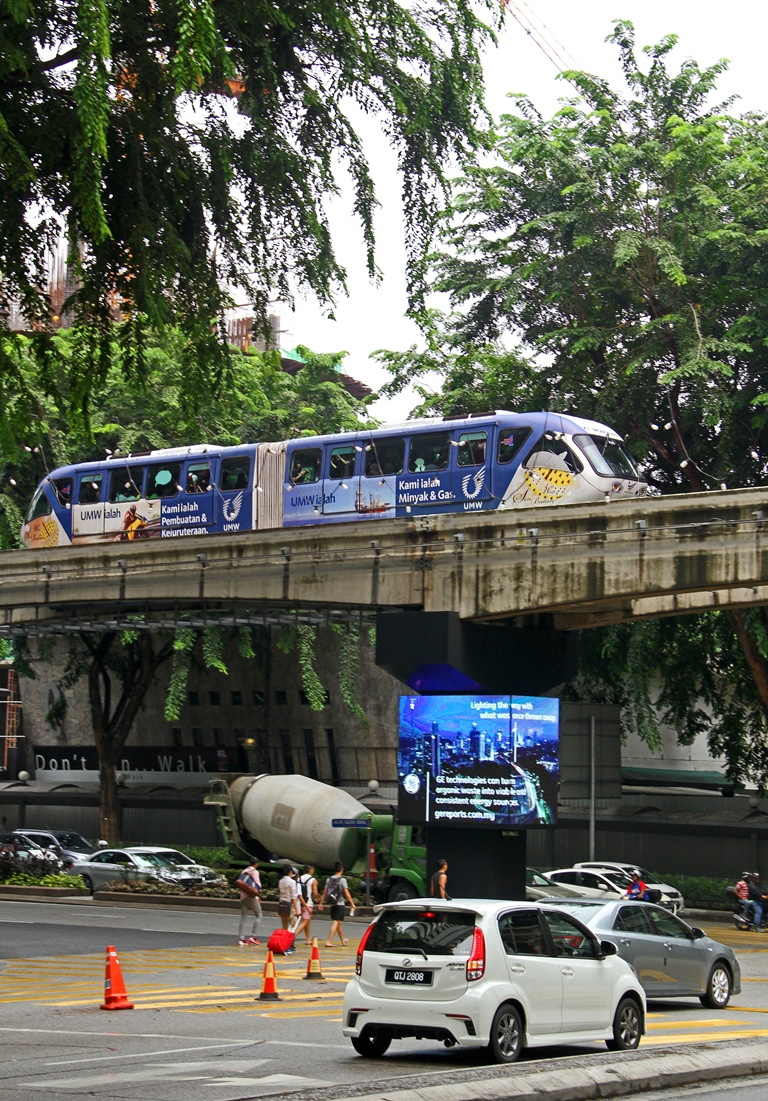 Zooming above the traffic at the intersection is the KL Monorail and one of the best ways to get around the city centre and to link with the ERL airport train hub at KL Sentral. Scurry across the road and it will be indeed a scurry as pedestrians are not offered any advantages by the frustrated motorists who queue at the lights here. Both sides of the intersection used to be home to two lively clubs (the Beach Club being one of them). Building activity is evident or imminent on both and within years there will, no doubt, be two towering buildings.
Crown Regency Serviced Apartments are located at the t-intersection with Jalan Perak and this heralds the beginning of one of KL's legendary pub strips. Drinkers and night-owls will find enough at Healy Mac's, Modesto's, Liquid Room, and the Beach Club to keep them distracted all night long. They all look a bit sad and deserted during daylight hours, but shift into top gear as the sun sets with each offering the craziest happy hours in the city (can they all have the craziest prices?).
A Green Refuge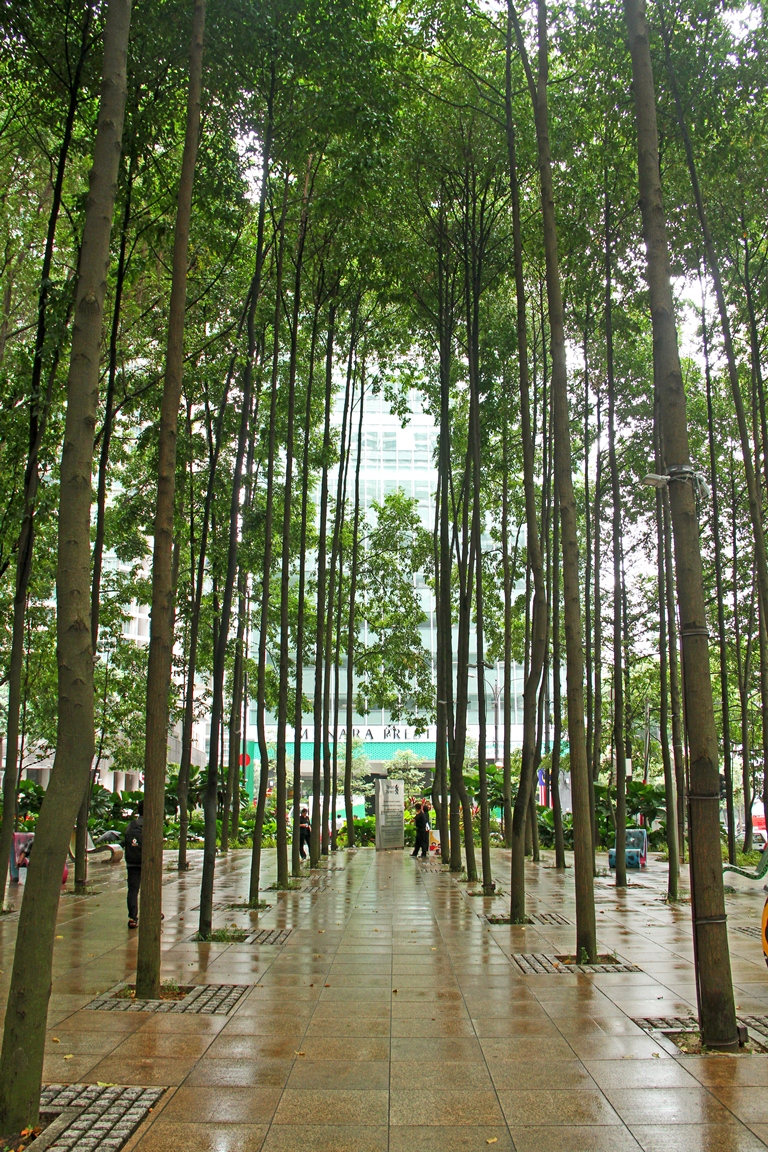 Jalan P Ramlee ends at the intersection of Jalan Pinang (off to the right) and Jalan Langkat Perak (to the left). Immediately in front and near the base of the Petronas Twin Towers that are now in front (and a little hard to miss) is a little Kuala Lumpur curiosity that the city can deliver from left of field every so often.
A green area about the size of half a football field offers a tranquil retreat in the middle of the urban mayhem. Its purpose appears unclear and its future unknown. Despite there being a forest of tall trees here, they have minimal trunk diameters, suggesting they are still young yet perhaps destined for a short future. Downtown Kuala Lumpur in general isn't known for its green and open spaces (apart from the expansive parkland surrounding KLCC) and one gets the impression that maybe the mini-forest here has temporary occupancy while another more economically significant purpose is determined for this prime site.
Homepage Highlight Photo credit: Abd Hadi / Foter / CC BY-NC
Source: Senses of Malaysia January-February 2015
Comments