A rather subdued month compared to April, this month is the time to enjoy an array of shows and musicals, as well as prepare for the Hari Raya celebrations.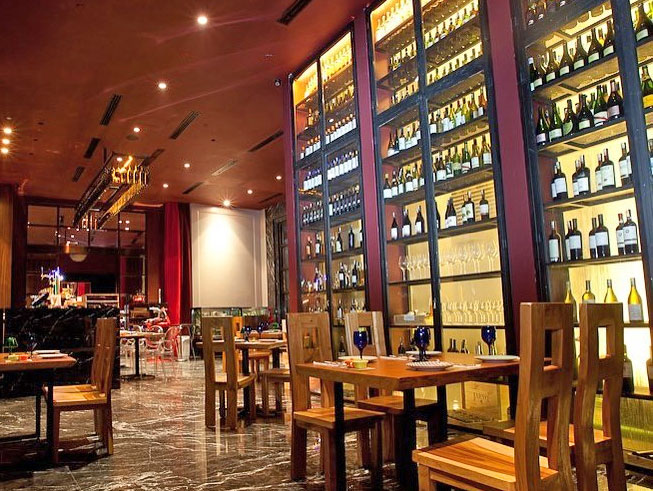 The Mingle is a two hour social event with beer and finger food held at a different restaurant-bar in Klang Valley every month. It's a great place to hang out with friends and meet new people. Both Malaysians and Expats are encouraged to join. Expat Mingles with a view are always a good time; unwind in style while catching up with old friends and making new ones at the next Expat Mingle.
Date: 16 May
Venue: Mosto Wine Bar & Restaurant
Website: http://mingle.expatgo.com/
Following Big Nose Productions very own "Tales From…" series, Fa Abdul presents Tales From Amma's Kitchen, a collection of humorous and heart-warming tales featuring a loveable Indian mother, her not-so-Indian children, a Chinese daughter-in-law-wannabe and an Indonesian maid next door who is more Malaysian than most Malaysians. Enjoy two hours of eight highly entertaining, hilarious, and thought-provoking stories set in Amma's kitchen, including Amma's Mutton Curry. Don't miss the opportunity to spend time with Amma in her kitchen as she shares her wisdom while cooking you a pot of curry. The show will be held at Pentas 2, klpac, Kuala Lumpur on 4th to 6th May and penangpac, Penang, on 11th to 13th May . For tickets, please visit ticketpro.com.my.
Date: 4 – 6 May. 11 – 13 May
Venue: klpac, KL and penangpac, Penang
Website: http://www.klpac.org/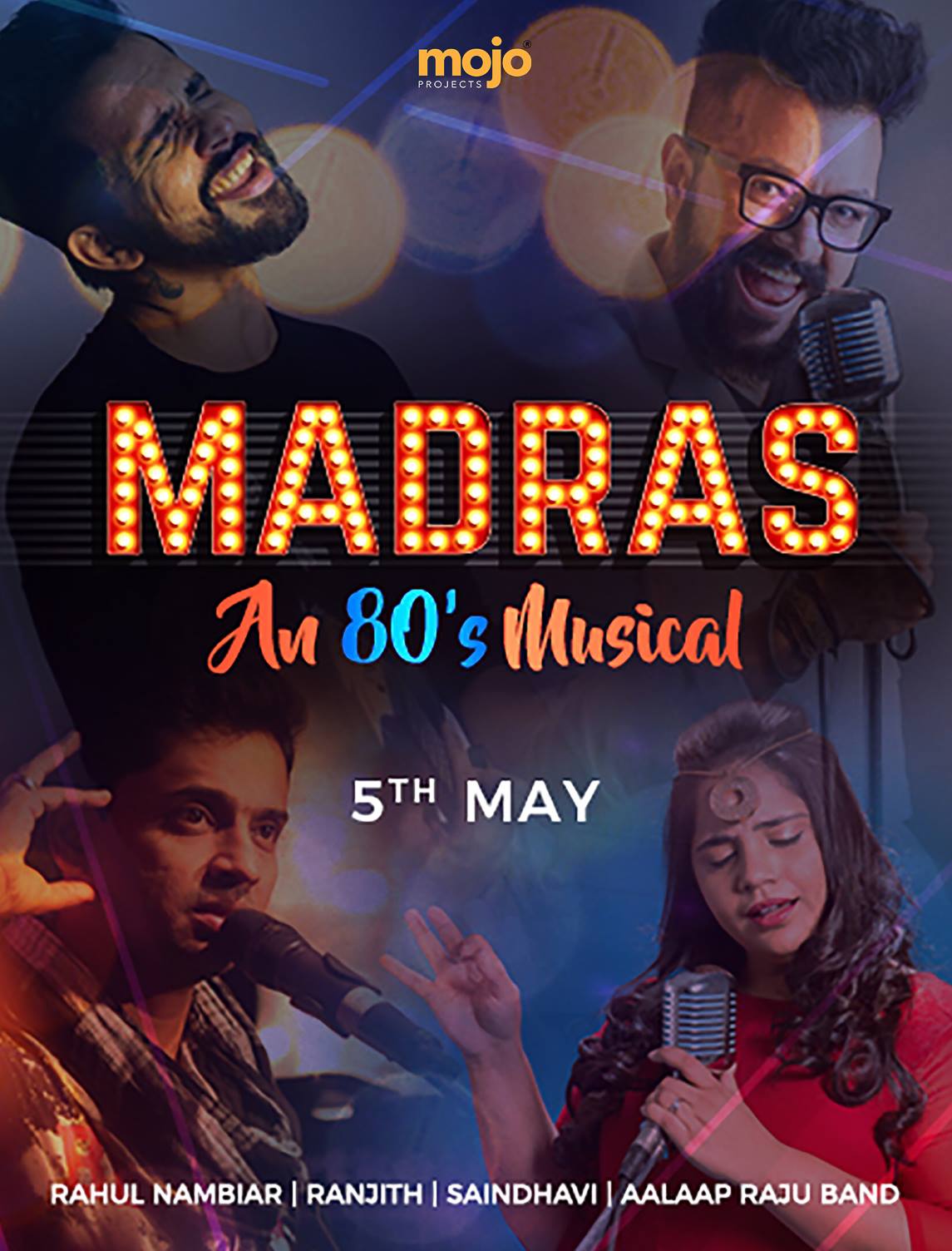 Madras, the melting pot and epicentre of culture, language and the performing arts. It is also the south's movie capital. This production held at Hotel Istana Kuala Lumpur will intertwine audio visual and poetic aspects of nostalgic compositions, as well as some stories behind those beautiful melodies and movies. Don't miss this opportunity to revisit the 80's of Madras as presented through the super talented, energetic and youthful presentation of today's generation singers. Tickets are available on airasiaredtix.com.
Date: 5 May
Venue: Hotel Istana Kuala Lumpur City Centre
Website: https://www.facebook.com/events/1792498920781658/

The inaugural Borneo Jazz Festival was held in 2006, with the vision of being the leading music festival in the region while promoting tourism in Miri and Sarawak's northern regions. And more than decade later, the event has not only has it become one of the nation's most fun-filled and entertaining musical experiences, but the annual event also showcases Miri as a truly cosmopolitan city with fascinating cultural attractions. Check out jazzborneo.com for the artist line-up, schedules, tickets, and more information.
Date: 11 – 13 May
Venue: Coco Cabana
Website: https://jazzborneo.com/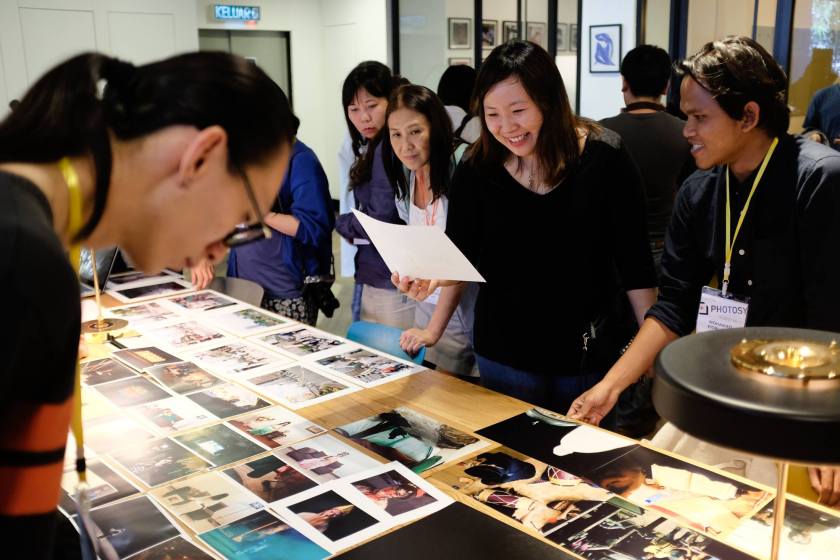 The symposium is now planning our second instalment for the photo community in Malaysia and the region at the KL Journal. For 2018, it will be running a similar format, on the theme "Photography as a Medium for Social Change". The organizers hope to look at a wide range of social change projects, from the high profile stories like the Rohingya issue, refugees, trafficking, to more 'closer to home' stories like domestic abuse, ageing, transgender and LGBT issues, addiction, family matters, self-identities and also including environmental issues like illegal logging, water and air pollution, recycling and the green culture, , politics, indigenous population, and more.
Date: 11 – 13 May
Venue: The KL Journal
Website: https://www.facebook.com/events/497523277279400/

Check out this mini yard sale/pre-Raya celebration 65 Jalan Gasing. The main purpose of this event is to provide an avenue for people to "spring clean" their homes by selling their pre-loved knick knacks, make some extra money, encourage aspiring entrepreneurs to promote and sell their brands/products and build new networks.
Date: 12-13th May
Venue: 65, Jalan Gasing, 46000 Petaling Jaya
Website: https://www.facebook.com/events/455829978182440/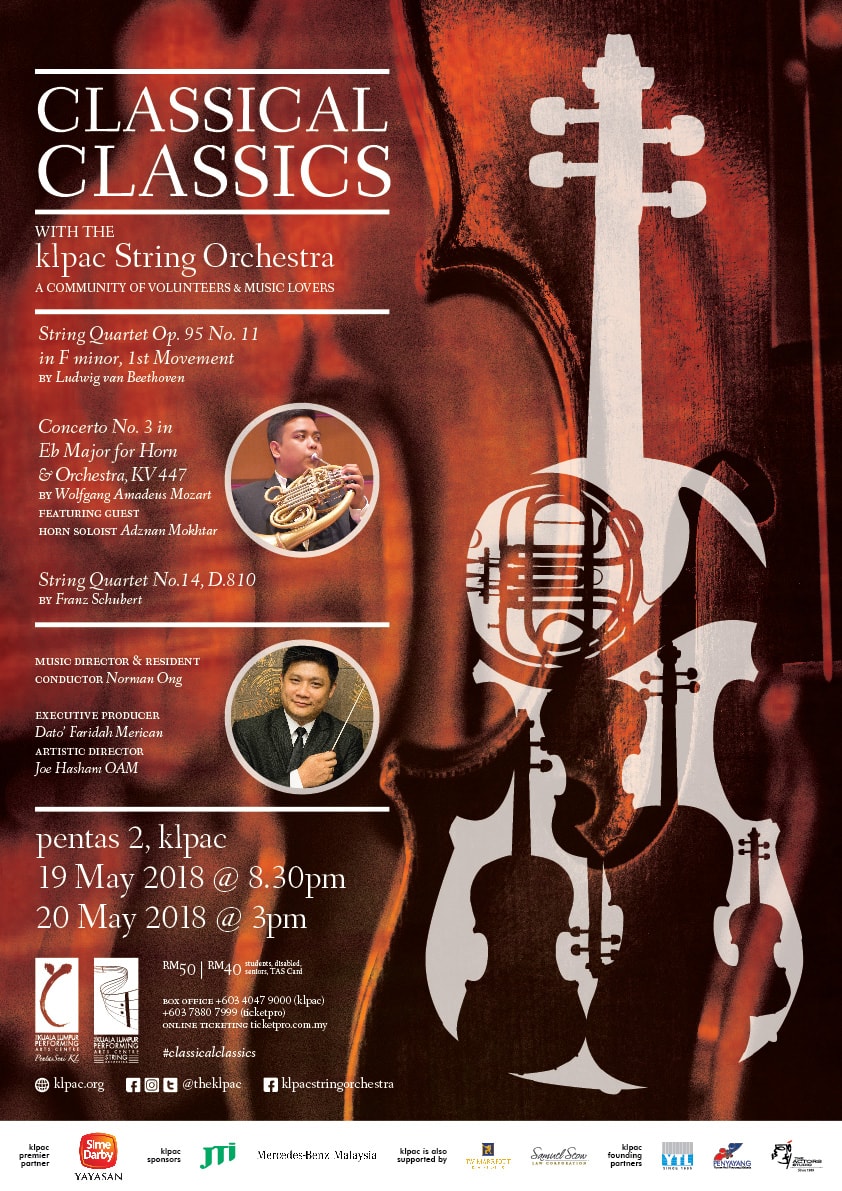 This exquisitely-curated programme by Norman Ong opens with the tragic "String Quartet Op. 95 No. 11 in F minor, 1st Movement" by Ludwig van Beethoven. It progresses to the lively "Concerto No. 3 in Eb Major for Horn and Orchestra KV447" by Wolfgang Amadeus Mozart, featuring guest horn soloist Adznan Mokhtar who is currently a tutti horn player in the Malaysian Philharmonic Youth Orchestra (MPYO) and the Orkestra Kuala Lumpur (OKL). Classical Classics finishes with the energetic Franz Schubert's String Quartet No.14, D.810. For tickets, please visit ticketpro.com.my.
Date: 19 – 20 May
Venue: Kuala Lumpur Performing Arts Centre (KLPAC)
Website: http://www.klpac.org/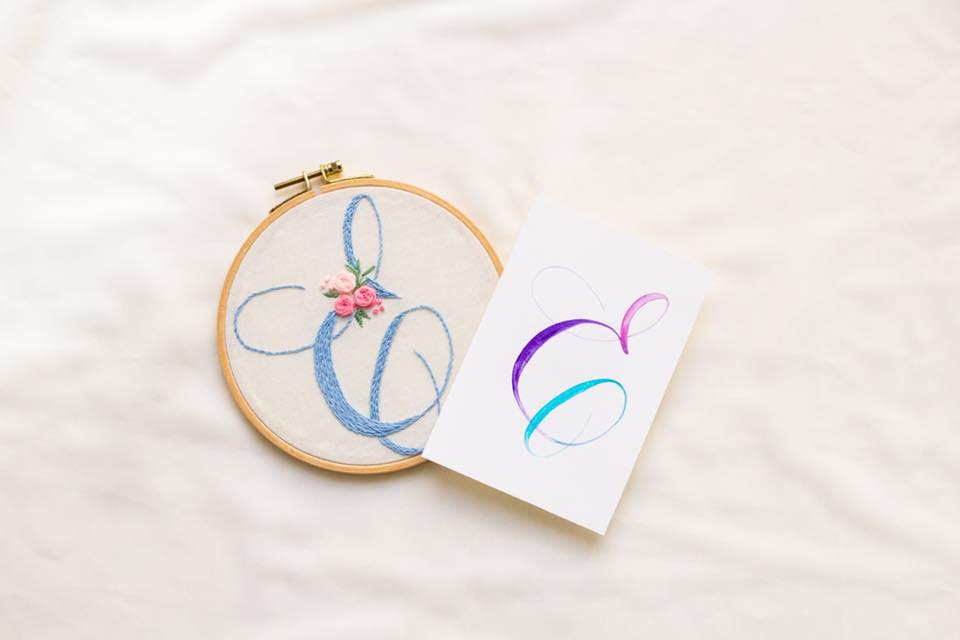 From brush strokes to stitches, this beginner-friendly, all-day workshop will cover the basics of brush lettering, followed by an embroidery session where you'll learn how to transfer your alphabet of choice onto fabric, followed by the embroidery. Simple florals will be taught as well and students will incorporate them into their final embroidered piece. Fees are RM330/pax, inclusive of materials and refreshments. You can sign up at http://linktr.ee/owlandquill. For more details, send an email to [email protected] or send a DM to @owlandquill or @eri_atelier.
Date: 19 May
Venue: A space to ___.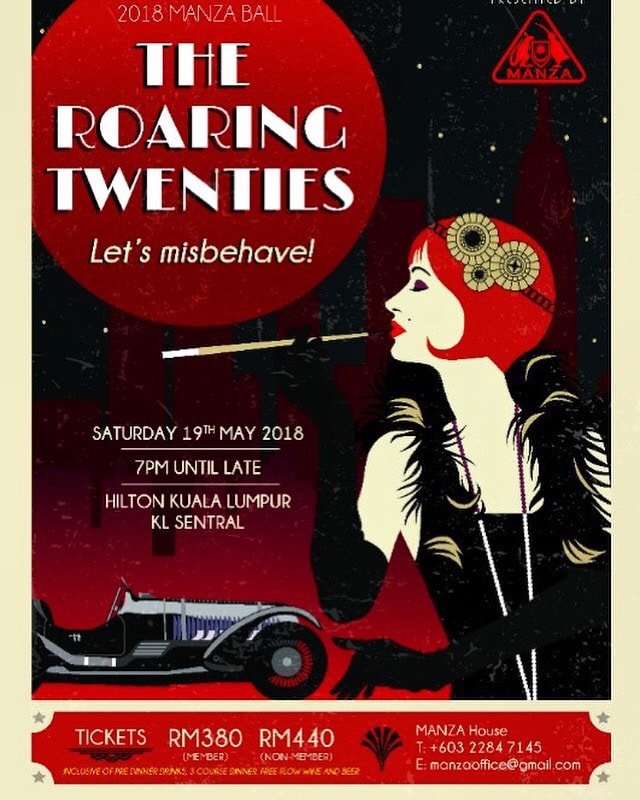 Ready for a glam night of dancing? Mark your calendars for the MANZA Ball on May 19! Be sure to come dressed in your best '20s outfit.
Date: 19 May
Venue: Hilton Kuala Lumpur
Website: http://www.manza.org/ball/manza-ball/
An exhibition of photography by A. Prathap (Special Photographer, The Times of India, Chennai), which captures images of Malaysia's iconic odissi dancer, Padma Shri Datuk Ramli Ibrahim, in Ellora (Maharashtra, India), one of the largest rock‐cut monastery‐temple cave complexes in the world and a UNESCO World Heritage Site. The Ellora Caves feature Buddhist, Hindu and Jain monuments and artworks. Cave of the Heart seeks to capture the metaphor of the inner landscape of the human psyche within which the Dance of Life resides, breathes and lives on… 20 May, 2018 (Sunday) 8.00 pm (with performance of odissi by Sutra Dancers). Exhibition continues until 20 June 2018.
Date: 20 May – 20 June
Venue: Sutra Gallery
Website: http://www.sutrafoundation.org.my/
Comments