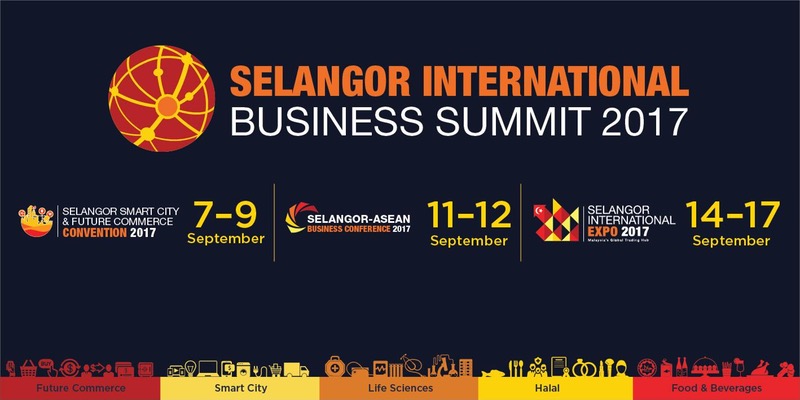 When
:
September 7, 2017

-

September 17, 2017
Selangor is set to play host to a 10-day business event known as the Selangor International Business Summit 2017, which is slated to be the biggest business event to be held in Malaysia.
The summit will comprise three main components:
7th to 9th September – Selangor Smart City & Future Commerce Convention 2017
11th to 12th September – Selangor-ASEAN Business Conference
14th to 17th September – Selangor International Expo 207
The Selangor Smart City & Future Commerce Convention 2017 is a global event about how smart and digital technologies are transforming cities around the world and future commerce changing the digital revolution in Selangor.
Moving on, the Selangor-ASEAN Business Conference 2017 will be a two-day conference with international speakers from key industries such as F&G, life sciences and biotechnology. This event will also include a one day industrial site visit to Selangor's Halal Hub, Pulau Indah, and Selangor Bio Bay as well as an international golf tournament which will be graced by HRH Raja Muda of Selangor.
Finally, the Selangor International Expo 2017 which has attracted over 350 companies from 15 regions who took up a total of 525 booths, will be a four-day event featuring two synergetic sectors, Life Sciences and F&B, as well as halal market segments which are all fast-growing sectors.
The entire Summit will be an important event in Selangor's trade and investment calender now that more investment and efforts are being poured into high-tech and capital incentives industries to enable private and public sectors to work in sync towards making Selangor a 'Smart State' and positioning the state to become a global trading hub and a gateway to other ASEAN nations.
To learn more about the Selangor International Expo 2017, please visit www.selangorexpo.com. To register for the event, visit www.eventbrite.com.