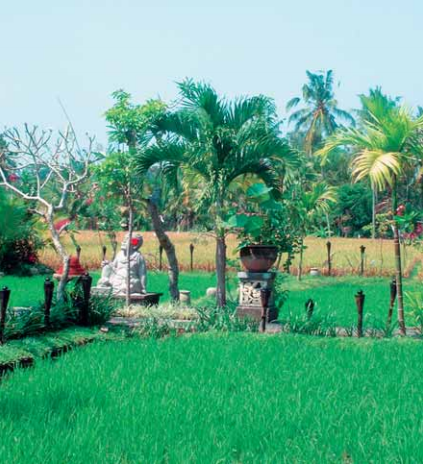 THERE IS THAT WHICH CREATES AND THAT WHICH destroys, and then a moment you discover they're both pieces of a cyclic whole. Volcanic fury begets island serenity, surreal dream becomes tangible incidence, and suddenly futile prediction and comprehension is stripped away, leaving only an appreciation for a single moment's quality, yours to remember as beautiful, infinite experience.
My stay at Cinta in Bali, Indonesia is drawing to a close, and I'm immersed in the value of this moment… the cascade of rumbling sea beneath a trickle of "water pourers" at the pool… breezy wisps gracefully bend verdant lush, floating a flower gracefully to the undergrowth, nurturing that which will come again… a deep breath with hints of sea salt, humid tastes of organic nature. I will leave Bali soon, and years from now I'll close my senses to the world and remember it all once more. I refuse to take this moment for granted.
Bali, where trees are asked permission before they're pruned. Where districts of woodworkers sand down their wares in the sun, and give way to the carvers of limestone and igneous rock further up a narrow road. Where a world famous nightlife is rebounding from tragic setback, its grim reminder observed solemnly in moments between shopping and frivolous adventure. Where paddies seem to step down from the heavens to mingle with the monuments of humankind. Where humankind makes offerings to that which gives the trees, the woods and the stones, the opportunity for joy, the paddies, and the chance to create an idyllic life.
This is a taste of Bali, and you'll surely find your own valued moments here. By the grace of Toh Puan Mahani, I'm introduced to Balinese ways on the trip to Cinta in Sanur. It was here the first tourist developments were constructed, connected by a beach walkway (built with assistance from the World Bank). Today the beaches of Sanur are quiet in comparison to Kuta, where you'll find the Hard Rock Café, AlamKulKul, and other happening nightspots, but to each his or her own. The serene beachfront at Cinta offers an unparalleled view of sunrise, rolling surf, and the volcanic ranges beyond.
You could, in fact, spend your whole time strolling the Cinta grounds and end each day with a contented smile. The peaceful elegance of nature blends beautifully with the rarified dignity of the four villas. For Toh Puan Mahani, Cinta has been a labour of love, with details focused to make it a retreat of calm, soothing, relaxation, and romance, with an intimacy that cannot be found at a large resort. As a guest, you come away feeling the luxury has not been simply presented, but that you've been given a chance to share a vision of true beauty.
Sanur is a delightful place to explore, and get a taste of Balinese cuisine and culture. Though Cinta has a full kitchen (and chef for hire) available, there are a wide range of restaurants nearby – Balinese, Italian, and others, each seeming more delightful than the last.
It's late July now. The festival of Saraswati (goddess of knowledge) is winding down, and kites are soaring everpresent in the azure sky. It's high season for tourists, and a chance to experience the upbeat sensations of vibrant street life. Renowned for traditional crafts, most tourists take this rare opportunity to bring home a piece of Balinese cultural art. Statues of all shape, size, and composition, unique textile treasures, and (for now) fanciful kites are on display everywhere (as are, in the tourist areas, the T-shirts, the coffee mugs, the imitation goods, and other trappings of world culture).
Shopping is best done in Indonesian rupiah, though some places accept American dollars. With licensed moneychangers available everywhere, it's best to shop around for currency exchange services. Many nationalities are required to pay an entry visa ($10USD for 3 days, $25USD for 30 days), and all are required to pay the 100,000 rupiah airport service charge upon exit.
But aside from the 'sticker shock' of paying in rupiah ($1USD = 9,767.39 rupiah (est.)), money won't concern you much. Your mind will wander to the sights, sounds, smells, and the experiences that make Bali a destination longed for by mind and body
When night falls, or morning awakens, or mid-afternoon sets in, or anytime in between, it's the perfect hour for a famous Balinese massage. The first five minutes of mine were heaven; the rest of it is cloaked beneath the timelessness of soothing sleep.
Bali is much more than a tourist haven and a relaxing massage. The earliest recorded history on the island is inscribed on a pillar near Sanur, dated to the 9th century AD. Hindu Java spread its influence over the island in the 11th century – an influence still seen in everyday Balinese life.
From Cinta in Sanur, we travelled inland to Ubud, the serene cultural centre of Bali. The roads become steeper, lined with the many shops displaying the traditional wood and stone carvings, and spotted with the occasional terraced rice paddies you'll find elsewhere on the island. We stopped at Agung Rai Gallery, a site (and sight) for any traveller wanting to discover the 'real' Bali. Constructed over the last 10 years, the beautiful grounds are a magnificent blend of nature and Balinese architecture. The museum itself houses many important works from Bali's most skilled artists.
I'm told no trip to Bali would be complete without lunch at the Dirty Duck. In a traditional abode, we overlook the adjacent rice paddy, the locals harvesting rice in their time-honoured methods as we dig into our delightful duck. Cutlery is entirely optional.
Back at Cinta, I find myself drifting back through the memories of these past four days… the lively beach of Kuta, its nightlife and the endless shopping… the lushness of Ubud and its cultural significance… the seemingly endless number of offerings… and Cinta itself, and the tranquillity that my soul has achieved by even this short stay, looking out across the Sanur beach and watching the waves roll in, feeling the cool breeze upon my skin at Cinta's beachside gazebo, pursing my eyes and wondering if it all has just been a dream.
It wasn't. Pack your bags and make your reservations. Cinta is to Bali as green is to nature – one wouldn't feel right without the other.
Source: The Expat September 2005
Get your free subscription and free delivery of The Expat Magazine
This article has been edited for ExpatGoMalaysia.com
Comments