At the heart of Cambodian tourist is Siem Reap and the famed temples of Angkor Wat. Travel Photojournalist David Bowden visits and finds the allure of the ancient temples to be irrestible and a the lush green jungle to be relentless.
On my first visit to Siem Reap near the famous heritage site of Angkor in Cambodia, French troops were on duty maintaining the peace in sand-bagged bunkers. There was a prison at the main intersection in town, and Russian Antonovs operated irregular flights to the capital Phnom Penh. Foreign troops were then assigned to various parts of the war-torn country to help oversee the country's first democratic elections.
When I recently visited, things had changed indeed. I sipped Champagne around the pool of the luxurious Sofitel Angkor Phokeethra Golf and Spa Resort while deciding between an Ayurvedic treatment and a traditional Khmer massage in the hotel's So Spa or choosing between a dinner featuring international cuisine in The Citadel or going for French specialties in Mouhot's Dream.
In the early days, I jumped on a moto and headed out at sunrise or sunset or whenever took my fancy to admire the world's largest religious site of Angkor Wat. There were more soldiers than tourists and one had to be careful where one stepped as the area was being painstakingly cleared, inch by inch, of landmines.
Change For The Better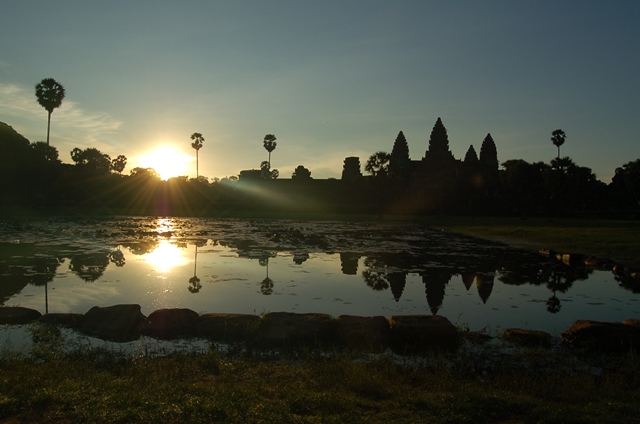 Over the past two decades, Cambodia has witnessed many changes. Fortunately, these changes have been mostly for the best and Siem Reap is now the jewel in the country's tourism crown. While the tranquil and serene temples that I once had to myself are now crawling with tourists, it just be encouraging for all those who are dependent upon tourism for their survival.

Most of the landmines have now been cleared, but in more remote parts of the country, many Khmers are still maimed by such senseless munitions. While there is still a lot to be done in Cambodia there is definitely a sense of optimism as more and more people have access to the nation's wealth.
Indicative of the change in the country is that golf is now available with several courses including the Phokeethra Country Club on the outskirts of Siem Reap. It was the golf course that mostly attracted me on my most recent visit but it was also interesting to appreciate just how Siem Reap has progressed over the past millennium or more.
Hydrologycal Civilisation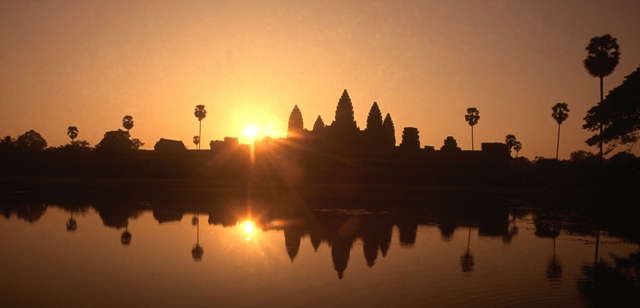 What started out as a Hindu site and later converted to Buddhism was once one of the most powerful civilisations in the whole region with its influence extending well beyond present-day Cambodian territory. In the dry season, Angkor is very much a parched inland landscape and the society that evolved here was a hydrological one focused on harnessing rainwater that fell during the wet season in order to sustain life throughout the whole year. Life was very much dependent then, and still now on the growing of rice. Lakes (barays) were built to store water to supplement the water from the Tonle Sap which is the largest inland waterway in the region. Angkor's demise in the the 15th century has fascinated arhaeologists with no definitivetheory on what actually happened.
Angkor never really disappeared to be "rediscovered" by the colonialist Henri Mahout in the th century but it certainly went into abeyance. Temples were taken back by the jungle with most becoming a jigsaw puzzle of stones, roots, and undergrowth. Ta Phrom has always been my temple of choice because it was basically left in its natural state when the French became interested in restoring the site in the late th century. This temple's virgin state is what also attracted the directors of the Angelina olie movie, Tomb Raider.
Appreciating Angkor can be a mammoth exercise for budding archaeologists. Firstly, Angkor Wat is but one site in the Angkor Archaeological Park. Angkor covers an area of 310km (that's a whopping 17.5km x 17.5km, so don't expect to do too much on foot)t). There are over ,, templples and numerous other archaeological sites with possibly others yet to be unearthed. It is also a living site in which the local people go about growing crops in and around the area. Other outlying temples and sites can be visited with the th-century pink sandstone temple (others are constructed from yellow sandstone and laterite) of Banteay Srei being apersonal favouriteand considered a unique site for visitors.
All Templed Out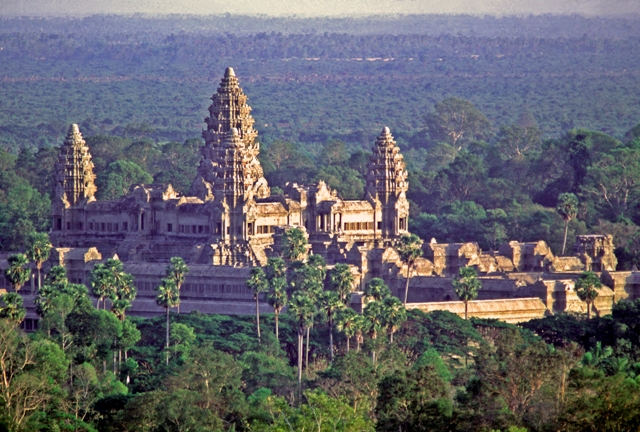 While the temples were once the main allure to the central Cambodian plains, it seems that some could visit Siem Reap and actively occupy themselves without even knowing the wealth of cultural attractions on the doorstep of their luxurious resort, indulgent spa and gourmet restaurant.
Yes,"lifestyle concepts" (whatever they may be) are now very much part of the Siem Reap scene. After a day in the archaeological field it's now possible to be immersed in luxurious distractions every other Asian resort destination.
My Sofitel home for a few days had everything I needed from cable television, air conditioning, expansive pool, spa, restaurants and a bar serving chilled Angkor draught beer. It is connected to the Phokeethra Country Club and I indulged in a round of golf with its sugar palm-lined fairways.
Downtown Siem Reap is a great town offering everything from Khmer cooking classes to Mexican ao . hile there is a good representation of all things Khmer, there is a pplethora of internationalism to cater to the needs of those who travel but still wish to be surrounded by familiarity.
For those seeking something local, there are many dishes to tantalise adventurous taste buds. Seek out dishes such as amok trei, pomelo salad, cendol, and Khmer pancakes. For an exciting night on the town, mostheadto Pub Streetet where ifone place isn't going off, another is.
While the temples of Angkor and the neighbouring town of Siem Reap have well and truly been discovered, the lure of the ancient temples is a powerful one and one to whicht most tourists will one day succumb.
——————————————————————————————————-
Travel File
Getting There :There are direct flights from Kuala Lumpur to Siem Reap on AirAsia (www.airasia.com).
Where To Stay
There has been a boom in new property development in Siem Reap with the large international chains and leading boutique properties gaining a foothold. Sofitel Angkor Phokeethra Golf and Spa Resort (www.sofitel.com) was one of the pioneer international properties. This is hardly a surprise considering Cambodia's French colonial background and this delightful and expansive property near town but on the way to the temples offers French sophistication, colonial ambiance and the face of a renewed and optimistic Cambodia. One of the region's great heritage hotels, Raffles Grand d'Angkor (www.raffles.com) is within close proximity to the Sofitel.
Visas:

Visas are available upon arrival in Siem Reap and Phnom Penh as well as some of the other overland entry points (not all, so if you are planning to enter overland it maybe best to consult the Cambodian Embassy before travelling). A recent passport photograph is required and there is a charge for the normal three-month tourist visa. On-line services using a credit card are also available. Malaysian citizens, of course, do not require a visa to enter Cambodia.
——————————————————————————————————–
Source: The Expat August 2013
Read more:
What are your thoughts on this article? Let us know by commenting below.No registration needed.



" ExpatGo welcomes and encourages comments, input, and divergent opinions. However, we kindly request that you use suitable language in your comments, and refrain from any sort of personal attack, hate speech, or disparaging rhetoric. Comments not in line with this are subject to removal from the site. "



Comments