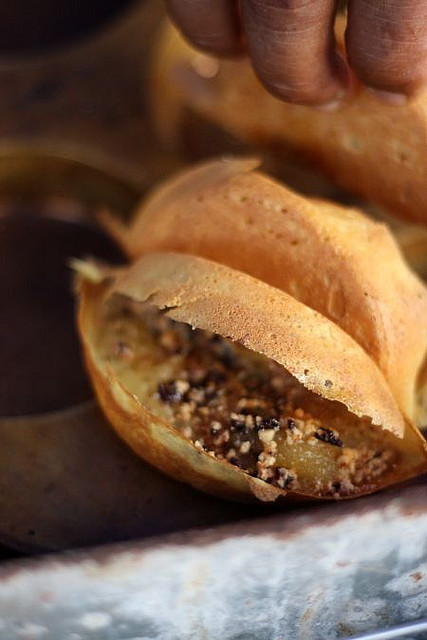 Apam balik. Photo credit: boo_licious / Foter / Creative Commons Attribution-NonCommercial 2.0 Generic (CC BY-NC 2.0)
Just the other day, my expat friend was complaining to me about the lack of decent food to be found in Malaysia. We planned a lunch appointment together but despite the abundance of food stalls and restaurants surrounding us, we had a hard time deciding where to dine. This was mostly due to the fact that my friend's sensitive palate is unprepared to handle any of Malaysia's exotic, flavorful food. I could empathize as I've had some unpleasant digestive experiences myself from trying out foreign foods abroad.
Visitors from overseas may presume, after a bite or two, that all of the strange and different foods in Malaysia enjoyed by the locals are too alien for their own liking. Thus, I would recommend four varieties of Malaysian food that my expat friends and I agree, are not as dangerous to ones sensitive palate. Once you have touched down in Malaysia, you should look out for these yummy foods:
1. Nasi Lemak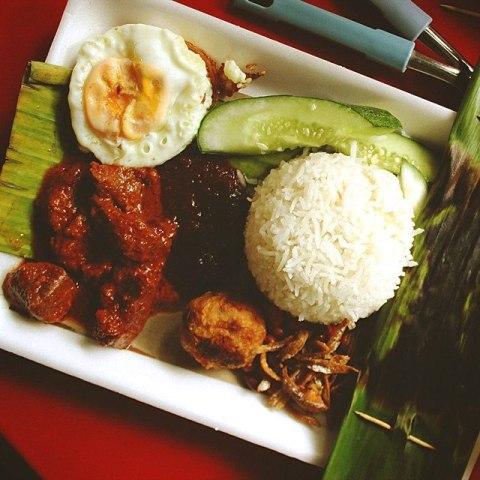 Photo credit: Xin Li 88 / Foter / Creative Commons Attribution-NonCommercial-NoDerivs 2.0 Generic (CC BY-NC-ND 2.0)
It is highly impossible to miss out on this Malay dish. Even if you were not intentionally searching for it, the smell of its fragrant rice soaked in coconut milk and pandan (screw pine) leaves will be sure to capture your attention, or rather, your nose. Usually served with sliced cucumbers, peanuts, sambal (a spicy Southeast Asian condiment), anchovies, and hard-boiled eggs, the unique taste of the nasi lemak can also be enjoyed with some extra side dishes, such as fried chicken, prawns, petai (stink bean), curries or even rendang (a spicy meat dish). Affordable and appetizing, it is no wonder that this national dish is greatly consumed by the locals and foreigners alike. Now, if you feel your stomach might be too sensitive for this dish, just ask for a small portion of sambal (for taste) and avoid the petai.
2. Char Siu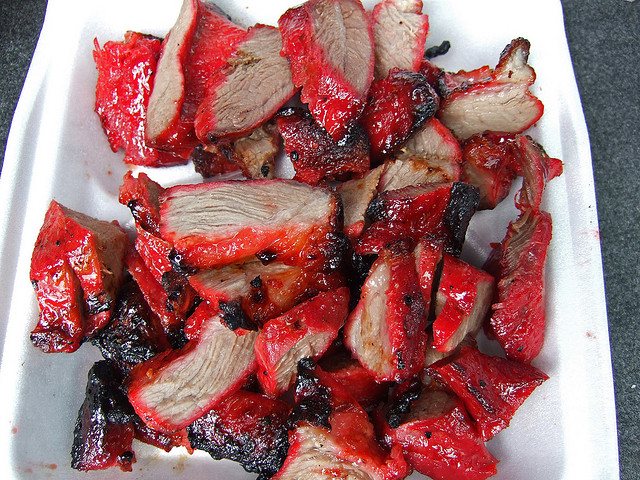 Photo credit: mmmyoso / Foter / Creative Commons Attribution-NonCommercial-NoDerivs 2.0 Generic (CC BY-NC-ND 2.0)
Unless you have a personal or religious ethic against eating pork, you must indulge in the roasted and sweet perfection of this pork meat marinated in honey. This juicy Cantonese cuisine is delicious enough to be served alone, together with rice (you can find this in any Chinese chicken rice stall), noodles or as an ingredient in any intricate recipes. In many Chinese stalls along the road, char siu can be found hanging alongside roasted duck and chicken, waiting to be chopped up into bite-sized slices. As char siu grows in demand and reputation in Malaysia and around the world, so does our stomachs.
3. Banana Leaf Rice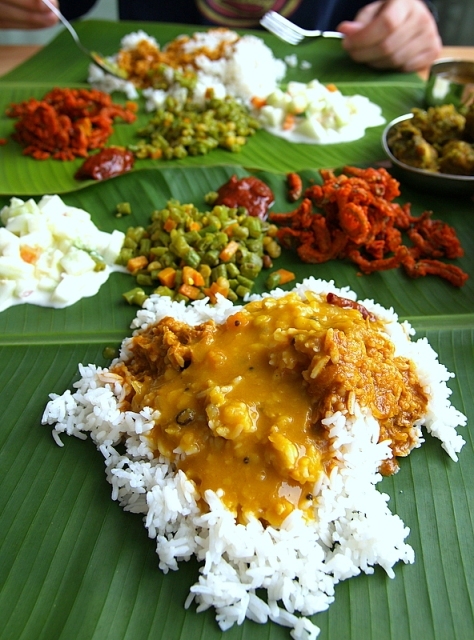 Photo credit: Melosh / Foter / Creative Commons Attribution-NonCommercial-NoDerivs 2.0 Generic (CC BY-NC-ND 2.0)
Banana leaf rice is a popular meal to eat in Malaysia and can be found in almost all Indian restaurants. When you order a banana leaf meal, the waiter (you can also call him anne (pronounced un [as in understand) nay) will place a clean banana leaf in front of you. This is your plate. He will then serve you a hearty serving of fragrant white rice, surrounded by an arrangement of vegetables, condiments, pickles and papadum crackers. You should also order some rasam (spicy Indian soup) to drink with your meal. Though customarily vegetarian, the banana leaf rice can also be eaten with other kinds of meat, seafood, or eggs at non-vegetarian Indian restaurants. Just remember to fold the leaf towards you when leaving, as this signifies you have enjoyed your meal.
4. Kuih (Snacks)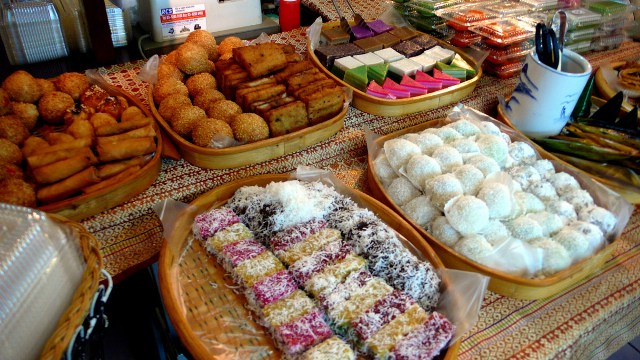 Photo credit: chotda / Foter / Creative Commons Attribution-NonCommercial-NoDerivs 2.0 Generic (CC BY-NC-ND 2.0)
If you prefer something lighter, some tasty Malaysian snacks should do the trick for you. There are plenty of local coffee shops, cafes, bakeries and road side stalls that serve up a delightful variation of kuihs such as cakes, treats, bread, and the likes. These consists of pisang goreng (banana fritters), apam balik (buttery waffle-like pancakes), curry puff, kuih seri muka (double-layered pandan custard), kuih lapis (nine-layered cake), ais kacang (shaved ice with red beans, corn, grass jelly, nata de coco, evaporated milk and ice cream), onde onde/klepon (glutinous rice balls), and so many more.
Not everything you eat will sit well with your digestive system, but it is crucial to try as many kinds of food as possible and find the ones you like. If you have not tried any of the delectable edibles mentioned above, then I must say that you sure are missing out on some yummy food!
Homepage Highlight Photo credit: Erik Teng Photography / Foter / Creative Commons Attribution-NonCommercial-NoDerivs 2.0 Generic (CC BY-NC-ND 2.0)
Read More on Food in Malaysia:
---
"ExpatGo welcomes and encourages comments, input, and divergent opinions. However, we kindly request that you use suitable language in your comments, and refrain from any sort of personal attack, hate speech, or disparaging rhetoric. Comments not in line with this are subject to removal from the site. "
Comments