With more great food than you could have imagined and no shortage of air-conditioned creature comforts, life in Malaysia can end up packing on the pounds for many residents. The editorial team takes a look at some unfamiliar fitness regimes that can help you have fun and stay healthy at the same time.
The saying, "All work and no play makes you a dull person" has been in place for a long time and for good reasons, too. If you work all the time, and don't have time for some occasional recreation, life becomes a routine process – a process where fun and excitement is drained out and replaced by the mundane routine of going to work, getting caught in traffic, and back home to rest before another day begins. Taking part in recreational activities, particularly outdoors, can improve your physical wellness. In fact, some studies have proven that people who frequently take advantage of park activities have fewer doctor visits, lower body mass indexes and lower blood pressure than those who don't. Finding balance is also a reason why leisure and recreation can enhance your quality of life. In addition, you're more likely to feel satisfied about your life when you regularly take part in recreation activities.
Here are some out-of-the-ordinary recreational activities that are interesting enough to try out during the weekends.
1. Zumba
The original dance fitness party, Zumba is taking over the world – one meringue, hip-hop, belly-dancing infused step at a time.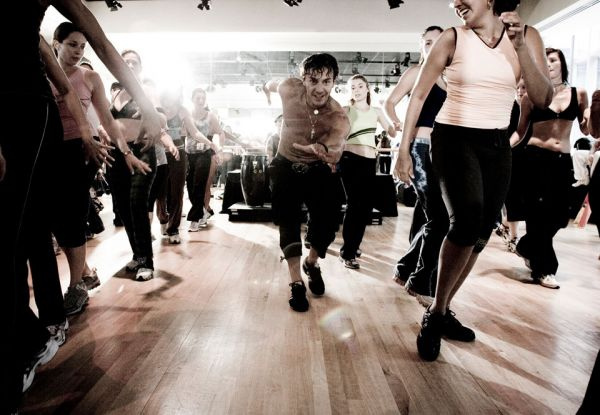 Photo credit: teammarche / Foter / CC BY-SA
Photo credit: Cimm / Foter / CC BY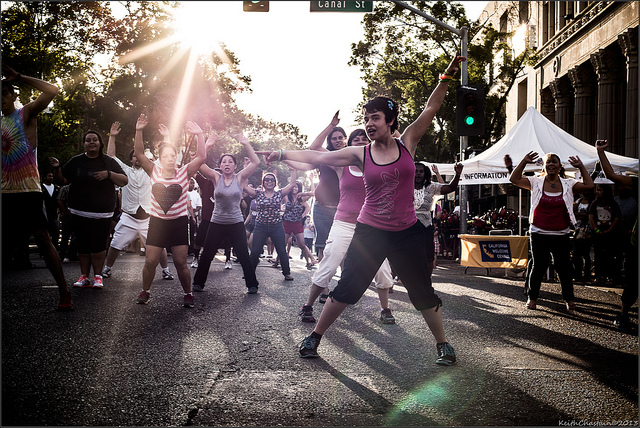 Photo credit: Keith Chastain / Foter / CC BY-NC-ND
What is Zumba?
Zumba is a dance fitness program created by Colombian dancer and choreographer Alberto "Beto" Perez during the 1990s, a Zumba workout involves dance and aerobic elements combined with hip-hop, samba, salsa, merengue, mambo, martial arts, and some Bollywood and belly dance moves. The usual gym staples – squats and lunges – are also included, but they are so well hidden Zumba-goers often do not even realise they make an appearance!
Approximately 14 million people take weekly Zumba classes in over 140,000 locations across more than 150 countries – impressive figures for a workout to loud, infectious music. But what is it about this Latin-inspired craze that makes it so irresistible to even the most hard-core gym junkies? The answer lies in its versatility. The Zumba program is so diverse that is suits all fitness levels and ages. Here's a closer look at how these movers and shakers have managed to convince the world to shake their calories away:
To groove at your own pace, the Zumba Gold programme is the workout to chase. With modified, low-impact moves and easy-to-follow pacing, it is the best choice for first timers wanting to get a feel for the workout. Weightlifting enthusiasts need not fret as the Zumba Toning sessions raise the bar (or rather, the toning stick) for rockhard bodies. Using lightweight, maraca-like Toning Sticks to enhance rhythm and tone arms, abs, and thighs, Zumba toning is the dance alternative to weightlifting in the gym.
Water babies will be pleased to know Zumba offers a low-impact "pool party" version. Giving new meaning to the term "refreshing workout," Aqua Zumba integrates traditional aquatic fitness disciplines with some signature Zumba moves, resulting in a cardio-conditioning, body-toning workout for the masses.
Unlike other workouts, children are also considered. Zumbatomic classes are packed with choreographed routines and the latest music such as hip-hop and reggaeton, and are said to increase focus and self-confidence, boost metabolism and improve coordination. A totally fun way of keeping fit.
The Zumba Senta programme does the unthinkable and incorporates chairs into routines, strengthening core muscles, torching calories, and sculpting muscle. Who knew a chair would be such a great dance partner?
See Also:
2. Wakeboarding
The tropical weather and pristine beaches in Malaysia provides the perfect excuse to indulge in water-related activities such as snorkelling, diving or even wakeboarding, a combination of water-skiing, snowboarding, and surfing.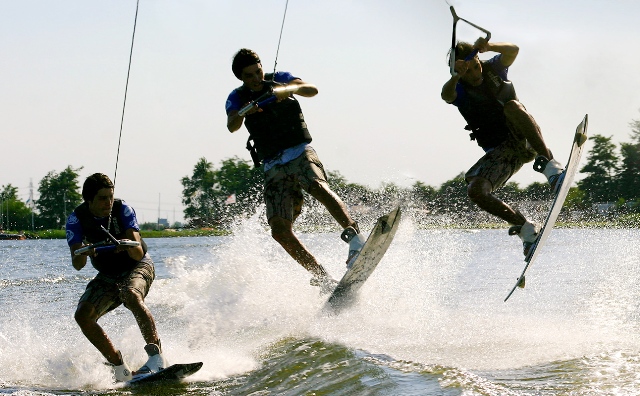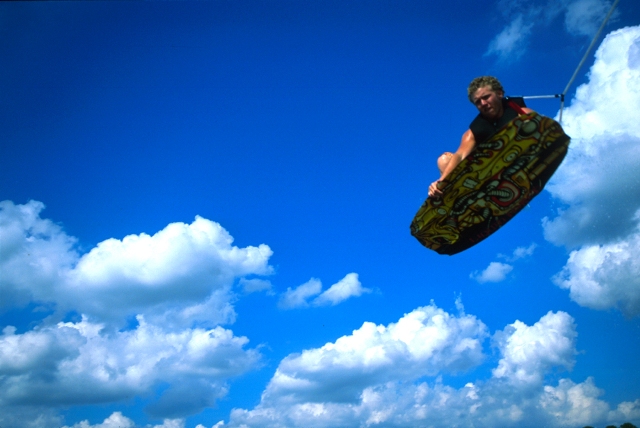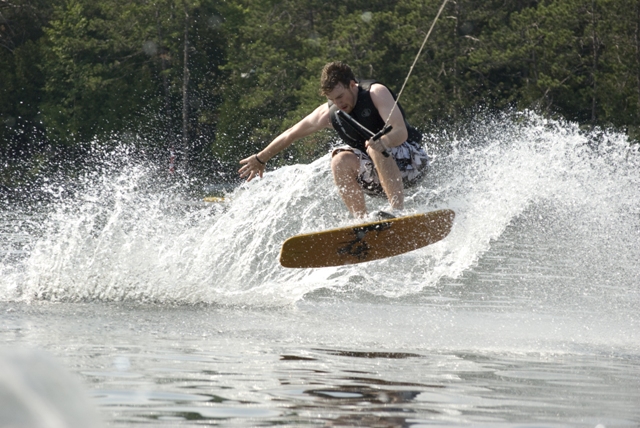 About Wakeboarding
The sport made its debut in the late 1980s after the advent of ski-boarding (now known as snowboarding) and has grown from its humble roots in California to cover every continent in the world. This high speed action sport is predominantly practised behind a purpose built speed boat, with the rider towed behind at approximately between 25 to 40km/h, where the boat creates two waves (or wakes) as it displaces water. These wakes are then used as ramps, allowing wakeboarders to perform jumps, aerial tricks, pull technical inverts and spins. The speed at which the boats travel at depends on the year, make and model of these boats.
In the same way that snowboarding has brought about a cultural revolution in the ski market, wakeboarding has reinvented water skiing as the fastest growing water sport in the world, boasting over 3 million participants worldwide. Although very different in principle, all board sports like surfing, skateboarding and surfing crossover very easily, not just through the similarities in the tricks that are pulled off and the names that are given, but also the lifestyles they encompass and camaraderie that exists within the community.
Although wakeboarding may be young in Malaysia, it is fast gaining momentum as many individuals are expressing interest in this activity that gives them the adrenaline they seek, in a safe and secure environment. Top wakeboarding spots in Malaysia include the Mines Wellness Hotel, Performance Watersport (both located at Mines Resort City), and Tristan Park in Johor Bahru where the water at Sebana Cove provides the perfect riding spot with glassy and clean water throughout the workout. If you are looking for places closer to the city, the Pullman Putrajaya Lakeside Hotel and Waterski and Wakeboard World Cup Sdn Bhd both offer water enthusiasts a chance to explore their athletic side.
See Also:
3. Capoeira
One effective way to inject some fun and fitness into a mundane routine is through capoeira, an activity that combines movement, music and elements of philosophy.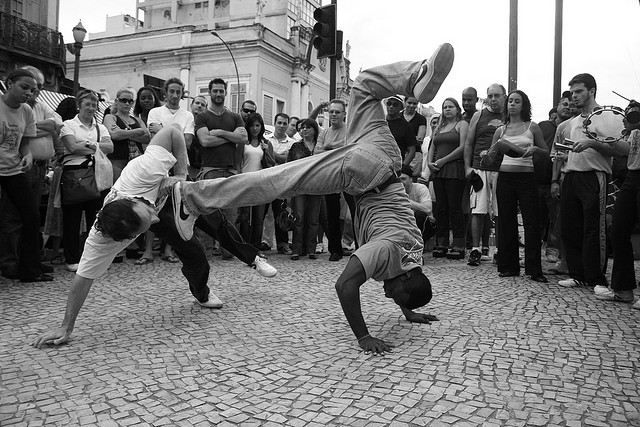 Photo credit: otubo / Foter / CC BY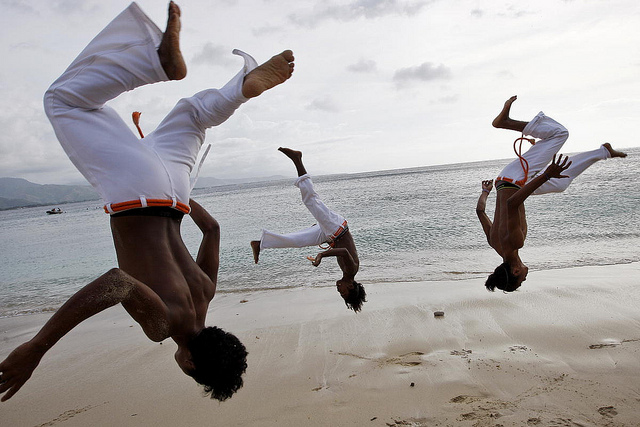 Photo credit: United Nations Photo / Foter / CC BY-NC-ND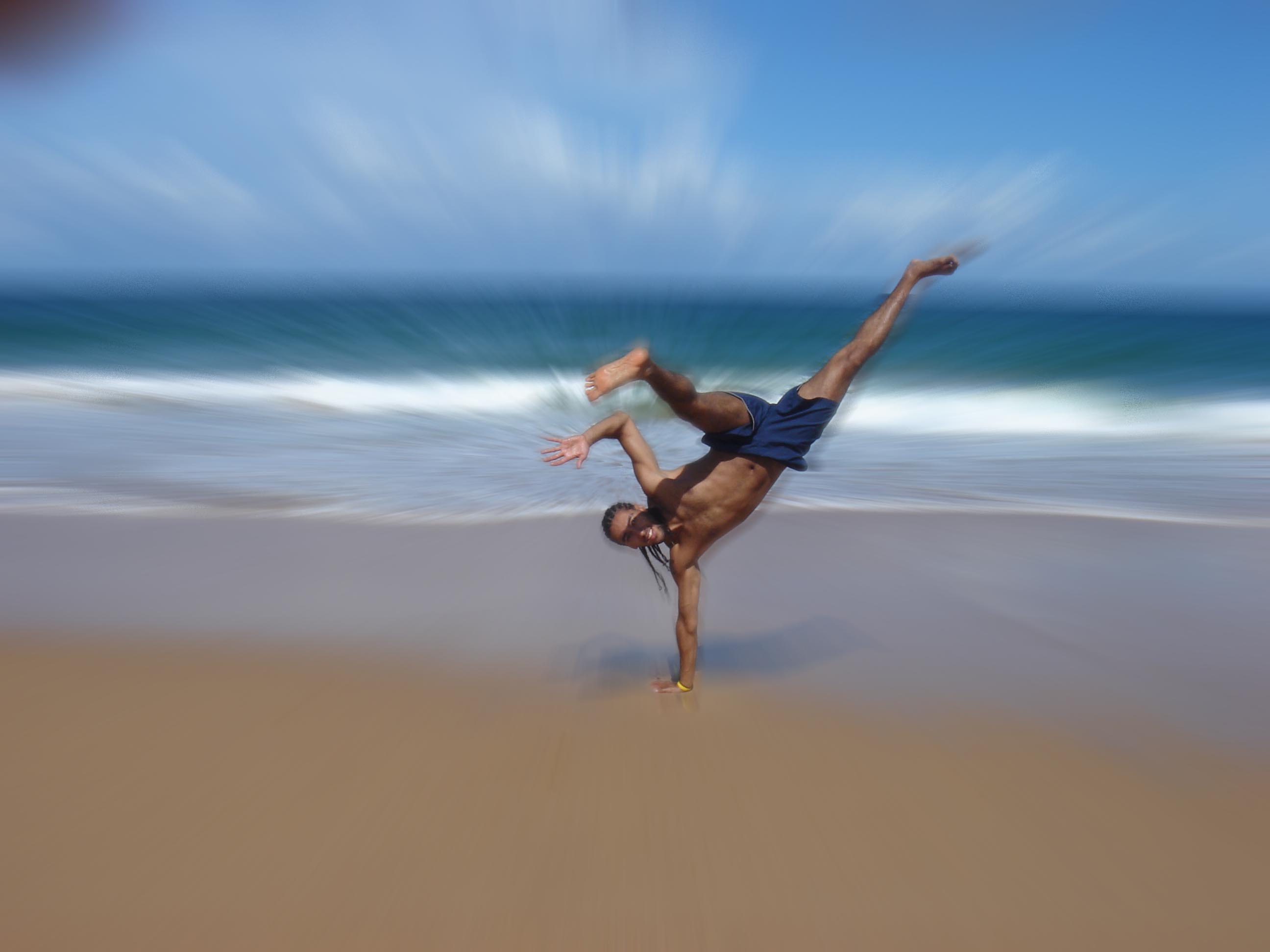 What is Capoeira?
Capoeira is a Brazilian martial art, accompanied by rhythm and song that dates back to more than 500 years ago. The art form is deeply rooted in rich African traditions that were brought to Brazil by African slaves, to increase their chances of liberty and independence. Under the pretence of dance, the slaves disguised this form of self-defence from their captors. Capoeira has harmony of forces that gives an individual strength, flexibility, endurance and self-discovery while keeping the mind, body and soul in balance. The art form stays true to its traditions and enables a person who practises capoeira to revitalise their mind, body and spirit.
Combining elements of fighting with dancing, singing, and musical instruments performed in a fluid series of agile acrobatic and martial movements, these elements of capoeira come together to form a unique workout. Capoeira is expressed in a roda, the circle where training manifests into games between two capoeira players (capoeiristas), while an orchestra of berimbau (a one-string musical bow) is complemented by the pandeiro (tambourine), atabaque (singleheaded standing drum), agogo (double bell), and reco-reco (grooved segment of bamboo scraped with a stick) to provide the musical energy.
The younger generation's passion for capoeira is derived from its enthralling movements: the art form's acrobatic aspects, its effectiveness as a form of self-defence and its continuous flow that exudes a primitive force. Whether your goal is to lose weight, develop flexibility, endurance, or strength, you are bound to find the help you need in a capoeira class. Capoeira practitioners find they build confidence, learn to step outside of their comfort zone, develop leadership skills, and form lasting relationships. And let's face it – this stuff is cool.
See Also: Understanding the Art of Capoeira
4. Rock Climbing
If you enjoy a spot of outdoor activity and are constantly looking for one that will challenge you both physically and mentally, rock climbing is your solution.
Photo credit: [email protected] / Foter / CC BY-NC-ND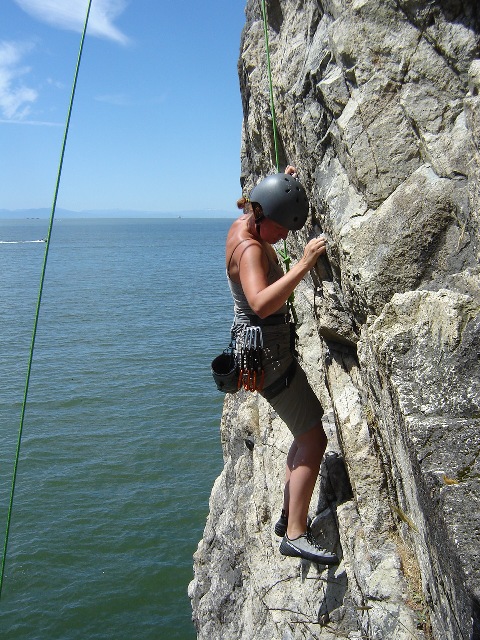 Photo credit: iwona_kellie / Foter / CC BY-NC-SA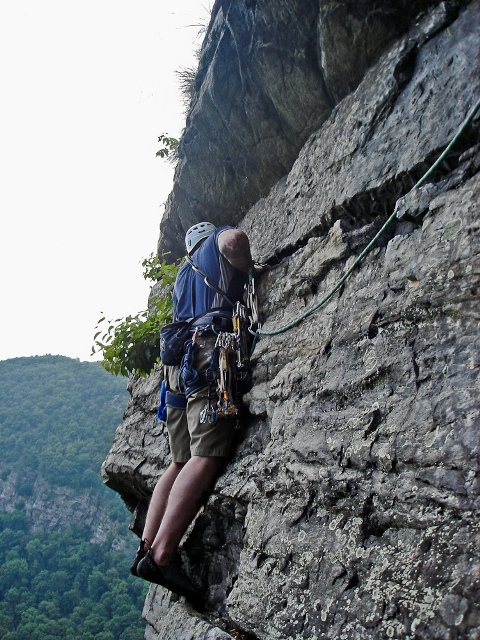 Photo credit: Chris LaCour / Foter / CC BY-NC-ND
About Rock Climbing
While not often considered a 'traditional' sport, rock climbing qualifies as one as it involves strength, control and finesse. Using the muscles in your arms and legs to pull yourself up a rock face takes strength¬ and control, while the mental ability comes into play when figuring out where to place your hands and feet, so that your muscles can do their job.
The basic rule of rock climbing is extremely simple – trying to climb from the bottom to the top in the least amount of time. As you learn to reach and stretch your limbs to find the tiny holds that your fingers and toes will grip into in order to stay on the wall, your body will be working to provide balance, coordination, and mental focus. Apart from that, rock climbing also addresses four components of physical fitness such as muscular strength, muscular endurance, body composition and flexibility.
Rock climbing physically challenges the body while simultaneously engaging the mind, providing people of all ages and strength levels with a total body workout. It has a whole host of benefits including:
• Building your Strength
Rock climbing uses all the body's major muscle groups. Regularly using climbing as a strength-training workout improves upper-body strength, and also promotes strength in core muscles and legs, which play key roles in successfully completing climbing movements.
• Increasing Flexibility
Rock climbing encourages participants to increase their range of motion. Standard rock climbing movements such as long reaches, high steps and stemming require flexibility for successful execution. Adults should include flexibility exercises in their workout routines at least twice weekly.
• Burning Calories
As a high-intensity, full-body activity, rock climbing provides one of the most effective calorie-burning workouts available. According to one study, it is possible for a 68kg person to use a whopping 250 calories in 20 minutes of rock climbing – nearly triple what the same person would burn by walking briskly for the same amount of time.
• Improving Coordination
Rock climbing requires you to coordinate your mind with your muscles. Every rock-climbing move offers a problem-solving challenge, presenting the climber with a different set of potential handholds and footholds to use. The climber strives to master each climb efficiently to continue upward, all (of course) prefrably without falling. Including rock climbing into workouts can improve balance, coordination and agility.
See Also:
Read This:
Source: The Expat Magazine November 2014
---
"ExpatGo welcomes and encourages comments, input, and divergent opinions. However, we kindly request that you use suitable language in your comments, and refrain from any sort of personal attack, hate speech, or disparaging rhetoric. Comments not in line with this are subject to removal from the site. "
Comments