Frances Wilks presents a curated list of treats that you simply can't miss from Penang's own tree of life to a temple made from spirit bottles, from cookery lessons to sybaritic brunches, and from quirky museums to spectacular painted walls.
If you think you've seen it all in Penang – its delicious street food, its heritage streets, its snake temple, as well as the friendliness and humour of its residents – then its time to re-visit the island. It's a fallacy to think that because you visited Penang a couple of years back that it's the same now; the island is constantly re-inventing itself and finding novel ways to express its unique spirit. Not only is its shape changing dramatically with all the new land reclamation, there are also there are freshways to view it, too.
If you don't suffer too badly from vertigo, try shattering the glass ceiling (metaphorically speaking) in reverse by peeking down at the roofs of George Town through the glass walkway at the top of Komtar. It will set you back about a hundred ringgit (depending on what day you visit) but it is a truly breathtaking experience. Here are some others – but some of them pop down as quickly as they pop up, so be quick.
On the street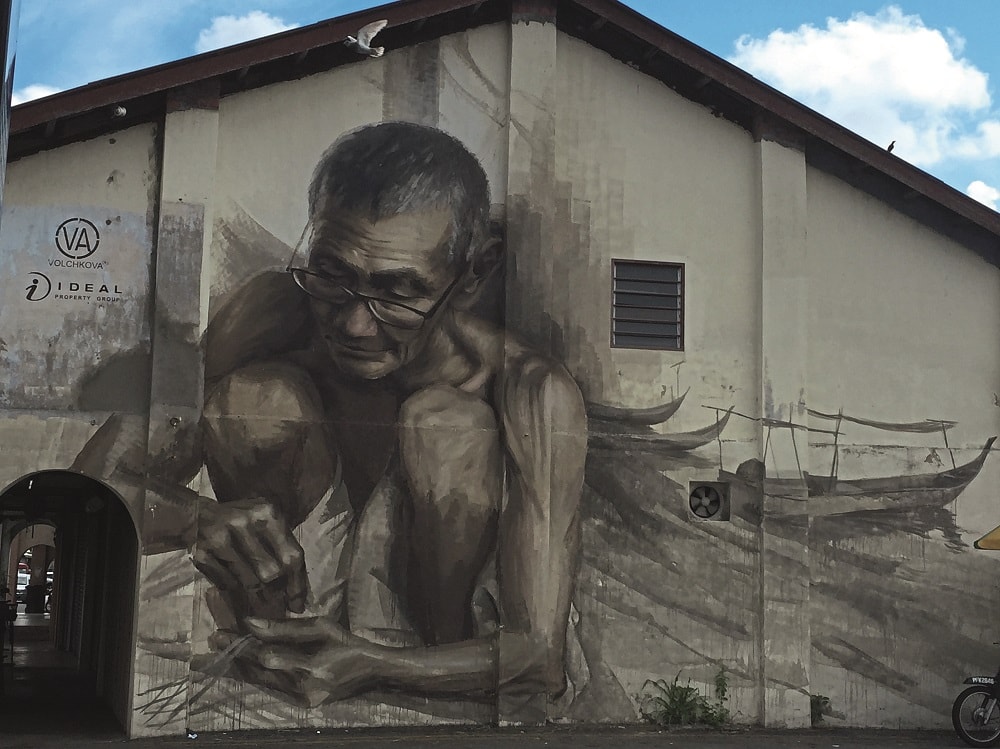 Just because you've seen the bicycle (Ernest Zacharevic's interactive bike in Armenian Street which has now become something of a mecca for selfie shots) doesn't mean you've seen it all. Street art has exploded in George Town in the past six years and yet it's ephemeral. Some of it has already faded, and other examples have been whitewashed over. Catch the tiger with an ironic rope in its mouth in Chulia Street and the girl on a turtle nearby.
But there are so many more – and new ones keep cropping up. For a comprehensive guide to the street art of the entire island read Street Art: Penang Style by Mike Gibby (Entrepot Publishing).
The Balik Pulau Open Air Art Gallery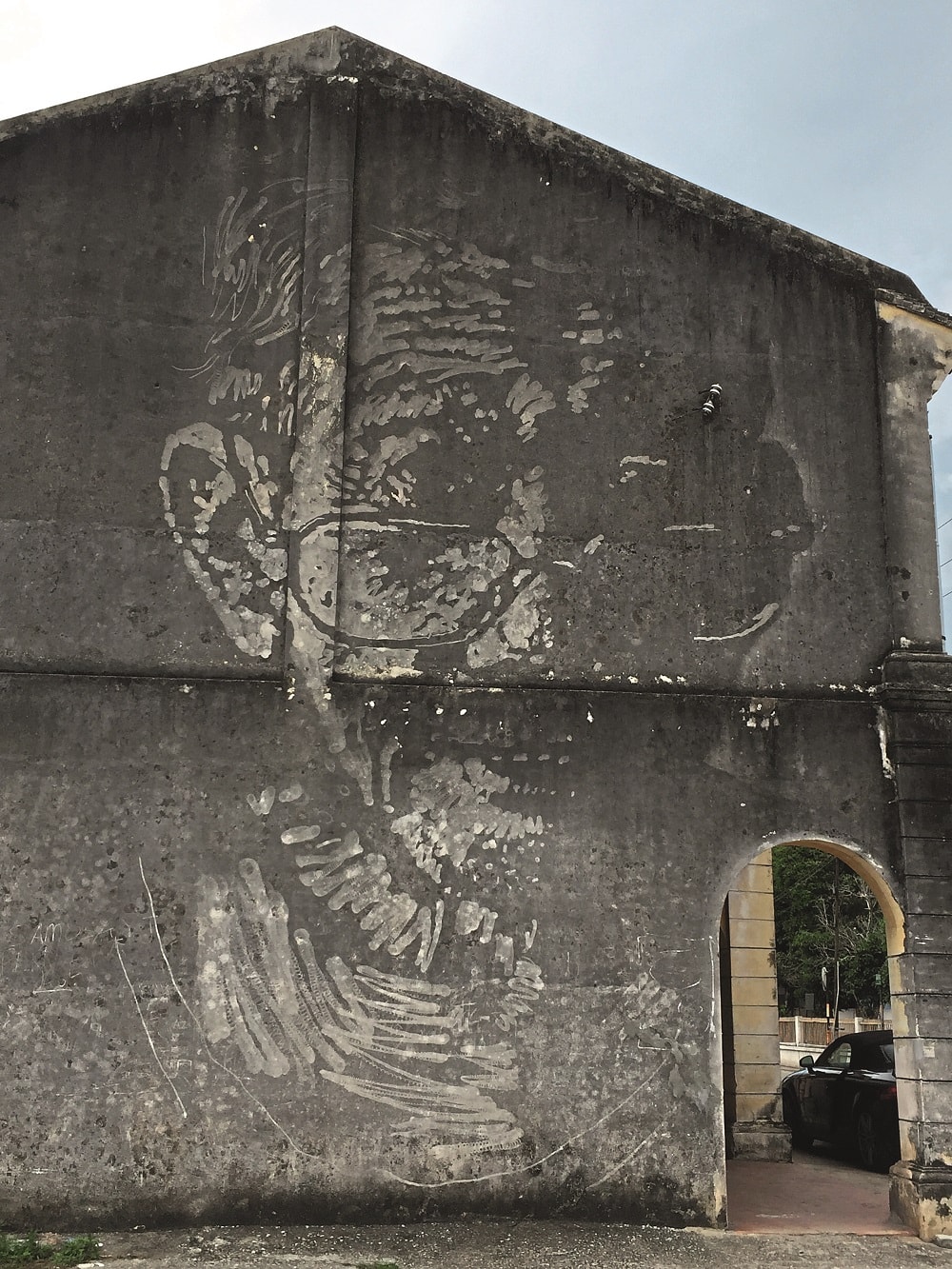 While George Town's painted walls are full of visual humour and often unofficial, Balik Pulau's murals are nothing less than monumental. Taking up the entire end walls of a shop house row and created by international artists Julia Volchova and Ernst Zacharevic, they celebrate scenes and people from local life.
There's a depiction of Johari Omar in a stance from Silat (the traditional martial arts practised in Malaysia and Indonesia), though you might be forgiven for thinking that it's a scene of marital discord!
There's portrait of Yeoh Choon Seng, a local fisherman from nearby Teluk Kumbar, mending his fishing nets, a Hakka Dancing girl, and a Chinese woman rubber tapper. Perhaps the most unusual, though, is the image of an old wrinkled silversmith – created with by blasting a water-jet on to a dark mossy wall to expose the original paintwork below. It's vanishing fast, so see it soon.
Museum buffs
The elegant Penang State Museum in Farquhar Street has just closed for a three-year renovation. Some of the collection has moved to the Penang State museum's other site in Macalister Road, but meanwhile, there are plenty of other museums to enjoy. The Colonial Museum in Scott Road (Jalan D.S. Ramanathan) housed in a lovely old mansion in Scott Road (Jalan D.S. Ramanathan) gives an insight into world long since past as it's the collection of a wealthy merchant family living in Penang in the 19th and 20th centuries. You can see Belle Epoque furniture, white Carrara marble sculptures, stained glass windows, and paintings by William Morris.
The Gold Museum in Bishop Street isn't just a veritable place of worship of the most valuable metal in the world; it attempts to tell the story of gold mining in Southeast Asia. You can trek through mining caverns and you can even pan for gold flakes and then take them home. Penang is famous for its street food, which us why the Wonderfood Museum in nearby Beach Street is perhaps coals to Newcastle.
It's a little on the kitsch side, as all the exhibits are fake food convincingly got up to look like the real thing. You have to admire the skill, but it's a little overpowering, as the food is larger than life – in fact – the model of the iconic Penang dish chendol is the size of a small volcano with green snakelike beans wriggling around it.
You can catch the spirits of the dead at the Penang Ghost Museum, which is located in Lebuh Melayu, George Town, though opinion is divided as to whether the exhibits are actually scary or merely cheesy. As well as showcasing a selection of Malay and Chinese ghosts, they have attempted to bring in other cultures and folklores including spooks from Japan, Ancient Egypt, pirates, and vampires. And if you can't get enough of ghosts, then call in at the Seng Ong Beow temple in Sandilands Road, known locally as the 'ghost temple' because it was built to exorcise the demons that haunted the mangrove swamp that was destroyed when a new settlement was built.
Off the beaten track temples
Penang is an island of temples, almost too many to count, especially as the more traditional ones are often in the front rooms of people's homes. Some of the quirkiest of Penang's temples, however, are to be found in the south of the island, in Batu Maung. Once a fine old fishing village, it is now encroached on by the new concrete developments of South Bay.
The Cheng Choo Tze Temple is known locally as the Bottle Temple. But rather than celebrate alcohol, it's really more about recycling. Tiles were expensive, empty liquor bottles – and these, made of white pottery, nicely painted – were free and on the point of being thrown away. They are all over the temple, too numerous to count.
In the daytime, bridal parties make their way there for an unusual backdrop to their photographs. In the nighttime, mediums go into spirit-filled trances. You can find the temple on the road to Teluk Tempoyak. (It's on Google Maps.) Carry on down the hill into Teluk Tempoyak for another quirky temple – the Sam Poh Footprint Temple – dedicated to the Admiral Cheng Ho.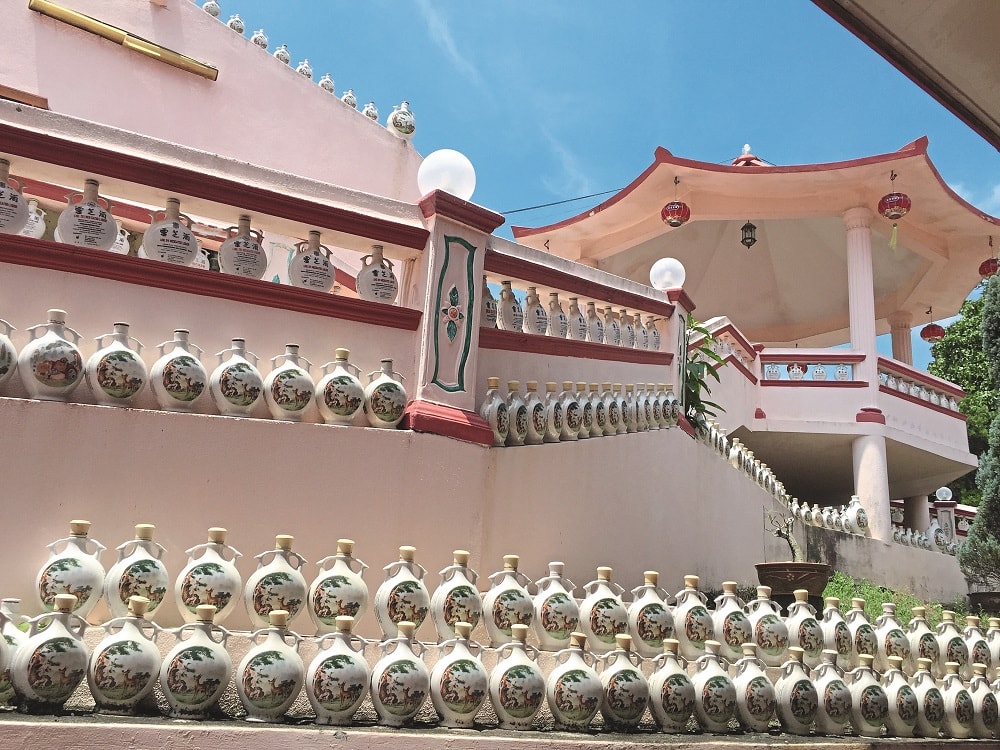 Picturesquely situated on the water's edge with both the new Penang Bridge and traditional old sampans in the background, this temple is revered by three faiths. Admiral Cheng Ho is supposed to have visited Penang and left a rather large footprint in stone. A eunuch, he commanded a huge fleet, which almost certainly visited Melaka in the early 15th century, so a side trip to Penang isn't out of the question.
The Malays, on the other hand, believe that the outsized print belongs to a local giant who was surprised by a villager chopping wood. Backing up this legend, they say, there are four other 'footprints' nearby – on Pulau Jerejak, on Pulau Aman, and in Bayan Lepas – which mark his flight. The Indian Community, however, holds that the footprint was left by the monkey god Hanuman when he was leaping over the Indian Ocean. So take your pick!
Out of Africa: The Baobab Tree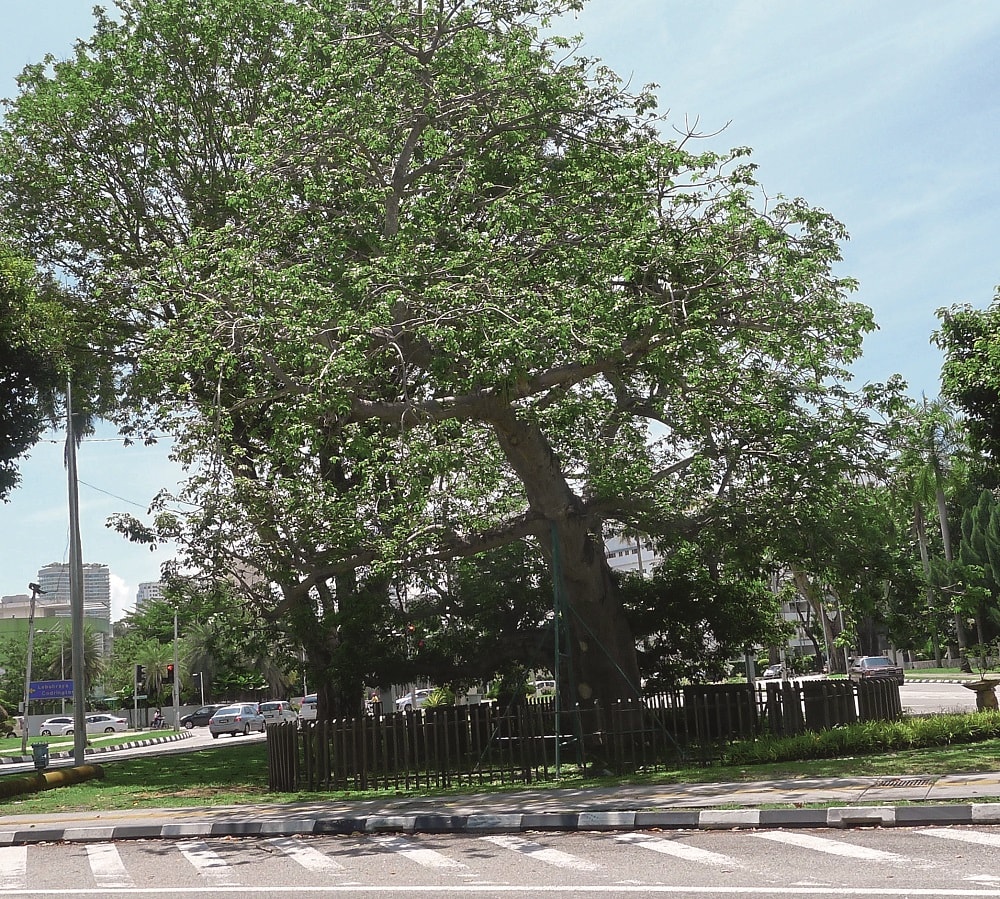 If you've ever been to Africa, you'll know how important the baobab tree is to local populations. In fact it's often called the Tree of Life and Penang has its own – which is also a slice of history as it's the oldest planted tree in Malaysia! Planted in 1871 by a bloke called Captain Speedy, it stands in its own picket-fence compound on the traffic island between Jalan Residensi and Jalan Macalister.
Penangites will tell you that the legend that Penang is actually floating on the sea and the Baobab tree somehow acts as a stopper. If it's uprooted, water will seep up and the island will sink. Hence, even though it appears a little frail and its branches need support, every effort is taken to keep it healthy. As Baobab trees can live for up to 5,000 years, it should keep Penang afloat for some millennia yet.
Secret cooks and cooking secrets
Penang is famous for its food, and one way that you can keep on enjoying it is to attend a cooking class at the Tropical Spice Garden Cookery School. In their dedicated classroom you get to learn the secrets of Penang's best home cooks. In the past this has been a jealously guarded art, passed down from mother to daughter, so this is a real chance to get insider knowledge about Nyonya, Thai, Malay, and Indian cuisines. One of the cooks, Chef Su-Pei, even hosts regular 'secret' dinner parties in her home with her husband, Baba Jerry, who enlivens the evening with Nyonya tales.
Champagne brunches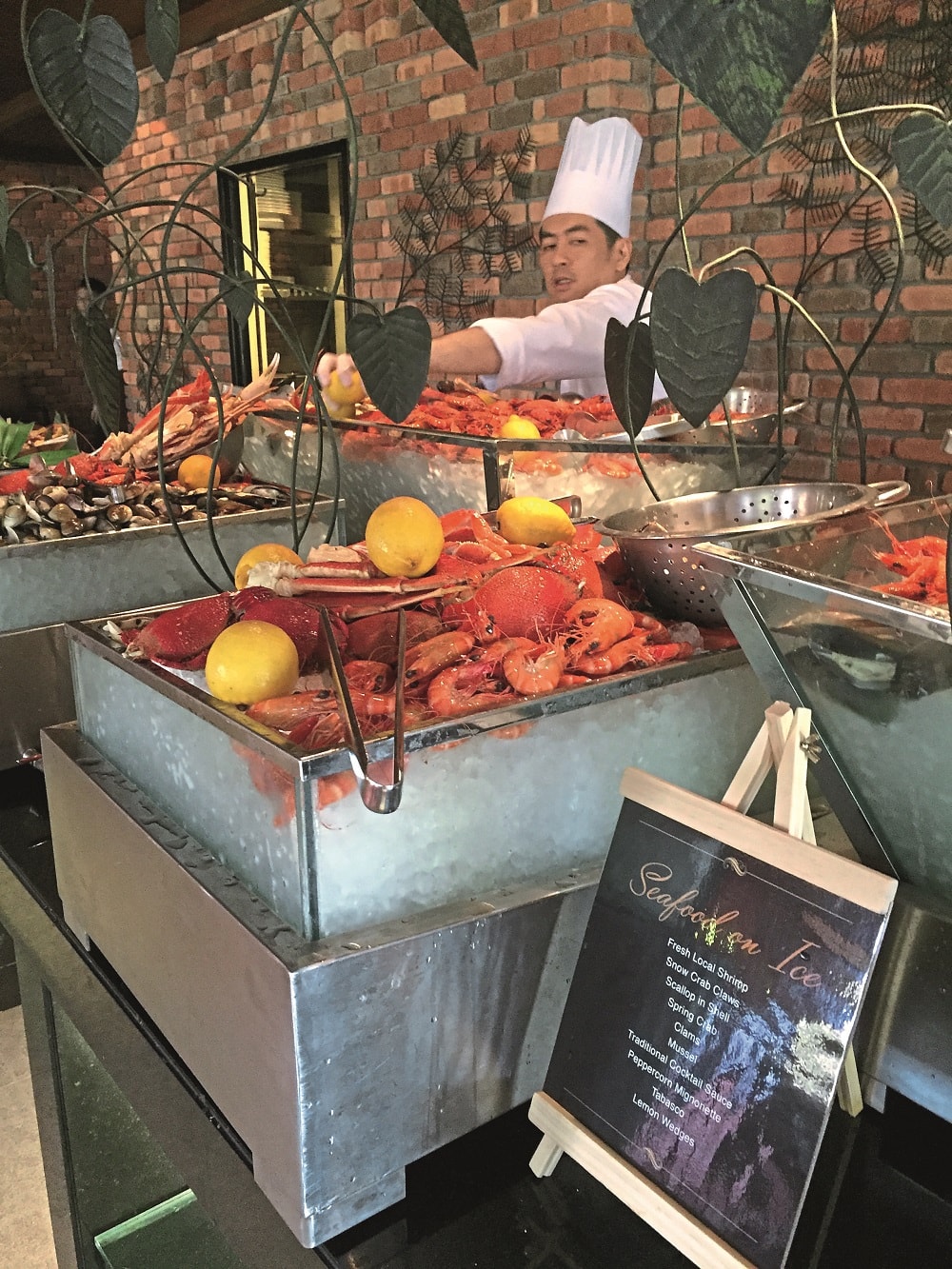 There is some excellent advice – 'Always keep a bottle of Champagne in the fridge for special occasions; but sometimes, somehow, the special occasion is that you've got a bottle of Champagne in the fridge.' But you don't need to as the Ferringhi Grill at the Rasa Sayang now hosts a special Champagne Brunch between 12 noon and 3pm.
Taking place on the last Sunday of the month, its price may shock you at just under RM400, but it's actually a steal. Not only is there a sumptuous buffet – fresh seafood including French oysters, Alaskan crab, and Canadian salmon, as well as a carvery with Waygu Beef, Tomahawk Steak, and herb-encrusted Lamb rack, foie gras and asparagus, a cheese board with some 20 imported cheeses, and some yummy desserts – but there is free-flow Champagne. And not just any Champagne, it's Perrier Jouet Grand Brut. You could very easily drink the cost of the entire meal, and it's such good quality that you won't even have a headache. Best get a friend to drive home, though!
A version of this article was originally published in The Expat magazine (June 2017) which is available online or in print via a free subscription.
---
"ExpatGo welcomes and encourages comments, input, and divergent opinions. However, we kindly request that you use suitable language in your comments, and refrain from any sort of personal attack, hate speech, or disparaging rhetoric. Comments not in line with this are subject to removal from the site. "
Comments