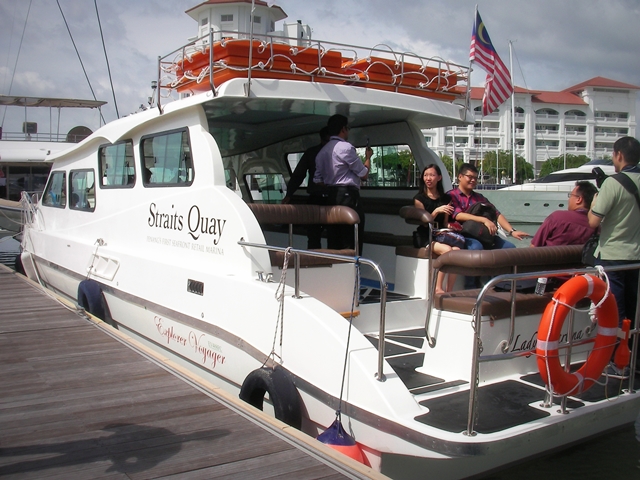 It's taken over 200 years, but Martina Rozells, Francis Light's common-law wife, has finally been honoured. A new launch service starts in September between the newly constructed pier at the E & O Hotel and the Marina at Straits Quay. The comfortable 40-seater boat has been named the 'Lady Martina'. When I was first told about the new mode of transport, I was informed that the vessel was to be called the Lady Martini, which conjured up visions of vermouth and olives in little cocktail glasses. However the 'Lady Martina' is dry, which doesn't really matter, as the crossing is only fifteen minutes, and there are ample food and beverage outlets at both ends of the route.
Martina Rozells inhabited a very different Penang from one we know today; yet she may have been more influential in our island's history than we realise. She certainly co-habited with Francis Light, the founder of Penang, for at least 22 years before his death from malaria in 1794. She bore him five (or possibly six) children, one of whom later became the founder of Adelaide in Australia. Founding a city must have been written into the genetic code of both father and son.
Over the years many romantic legends have been constructed about Martina, and the truth may never be fully known. One of the most exotic stories is that she was a princess of the royal house of Kedah and that the island of Penang was presented to her (and her husband) by the Sultan as her dowry. However, as the Sultan demanded tribute from Penang as recompense for revenue lost, this cannot be true. Along with this story is the notion that Light and Martina were actually married according to Malay customs; but they were not recognised by the East India Company.
Other versions of the Martina story dress her as a Catholic Eurasian of mixed Thai and Portuguese descent. One of the reasons for Light not marrying her might have been the fact that she was a Roman Catholic and he was a Protestant. The other is that she was almost certainly a Eurasian. It is hard for us to realise how much race counted for in the past. Being of mixed race was especially tricky because you belonged to neither side. Despite these prejudices, the Eurasian community has made a rich contribution in the field of Penang's musical history, with artists like Jimmy Boyle, Joe Rozells, Larry Rodrigues, the Baum brothers, the Jeremiahs, Colleen Read and Leo Aeria. An equally important Eurasian heritage piece is in the field of food with such delights as Beef Semur, Chicken Devil Curry and Salted fish pickles – all Malaysian favourites even today. It is thought that Francis Light himself invited the first wave of Eurasian migrants to come to Penang in 1786, the year of the Colony's founding and that subsequent migrants came from Phuket as well as Kedah.
Light died fairly young, but he had made exceptionally detailed provision for Martina in his will, which perhaps gives us an indication of the value placed upon common household objects in those days: "I give and bequeath unto the said Martina Rozells my bungalow in George Town with one set of mahogany tables, two card cables, two couches, two bedstead large and two small with bedding…. a dressing table and 18 chairs, two silver candle sticks, one silver teapot, two sugar dishes, twelve table spoons, twelve tea spoons, one soup spoon and all the utensils not under the stewards charge to be disposed of as she thinks proper without any limitation. I also give Martina Rozells four of my best cows and one bull…." (Quoted in Streets of George Town).
It is rather shameful that after Light's death, his business partners tried to cheat Martina out of her inheritance by transferring his properties into their names. She struggled in the courts for many years perhaps hampered by being illiterate, as so many women were in those days. She did finally win justice in 1812 but by then, she had married John Timmins. Even the street which once bore her name, Martina's Lane, has been renamed Leith Street Ghaut.
But with the new launch of 'Lady Martina,' Martina Rozells is finally taking a place of pride in history. To get a place on the launch, you need to spend RM50 at any Straits Quay outlets and then buy a ticket for RM10. But this boat should be one of many, as Penang begins to realise that its overcrowded roads cannot take much more punishment and turns back to its maritime past. Wouldn't it be wonderful and refreshing if catching a boat up the coast of Penang was as easy as catching a bus is today?
Read more:
---
"ExpatGo welcomes and encourages comments, input, and divergent opinions. However, we kindly request that you use suitable language in your comments, and refrain from any sort of personal attack, hate speech, or disparaging rhetoric. Comments not in line with this are subject to removal from the site. "
Comments