Some of the country's most iconic heritage buildings stand as a testament to the architectural vision of one man. Let Anis Rozalina be your guide into the enduring legacy of the mastermind behind Malaysia's most enduring buildings.
His buildings are familiar to us, and for some, his name is, too.Yet, for a man who was instrumental in the design and construction of Malaysia's many landmarks, little is known about Arthur Benison Hubback.
At least 25 buildings in Malaysia are credited to Hubback as the architect, of which 13 – or more than half – are considered national treasures today. All of his works, save one which was bombed during the war, still stand in all their glory. They may look a little weathered, a little worn, but the years have hardly diminished their beauty or magnificence, a testament to his design ingenuity.
In the 19 years that he was in Malaysia – then called Malaya – Hubback designed some of the most iconic buildings of the time. The first he had a hand in was the Sultan Abdul Samad building, which was built to house the growing number of government workers then. Upon completion in 1897, the grand public edifice was hailed as one of the most beautiful buildings in the region.
His prolific body of work, which includes the Masjid Jamek Kuala Lumpur, the Kuala Lumpur and Ipoh Railway stations, the Royal Selangor Club, and the FMS Railways Central Offices (currently occupied by the National Textile Museum), is on permanent display in many parts of Malaysia. They have changed and characterized the landscape of many Malaysian towns and even, as some critics contend, reduced the significance of traditional Malay architecture.Yet, there is no denying that his works have left an enduring impression upon the country's built heritage today.
So who was this man who had such an influence in shaping the façade of Malaya in those days?What were his inspirations? How did he create such enduring legacies?
A Glimpse Into Malaysia's Past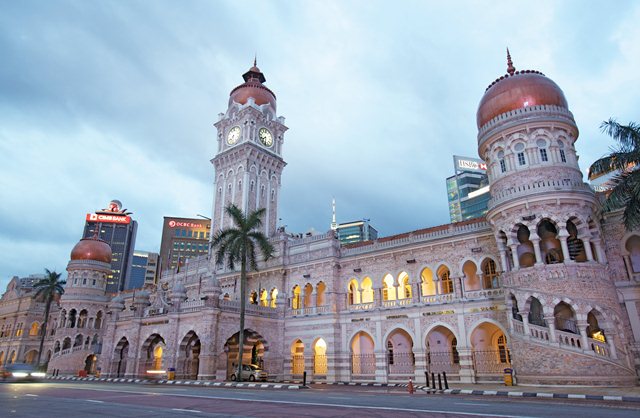 These were some of the questions answered by architect Rosli Mohd Ali in his presentation, "The Trilby Touch – 25 Buildings by A.B. Hubback" on 24 May at the National Textile Museum. Rosli, who confesses to a hobby of meandering around the city on foot just admiring and observing buildings up close, is a Heritage Conservation committee member of the Pertubuhan Akitek Malaysia (PAM), the Malaysian Association of Architects. His presentation on Hubback's work was part of the "A.B Hubback: An Architectural Celebration in Malaya" exhibition by PAM and the Jabatan Muzium Malaysia that ended on 30 June.
Rosli gave an architectural overview of Malaya in the 1880s, noting that in areas such as Kuala Lumpur, there were hardly any brick and mortar buildings at the time. Many of the building design in those days utilised timber, a case in point being the original Selangor Club. In fact, in pictures of Bukit Nanas and Lebuh Ampang from the 1880s, one can see clusters of thatched-roofed buildings dotting the landscape and not much else.
While the few brick buildings of that period could be credited to state architect A.C. Norman, the arrival of Charles Edwin Spooner in 1891 and, later Hubback in 1895, changed all that. Fresh from a posting in Ceylon to take up the position of State Engineer at the PublicWorks Department in Malaya, Spooner opted to style the city's buildings in Mughal Eclectic instead of Classical Renaissance that was in fashion at the time. His decision has been said to be influenced by his experience in Sri Lanka. Moreover, it was perceptive to appeal to the Muslim rulers of the time, as Malaya was considered a British Protectorate rather than a colony in the British Empire.
From Drawing Board to Reality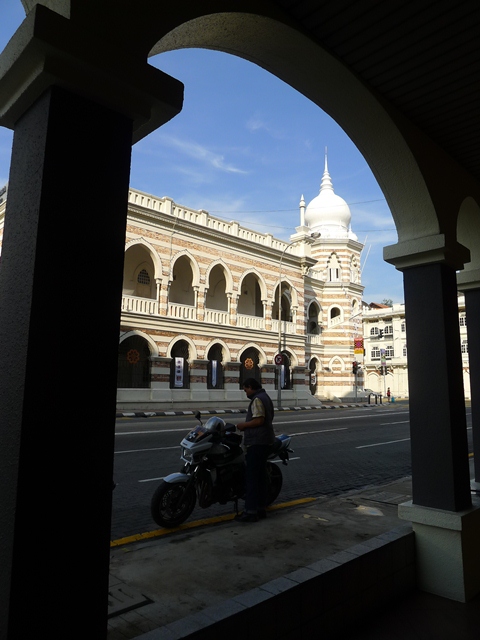 With Hubback as the new chief draughtsman and Spooner as his boss, the Federated Malay States slowly but surely took shape with majestic structures, elegant spires, handsome columns, and exquisite arches. From Hubback's drawing board, elements of Arabesque merged with fine Indian detail in the State Secretariat building, or Sultan Abdul Samad as it is known today; classic European design was elevated to a whole new style with Mughal inspirations (the Ipoh Railway Station and Hotel); and Tudor architecture was modified with traditional Malay aesthetics (Carcosa).
Hubback soon became the star architect beloved by many. In a dinner speech, Spooner had openly praised him, "although a newcomer, his pen has designed some of the most beautiful ornaments in the building,massive staircase and central hall ceilings – all elegant in design and perfect in execution." A keen sportsman, Hubback was often granted extended periods of leave to participate in sporting events overseas (journeys by ship those days often took weeks).Various benefits were also lavished upon him such as horse allowances for travel as well as a tutor allowance to learn the Malay language. (Letters recommending these perks to Hubback were displayed at the A.B. Hubback exhibition, giving a sense of how much he had endeared himself to his supervisors.)
His fame even reached further east, specifically the Hong Kong Government, who commissioned him to build the Kowloon-Canton Railway Terminus Station in 1913. By that time, he had gained a certain reputation as a railway station architect, having designed both the KL and Ipoh railway stations to much praise, the former even hailed as the most beautiful railway station in the east.
A Legacy Preserved
A century later, he is still much respected. His works are still around to be admired, his trademark styles – the arches, the chatris, the minarets, the domes, the wide, airy verandahs, high ceilings and spiraling staircases – are living references to historians, artists and others. But ask any architect, and it isn't just aesthetics that he is admired for.What made him special was the fact that he had the technical understanding of both the practice of architecture and surveying. It was this expertise which led to his architectural foresight in the tropics – positioning a building to catch even the faintest of breezes to then circulate along the stairwells and balconies, for example.
His experience in both is credited to his apprenticeship in Liverpool with a certain Thomas Shelmerdine who, at 26 years, was the youngest English architect to be a surveyor for the city. It was with Shelmerdine that Hubback learned the full range of both professions.Working on the in-house projects at the Corporation of Liverpool, he gained experience in design, providing cost estimates, cost control and planning, and learned to assess and approve building plans for safety, accessibility and efficiency.
Hubback took this experience with him and put it to good use in Malaya where he had to interact with various foreign groups – the Chinese towkays, the Indian and Malay labourers, the English bosses. At the same time, he had to keep an eye on building costs, comply with building regulations, and detect and diagnose problems throughout the construction period. His planning skills had to be excellent as building materials during that period either had to be imported, or in the case of local materials, mined or milled in advance.
By 1914, Hubback had designed his last building for Malaya, the Ipoh Railway Station and Hotel, which was only completed in 1917 due to shortage of materials and high labour costs during the war. Built in an elegant neo-classical style, it reflected the wealth and importance of Ipoh town as one of the largest tin centres in the world, and was an apt parting masterpiece that still endures and inspires today.
In 19 short years, Hubback had brought to life the vision that Spooner had imagined for Malaya. He left for England in 1914 and never returned to post-war Malaya again. He also left the architectural practice and pursued a military career with the British army, rising up to Brigadier General until his death in 1948.Yet, even in death, he lives on. In many parts of modern Malaysia, amid a landscape crowded with contemporary glass and steel constructions, his spirit remains, his buildings still stand, ageing well and enduring gracefully, more than a century later.
Source: Senses of Malaysia July/August 2014
Read more:
What are your thoughts on this article? Let us know by commenting below.No registration needed.
Comments