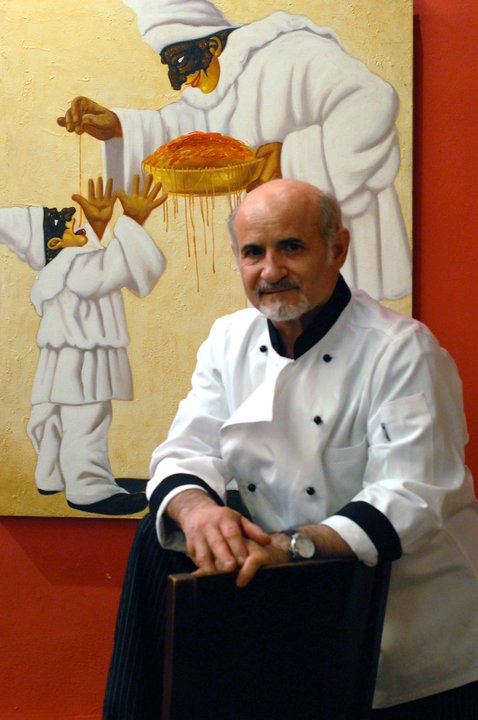 Photo Credit: Born a Chef Paolo Pala, Facebook
Good chefs are made…but great chefs are born. For these culinary artists, being in the kitchen, cooking and developing recipes, and feeding appreciative diners is more than just a passion: It's the essence of who they are. Editor Chad Merchant meets one such chef who brings decades of experience and the best of Italy right here to Malaysia.
Paolo Pala just might be Malaysia's closest thing to an expat celebrity chef. Not only the creative force behind a string of successful Italian eateries here, he's also the subject of a biography-cum-recipe book, and is extremely well-known in the restaurant scene. As I sat with Chef Paolo on an uncharacteristically breezy day at the Solaris Mont Kiara outlet of his popular Michelangelo's restaurant, customers spoke to him by name, passers-by waved effusively and called to him, and it became clear that this was no introverted, behind the- scenes chef.
To be fair, that's true of many successful chefs. They have big personalities, fascinating life stories, a hard-to-restrain creative drive, and a very clear sense of just how things need to be done. Such is the case with Chef Paolo, a spry and engaging man whose energy level belies his age and whose vision and culinary knowledge has yielded one of KL's most enduring and popular Italian eateries of the last decade.
Born and raised in a small village called Orroli, situated in the central mountains of the island of Sardinia in the heart of the Mediterranean, Paolo learned from an early age the value and appeal of fresh, healthy food. "My parents produced virtually everything we ate," he told me. "We grew wheat, fruit, and vegetables. We had a vineyard, too. We had livestock. Everything we ate was fresh – the best food in the world." Perhaps it's this traditional, healthy approach that has given Paolo his youthful vigour even at an age when most men would be retired.
Indeed, Sardinians share with Japan the highest rate of centenarians in the world, so being long-lived and healthy is part and parcel of being Sardinian, and Paolo would be quick to attribute the lengthy lifespans to the quality, freshness, and variety of food in the Sardinian diet. "There is just so much choice," he effused. "Game, vegetables, soups, stews, homemade pastas, salads, cheeses, and of course all the fresh seafood from the Mediterranean."
It is this breadth and depth of variety that makes Italian cuisine among the most popular in the world, and it's exactly what Paolo set out to learn as a teenager. When he was only 15, he left his small village and struck out for Milan on the Italian mainland ("crying all the way," he added). It was 1964, and his older brother was already working as a chef in Mont Blanc. Journeying first by sea, then overland, it took the young Paolo over two days to reach Milan, where he soon found work, and within no time, his nascent skills landed him an assistant chef position. From there, he continued his trade, learning all the while, even working in Ristorante al Fio Cavour, one of the city's top eateries. By the young age of 22, Paolo had already amassed years of practical experience, and it was at that time he opened his first restaurant, a decision that set him on a lifelong path of culinary pursuits that weave a compelling and oftentimes amazing life story, somehow bringing him half a world away to Malaysia's capital city.
It didn't take long talking with Paolo to realize how important family is to him, and that's exactly what brought him to Malaysia – the desire to be closer to his son and beloved granddaughter. Chef Paolo opened his first venture inMalaysia in January 2005, a restaurant in Plaza Damas called Sure Pizza. Finding a foothold in what was then a new shopping centre didn't happen overnight. "It took about two years," Paolo explained, "but business continued building, and soon, my restaurant was filled every day."
For much of the last two years, Chef Paolo has parlayed that success into a much higher-profile venture as the executive chef of Michelangelo's, a popular casual upscale restaurant with outlets at Pavilion KL and the trendy Solaris development in Mont Kiara. Both of these restaurants have built faithful clientele who come again and again for the comfort, the ambiance, and the unyielding quality and authenticity of the food. "There is no competition as long as you produce the best fresh and tasty food," Paolo explained when I asked him about KL's proliferation of Italian or Italian-themed restaurants. "People know what good food is, and when they taste mine, they just keep coming back for more." He went on to say that his desire is to give diners the best food, the freshest ingredients, and help them experience the difference between good and great Italian cooking, to "make sure they won't forget me, and to come back again and again to experience the many different dishes we offer them."
Chef Paolo's is a life story far too rich and far-reaching to summarize in a short article, so his biography Born a Chef, with fascinating stories accompanied by delectable recipes, is available on Amazon and makes for a great addition to any expat's library. In the meantime, though, pay a visit to either of the Michelangelo's outlets – he spends more of his time these days at the Solaris restaurant – to sample some of the finest authentic Italian cooking in the city. Paolo is not one to hide in the kitchen, either, so you'll be likely to see him out talking to patrons and making sure everything is just the way he wants it – happy customers enjoying great food.
From Sardinia to Solaris… and from Milano to "Malaysiano"… Chef Paolo's half-century culinary tale is still being written and you're invited to take a seat at his table and be a part of it.
For more information, please visit www.paolopala.com or www.michelangelos-restaurants.com.
Source: The Expat Magazine September 2014
Read more:
What are your thoughts on this article? Let us know by commenting below. No registration needed.
---
"ExpatGo welcomes and encourages comments, input, and divergent opinions. However, we kindly request that you use suitable language in your comments, and refrain from any sort of personal attack, hate speech, or disparaging rhetoric. Comments not in line with this are subject to removal from the site. "
Comments