This time we take a look at some of Malaysia's favourite street snacks. Every person will undoubtedly have their own favourite vendors for each of these snacks, but the whole country can definitely agree that these make perfect tea time snacks.
1. Keropok Lekor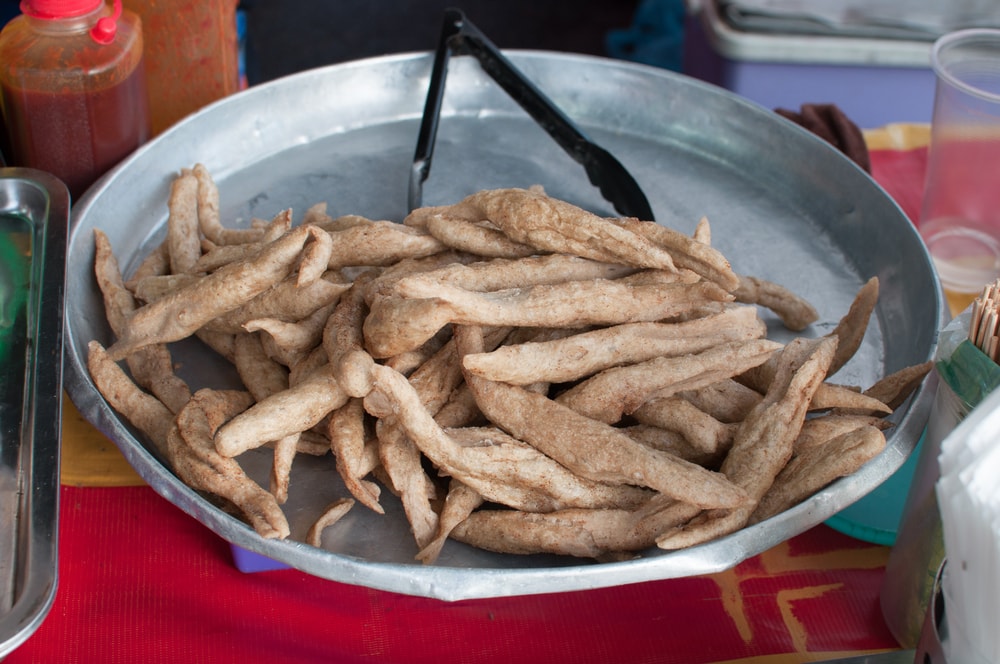 For many, one of the first few snack food items that comes to the mind is chips. There are so many types of chips and they are all equally and sinfully good and addictive. Similarly, one of the preferred snacking items in Malaysia could very well be keropok in all its various forms and flavours. Among the many different types available, keropok lekor has secured a spot among Malaysians as an irresistible snack.
Keropok lekor – also known as fish fritters, fish sausages, or fish sticks – is a specialty of east coast states on the Peninsula, especially Terengganu. A popular treat among locals, keropok lekor is made from a mixture of minced fish meat and tapioca or sago flour to form a dough, which is then processed into a cylindrical shape and boiled before it is fried. Slightly greyish in colour, the dough is sliced into chunky bits before it is fried to a warm, golden hue that induces a person into a mouth-watering coma with its fragrant smell.
Best eaten while it is still hot and crispy, the taste and experience is further elevated when the keropok lekor is paired with a special chili sauce. Delicious… and definitely a must-try if you really want to experience a bit of authentic east coast Malay culture!
2. Popiah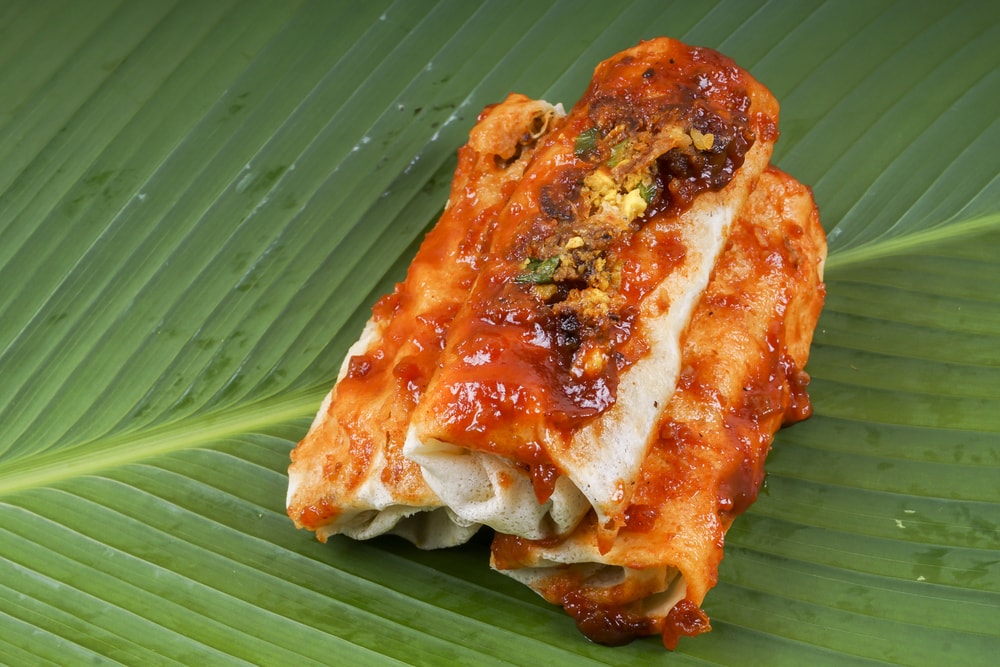 In a country with plenty of cultural differences, most Malaysians agree that one thing that brings everyone together here is food. A visit to Malaysia is never complete without trying Nasi Lemak, Roti Canai, and Char Kuey Teow – famed dishes from the Malay, Indian, and Chinese races, respectively – but there are other dishes that are equally tasty, if perhaps lesser known. One such item is popiah, a type of spring roll predominantly found in Malaysia, Singapore, Indonesia, and Taiwan.
A popular street food, popiah – which means "thin pancake" in Teochew in reference to the skin used to wrap up the filling – is traditionally stuffed with julienned turnip, jicama, carrot, bean sprouts, bean curd, and lettuce leaves. But over the years, the humble popiah has gone through an evolution; as a result, at each hawker stalls you are bound to find variation in the fillings.The simplicity of snacking on the popiah is largely due to the fact that the sauce,made from bean paste and chilli sauce, is spread inside the skin before it is wrapped up, saving you the trouble of dipping it in sauce. And what's more, since it is not fried, the made fresh to order popiah is a pretty healthy snack, too!
3. Ikan Bakar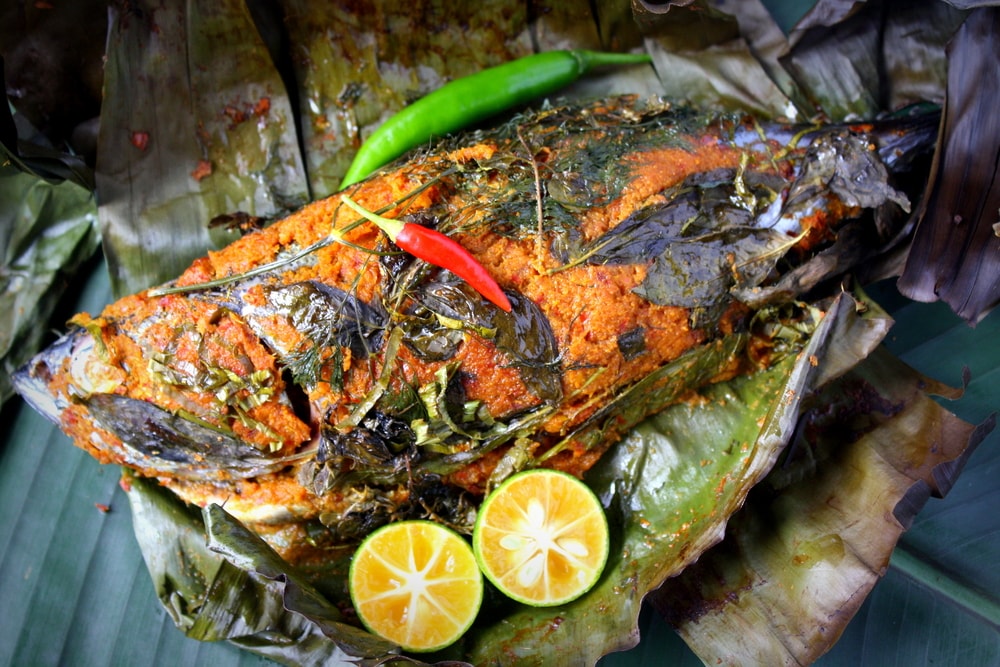 The well-worn phrase "don't judge a book by its cover" is certainly apropos for the simplelooking ikan bakar. This deceptively simple dish, ikan bakar or grilled fish, is actually a flavourpacked, full-bodied dish popular throughout Malaysia. A true Malay classic, a whole fish is cleaned, loaded with dollops of sambal and spices, and then grilled over hot coals. Sometimes the fish is wrapped in a banana leaf before grilling. The banana leaf serves the subtle yet powerful purpose of imparting the fish with a smoky and charred flavour while the sambal adds texture and layers of spice to the fish, taking this dish from simple to standout in a matter of minutes.
Boasting plenty of flavour, this culinary treat can be found on the menu of local eateries all over the country.What makes ikan bakar unique from one stall to another is the chilli paste used to marinate the fish, as well as the method of cooking it. Some of the types of fish typically used for ikan bakar are stingray, barramundi (known locally as siakap), mackerel, and tilapia.The grilled fish is almost always served with a condiment made out of tamarind juice, light soy sauce, sugar, chopped onions, and sliced chillies that complement the taste of the fish and the chilli paste.
You know you've got a winning dish when you bite into the juicy fish and are greeted by an explosion of other flavours such as sweet, sour, spicy, and tangy. Served alongside a mound of fluffy steamed rice, ikan bakar is a grilled taste sensation and a timeless favourite in Malaysia.
4. Dodol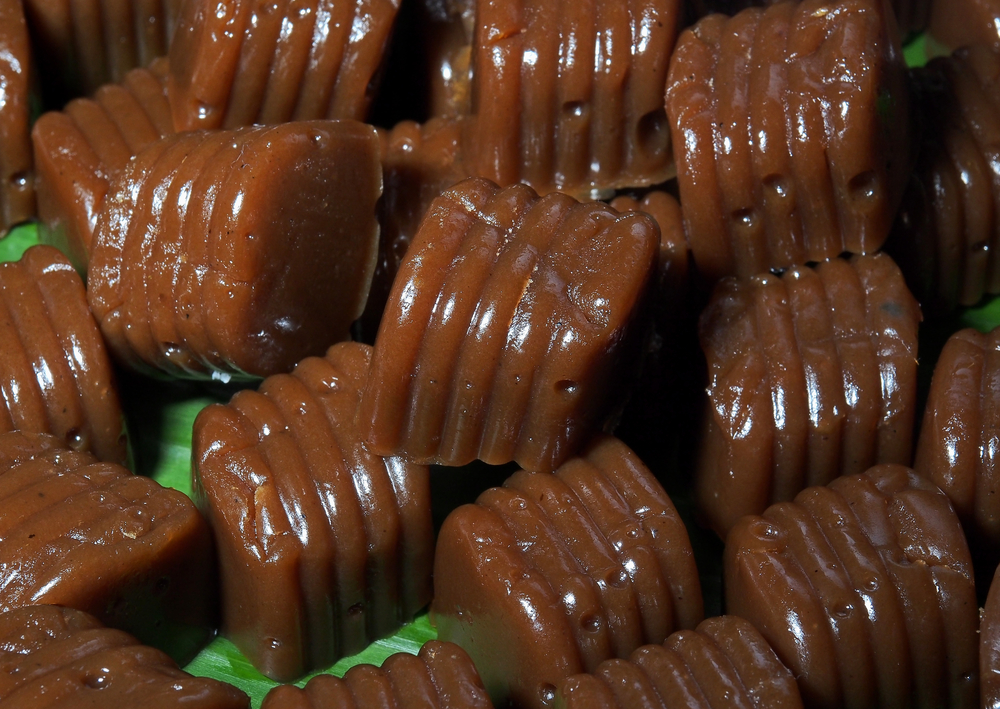 In Malaysia, a big part of festive celebrations is about bringing the muhibah spirit to the fore. The upcoming Hari Raya celebration is no different.While the Muslims will be observing the religious significance of this occasion, non-Muslims, in the spirit of camaraderie, also join in the festivities by indulging in the array of tasty traditional Malay delights.
One item that will be making its presence felt all around Malaysia is the ubiquitous dodol. This sweet and sticky treat – made from coconut milk, palm sugar, screwpine leaves, and glutinous rice flour – goes through a rigorous cooking process that may at times last up to nine hours. It's not only popular in Malaysia, but also in other countries such as Indonesia, Singapore, Brunei, Philippines, Sri Lanka, and Myanmar.You know you've got a good dodol when it is thick, firm, and it doesn't stick to your fingers when touched – this consistency can be achieved by not skimping on the ingredients and also ensuring that during the entire cooking process, the dodol is constantly stirred in a big wok. Any pause in between might cause it to burn, thus ruining the taste and aroma.
Today, the dodol has gone through a revolution, and is now available in a variety of flavours such as mango, apple, pineapple, coconut, and vanilla bean, but the most popular flavours to date are the pandan (screwpine) and durian dodol.
Now, before you get your hands on some of these addictively sweet and gooey treats, remember that they should be enjoyed in moderation, as the dodol is rich in sugar and high in calories.
5. Carrot cake
Street food may be fashionable in other parts of the world now, but in Kuala Lumpur it's always been a popular part of the local cuisine. Thanks to Malaysia's uniquely multicultural population, a fascinating, diverse, and wonderfully 'messy' food culture has been created, in contrast to the modern skyscrapers that dominate the capital's skyline. One of the more popular food streets in Kuala Lumpur is Jalan Alor, where stalls selling a variety of local food take up both sides of the road. It is THE place frequented by foreigners who want to taste dishes that they would most probably not be able to sample back home, at an affordable price. One of the dishes worth trying, but has not been overly written about, is the carrot cake.
Not to be confused with its sweet counterpart – a moist, sweet cake made with carrot and spices and covered with cream cheese frosting – this savoury carrot cake, sans the carrot and cream cheese frosting, is made of rice fl our and white radish, which some call white carrot. Also known as chai tow kway, carrot cake is made from white radish that is cut into cubes and wok-fried till crispy with ingredients such as eggs, garlic, and preserved radish called chai poh and can be found at almost every hawker centre or night market (pasar malam). In KL, it is common for hawkers to sell the black version of fried carrot cake – the colour a result of adding dark sweet soy sauce, which gives the dish a sticky, sweet, and savoury element. The mark of a plate of good fried carrot cake is the slightly charred edges that add the wok aroma to the fi nely cubed cakes.
6. Teh Malaya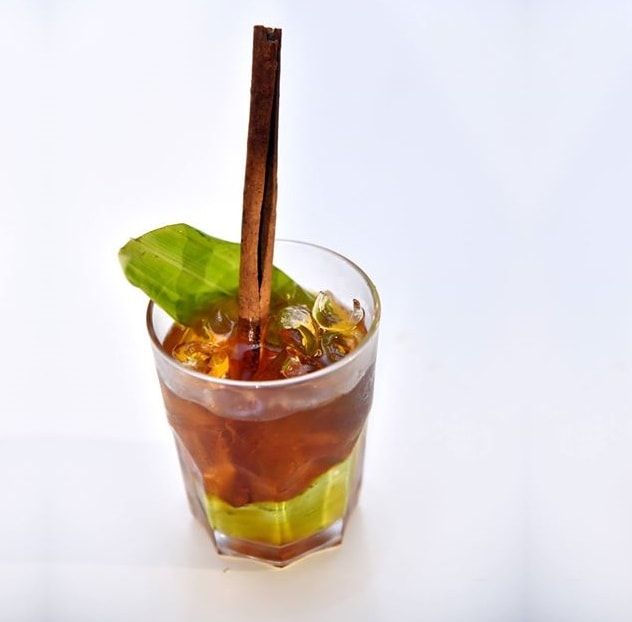 Take a walk down memory lane with Teh Malaya, Kuala Lumpur's very own signature concoction. A tea-based blend made using local products, Teh Malaya is brewed traditionally in the style of Malaysian kopitiam. The mocktail – a brainchild of Muhammad Rushdi bin Md. Shaari – is infused with fresh cinnamon and sweetened fresh pandan leaves, both popular ingredients commonly found in local cuisine. As a result, the mocktail is a refreshing and invigorating drink with mildly sweet undertones for a smooth finish. At the first sip, the slightly sweet and smooth flavours of Teh Malaya invoke serenity.
Teh Malaya reflects the balanced taste buds of KL-ites who are sophisticated yet still rooted in cultural influences. According to the 25-year-old inventor, the inspiration was driven by the need to create something to let the world know about Malaysia's uniqueness. Teh Malaya also holds a special significance to Muhammad Shaari, who is also the winner of KL Signature Mocktail competition, as his mother loved to use pandan leaves in her cooking.
This article was originally published in Sense of Malaysia (Jan/Feb 2017) which is available online or in print.
Comments