Heir and caretaker of the late Sultan Ismail Nasiruddin Shah's photography archives, YM Raja Ihsan Shah, has launched yet another exhibition of his late grandfather's photographs. Sultan Ismail was the Sultan of Terengganu (1946-1979) and 4th Yang di-Pertuan Agong, or King, of Malaysia (1965-1970). He was also an avid photographer and is considered the pioneer of modern photography in Malaysia. His grandson, Raja Ihsan has organised several exhibitions and published several catalogues as well as a book about Sultan Ismail and his photographs.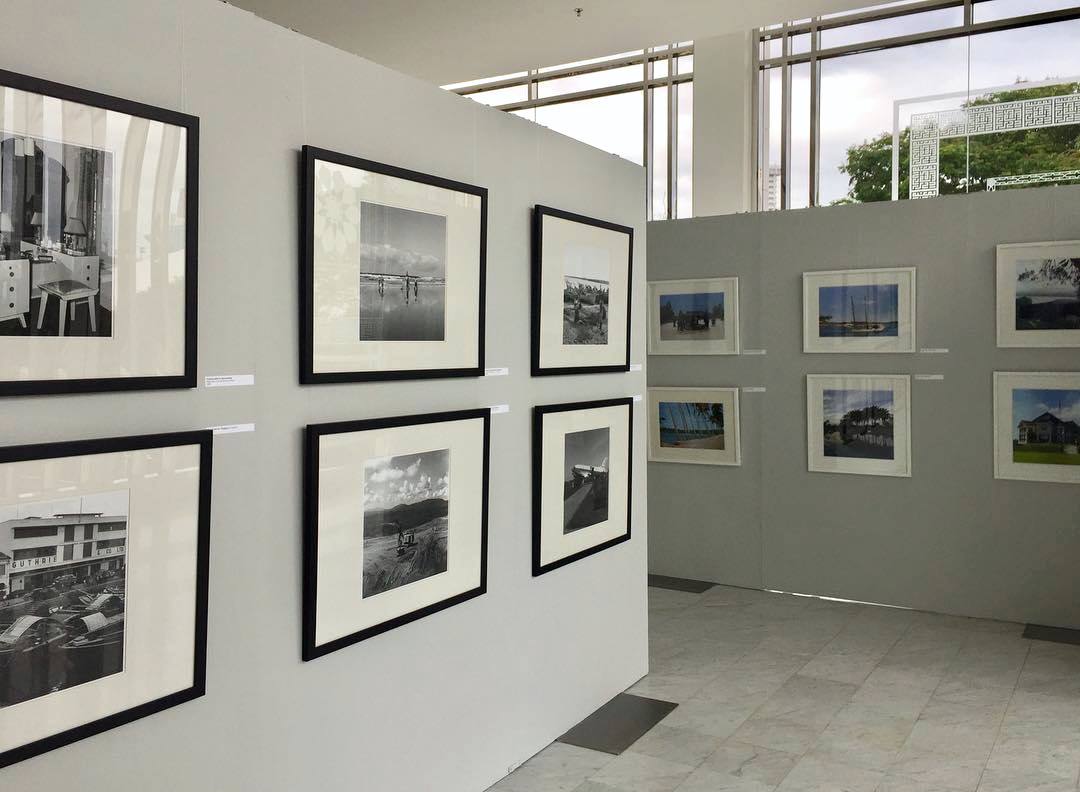 The latest exhibition, titled 'Unveiling the Unseen (1937-71)' at the Islamic Arts Museum in Tasik Perdana, features 58 selected photographs from the late king's personal collection, some of which are seeing the light of day for the first time, having never been developed before.
The collection of mainly black-and-white photographs, as well as a smattering of colour and hand-painted photographs is available for viewing until 31st March 2017.
At the launch, Raja Ihsan delivered an insightful talk about modern photography in the context of Malaya, going through HRH Sultan Ismail's work and connecting that to Malaya's own journey through photography.
Malaya's modernist pioneer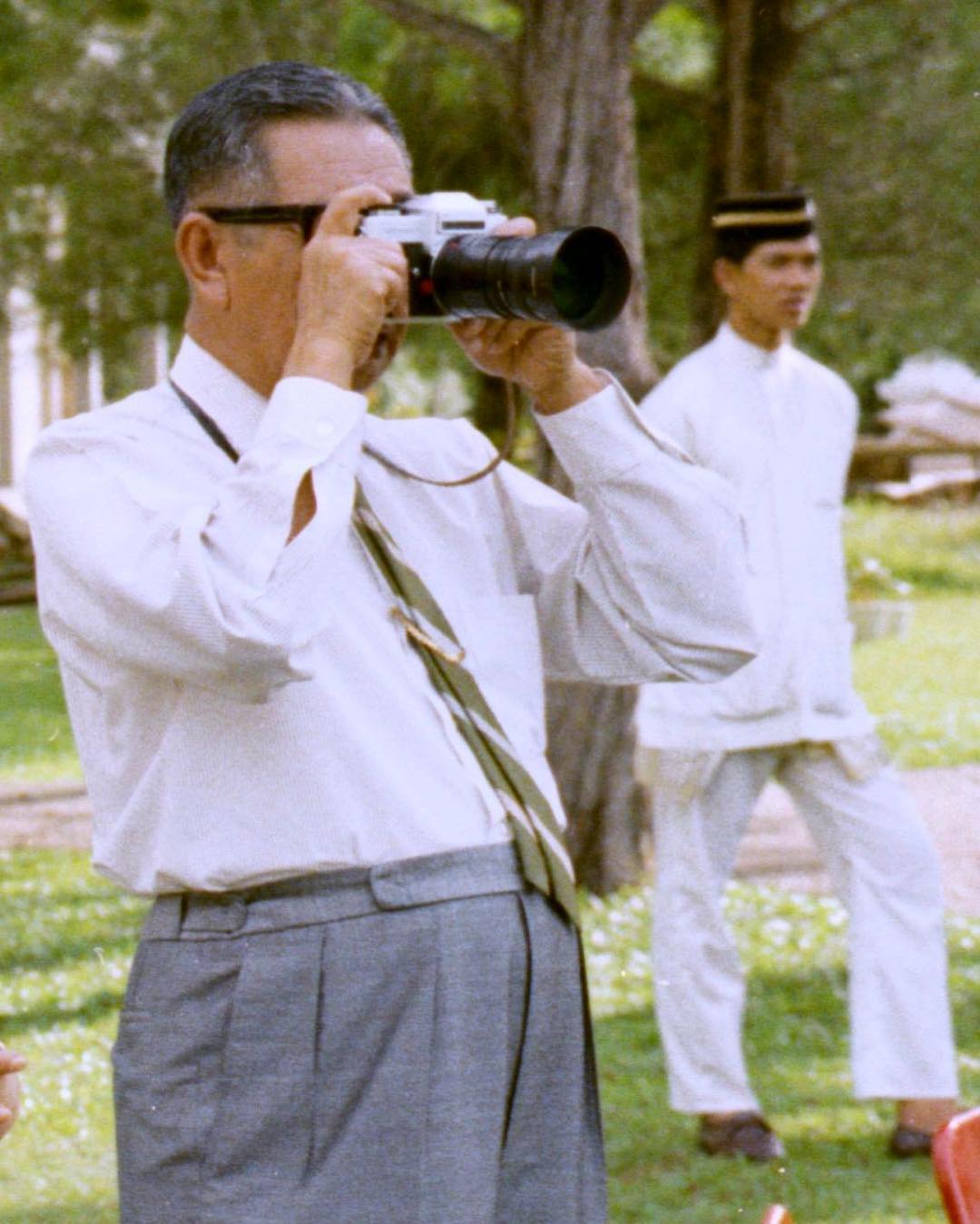 Interestingly, Sultan Ismail was tagged as a pictorialist, much to the chagrin of Raja Ihsan who instead feels that his grandfather was actually a modernist.
A pictorialist, as explained by Raja Ihsan, takes photos that look like paintings – the edges are soft and blurred, sometimes manipulated to create the desired effect. A pictorialist tends to take abstract photos with a sense of romanticism.
In contrast, modernist photography captures stark lines, and 'real' moments. It was straight photography with no manipulation. As Raja Ihsan put it, in modernism, "reality is poetry".
Raja Ihsan argues that Malaya bypassed pictorialism and went directly to straight photography, as evidenced by Sultan Ismail's work and that of other photographers during that time, such as Chan Chew and KF Wong.
Once you're able to separate the two styles, it's clear that Sultan Ismail was in fact a modernist. Using examples from Western and Japanese modernist photographers like Albert Stieglitz and Shinzo Fukuhara, Raja Ihsan pointed out how the late king's composition and style do in fact take on a modernist approach.
Most people miss this, said Raja Ihsan, because the subject matter of Sultan Ismail's photographs was usually rural Terengganu, which is far from the typical modern-era subject matter of street photography.
However, Raja Ihsan notes that in rural Terengganu, the rivers were the streets. If you simply replace the dirt road and palm trees with street lamps and tar lanes, Sultan Ismail's photos will immediately be identified as street photography. So in fact, Malaya was in sync with the world in terms of photography trends and progress.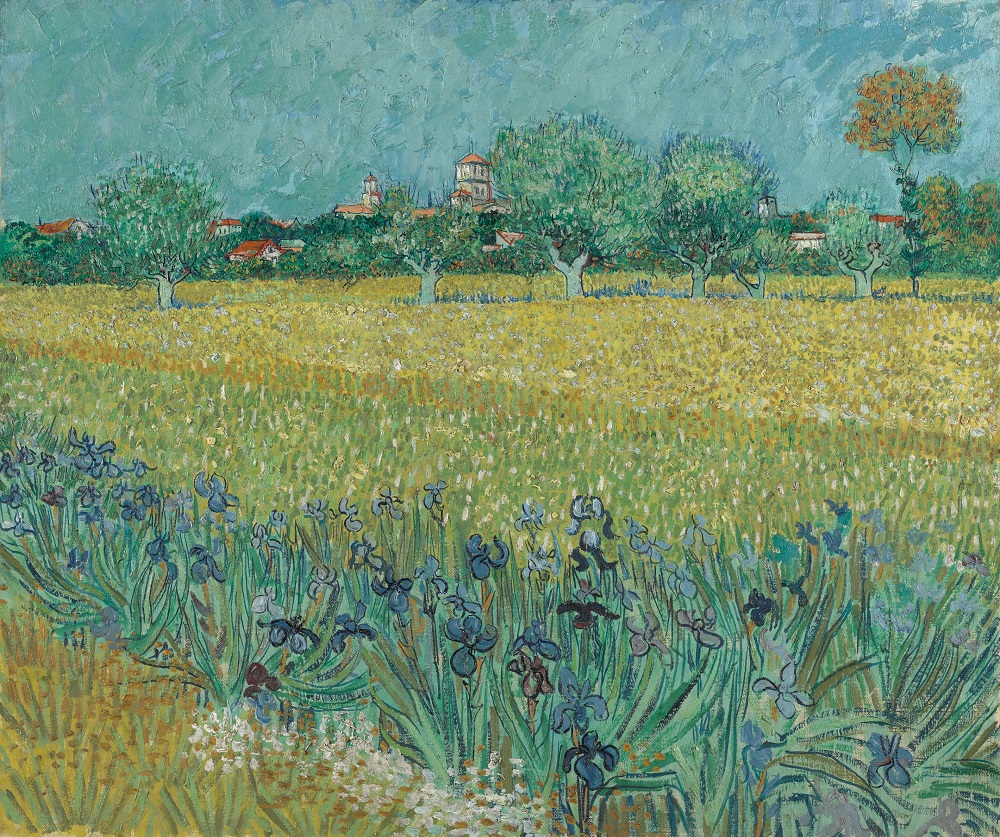 One of my favourite comparisons was that between a photo of Sultan Ismail's with Van Gogh's Field with Irises near Arles, which picks up on the Japanese influences in both Van Gogh and Sultan Ismail's techniques. Looking at the two images side by side, you can't miss the horizon, composition, and skyline in both pieces – they're eerily similar. And to hear that the late king had never even seen the painting before, it blew my mind!
Raja Ihsan noted that the more he studies the collection, the more he learns about Sultan Ismail's style and the more he's convinced by photographic evidence that Malaysia's 4th Agong was a modernist, ahead of his time, a photographer pushing the boundaries in Malaya at the time.
Photographer and painter
Also on display at the exhibition are two glass cases filled with Sultan Ismail's equipment, from cameras to lenses, negative albums, Ektachrome slides, and photo-oil colours. The colours are the most intriguing item in the Sultan's photography toolkit, in my opinion.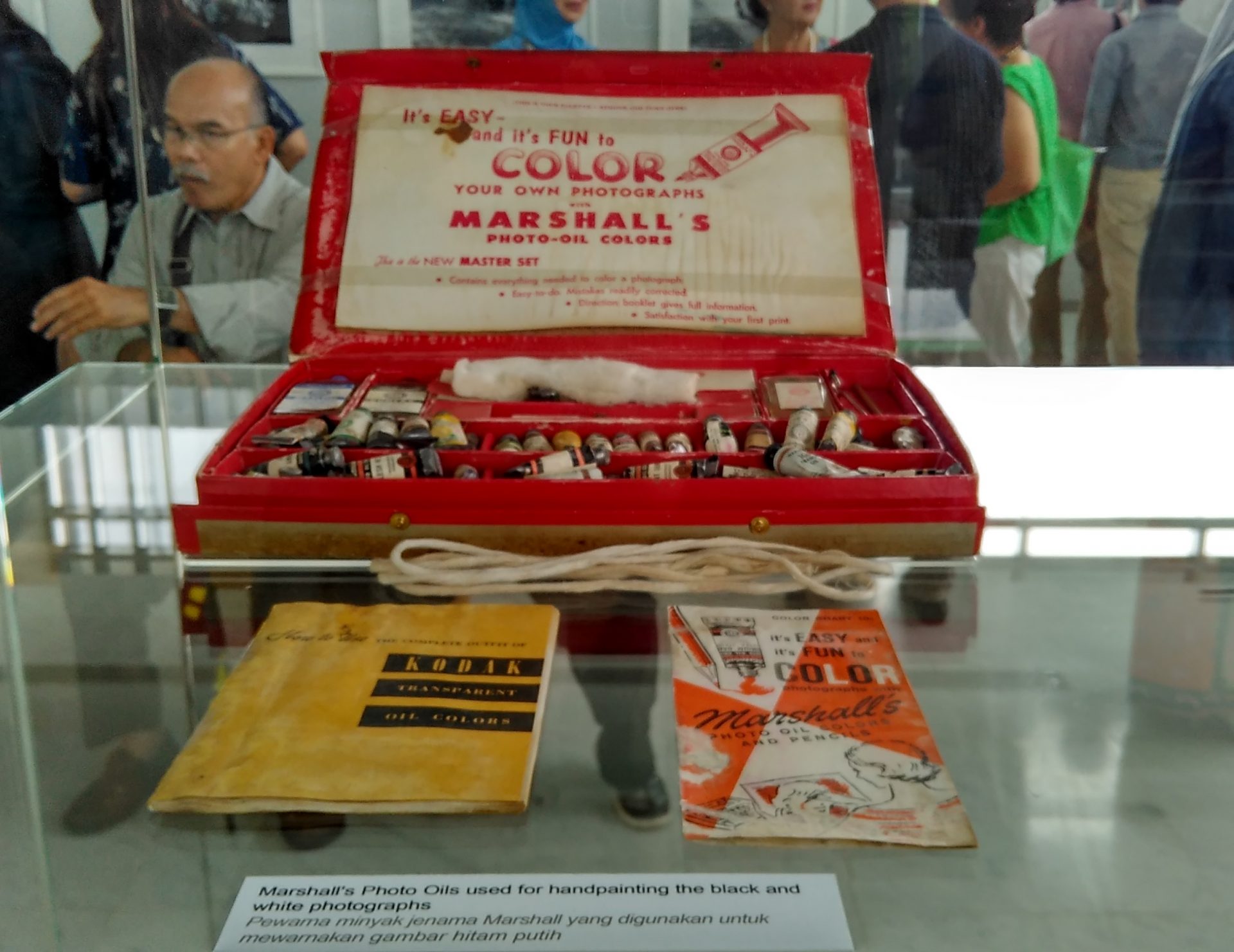 Back in the days before colour photography, photographers would use photo oils to colour their snapshots, transforming monochrome photos into something more.
The late Sultan was tutored on the finer details of this technique by his Japanese mentor, Yamada. The hand-painting technique called Zokingake is a meticulous, painstaking process. Adding colours to black-and-white photos required a keen eye for details and very steady hands for precision work.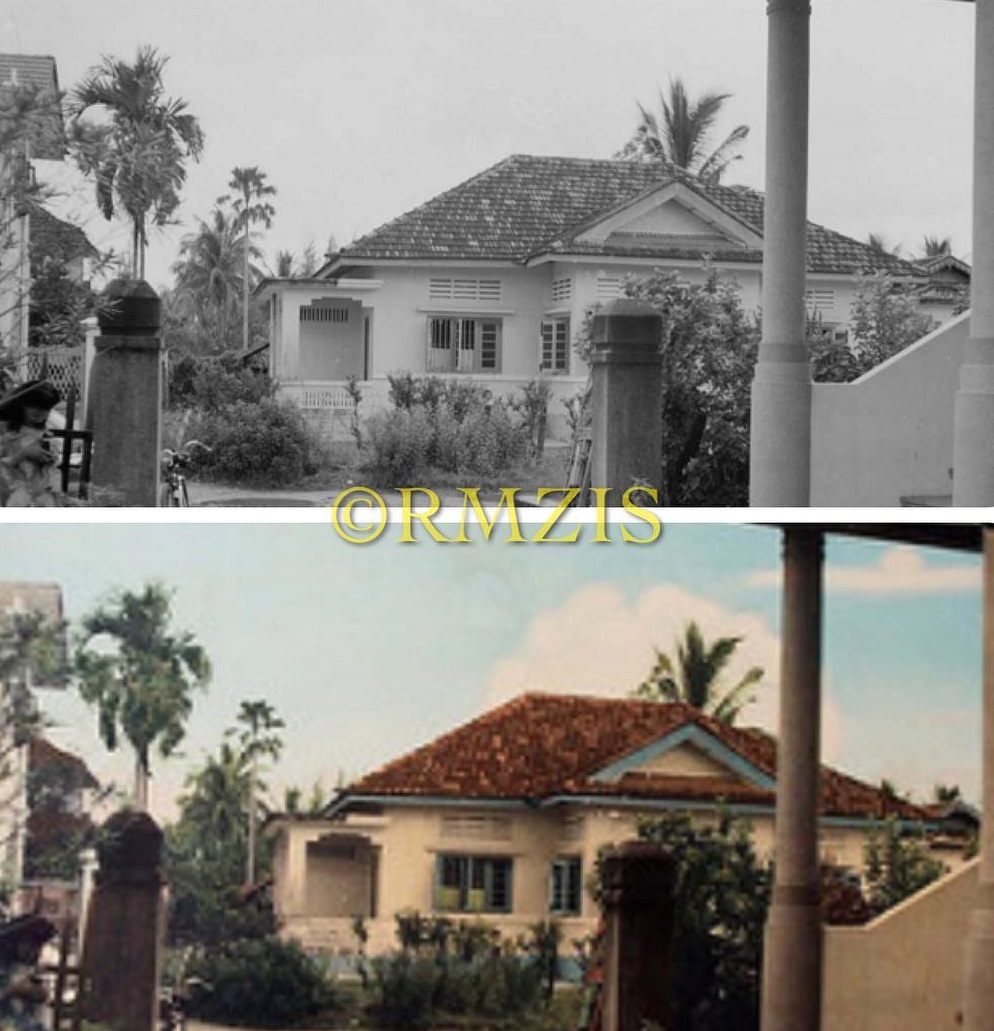 On  display at the exhibition are four hand-painted photographs coloured in by Sultan Ismail himself. The photograph of the house is particularly interesting (as shown here). The clouds just above the roof in the hand-painted photograph were actually added in by Sultan Ismail when he painted the photos!
Looking at the original black-and-white photo, you can see that the clouds clearly don't exist. If I hadn't seen the original black-and-white photograph, I would never have known the clouds were Sultan Ismail's own artistic addition.
This simple comparison serves as a stunning reminder that photographers also had to be painters during the days before colour photography. The artistry (and patience) required to create hand-painted photos was phenomenal.
Take your time in the Islamic Arts Museum
If you're a fan of the photographic arts or if you're just wondering what Malaya looked like decades ago, you simply must visit this exhibition at the Islamic Arts Museum. The exhibition will be open until 31st March 2017.
While you're there, be sure to check out the rest of the museum as well; it's a beautiful place with plenty to see, especially if you like beautiful, intricate tiling works. The inverted dome is stunning!
See also:
---
"ExpatGo welcomes and encourages comments, input, and divergent opinions. However, we kindly request that you use suitable language in your comments, and refrain from any sort of personal attack, hate speech, or disparaging rhetoric. Comments not in line with this are subject to removal from the site. "
Comments