Sunway Putra Mall gathered close to 1,000 participants at the Lantern Parade in conjunction with the Mid-Autumn Festival. Welcoming visitors with lanterns decorated around the mall and a gigantic Lantern made out of recycled
fabrics, children all appeared in high spirits and were seen roaming around with variety of shapes and colours of lanterns.
Just before the Lantern Parade began, Sunway Putra Mall made into The Malaysia Book of Records for The Tallest Lantern Made of Recycled Fabrics under the Arts & Entertainment category. Standing tall over 10.51M tall with the width of 3.98M, the lantern is displayed at the Main Concourse until 4 October 2017.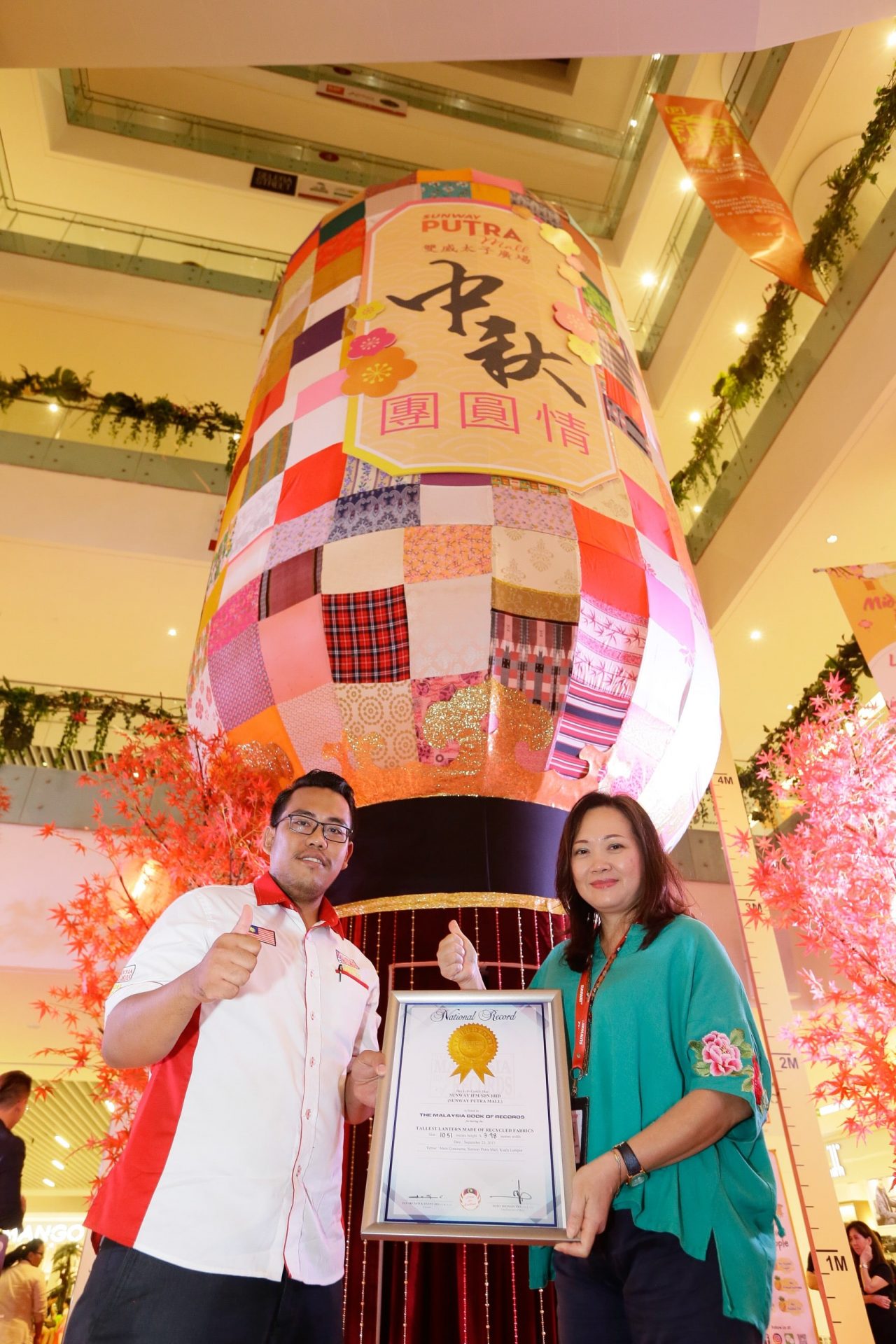 The lantern which was put together by the International University of Malaya Wales (IUMW) students and Kloth Cares, was inspired by patchwork designs that resembles Malaysia's multicultural community. The lantern is surrounded with different types of recycled fabrics and the interior is filled with hundreds of warm coloured lanterns.
The lantern parade flagged-off from the Main Entrance and towards Kenny Hills. To illuminate the celebration further, the parade were leaded by Dragon Troupe, Moon Fairies and mascots from Cold Storage and Mr DIY. Public, single mothers and children from 11 charitable homes under the care of Touching Lives Club Kuala Lumpur & Selangor (TLC) including Yayasan Chow Kit (YCK) were part of the crowd who made it a memorable occasion. Some of these include Rumah Charis, Single Mother's Home, Ekshaddi Refugees Learning Centre, and Yayasan  Sunbeam Home.
The underprivileged children aged between 7 to 16 years old were earlier treated to hone their artistic skills on mooncake and lantern making workshop organized by TLC followed by a dinner treat at Selera Street.
Recycling fabrics
Together with Kloths Cares, Sunway Putra Mall has gathered un-useable fabrics and old clothes donated by the public to recycle it and use in making the lantern. College students were part of this initiative as they contributed their time and skills to complete the lantern. It's one of SPM's efforts to promote the importance of recycling.
After 4 October, the fabrics collage of the lantern will be donated to Kloth Cares and it will be than recycled and reuse into making other products.
Comments