Elly McGuinness finds that Penang's National Park, located on the Northwest tip of the island,  offers some beautiful hikes to cater for the whole family.
With easy access and marked trails, you can walk to and from your chosen destination, or you can opt to catch a boat back from one of the beaches. Outside the entrance to the National park, you'll find a few options to fuel up with a quick meal, and to top up your day pack with some snacks if required.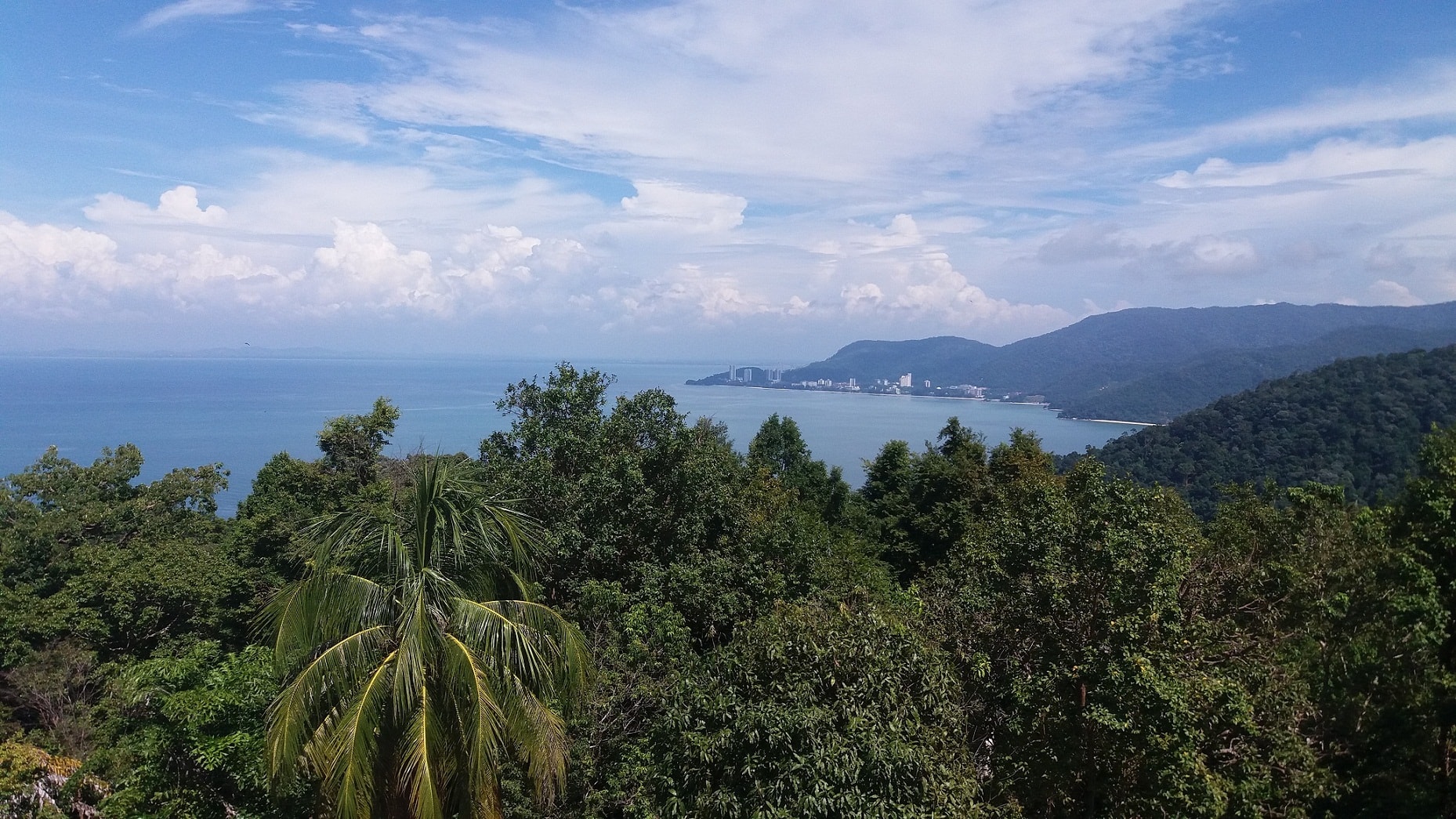 Getting Prepared
You can also choose to book a boat back from the beach that you're walking to. We did this the first time we hiked in the National Park. However we underestimated the time that it would take us to reach the beach, perhaps because we had five pre-schoolers in tow! This meant that we weren't able to relax and enjoy the beach at the end of the hike, because we had to come straight back.
Since then, I have always found a boat once I was ready to leave from the other end. So far I haven't had any problem finding a boat to take me back, and of course you can always choose to walk back! Note that monkey beach is busier and more commercial than turtle beach, so boats will be more abundant there.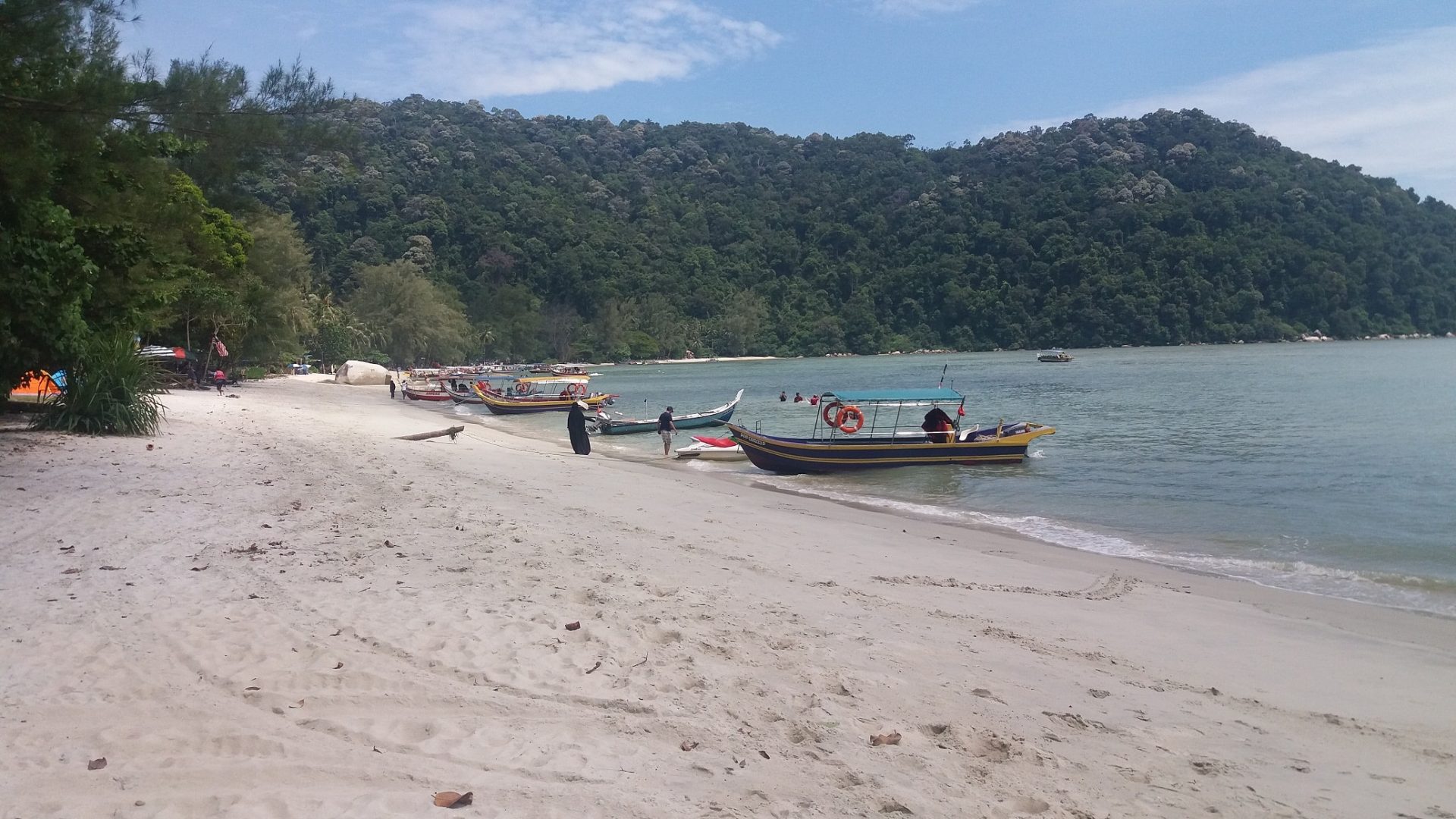 Take sufficient water and/or electrolyte drinks with you. The trail is relatively shady, but walking in the tropics is thirsty work, no matter what time of the year it is. If you're walking to Monkey Beach you'll find vendors selling snacks and drinks, and perhaps a basic meal when you get there.
Other sensible items to have in your day pack include a first aid kit, sunblock, swimwear, and mosquito repellent. Don't add to the rubbish problem and be prepared to take your rubbish back out with you.
When you're set to start walking, head over to the registration window inside the park entrance. Here you'll sign in and then out again once you return. For non-citizens, do take note of your passport number before you leave home because this is one of the details you will need to fill in. At present, there are no fees to hike the trails in the National Park.
There are a handful of options to suit a range of ages and walking abilities. Here's the low-down on the main ones.
Monkey Beach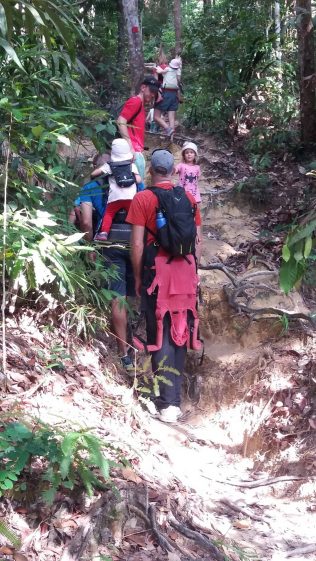 Edging along the coast line, the hike to Monkey Beach (Teluk Duyung) takes around one hour and 15 minutes. I have done this hike twice, once with my 34-year old sister and once with my 66-year old mum. Both times it took one hour 15 minutes at a comfortable walking pace.
There are a number of reviews online  stating that this is a very challenging hike. It really depends on what you are comparing it to. You're not climbing a hill or mountain, but the terrain is undulating. Notably, there are a number of fallen trees along the trail, which don't appear to get cleared. This is possibly the most challenging aspect of the hike – be prepared to climb over and perhaps under fallen tree and branches.
The trail is narrow in spots, and as with all hiking trails in the National Park it's ideal to have good walking shoes or sandals. Monkey Beach is a good choice if you're a less experienced hiker. Even though you've got fallen trees to contend with, the trail stays close to the coast, and it's probably the most popular route. In addition, you've got drinks and snacks as well as plenty of options for boats once you reach your destination.
The Lighthouse Walk at Muka Head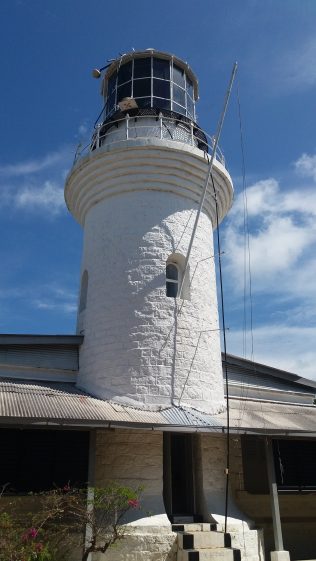 If you're still feeling energetic once you reach Monkey Beach, there's an option to continue onward. If you walk to the far end of Monkey Beach you'll come to a trail which will lead you uphill to the lighthouse.
I've only done this walk once, with my mum. We asked a few locals on the beach how long the walk would take, and how hard it was. We were informed that it was very hard and steep and would take 45 minutes one way. Knowing that I wouldn't get the chance to do this walk again any time soon, and that mum could turn back to Monkey Bach if she wanted to, we headed off.
Unlike the undulating nature of the trail to monkey beach, the lighthouse trail takes you steadily uphill so you'll probably notice your heart pumping away. The track is well-marked, and generally wider than the trail to monkey beach. As a bonus, I don't remember contending with any fallen trees!
We were surprised to reach the top within 35 minutes, and boy was it worth it (well done mum)! We were rewarded with a stunning 360-degree view from the lighthouse. Well away from the potential noise and crowds at monkey beach, it was a tranquil spot to relax and enjoy the view.
From there, we hiked back down to Monkey Beach, ate our food, and relaxed before catching a boat back to the park entrance.
Turtle Beach
The other main National Park hiking trail takes you through the interior of the jungle, to Pantai Kerachut (Turtle Beach). You'll start out on the same path that leads towards Monkey Beach. After a few minutes you'll come to a signpost which indicates that you turn left to go to Turtle Beach and right to go to Monkey Beach.
We walked to Turtle Beach with five pre-schoolers! Our daughter was three at the time and she amazed us all by walking the entire way. This was a different experience to our usual family walks, which can often involve a decent dose of complaining, as well as a 'piggy back' requirement! I have no doubt that it was the spirit of the group, and wanting to do what that other kids were doing, that pushed her on.
An average adult can expect to complete the hike to Turtle Beach in around one hour and 15 minutes. With five pre-schoolers it took us two and a half hours. Needless to say, instead of walking back to the National Park entrance, we caught the boat!
Turtle Beach is less commercial than Monkey Beach so bring your own food and drinks. If you are concerned about not finding a boat to take you back, be prepared to walk back, or to book your boat in advance. If you opt for the latter, make sure you allow additional time to enjoy your surroundings and to visit the turtle hatchery. It's about five minutes' walk further on from when you arrive at the beach.
For advanced hikers, there are a couple of options to get a bit further off the beaten track in Penang's National Park. If desired, you can explore these when you reach the National Park's sign-in office, or hire an experienced guide in advance. In any case, Penang's National park provides some great opportunities for an adventurous day out to enjoy the natural beauty of the island.
For more articles by Elly McGuiness, please visit her Facebook, Instagram, Twitter, and Pinterest pages.
---
"ExpatGo welcomes and encourages comments, input, and divergent opinions. However, we kindly request that you use suitable language in your comments, and refrain from any sort of personal attack, hate speech, or disparaging rhetoric. Comments not in line with this are subject to removal from the site. "
Comments