Take an unforgettable trip across the heart of Australia with Petra O'Neill as she embarks on one of the world's legendary train journeys.
Though underfoot the ground was parched and cracked as we walked along the bush track, signs warned us against swimming. Andrew, our guide, shrugged his shoulders and confirmed that the waterhole had been dried out for years. He then sat down before us, carefully unzipping a thin long bag from which emerged a didgeridoo that he began to play, the rhythmic sounds reverberating off the tall jagged cliffs. We had arrived at Simpson's Gap in the centre of Australia on a hot summer's day.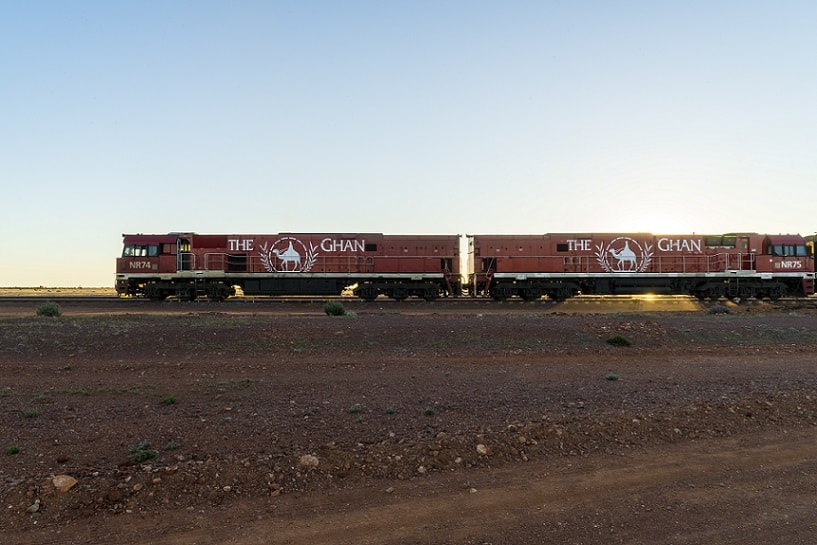 By now, I'd travelled halfway across Australia's vast interior, having joined an epic rail journey that would take 56 hours onboard The Ghan. The trip spans 2,979 kilometres and is the world's only transcontinental line that bisects a continent from north to south. It is also one of the world's mightiest trains, measuring up to 1.2 kilometres in length, though on this journey, it was just over half that at 710 metres, hauling 30 carriages.
Pulling out of Darwin's Palmerston Station, The Ghan gradually picked up the pace, finally settling into a comfortable speed and rhythm as we passed by a lush green tropical landscape punctuated by termite mounds. A delicious lunch in the Queen Adelaide Restaurant soon followed featuring quality Australian produce. Served on heavy china placed on crisply starched white tablecloths, choices included duck, kangaroo steak, or vegetable tart followed by a passionfruit slice, panna cotta, or ice cream paired with premium Australian wine or beer.
Ancient Rock Gorges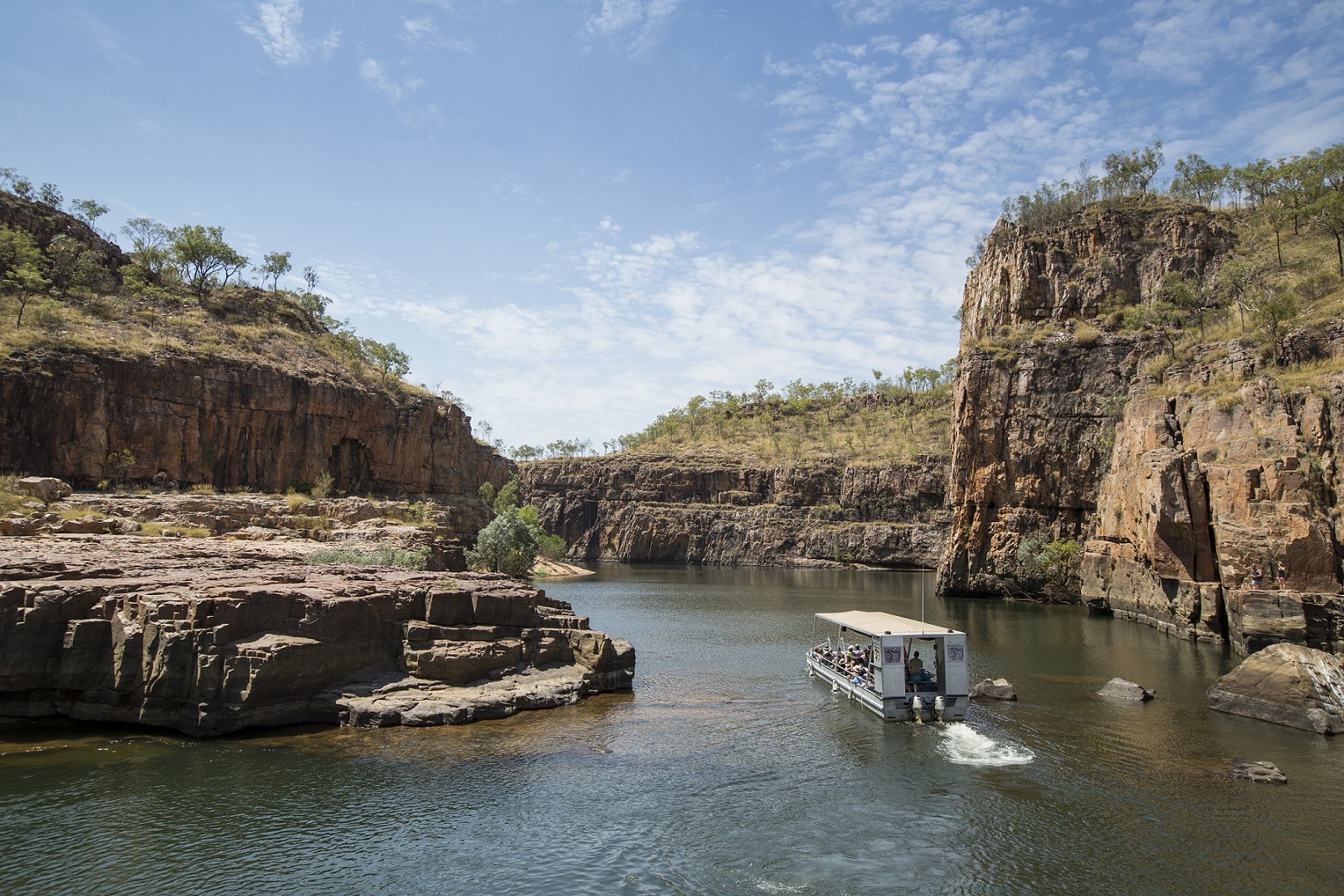 On arrival in Katherine, a town of scarlet Poinciana trees, passengers could join one of several excursions including visiting an outback sheep station, viewing aboriginal rock art, or, at an additional charge, flying overhead by helicopter. I opted for a leisurely river cruise to view the ancient rock gorges at Nitmiluk National Park.
At dusk after we reboarded the train time onboard was spent reading, relaxing, and becoming acquainted with my neighbours. Dot from Lismore and Julie from Auckland occupied the cabins next to mine. By now, most of us left our doors ajar, mingling in the corridors or socialising in the Outback Explorer lounge, which quickly became the social hub of the train. There were 200 passengers on this trip. Most were Australians and it was time to meet them over a drink in the lounge with beer, wine, and even swish cocktails included in the fare.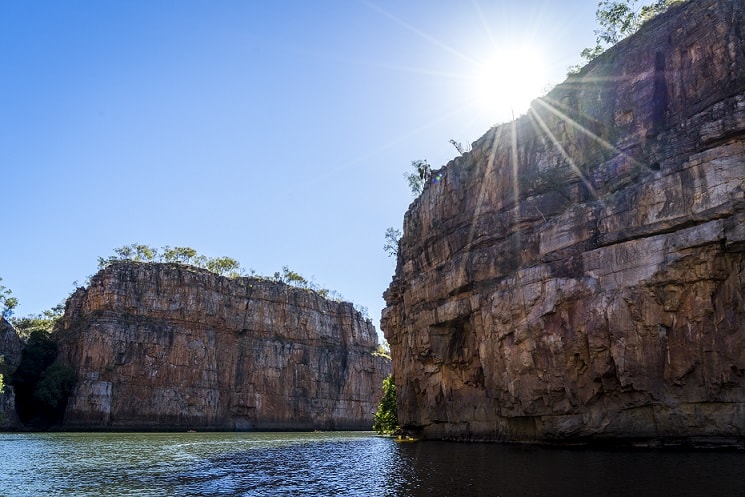 I'd chosen Gold Service single with a carriage of 16 cabins just for solo travellers. Framed by a large picture window and fitted with a seat that converts to a bed, the compact single cabins have a vanity with a rack for toiletries, wardrobe, and storage space underneath. Toilets and showers are at either end of the carriage. Gold Service twin cabins feature an en-suite bathroom and a seat that converts into a bed with a second bed folding down from above. Newly refurbished, the cabins now boast wood panelling and contemporary, muted tones. The luxurious Platinum cabins are even more generously proportioned with a private restaurant and lounge car.
This is the fifth time I've travelled on The Ghan or Indian Pacific, Australia's other transcontinental rail line that runs from east to west. I've travelled Gold Service, Platinum Service, Twin, and Single, and what sets Gold Service Single apart is how easy it is for solo travellers to make friends.
Outback Wildlife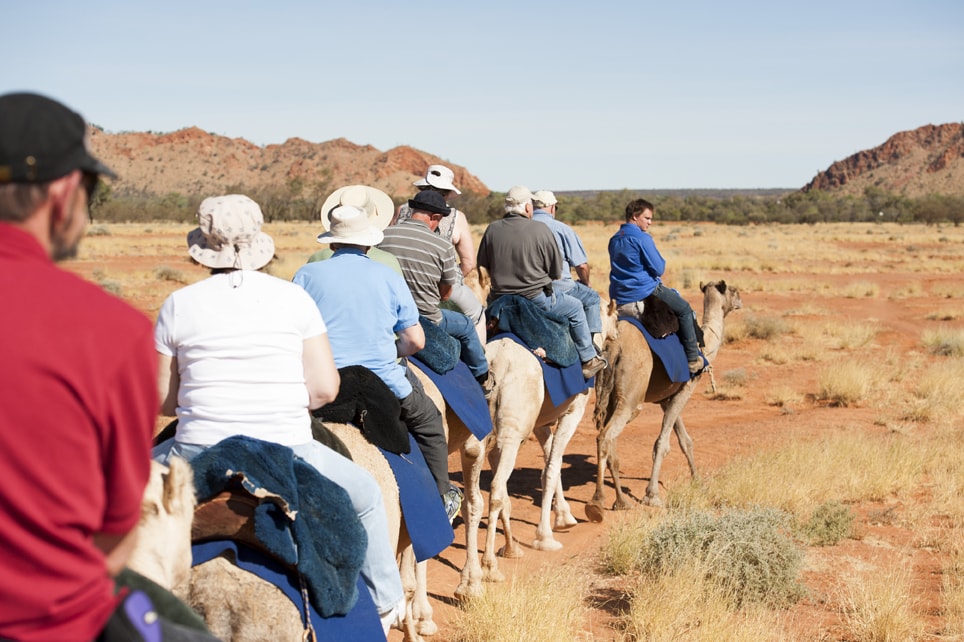 The next morning, we woke to the parched outback scenery sliding by at its best – at dawn – with shades of orange, red, and gold. Emus and grey kangaroos were visible, as well as many species of birds, including corellas, white cockatoos, and eagles circling high overhead.
Offering one of the most dramatic settings of any inland Australian town, as we neared Alice Springs, the red and crimson mountains of the West MacDonnell Ranges came into view, rising 900 metres and towering above the surrounding plain.
Until 2004, there was no rail line connecting Alice Springs to Darwin, and when it opened, it did so with considerable fanfare. The rail line between Adelaide and Alice Springs opened decades earlier, back in 1929. Then hauled by a steam locomotive, the journey took several days on a narrow gauge rail that went via Oodnadatta. Legend has it that whenever there was a breakdown and food provisions were exhausted, passengers lived off whatever game the engine driver was able to shoot. Before the railway, Afghan cameleers covered vast distances supplying outback communities with essential supplies. In recognition of the crucial role played by the cameleers in opening up Australia's interior, the rail service was named The Ghan.
A Town Like Alice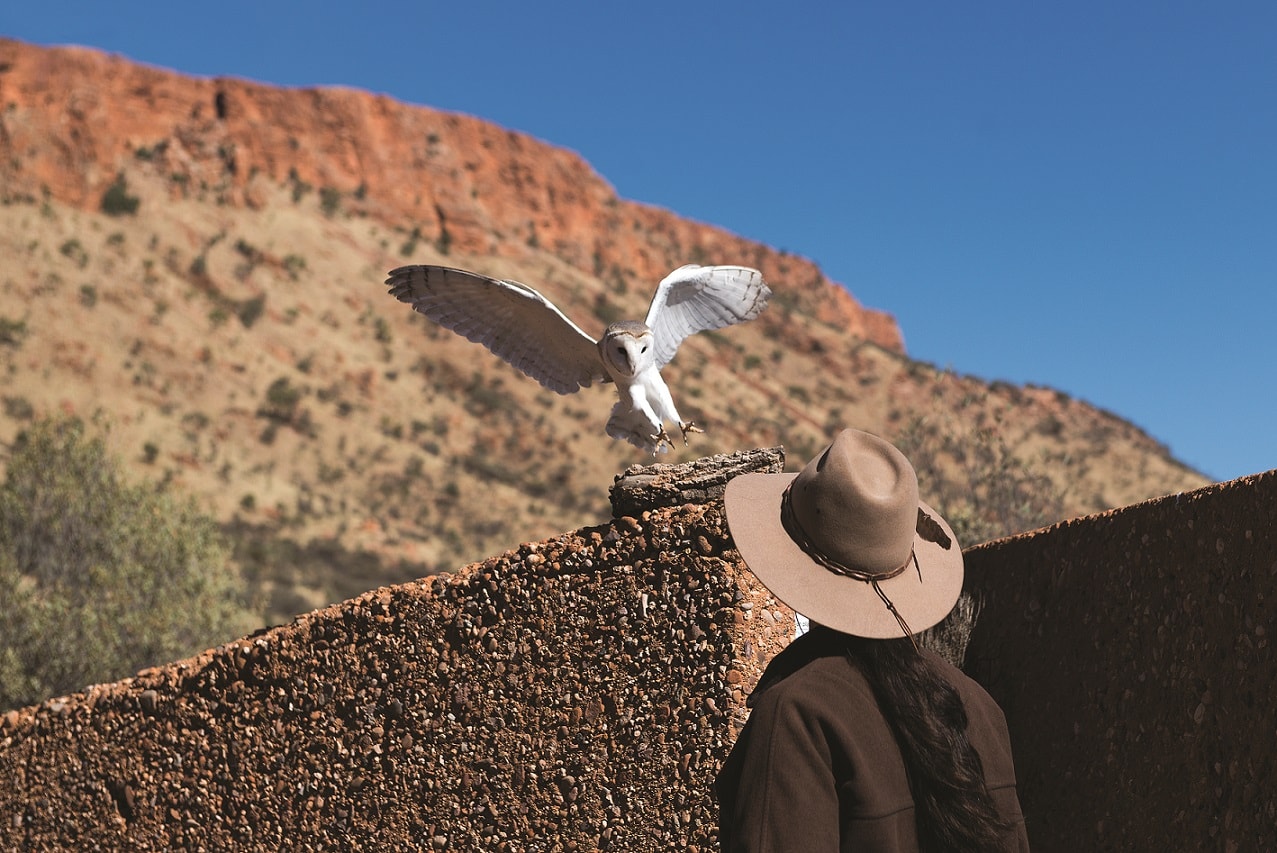 The intrepid Scotsman John McDouall Stuart was the first explorer to pass through Central Australia, trekking through here in 1862. Crossing the continent from north to south, he paved the way for the installation of the Overland Telegraph Line that relayed messages as far away as London. The small settlement that grew up around the Overland Telegraph Station was named Alice Springs.
Off train excursions include the Alice Springs Desert Park, a town tour with stops including the Royal Flying Doctor Service and overland telegraph station, camel riding, or the excursion that I chose: a hike to Simpsons Gap. The trail led us to a lookout from where we could view below and in the distance the flat expanse of red earth interspersed with clumps of gnarly saltbush and grassy stubble, acacias, and majestic Ghost Gums.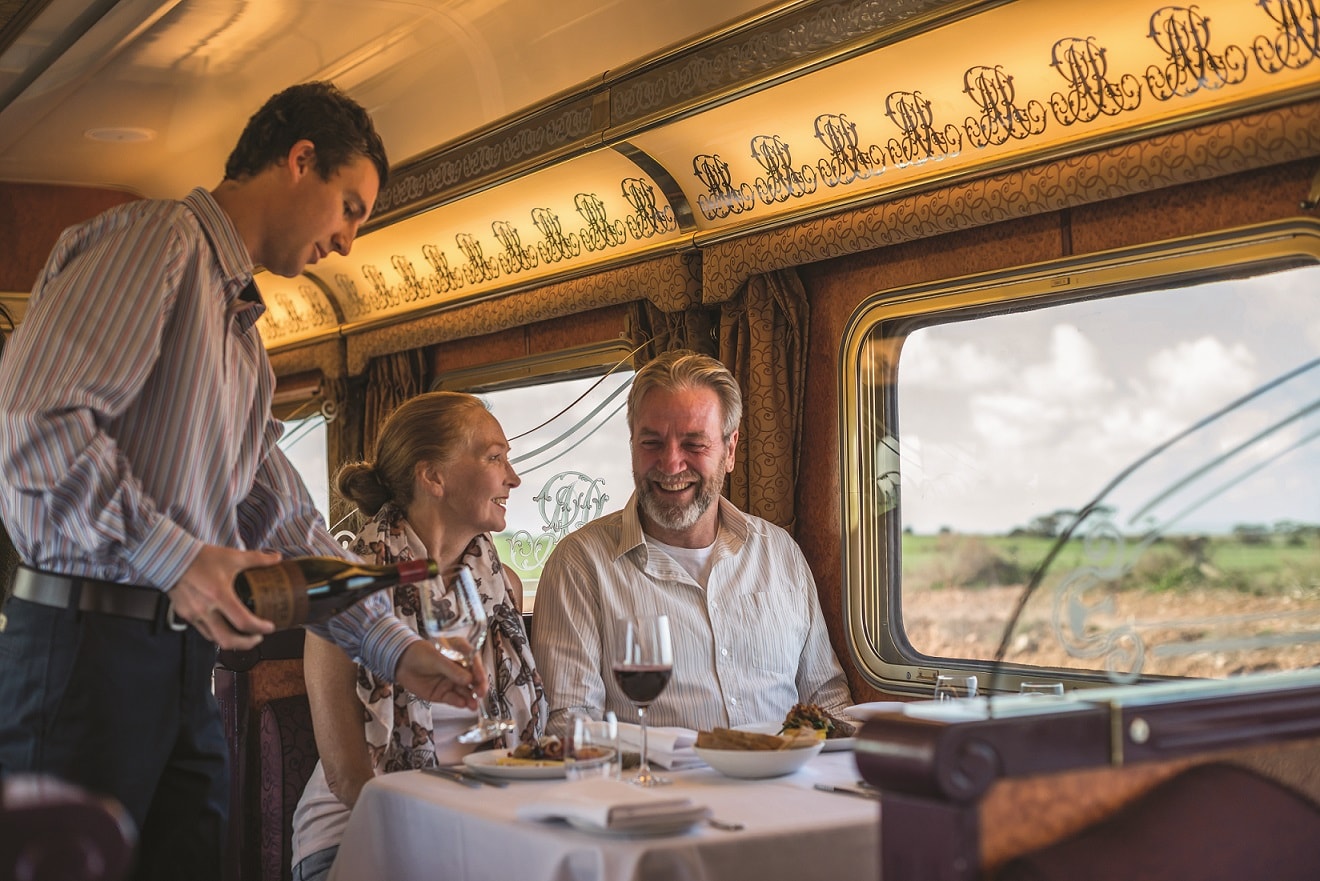 After reboarding the train, we passed the Finke River, a broad expanse of dry sand with wild brumbies and cattle before passing the ironman sculpture, which commemorates the laying by construction workers of the one millionth concrete sleeper on the rail line.
Just before midnight, our final treat of the journey was at Manguri near Coober Pedy, an aboriginal name meaning 'white man's hole' where most of the world's opals lie concealed beneath a lunar-reminiscent landscape inhabited by miners who live underground. Here we enjoyed handmade chocolates and liquors while a crackling bonfire blazed under a sky brilliantly glowing with stars. After retiring, I lay snugly gazing out of the window for hours rocked by the train's gentle rhythmic sway. Australia's interior is vast and empty, and the moment was magical for it.
As the following morning dawned, I saw that the landscape was dotted with merino sheep and cattle as we passed the Flinders Ranges with red river gums, historic ruins, station homesteads with broad-brimmed verandahs, and shearers quarters. Evocative names come from the towns and settlements through which The Ghan travels, including Muchaty, Tent Hill, Illoquara, Coondambo, Pimba, Bookaloo, Rocky River, and Dry Creek, with town after town of charming heritage cottages, stone churches, and the vibrant yellow of canola crops and wheat farms. Indeed, this is one of the most scenic parts of Australia.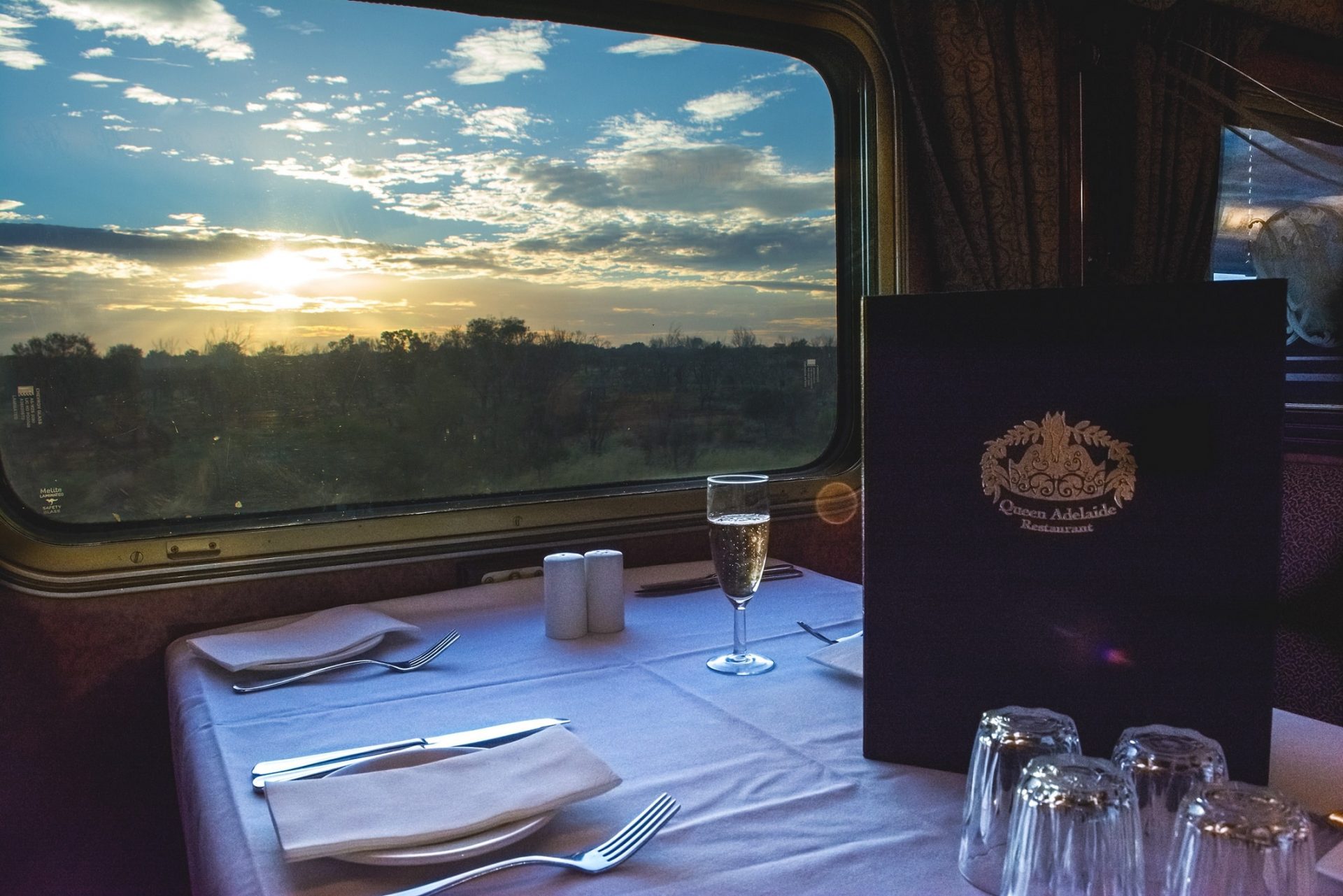 As we headed towards the temperate southern coastline, the red desert and salt lakes that were once thought to be a vast inland sea gave way to a fertile landscape of green rolling hills, vineyards, fruit orchards, and olive trees, with flocks of brilliant green and red lorikeets, ibis, and screeching pink and grey galahs.
After a leisurely brunch, The Ghan pulled into Adelaide, South Australia's capital city, with its imposing 19th-century sandstone architecture, parklands, broad streets, and public squares designed by William Light, the second son of Captain Francis Light, founder of the former British colony of Penang. We had finally reached our journey's end.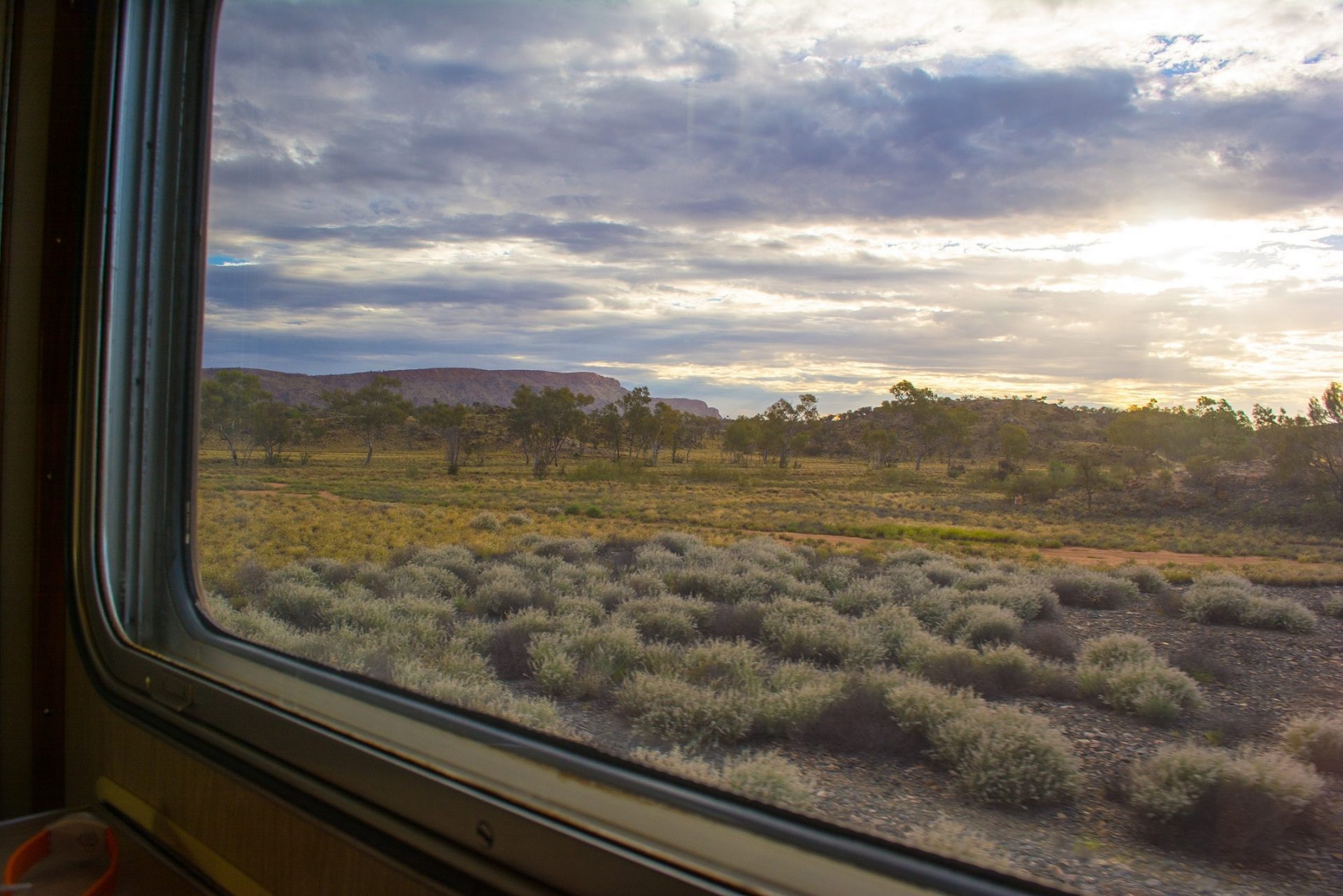 Australia's interior inspires awe for its vastness and for its ever-changing landscape from the fertile hills in the south to the outback in the centre and the lush tropical north that can only be understood by travelling across it. A journey on The Ghan, certainly among the world's most iconic rail experiences, will take you there on one of Australia's most remarkable journeys.
Getting There
Malaysia Airlines flies from KL to Adelaide, while SilkAir flies from Singapore to Darwin, or Jetstar Asia from KL or Penang to Adelaide or Darwin (all via Singapore). Darwin City Airport Shuttle will deliver you to your hotel.
The Journey
You can ride the Ghan for 3 days or the new 4 day expedition to allow longer at each stop. For Gold and Platinum Service, a coach transfer to the train from selected hotels, meals, refreshments (premium wines, cocktails, liquors, and beers) and off train excursions are included with no single supplement for solo travellers. Visit greatsouthernrail.com.au.
Where to stay
A vibrant, energetic city, Darwin offers great dining, parklands, beaches and brilliant sunsets. If you are joining the Ghan with little time to spare the Mercure Darwin Airport Resort is close by the airport.
With a great location in the centre of Darwin the Mantra offers rooms and apartments that overlook the Esplanade and Darwin Harbour. Visit mantra.com.au for information.
Adelaide is deserving of several nights' stay to explore the winegrowing areas of the Barossa and McLaren Vale, Adelaide Markets, Botanic Gardens, beaches, and the beautiful sandstone architecture, parks, and public squares. For accommodation, Accor is well-represented with the Hotel Ibis Adelaide, Pullman, and Playford-MGallery by Sofitel all centrally located. Head to accorhotels.com for a look at suitable accommodation.
Insider's Tips
Pack a jumper or pashmina shawl as the air-con on The Ghan can get chilly. Generous luggage allowances apply.
Comments