Tun Mahathir's Pakatan Harapan coalition delivers a shock victory at the polls.
May 9, 2018. Write it down. Tell your kids. This will undoubtedly be a watershed date in Malaysia's history. On this date, Malaysians headed to the polls in droves and handed a stunning rebuke to the six-decade ruling government, and, more specifically, to scandal-plagued Prime Minister Najib Razak.
Najib, 64, was soundly defeated in Malaysia's 14th General Election since its independence in 1957, a 61-year period that saw the unbroken rule of Barisan Nasional (BN), a coalition dominated by UMNO. In this election, former Prime Minister Tun Dr Mahathir Mohamad led an opposition coalition that, while not always entirely cohesive, nevertheless succeeded in its messaging. Making Mahathir's victory even more impressive is that he was running against the very organisation he led for over two decades during his tenure as Malaysia's longest-serving Prime Minister.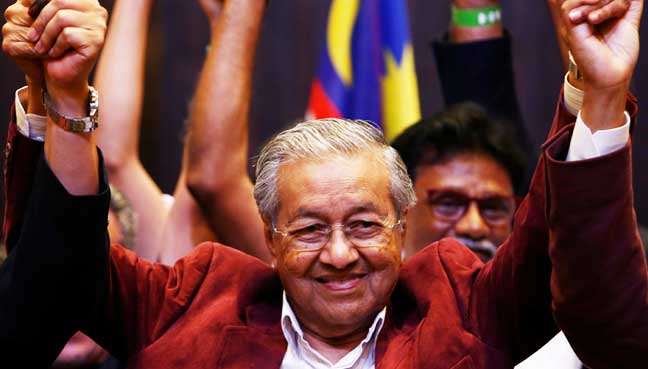 Expected to be sworn in as Prime Minister later today (May 10), the 92-year-old firebrand is set to become not just Malaysia's oldest leader, but the world's. The election also marks the first time in Malaysia's history for a woman to serve as Deputy Prime Minister, as Datuk Seri Wan Azizah binti Wan Ismail, wife of jailed Opposition figurehead Anwar Ibrahim, will hold the post.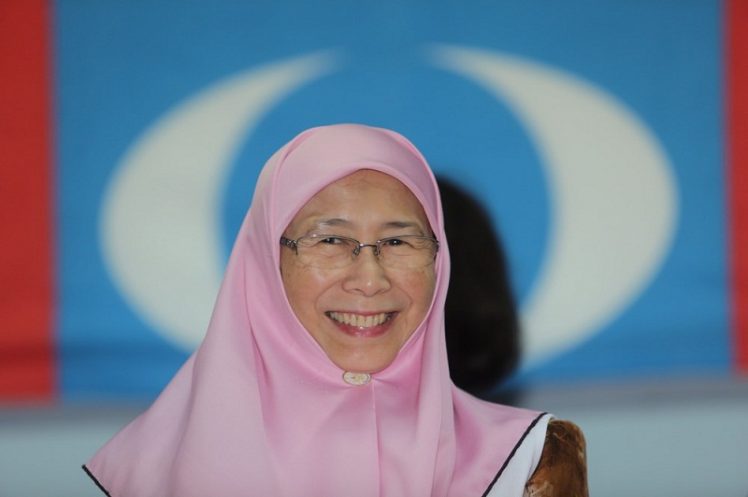 Election Commission chairman Tan Sri Mohd Hashim Abdullah announced on Thursday afternoon that PKR won 104 seats, followed by BN (79), PAS (18), DAP (nine), Parti Warisan Sabah (eight), Solidairi Tanah Airku (one), and independent candidates (three).
The resounding defeat concludes a steep fall from grace for Najib, the son of Malaysia's second Prime Minister and scion of one of the country's most prominent political families, and a man groomed for politics from a young age. Najib's looming defeat seemed portended when Johor fell to the Opposition late last night. All told, Pakatan Harapan (PH) collectively claimed enough seats in Malaysia's 222-seat Parliament to constitute a simple majority and form the ruling government. BN's 79 seats, meanwhile, reflected a steep drop from the 133 they won in 2013's election. In that contest, Najib's first outing as a sitting Prime Minister, BN shed a significant number of seats in Parliament from what they held in the previous years, and indeed lost the popular vote. However, gerrymandering and disproportionate representation of rural districts allowed BN and Najib to remain in control nevertheless.
This time, however, the deficit was simply too much for BN to overcome. Even amid claims of trickery, such as redrawing electoral districts weeks before the election, holding the election in the middle of a workweek, and the controversial passage of the 'Anti-Fake News Act', which critics painted as a means to stifle dissent and curb free speech, BN simply got hammered at the ballot box.
The people speak against Najib
Any notion that this election wasn't a referendum on the Prime Minister was hard to sustain as the night wore on. Najib saw his faithful ministers, deputy ministers, and Cabinet members defeated, with eight out of 12 state legislatures being lost to the Opposition. The devastating loss all but ensures the end of Najib's long life in politics.
Bridget Welsh, a John Cabot University expert on Malaysian politics, said Barisan Nasional could have won the elections had it not been for for the incumbent Prime Minister. "Najib is a liability. His narcissism cost them the elections," she said, of a BN campaign that largely featured Najib and his election promises as a centrepiece. (You've seen the posters, surely.) Welsh added Najib's de facto re-election campaign never really resounded with Malaysians, saying,  "He used racial politics and money, like he did in 2013, but it did not have the same traction."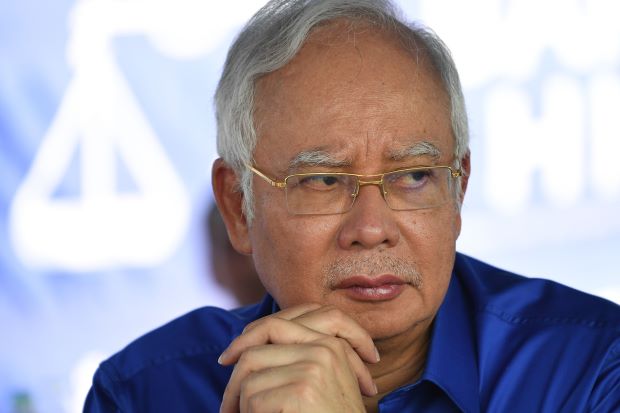 In contrast to GE13, which saw what was called a 'Chinese tsunami' as support from that race fell dramatically away from BN, Welsh said, "This was a Malaysian tsunami across races, generations, and background."
And perhaps it was the 11th-hour speeches given by Najib and Mahathir on Tuesday night that swayed a few conflicted voters. Najib offered up a basket of trinkets and goodies — toll-free driving days, tax exemption for under-26s, and more public holidays among them — in a last-ditch effort to win voters over. Mahathir, meanwhile, said he was coming out of retirement at a very old age out of love for his country, and he urged Malaysians not to sell out their nation for a few cheap gimmicks. The difference between the two candidates could not have been more stark.
James Chin, the director at the Asia Institute in the University of Tasmania, said in the aftermath that Najib had "finally run out of tricks" and felt that Mahathir had pulled off a masterful accomplishment in snatching the rural vote away from Najib.
He contrasted those final campaign speeches given by the two men on Tuesday night, hours before voting began. "Najib was still playing the bribery game — you give me your vote, I give you this or that. Mahathir, on the other hand, came across as a statesman and appealed to Malay dignity," he said.
A change in the heartland
And make no mistake, political analysts noted: this election turned on the Malay vote, and on the efforts to convince them to make a change. The efforts of one such person were called out specifically.
As a politically involved Malaysian told us, "We owe a great deal to [PKR vice-president] YB Rafizi Ramli, founder of Invoke Malaysia. Before Invoke, it was only ceremahs, which really attracted the already-converted. With Invoke, Rafizi was the first to penetrate and get through to the rural folks. Day and night, he was travelling on the truck with his wife and son, giving ceremah after ceremah. Then he got most of our young ones on board, too. It practically laid the foundation for Tun M to use his influence in the Malay heartland. Rafizi was really one of the key persons who did the gritty ground work, and we should be so thankful to him."
Though undoubtedly plenty of Malaysians are disappointed with the results of GE14 — BN did win 79 seats, after all — it seems far more of the country's citizens are jubilant, many expressing tearful shock at the change. "I never thought I would live to see such a day," one woman cried, with another echoing the sentiment, saying, "I didn't think this would happen in my lifetime."
Young and old alike, Malaysians took to social media in droves, posting memes, heartfelt sentiments, photos of their ink-stained fingers, and even poems, with nearly everyone recognising the political and historic significance of this day. One worker exclaimed, "I've never been more proud to be a Malaysian!"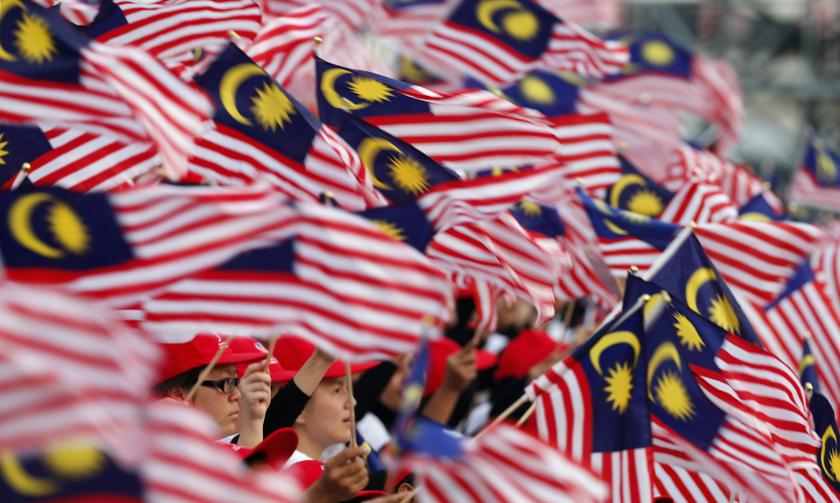 More than Malaysians
Even foreigners living here, especially permanent residents and long-term expats, were quick to join their friends and colleagues in celebration, noting that while they cannot vote, Malaysia is their adopted home, and as they live, work, and pay taxes here, with plenty of them married to Malaysians and raising their children here, these expats unsurprisingly feel plenty of justification in expressing their opinions.
One well-seasoned expat, who has lived in Malaysia for nearly 25 years, put his thoughts into eloquent words, writing, "Malaysia is a wonderful country, and I believe its people deserve better. They deserve a government of the people and for the people. I have noticed over the past few years Malaysians becoming increasingly frustrated with eroding living standards and rising costs, all while listening to their government telling them that the economy was booming and things were great. People are not stupid: they know how well-off they are… or aren't. Malaysians lost confidence in the ruling coalition telling them things were good while rumours continually persisted that those in charge were siphoning funds that rightfully belonged to the people.
"Last night, brave Malaysians stood up and made their voices heard, loudly saying enough is enough. It is the dawn of a new era. Well done, Malaysia!"
We couldn't agree more. Though we feel that BN has done a good job overall governing Malaysia since its independence, it's become increasingly apparent in recent years that the time was growing near for a change, and clearly Malaysian voters felt the same.
Our view
As for us, TEG Media was founded by British expat Andy Davison back in 1996 and today comprises an eclectic group of staff members, including Malays, Chinese, and Indians, along with a handful of expats, mostly from the UK and US. Many of our employees have been with the company for a decade or more, and we have seen a lot of change in Malaysia in that time. The company was founded with a mission of promoting Malaysia to the international community, but Mr Davison noted that in recent years, many had become somewhat disillusioned, feeling that the country was losing its way. "We still felt strongly about Malaysia and believed it to be a fine place for expats," he explained, "but the direction the country was heading was of concern to many Malaysians and expats alike, so this to some extent mitigated our enthusiasm. Now, following GE14's surprise results, we hope Malaysia is once again going to move ahead positively, and we look forward to promoting this great country once again, without reservations."
Group Editor Chad Merchant, who first visited Malaysia during the time of GE12 in 2008, and moved to KL a few months later, remarked that the results of GE14 were the culmination of years of change. "When I first visited Malaysia in March 2008, GE12 was underway and there was change even then," he recalled. "It was the first time in Malaysia's history that the ruling coalition didn't manage a supermajority in Parliament, and there was a lot of buzz about that. A local author even wrote a book about it, I remember, called March 8: The Day Malaysia Woke Up.
"From that election, in which voters denied BN their two-thirds majority in Parliament, we went to GE13 in 2013, where BN actually lost the popular vote, but still managed to retain control of Parliament with 133 of 222 seats. This time, however, despite virtually all analysts predicting another BN victory, Malaysian voters had something very different in mind. So while it may seem like a seismic overnight shift, in reality, this change has been 10 years in the making.
"Of course Malaysia is not my birth country, but I feel it's truly my second home. I love the country and its people, and have chosen to stay here for the last 10 years, so I feel a real stake in the country's politics, even though I'm not allowed to vote. It's indeed a new era in Malaysia, and I'm proud of my Malaysian friends who have worked so hard and waited so long to see such a day, and who took their civic duty seriously — many of them enduring long travelling times and frustrations at the polls — and made their voices heard." Mr Merchant finished by saying, "I hope this election is a strong reminder to every politician here of exactly who they work for. In any democracy, the power to govern is derived from the consent of the governed, and it's the voters who ultimately have the power to hire and fire. It's great to see Malaysians embracing that."
He also added that he hoped two things would happen soon: the pardon and release of Anwar Ibrahim, and the repeal of the onerous Anti-Fake News Act. "I'd also like to see the Malaysian Anti-Corruption Commission (MACC) given some genuine prosecutorial powers, with proper committee oversight of course, but one thing at a time!"
So, congratulations Malaysia, for ushering in a truly historic change. We hope for a smooth transition, but recognise that after over six decades of one-party rule, such a change may be awkward, challenging, and even contentious. It remains to be seen how many of PH's campaign pledges will be implemented, as well as how this shift will affect international relations, most notably those with the United States and China. It also remains to be seen whether or not Tun Mahathir will work to transform the system – one that he was largely responsible for building – which allowed such pervasive corruption to take place at various levels of government. We have high hopes, and look forward to everyone in the country working together to face the challenges that lie ahead. Here's to everyone pulling together for a better Malaysia.
NEGARAKU TANAH TUMPAHNYA DARAHKU!
Readers, what do you think about the results of GE14? We'd love to hear from you in the comments below.
---
"ExpatGo welcomes and encourages comments, input, and divergent opinions. However, we kindly request that you use suitable language in your comments, and refrain from any sort of personal attack, hate speech, or disparaging rhetoric. Comments not in line with this are subject to removal from the site. "
Comments