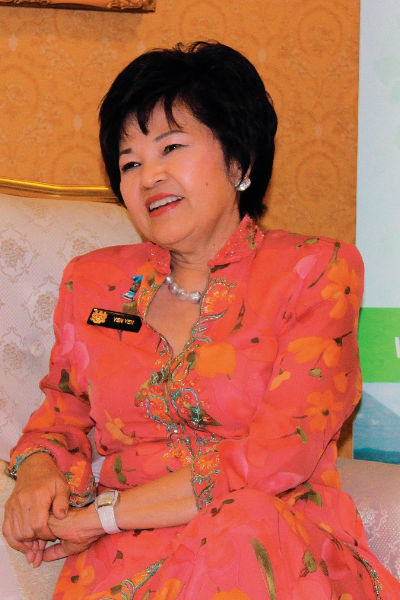 The work of the Malaysian Minister of Tourism never ends. Tourism is a booming business here; the tourism sector is a major contributor to the Malaysian GDP, with over 24.6 million arrivals and RM56.5 billion in receipts in 2010. The woman who is tasked with overseeing and expanding the tourism industry is the dynamic and engaging Dato' Sri Dr Ng Yen Yen, who has been at the helm of Tourism Malaysia since 2009.
With a long and illustrious career in public service, Dr Ng brings to the job a wealth of experience and an abundance of energy. She graciously agreed to take time out of her hectic schedule to sit down with William Citrin of The Expat recently at the Malaysia Tourism Center (MaTiC) in Kuala Lumpur to discuss the highlights of her tenure as Tourism Minister thus far, the upcoming events and initiatives on the tourism calendar, and overall what makes Malaysia such a strong magnet for tourists and expats.
Dr Ng began by waxing lyrical about the country's virtues: "What makes Malaysia such an attractive tourist destination to so many is first of all, the country's stability and prosperity. No tourist wants to go somewhere where anything can happen, and Malaysia is definitely a safe place. Secondly, our diversity. No Tourist wants to go anywhere that is monotonous because tourism is all about experiencing different cultures and lifestyles and Malaysia offers just that. Our diversity is well-positioned by our famous tagline 'Malaysia, Truly Asia'.Thirdly, the weather and natural environment here. We have year-round sunshine in this nature lovers' paradise where 46 percent of our land is still virgin forest. Lastly, Malaysia caters to the tastes of all types of tourists: those eco-tourists looking for adventures in nature, those tourists who want to shop, or eat, or learn about our arts and culture, or who love sports or food…" Dr Ng continued unabated, singing the praises of Malaysia as a tourism destination and enumerating the many compelling reasons to visit. The country inherently has a lot to offer in terms of its natural, cultural, and human resources, and these are no doubt what draw many visitors here. But Dr Ng and her team at the Tourism Ministry have worked tirelessly to improve and augment the country's tourism products and services.
Looking back on her time at the Tourism Ministry (she also served as Deputy Minister for Tourism from 1999 to 2003), Dr Ng identifies some of her major achievements and contributions: "I helped to open up Malaysia as a travel destination to the Chinese market. In 1999, Chinese visitors comprised only a small percentage of the total visitors to Malaysia. Now China is the top tourist provider after ASEAN with 1.1 million visitors in 2010. Another highlight of my career in the tourism sector has been opening up the country to Arab tourists. Around 2000, nobody even considered the Arab tourism market, but now we are a major player." Dr Ng added that Malaysia is currently striving to tap into other tourist markets, such as Russia and India. With palpable passion in her voice, Dr Ng went on to describe the various and sundry events and programmes that the Tourism Ministry, under her leadership, has spearheaded and developed. These initiatives all serve to raise awareness and appreciation of various aspects of Malaysian lifestyle and culture and to, of course, attract tourists.
"Coming up, we will have the Fabulous Food 1 Malaysia festival. For three months we will be celebrating our country's glorious foods: in October we will promote the amazing array of gourmet foods available here, in November Chef Wan will take us on the ASEAN Food Heritage trail, and in December we will feature our scrumptious hawker food," Dr Ng says. She went on to elaborate on other major Malaysia's Ambassador to the World tourism events: "Right now we are in the midst of the Malaysia Contemporary Arts Tourism Festival, a three month event which seeks to create an awareness of and appreciation for Malaysia's arts and to develop the Malaysian art market. Every April, we organize the Malaysia International Shoe Festival, which has proved to be immensely popular, and we also have sports events – such as golf, diving, and Formula one – as well as the Malaysia Mega Sole Carnival, through which we have positioned ourselves as a world-class shopping destination for tourists." The list of events and activities goes on and on (for more information, visit www.tourism.gov.my); Dr Ng and her team at Tourism Malaysia are "constantly creating and innovating to ensure the progression and transformation of the tourism industry."
When asked to name Malaysia's "must see" attractions and "must do" activities, Dr Ng says: "Tourists must see the Petronas Twin Towers at night. They are so iconic. I'm always filled with pride when I see them. You must also visit Bukit Bintang street at night to soak up the breathtaking diversity of people and cultures there. And you should definitely go to Melaka to see the history and heritage, and visit our jungles, visit the Crafts Complex in Kuala Lumpur to buy some fantastic souvenirs, go to Chinatown and Little India to take in the cultures, and if you have time, I recommend our exotic islands as well as Sabah and Sarawak, or drive up to Kedah to see our paddy fields, or visit the Pasar Siti Khadijah, the main market in Kelantan, or…" Dr Ng could go on endlessly about Malaysia's myriad alluring tourist attractions. "To know Malaysia is to love Malaysia. We offer tourists a variety of experiences and value for money. Malaysia is "Truly Asia", truly diverse in terms of people and nature. We can give you everything (except snow)," she says with a beaming smile.
This article was written by William Citrin for The Expat magazine and has been edited for Expat Go.
Source: The Expat September 2011
Get your free print subscription and free delivery of The Expat magazine
---
"ExpatGo welcomes and encourages comments, input, and divergent opinions. However, we kindly request that you use suitable language in your comments, and refrain from any sort of personal attack, hate speech, or disparaging rhetoric. Comments not in line with this are subject to removal from the site. "
Comments