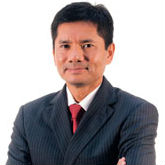 Tucked inside a small office in KL Sentral are a team of people who are transforming KL and the Klang Valley into a regional hub to rival the best in the world. "Nothing can stop us," declares Zainal Amanshah, the CEO for InvestKL; an operative set up in line with the Economic Transformation Programme (ETP) that will see the country becoming a high-income nation by 2020.
The ETP is a comprehensive plan, put into place by the government, that is working to accelerate economic growth in specialised areas, outlined as the National Key Economic Areas (NKEA). The 12 NKEAs have been identi.ed as the key sectors that will help Malaysia achieve its goal and where there are ample business and investment opportunities to help boost the country.
The NKEA include one geographic area – Greater Kuala Lumpur – and 11 key industries which are ripe for investment and will provide superb opportunities for those with capital to invest. These 11 comprise Oil, Gas and Energy; Financial Services; Wholesale and Retail; Palm Oil; Tourism; Electronics and Electrical; Business Services; Communications Content and Infrastructure; Education; Agriculture; and Healthcare.
Within each of these areas there is a list of projects – totalling 131 and known as Entry Point Projects (EPPs) – which will support faster economic growth. Under the NKEA of Greater KL, the key project is the task of attracting 100 major multinational companies to set up regional operations in the Greater KL area by 2020; a task that has fallen to InvestKL.
The man charged with leading this effort is Zainal Amanshah and he has been building a team of enthusiastic skilled people to support him. If his enthusiasm and drive are anything to go by, the ambitious goals are well within reach.
"The capital city is the catalyst for growth," says Zainal, "and we are very excited because there are such a lot of opportunities within KL." The team has only been in existence since June 2011, but already they are taking on their roles with relish, entering into talks with businesses overseas and already operating in Malaysia in an effort to persuade them to invest further and make KL their regional hub.
"It's actually a very appealing proposition," Zainal explains, listing KL's assets as its liveability and its relative cost-competitiveness regionally and internationally. There is also an already bustling business scene in Malaysia to rival nearby Singapore, the latter of which still receives a lot of the market interest. "Every country has its strengths," Zainal admits diplomatically, "but there is a lot of activity here in KL and we have found that many businesses already have capital to invest but they have not decided exactly where to invest it. We offer advice and guidance to explain why Kuala Lumpur makes good business sense."
Zainal and the team's job is made easier by the fact that there are many key sectors ripe for investment, and the eleven industries highlighted by the list of NKEA offers a superb choice for those looking to set up regional hubs or regional centres for excellence in such industries as financial services, Islamic finance; creating global business outsourcers or even setting up a regional manufacturing hub. The team have already seen a lot of interest in the engineering sector, and various companies have been persuaded to expand their businesses into regional centres based in KL and the surrounding areas.
In addition InvestKL also works with the Malaysian government to remove inhibitors and, in their words, "cut through the red tape" to make business opportunities more readily accessible. "I report to three government ministers," explains Zainal, "and they are excellent; very supportive."
InvestKL are able to support the businesses through every step of the bureaucratic process while they set up. "If there is a real business to opportunity and it is easy to do business, then that's a very powerful combination," argues Zainal. And the proof is in the pudding; already, in just 6 short months, InvestKL has ticked off 6 on its path to 100 multinationals by 2020. "Only 94 to go!" laughs Zainal.
But the InvestKL team are not just glori.ed marketing people, showcasing KL to the business world. Once businesses have made the commitment, InvestKL continue to offer support and ease the process, assisting in removing whatever obstacles may come in the way. Recently, the area of dif.cultly has been the availability of talent.
"Malaysia actually has a lot of talent," says Zainal, "but the challenge is keeping it here or bringing them back!" Many highly skilled Malaysians have moved overseas and now we are luring them back to via incentives. The Returning Expert Programme, organised by TalentCorp, offers bene.ts to the returning talent such as a lower tax rate and tax exemption on all personal effects brought with them into the country. InvestKL are also working towards raising the standard of the local graduates already in the country to meet multinationals' needs.
"Businesses structure themselves differently today than in the past and we have to ensure we address their needs" explains Zainal. "We found that some businesses found their new Engineering graduates lacking in real business experience so we have set up various up-skilling programmes and talent development programmes to help the companies train their fresh grads." Not only does this aid companies in .lling positions and tempt more to set-up their hubs in KL, it will also ensure that there are more jobs to attract quali.ed Malaysians back and to enhance the talent pool.
The increase of job opportunities will also catch the eye of foreign talent, and Zainal encourages the diversity. "There is a nice blend of expats and locals here," he comments, "and we are .nding that the expats who come don't want to leave!" The safety, comfort and cost-competitiveness of the country that attracts the businesses also attracts the foreign workers, and many are now making Malaysia their home thanks to the Residence Pass and the MM2H visa.
InvestKL are already making huge efforts to help push the country along the path of global transformation, and Zainal likens his and his team's role to bungee jumping. "Our team will be stretched like it's never been stretched before," he says with a calm smile, "but the results we are seeing prove we are on the right path."
Indeed, it is the obstacles and unforeseen challenges that Zainal thrives on and that, after two decades in the private sector prior to this role, he is more than capable of handling. "The most interesting part of my job is making changes. Some of the methods are very outdated so we are constantly working to improve things, to make things better."
"I think it's very interesting," he says .nally, "this is like national service. I get to contribute to my country!" Zainal's enthusiasm is contagious. He leaves you in no doubt that InvestKL will achieve its targets and make a signi.cant contribution to a brighter future for Malaysia and Malaysians.
For more details on InvestKL and their role in making the ETP a reality, visit their website at www.investkl.gov.my

This article has been edited for Expat Go.
Source: The Expat March 2012
Get your free print subscription and free delivery of The Expat magazine
---
"ExpatGo welcomes and encourages comments, input, and divergent opinions. However, we kindly request that you use suitable language in your comments, and refrain from any sort of personal attack, hate speech, or disparaging rhetoric. Comments not in line with this are subject to removal from the site. "
Comments