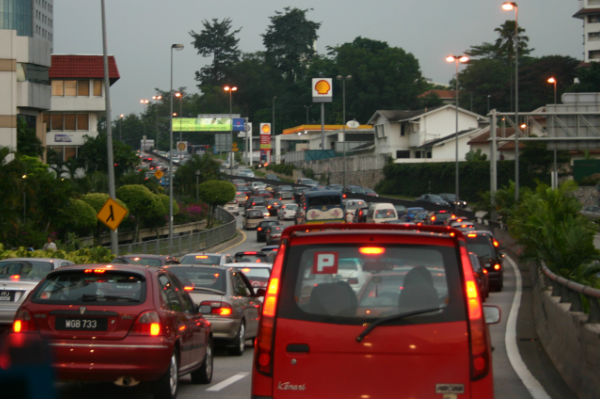 TIP NO 1: THE SPEEDING MOTORCYCLIST
If you forget how young people have a tendency to think they cannot die, it is easy to believe some motorcyclists have a death wish. More than half the deaths on Malaysian roads are motorcyclists. Most of the speed merchants are young males who may pass your car on either side, with heads bowed, jacket on back to front and little engines screaming away, usually within inches of your car.
They will often cut in front of you to change lanes for the fun of it and on many occasions I have had to brake hard to avoid hitting one. This can be quite unsettling (for which read 'bloody annoying') but sounding your horn and screaming abuse will do nothing except help vent your frustration as they will be long gone.

TIP NO 2: THE MOTORCYCLISTS SET THEIR OWN RULES
Motorcyclists often behave more like pedal cyclists in western countries. They will drive on the pavement and the wrong way down one way streets. If you are first in line at traffic lights in any major town or city you can expect your car to soon be surrounded by motor bikes. Some will go straight through the red light at the first opportunity while others will get ready for a "Grand Prix" start and yet others will struggle to get their overloaded bikes moving again. You may well find all the lanes ahead of you blocked until they sort themselves out.
TIP NO 3: MOTORCYCLISTS, RAIN AND BRIDGES
As most new arrivals quickly learn torrential rain is not uncommon in Malaysia and it only takes a few seconds to be soaked. Motorcyclists are particularly vulnerable and the practice in Malaysia is to shelter under the nearest bridge. Obviously this can result in a large number of motorbikes huddling under one bridge. It is very common to find the slow lane full of parked motorbikes when you enter a tunnel or go under a bridge on a rainy day. If the rain is very heavy you may only see them at the last minute with potentially disastrous consequences.
Following a few fatal accidents the government is building places for the bikes to shelter off the main road but this is a huge project. The rule is, try not to enter a tunnel or bridge in the slow lane unless you can clearly see there are no bikes waiting there.
TIP NO 4: RED TRAFFIC LIGHTS DON'T ALWAYS MEAN STOP
If the traffic lights have just changed many cars will carry on through them. This practice has decreased somewhat since cameras were installed at many lights in KL but nevertheless it still happens and motorcyclists routinely go through red lights so be careful if you are approaching a light, even if it is green.
TIP NO 5: THE SLOW LANE IS NOT FOR CARS
Very few Malaysian drivers are willing to drive in the "slow" left hand lane on a three lane road. Most will drive happily in the middle or even the fast lane when slower lanes are completely empty. While it has been explained to me that this is because they leave it for motorcyclists the reality is I have often seen completely empty inside lanes which had no traffic of any kind as far as the eye could see. This of course encourages many drivers to overtake on the inside lanes and this is illegal but quite a common practice in Malaysia.
TIP NO 6: JOINING MAJOR ROADS
One of the most common practices in Malaysia is not to pause when coming out of a side road. It would be fair to say that in Malaysia many drivers ask themselves only one question: "Can that driver stop his car before hitting me if I pull out in front of him?" If the answer is "yes" then many will pull out. So don't be surprised if a car suddenly appears from a side street in front of your car.
TIP NO 7: THE HIGHWAY – LANE DISCIPLINE
On highways you will often see cars driving slowly in the fast lane. Even flashing your lights and sounding your horn will not move them. You then have to decide whether to sit patiently behind them or illegally pass on the inside. Other drivers will pass you in the inside before giving you any sign they want to pass and often without any warning so always check the slow lane carefully if you are moving into it as you may find a fast driver hurtling towards your passenger side. This rule is also important when turning left as motorbikes can often appear from nowhere in your inside lane and many expats have ended up hitting them.
TIP NO 8: BLINKING HAZARD LIGHTS DON'T MEAN I'VE STOPPED
In many countries putting on all four blinking lights indicates that you have stopped your car. In Malaysia it is quite common for drivers to do this when they drive slowly in heavy rain. Apparently at one time the government suggested this. Some motorists will also put on their hazard lights in preference to side lights when they enter a tunnel. Efforts are being made to stop the practice and it has decreased but you will still see drivers who do it.
TIP NO 9: NEVER WALK IF YOU CAN DRIVE
Malaysians generally are not keen on walking and given the hot weather it is understandable. Unfortunately this means they not only park badly, on blind corners or with part of their car sticking out into the road but they will also often create a second lane of parked cars. This can mean you can be blocked into your space and even leaving your hand on the horn may not immediately produce the driver. The introduction of tow trucks in KL and PJ was done to curtail this habit but it seems the authorities have stopped using them. It's a great pity because cities with strict policies about illegal parking like London or Sydney rarely have such problems.
TIP NO 10: SQUEEZE INTO THE GAPS
Quite a bit of traffic congestion could be avoided if people thought through what is causing a jam or used their rear view mirror to see if they need to move their car to alleviate congestion behind them. Both these practices are very rare in Malaysia. Leaving spaces for cars to exit or enter a side street will only happen if there are yellow lines painted on the road and even that is no guarantee. If you need the driver ahead to move forward a few inches so you can get out of the jam or make space for another car to move it's unlikely to happen without a lot of horn sounding and even then don't bet on it. If you are trying to enter a main road when there is a steady stream of slow moving traffic do not expect anyone to let you in, you will have to force your way into the stream as soon as a gap presents itself.
This article has been edited for Expatgomalaysia.com
Get your free subscription and free delivery of The Expat Magazine.
---
"ExpatGo welcomes and encourages comments, input, and divergent opinions. However, we kindly request that you use suitable language in your comments, and refrain from any sort of personal attack, hate speech, or disparaging rhetoric. Comments not in line with this are subject to removal from the site. "
Comments