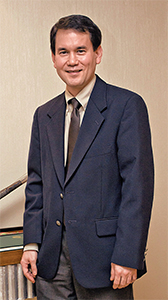 As the Malaysian Philharmonic Orchestra (MPO) nears its 15th year of existence, a new face has arrived to join the team. While he may have only been in Kuala Lumpur since January this year, Timothy Tsukamoto, the new General Manager of Malaysia's only professional orchestra, is getting down to business.
"We are currently working on next season," he explains, "trying to ensure we have a varied programme and confirming all the guest conductors and artists." This, he says, is made challenging by the location. Whereas in Europe, performers can simply "hop" from country to country, securing an artist in Malaysia involves more complicated logistics. "It is a different challenge," he admits, "but I enjoy that."
Timothy has always been one to seek out challenges. After working for the Boston Symphony Orchestra (BSO) in his home country, he has "hopped" around the world himself, spending time in Japan at the Hyogo Performing Arts Centre Orchestra and then in Switzerland with the UBS Verbier Festival Orchestra, before accepting the job in Malaysia. "I like to take advantage of opportunities that come my way," he says.
Half-Japanese, Timothy started playing the French horn at a young age and continued through high school and into college, while at the same time planning and organising concerts with his friends.
"I always enjoyed organising concerts as much as playing in them," he admits, "so administration was an obvious choice."
His 11 cumulative years of work at the BSO gave him a strong foundation in working with orchestras, but the MPO is a different experience, not least because it is a relatively new orchestra: 14 years old compared to the 131 years behind the BSO.
"Working in a relatively young music scene has been quite different," agrees Timothy, "but interest in the MPO is increasing all the time. In addition to our core body of subscribers, we have many new concert-goers each season. Our recent auditions for the Malaysian Philharmonic Youth Orchestra attracted more than 170 young musicians so the younger generation is already keen."
While appreciation of classical music may be in its infancy in Malaysia compared to the Western world, Timothy is determined to help spread the word about the quality of performances on offer at Dewan Filharmonik PETRONAS. "I believe that the MPO is one of the best orchestras in Asia," he says. "It is truly an international orchestra and Malaysia is very fortunate to have it." He is hoping the number of locals attending the concerts will continue its steady increase, and hopes the variety of concerts will pique the interest of tourists. "Just as a trip to the Twin Towers Skybridge is a 'must-do' for tourists, so should an MPO concert be."
Timothy is also involved in sharing the benefits of classical music with the people that never get the chance to come to the concert hall, and the outreach programme takes MPO ensembles into such environments as hospitals, retirement homes, and schools to share music with the wider community.
"Music of any kind enriches life," he explains, "and it is a fundamental part of the human experience. Classical music is often dismissed by people who haven't had the opportunity to experience it."
This is something that Timothy hopes to change during his tenure at the MPO, and speaks passionately about the importance of reaching out to as many Malaysian residents as possible. "One of the missions of the MPO is to give people the opportunity to discover the excitement of classical music," he says. "I think that, in time, classical music will become more a part of the Malaysian cultural scene."
Timothy's enthusiasm and passion for his new role makes him a real asset for the MPO, and it is clear that the prestigious orchestra will flourish under his leadership. For Timothy, it is a thrill to be involved with a place that he remembers being unveiled to the world 14 years ago. "I remember reading about this fantastic new concert hall built between the Twin Towers," he reminisces. "It caused quite a stir in the music world at the time, and now I am here to see it for myself!"
This article was written by Sarah Rees
Source: The Expat May 2012
Get your free print subscription and free delivery of The Expat magazine
Comments