Once a thriving port town that attracted traders from all over the world, Melaka still maintains its sense of commercialism and cosmopolitan character. David Bowden takes us on a walk down Jonker street, a bustling thoroughfare in the heart of the city.
Melaka (previously Malacca) has a fascinating history and many of its streets are famous but none are as famous as Jonker Street. It is the street that most visitors know best, however, in their wisdom, the city's decision makers changed the name to Jalan Hang Jebat. Many still refer to it as Jonker Street.
Jonker was the name given to it by the Dutch who once controlled the city. Along with the Portuguese and the British, the Dutch stamped their mark on this historic city with several of the former colonial buildings being an essential part of the historic fabric and visited each year by millions who recognise the historic significance of the colonial era.
Melaka was first influenced by foreigners when it was settled by a neighbouring Sumatran prince, Parameswara, in the 15th century. Chinese traders had been negotiating the strategic Straits of Malacca for maybe a century before and in the ensuing centuries Melaka became a strategic port of call for merchant ships from many parts of the world.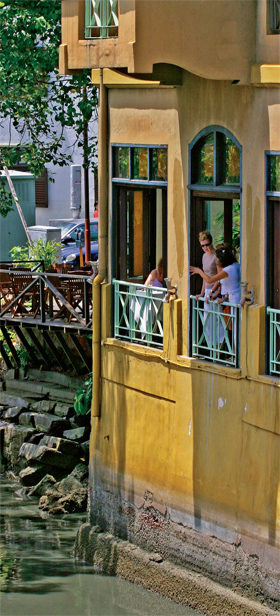 Melaka became a cosmopolitan settlement where the local Malays mixed with Chinese, Indian and European merchants. Melaka has always been a cultural melting pot and this is no more evident than along Jonker Street.
Melaka and Penang successively attained joint UNESCO World Heritage status in 2008 but recent developments on some areas adjoining the declared Melaka site may leave visitors puzzled as to the city's authentic historic elements and the commercialism associated with a booming tourism industry.
LIVING HISTORY
While Melaka can get crowded at the weekend (narrow historic streets do little to facilitate modern-day transportation), Melaka's historic Chinatown is something every visitor to Malaysia should discover. It's best to do this on foot but you'll need to watch out for the traffic as you dart in and out of the sheltered "five-foot" walkways.
Many old crafts and trades are still practiced in Chinatown but you'll have to search the backstreets away from the commercialism that Jonker Street has now become. Sponsored ceremonial archways delineate Jonker Street leaving some visitors to wonder whether these are advertising billboards or arches of any real value.
UNESCO gazettal will have been granted with specific conditions to control future development and Melaka's future is very much founded in its past. Visitors to the city come to see the old buildings and protecting and preserving these structures is important for sustainable tourism in Melaka.
It's best to drop by the Tourist Office located on the eastern side of the Melaka River, opposite the 18th century Christ Church. They have literature that outlines the historic features of the old buildings in Melaka and those fronting Jonker Street.
Jonker Street has become famous for its antique goods and furniture stores (although there are also several good ones in the adjoining Jalan Tun Tan Cheng Lock), restaurants, a few preserved old buildings and temples. While the architecture is best in other Melaka Streets, visitors should look beyond the modern renovations that accommodate the retail souvenir shops that now dominate the street.
FAMOUS FOOD
Many parts of Malaysia are famous for certain local dishes and Melaka is no different. The most famous restaurant along Jonker Street is Hoe Kee Chicken Rice at No 4 where their version of this old Malaysian favourite is served. Hoe Kee's approach to chicken rice is mostly in the rice which is served as smooth round balls with a hint of garlic on the tongue. These are sold individually and the boiled chicken that accompanies them is firm but tender. The owners claim they were the first to produce the dish some 40 years ago and in true Malaysian style rip-off outlets have sprung up to cash in on the success but true aficionados swear by Hoe Kee. Without entering the debate of who was first, who copied the other (if indeed they did) and which one serves the best chicken; pop around the corner to Kedai Kopi Chung Wah opposite the OCBC Bank on Jalan Tun Tan Cheng Lock so you can judge both. The locals like their chicken rice early as both shops open at 7.30am but don't come looking for it in the evening as they both close in the late afternoon.
Geographér Café at No 83 Jonker Street is the most inviting restaurant/bar on the strip as it offers a good cross section of dishes, chilled beer and wines and music on some nights of the week. The kitchen promotes healthy cuisine and doesn't serve red meat but offers local, Asian and Western favourites.
There's a comprehensive menu with dishes such as pesto pasta, chicken satay, mango Thai curry and tandoori chicken so no one will go hungry.
Perhaps it is the street front location that makes Geographér so popular as it's a great place to people watch and rest in the heat of the day. There's live music on Monday, Thursday, Friday and Saturday with jazz, acoustic and the ever-popular Mr. Burns at the weekend. Limau-Limau Café used to be located along Jonker Street but has moved nearby to No 9 Jln Hang Lekiu and it's well worth the deviation to this smart little retreat for some of the best Western snacks, juices, lassies, coffees and ice blends in Malaysia let alone Melaka.
MARKET STREET
Being Melaka's most famous street ensures that rents along Jonker Street are some of the highest and maximising returns is important. This means that the street has become a retail bazaar selling some local products like locally-sourced antiques, colourful wooden clog-like footwear (derived from the days of the Dutch and their clogs) and chin char lok (preserved shrimps) but increasingly souvenirs made elsewhere and similar to others found in tourist sites around the globe.
Jonker Street is one-way running from west to east but it becomes a pedestrian-only street from Friday to Sunday nights from 6pm until midnight. Stallholders set up on every conceivable inch of the pavement and road to create a colourful and energetic atmosphere. The products sold are not dissimilar to the usual Malaysian pasar malam but being historic Melaka, there are some more unusual items available.
At other times, it's the antique and junk shops that make the street so unique. Certain local furniture and fashion styles can be seen with Nyonya and Baba (descendants of Chinese and Malay intermarriages) being the one unique to Melaka. Nyonya porcelain, carved furniture, wooden "opium" beds and Peranakan furniture inlaid with motherof-pearl are all sold. Drop by Abdul & Co (No 79) and Dragon House (No 65) as well as nipping around to the adjoining street of Jalan Tun Tan Cheng Lock where there is even a better selection of shops.
Hire one of many ornately-decorated trishaws and enjoy the sights of Jonker Street and the surrounding area and listen to the detail and facts delivered by the cycle driver.
Jonker Street is not what it used to be where families practiced crafts for centuries along a fairly narrow sleepy street. Now a lively market scene greets most weekend visitors who come seeking something different and the opportunity to buy souvenirs of their encounter with history. Scratch below the modern veneer of Jonker Street and those that adjoin it and all the layers of the past will be revealed to those seeking the real Melaka.
Source: The Expat April 2011
This artile was written by David Bowden
This article has been edited for ExpatGomalaysia.com
Get your free subscription and free delivery of The Expat Magazine.
---
"ExpatGo welcomes and encourages comments, input, and divergent opinions. However, we kindly request that you use suitable language in your comments, and refrain from any sort of personal attack, hate speech, or disparaging rhetoric. Comments not in line with this are subject to removal from the site. "
Comments