A mentor of mine once told me: "be careful what you ask for because very often you will get it!" This old adage recently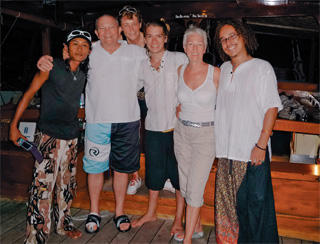 proved true yet again for me and I want to tell you a very nice story.
My wife, Gudrun, and I live in KL by choice and are proud holders of and advocates for the "Malaysia My 2nd Home" (MM2H) visa plan. This plan provides us with a ten year multiple entry visa, allows us to buy and own our lovely freehold apartment in Mont Kiara and enjoy all that Malaysia has to offer: fantastic weather ALL the time, wonderful friendly people, fantastic food, and close proximity to many world class tropical resorts.
Most of my life I have been most privileged to live close to the sea, my father had a lovely little "couta boat" when I was a kid in Melbourne Victoria, and as a natural consequence, very early in my life I developed a deep love and respect for all things nautical. Before deciding to relocate to Malaysia, my wife and I lived in Sydney where we owned a 30' Bayliner cabin cruiser which was housed in a marina at Akuna Bay in Sydney's beautiful Broken Bay area.
Recently some good friends were visiting my wife Gudrun and I from Australia for a few weeks and we wanted to show them a bit of Malaysia's natural beauty.
What better destination than Langkawi, an archipelago made up of 99 islands on Malaysia's west coast, only four of which are inhabited. With soaring limestone cliffs and caverns, hillsides carpeted with verdant forest it is a true tropical paradise. With deserted sparkling white sandy beaches hidden in sheltered coves its natural beauty awaits. Nature-lovers will delight in the soaring trees of the rain-forest containing a profusion of wild orchids and other tropical flora. Look out for sea-eagles and the gorgeous brahminy kites, also known as red-backed sea eagles, and hornbills in the air, monkeys in the trees, wild boar on the forest floor and dolphins and flying fish frolicking in the stunning turquoise sea. The interior of the main island is a mixture of picturesque paddy fields and jungle-clad hills with a shoreline fringed by powder-fine sand and swaying coconut trees. In many places the jungle grows right down to the shoreline.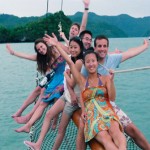 I will take any opportunity to "get out on the water" and we had been referred to Eva Zimmerman, the owner of a charter boat in Langkawi by good friends of ours in KL. They told us that there is simply no better way to explore and enjoy the exquisite beauty of Langkawi, than aboard the real love of Eva's life, the "Damai Indah". As it happened it was Gudrun's birthday so we decided to make her day a very special one on board a beautiful boat. Eva offers her customers three different cruise options, a morning cruise (three hours), a sunset cruise (four hours) or the "piece de resistance" the six hour "afternoon sunset dinner cruise" aboard the "Damai Indah". We chose the afternoon sunset dinner cruise.
The "Damai Indah" which means "Peace and Beauty" in the language of her original builders, was constructed in Sulawesi as a traditional inter-island trading ship. With her beautiful lines and fi ne teak-wood construction, she was later converted to a luxurious cruising yacht of some 70' in length including the magnificent teak bow-sprit. Now with modern equipment combined with her original features from a time gone by, she enchants and captures the hearts of those fortunate to cruise the beautiful waters of the Langkawi islands aboard her. The afternoon sunset cruise starts at 2pm at the Royal Langkawi Yacht Club in Kuah and returns at about 8pm. The ship sailed for fifteen kilometres to the north east coast to Pulau Timun. We then dropped anchor at a most beautiful cove well off the tourist track. Here we explored the sandy beach and the surrounding area by kayak and took an exciting ride around a nearby island on the ships outboard powered rubber dinghy where we saw pink dolphins, plenty of brahminy kites, sea eagles and some monkeys.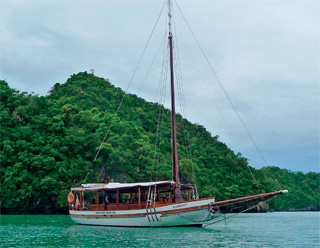 Later we took a refreshing swim. After about an hour we weighed anchor and sailed through a tropical "Nowegian Fiord", a stunning area where we were surrounded by steep limestone cliffs, many covered with lush tropical rainforest. We then dropped anchor again at an idyllic bay on Bumbon Island where we enjoyed a delicious dinner buffet of fresh fi sh, prawns, chicken and several vegetable dishes all cooked to perfection by the on-board chef. This was topped off with a brilliant selection of drinks of every kind imaginable from the open and extensive bar. On the return journey to the marina we enjoyed one of Langkawi's famous and truly magnificent sunsets and were privileged to get a close up view of the magnificent barquentine (three masted) Lili Marleen. As a special treat she "lit up" for us and welcomed us with a few blasts from her tremulous ships horn.
Altogether this sounds like a fairy tale ending to a very special day in paradise…… but it gets even better! Eva had let me be "el Capitan" on that trip and was sufficiently impressed with my navigation and ship handling skills and desperate for a day off now and then. Much to my delight, warmly supported by a very happy wife, we now enjoy a week or so as the surrogate "Captain" of "Damai Indah" whenever Eva wants or needs a day or two to herself.
To book a tour for yourself and your friends on the "Damai Indah" go to www.damaiindah.com.
Source: The Expat December 2010
This article has been edited for ExpatGomalaysia.com
Get your free subscription and free delivery of The Expat Magazine.
---
"ExpatGo welcomes and encourages comments, input, and divergent opinions. However, we kindly request that you use suitable language in your comments, and refrain from any sort of personal attack, hate speech, or disparaging rhetoric. Comments not in line with this are subject to removal from the site. "
Comments