The tiny Baba-Nonya lady seems determined to sell us the whole shop.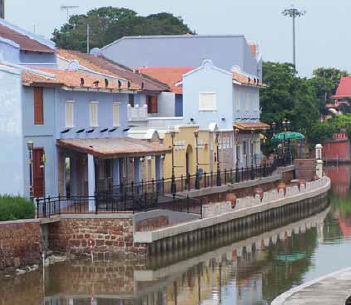 Because we are her first customers of the day, her best customers of the day, her only customers of the day, special prices are available to us, particularly to us and only to us, her new best friends. We are quite fascinated by the determination and wittiness with which she pursues us, and in truth, the deals are amazing. "This beautiful batik-style mask for only RM20!" crows my wife, "Let's each buy one!" Our smiling saleslady seems to symbolise much of what is so appealing about Melaka. She is charming, attractive, friendly, and unfortunately, irresistible. We stagger from the shop under a huge load of things we never thought we'd own. Only my right hip pocket, the one where I keep my wallet, is lighter…
A walking tour of colourful Chinatown is where we're shopping. The main street is Jalan Hang Jebat, or Jonker's Walk (both names are used). 'Jonker' is a Dutch word with no exact English equivalent; the closest is "nobleman" that conjures images of young Dutch aristocrats in centuries past strolling this same street. The street today is a seemingly endless succession of antique stores, specialty stores, and gift shops, all containing many beautiful items.
On Friday and Saturday evenings, Jonker's Walk becomes a street carnival with stalls of curios and bargains, street performers, dancing and singing in the friendship halls, and a full stage at the western terminus, where earnest and talented musicians draw a large audience. One street down is Jalan Tun Tan Cheng Lock, or Heerenstraat. (Dutch for "Gentleman's Street"). These two streets are central to the city walking tour we're making, and are lined with lovely historical buildings many housing shops and restaurants.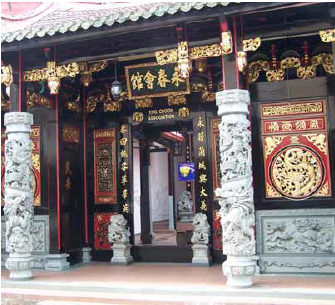 But Melaka is much more than an opportunity to shop and gawk. For centuries it has been a marvellous mix of cultures, history, and people. Its story began in 1403 when Parameswara, a Sumatran prince, fled from the harassment of the Thais and Javanese to seek refuge in a tiny coastal village which he named Malacca. By the 15th century, the strategic town had become the greatest trading port in Southeast Asia, attracting waves of conquerors, each adding its own taste to the spicy blend that is modern Melaka. At one point or another, Melaka has been an Islamic Sultanate, a Portuguese colony, a Dutch colony, an English crown colony, and a Japaneseoccupied state. But of all cultural influences, the strongest Marvelous Melaka www.expatKL.com The Expat_39 has been the Chinese, which started in 1540 when the then-Chinese emperor pledged one of his daughters to the Malaccan Sultan and she arrived with five hundred retainers! The various modern ethnic groups are called Peranakans (or "descendents") and comprise the Malacca Malays, the Portuguese Eurasians, the Chittys, and the Baba-Nyonyas, all of whom have lived harmoniously in Melaka for centuries.
The Chinese, here longer than almost anyone but the native-born Malays, have never been Melaka's military conquerors, but their influence is pervasive. Many of the earliest Chinese male settlers (Babas) married local Malay women (Nonyas) and produced the unique Baba-Nonya (Straits-born Chinese) culture. To understand the extraordinary role these families have played in Melaka's history, don't miss a visit to the Baba-Nonya Heritage Museum at 48 & 50 Jalan Tun Tan Cheng Lok, housed in a typically long narrow Baba-Nonya mansion. Guided tours provide an insight into the impressive elegance with which many of these families lived. Most of the furnishings of the house are original. Next door is the Café 1511 and a little further down the street is the Restoran Peranaken, where you can sample the best of Baba-Nonya cuisine.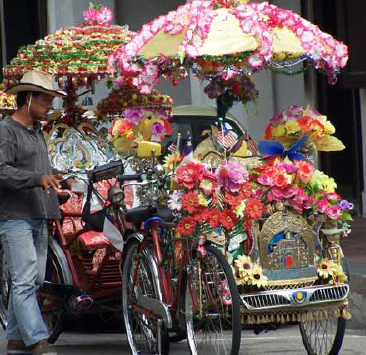 Café 1511 brings to mind another continuing influence. In 1511, the Portuguese invaded ancient Malacca and built the fortress "A Famosa," of which only the main gate now survives. The descendants of marriages that took place some 400 years ago between these Portuguese invaders and local women now live mostly in Medan Portugis, a Eurasian kampong about 5km from the town centre. Its focus is a square styled after a typical Portuguese Mercado, and there you may hear people speaking "Cristao" (a Portuguese Creole language). Should you make the trip to Medan Portugis, don't neglect to try the Chilli Crabs or Devil Curry at the Restoran de Lisbon.
Like the Portuguese, the Dutch (arriving in 1641) have left cultural traces everywhere. Much of the town square architecture is Dutch. Formerly also the Governor's residence, the Stadthuys ("town hall") is now home to the excellent History and Ethnology Museum. Next to the Stadthuys is Dutch colonial-style Christ Church, built in 1733 and contains handmade pews. The Clock Tower, Queen Victoria Fountain, and a windmill complete the picture around the square.
Away from the Dutch Square is the Kampung Chitty. The Chitty are Straits-born Indians, offspring of Indian traders who married Malays. It is a pleasant and quiet place for a stroll if Chinatown gets to be too much. Another place to be quiet and reflective is Bukit China. This 40_The Expat peaceful park, originally the home of that Chinese Princess and her five hundred retainers, covers three hilltops and is said to be the largest Chinese cemetery in the world outside China. But it's not a sad place at all; a walk through Bukit China brings mostly feng shui images of trees and lanes, flowers and birds.
Walking the wide street toward the Straits from the town square will soon bring you back into the action. Your attention is immediately drawn by the huge recreation of the Flora de la Mar, a Portuguese ship that sank off the coast of Malacca while carrying various Malaysian treasures back to Portugal. Now home to the Maritime Museum, it uses dioramas, models, and artefacts to portray a detailed history of Malacca. Across the street is the equally interesting naval museum.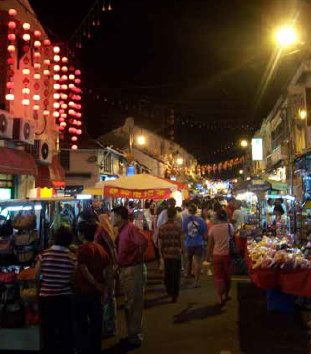 There is much more to see and do than what's described here. The Cheng Hoon Teng Temple, for instance, is well worth your time. Across the street is a traditional shoemaker who still makes tiny slippers for bound feet (even though the practice has long disappeared), which make a most unusual gift for the person who has everything! Several blocks down from the temple is Kampung Kling Mosque (with its unusual blending of Moorish and Hindu influences) and the Sri Vinagar Temple. If you are foot-sore but still curious, Melaka teems with colourfully decorated rickshaws whose drivers will gladly tour you about, but agree on a reasonable price first.
I can't leave this description of Melaka without mentioning a few of its superb restaurants. At the high end is Harper's on the Melaka River, near the bridge that enters Chinatown. It specialises in seafood, but also lists Chinese and Nonya delicacies as well as western dishes. The ambiance is wonderful and the service excellent. A cold beer on the terrace overlooking the river after a hot day of shopping and sightseeing is ambrosia itself. Harper's is located in a former "godown" ('warehouse'), and an old cornerstone describes its original use. At the other end off the spectrum is Capitol Satay located at 41 LG Bukit China. Packed every night and with a long, patient queue, the Capitol Satay is a unique experience. In the middle of each table is a huge pot of spicy, boiling hot and constantly replenished satay sauce. Finally seated, you take turns going up to the long buffet tables to load up on skewers of chicken, beef, shrimp, vegetable, crab, squid, and other items to cook in the spicy peanut sauce. It's a lot of fun and extremely economical. After a visit to the Capitol Satay, you may not need to eat for several days! Hemingway once called Paris a "Moveable Feast". I think Melaka might equally share that title. Don't you?
This article was written by David Lavoie
Source: The Expat August 2005
This article has been edited for ExpatGomalaysia.com
Get your free subscription and free delivery of The Expat Magazine.
---
"ExpatGo welcomes and encourages comments, input, and divergent opinions. However, we kindly request that you use suitable language in your comments, and refrain from any sort of personal attack, hate speech, or disparaging rhetoric. Comments not in line with this are subject to removal from the site. "
Comments