Permanent Residency
Last month we asked readers for feedback on Malaysian Permanent Residency (PR
). One person wrote, "Your statement that permanent residency 'is another option to Malaysia My Second Home (MM2H)' should actually be phrased in the reverse 'MM2H is another option to PR'". The point he was making is that PR is a very difficult option to pursue, whereas MM2H is relatively easy. A number of other people contacted us with comments. They were generally not too positive, and the overwhelming sentiment is that PR is not an easy option. Some people contrasted Malaysia with Singapore, which is apparently handing out Permanent Residency with minimal fuss. Of course, it should be noted Singapore is facing different issues, not least of which is a backlash from a previous attempt to reduce family sizes. Faced with a shrinking, aging population, and the consequent impact on the country's economy, Singapore is now exploring many ways to encourage people to have more kids and get foreigners to settle and invest. Malaysia does not have these problems.
See Also:
There have been reports that the Malaysian Immigration department declines work permits for foreigners who have been working here for over 10 years. So far, we have not been able to confirm if this is official policy. We know of people who have had their work permits renewed be
yond the 10-year period, and others who were declined after that time. Since exact reasons for the declines are not given, it is hard to know the real reasons. One reason for not renewing work permits indefinitely is, of course, that the government expects people to train locals to take over the job. In many cases this is perfectly reasonable, however some people love living here, and just want to keep on finding employment.
At one immigration seminar we attended, a participant asked the then-Director General of Immigration why they decline work permits for people who have lived here for some time. He replied they expect people who want to stay a long time to apply for Permanent Residency. Unfortunately it seems that, in practice, this is not a realistic option. Some people who have lived here for many years and applied for Permanent Residency told us the process takes many, many years. In fact, we are told that everyone who applies receives a letter declining their application, so this appears to indicate that Malaysia is not encouraging people to apply. After the letter of rejection is received, the applicant is then required to submit an appeal. The process after that can take many years.
We received an e-mail from one gentleman who waited six years for a letter that eventually declined his application – without giving any reason. He advises that a senior person told him that it would make a "big difference" to his application if it was supported by an influential Malaysian. Not having anyone like that in his circle of friends, he decided to give up. He was put off by stories he heard of people waiting 20 or more years to get approval. He then decided to apply for a Malaysia My Second Home visa, which he says, "was very easy to do." It should be noted that, to the best of our knowledge, the MM2H programme is not a suitable method of obtaining PR status. An English man married to a Malaysian told us he'd been trying to obtain PR for 20 years, but was so far unsuccessful. At one point, they said his file had been lost and he had to start his application all over again. Another person (married to an Indonesian) was told by an agent that his application would never be approved if he was married to a non-Malaysian Asian. This may be inaccurate, but the general message seems to be clear: PR is not an easy option. We have been trying to get answers so we can share the facts with our readers, but so far we are struggling. However, we are not giving up and hope to share our findings with readers in a subsequent issue. In the meantime, we welcome comments from anyone who has views or knowledge about this subject.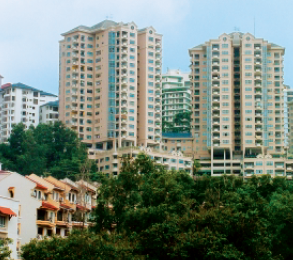 How Serious is the Government about Promoting MM2H?
A few people have contacted us asking how seriously the government wants to promote this programme. Is it a lowkey programme they want on the books for people seriously interested in settling here long term, or are they hoping to have a lot of applicants? We have seen messages on our website from Malaysians stating they do not want foreigners settling here. We've also been told by Malaysians that some of their fellow countrymen are not too excited about hordes of foreigners settling here. Apparently some Malaysians see this as a form of neocolonialism, with foreigners moving here to exploit the country and live off its wealth. Part of the problem may be this perception some Malaysians have of the programme.
Some people have referred to the confusion regarding the MM2H rules and regulations (and the absence of any advertising) as evidence the country is not keen to actively promote the programme. Recent revelations in the local press about two international drug barons taking advantage of the programme (living in Malaysia while running their drug empires from Malaysia) certainly provide fuel for those trying to have the programme closed. Of course, the 'nay sayers' are overlooking several very important factors. Not least is that the MM2H visa holders are self-sufficient and bring foreign currency into the country, which can only benefit the Malaysian economy, and ultimately many Malaysians. Also, since few people would voluntarily relocate to a country where they are not welcome, or one with poor infrastructure and healthcare, the more people that relocate here, the more it enhances Malaysia's international image. The fact that large numbers of non-Muslims and Westerners would choose to live in an Islamic country says a lot about the country. What better endorsement for people planning to vacation here (or companies thinking of investing) than having thousands of foreigners choosing it as their home?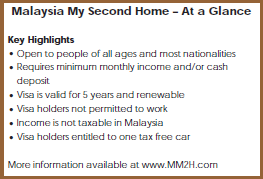 We believe many thousands of people can be encouraged to settle in Malaysia, and that it does not require a huge expenditure to get them to move here. The level of interest our articles on the subject generate is evidence of that fact. In just the last few weeks, we have received over 10 enquiries from people who read our articles and have a real interest in the programme. Interestingly, several of them were people on business visits to Malaysia who saw the MM2H articles in the magazines we place in KLIA limousines. We welcome comments, questions, and opinions from our readers. Please send them by e-mail to [email protected], or by regular mail to Andy Davison at 89, Jalan Telawi, Bangsar Baru, 59100 Kuala Lumpur.
Read more:

Source: The Expat February 2005
This article was edited for ExaptGo.com
Get your free subscription and free delivery of The Expat Magazine.
---
"ExpatGo welcomes and encourages comments, input, and divergent opinions. However, we kindly request that you use suitable language in your comments, and refrain from any sort of personal attack, hate speech, or disparaging rhetoric. Comments not in line with this are subject to removal from the site. "
Comments