I first had the pleasure of meeting John W. Ishii, an Asian American, at a photography workshop held in 2011 at the Equatorial Hotel Kuala Lumpur. Olympus Malaysia had successfully organized the comprehensive photography workshop. John shared his experiences and secrets concerning outdoor shoots. He captivated the participants (present company included!) with his spellbinding photographs and generously shared important key points in photography, things that had taken him years to master.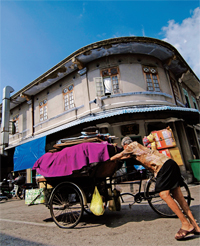 A former AFP (Agency French Press), and freelance photographer for Associated Press, John's images have appeared in major international media outlets including CNN, USA Today, Washington Post, BBC World News, ABC news, NBC News, and Associated Press. His work has been published in many of the major newspapers throughout the Asia Pacific region as well.
John's life in Malaysia began in 1965, when his family moved here from Washington DC. His father was an economic advisor to Malaysia's first Prime Minister Tunku Abdul Rahman and Malaysia's newly formed government.
"I attended school at the International School Kuala Lumpur (ISKL) and my older sister was in the first graduating class of 1967. We lived in Petaling Jaya in Section 16 and at that time we could only watch
TV after 5pm so the rest of the day was spent out in the hot sun playing in the jungle or playing lots of football. My favorite food was Wan Tan Mee (noodles with soya sauce) at Ruby's coffee shop in new town PJ, costing as little as 50 cents for a small bowl and 80 cents for a large bowl. Then my buddies and I would ride our bikes into KL to have a nice cold Chendol (shaved ice with sweet syrup and coconut milk) for only 15 cents. Of course my favorite drink was Kelapa Muda, (fresh coconut) so refreshing," John reflects.
Life in Malaysia in his younger days was most historical indeed for John had the great privilege of knowing the Malaysian Prime Minister at that time. He also witnessed history in the making.
"When I was growing up in Malaysia, my most memorable experience was when I met Tunku Abdul Rahman. My sister and I climbed up to his house and there he was sitting on the porch reading the paper and he gestured for us to come to the gate.
We went up to the house gate and his guards told us to come in. Tunku came down and presented us each with an autograph on his personal stationary. I tell many of my Malaysian friends that I know more about Malaysian history than they'll ever know.
I lived and experienced it and have met all the founding fathers. I was even here during the 13 May riots, where I could see KL burning. Time goes by and I've been able to capture it on film," says John. John attended school at Seattle University and owned a business on Capital Hill in Seattle for many years. He returned to Malaysia in 1995 and worked for an American company. As a trained photographer, John decided to get back into photography after the Asian economic crisis.
"I've been here so long it feels like I've melted in with Malaysian society. Being Asian American is a big plus for me, I just blend in to the society and nobody sees me otherwise. I think I'm the only Japanese American in KL, but of course as soon as I speak then I'm exposed. My Manglish is not too bad though," John jests.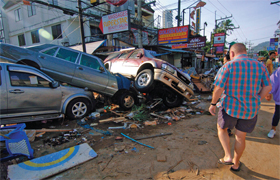 In 2004, John was most fortunate (and most unfortunate at the same time) to be holidaying in Phuket Thailand, on the day the Tsunami had hit the region. It presented him with a rare opportunity to depict the disaster graphically to the world.
"I was the only professional photojournalist there when the Tsunami hit. Since I freelanced for AP I had the very first images out for the breaking news. By 5pm that day my images were in every major newspaper in the world," John recounts.
Besides photojournalism, John is an established commercial photographer and he has serviced big names such as Westin KL, Tanjung Rhu Resort Langkawi, Equatorial Hotel Group and ATSA Architects.
"My favorite assignment was when I did a job for Insight guide books on Langkawi and Penang. It was great to spend weeks in Penang and Langkawi taking photos and experiencing the travel aspects of these two beautiful places," John reminisces.
John's photography has been exhibited at the National Art Gallery of Malaysia, the 50th Anniversary of US and Malaysia's Relationship Photography Exhibit. He has also staged solo exhibits. John is the editor for PC.com and he conducts many photography workshops for all aspiring photographers out there.
To view more of John's work, visit www.johnwishii.com
Source: The Expat February 2012 Issue
Get your free subscription and free delivery of The Expat Magazine.
This article has been edited for ExpatGoMalaysia.com
---
"ExpatGo welcomes and encourages comments, input, and divergent opinions. However, we kindly request that you use suitable language in your comments, and refrain from any sort of personal attack, hate speech, or disparaging rhetoric. Comments not in line with this are subject to removal from the site. "
Comments