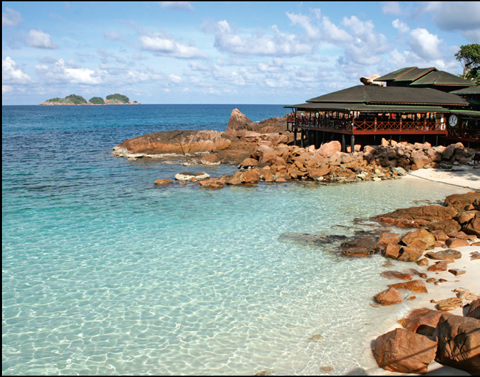 Smile for the camera! And another one. Now stand over there? Back a bit, that's it. That's it, big smile! Turn and look over your shoulder. That's it, great." No this isn't the repertoire between a catwalk beauty and a big name photographer shooting for a glossy magazine spread, this is just another day of posing for holiday snapshots on Pulau Redang.
This tiny island (7km x 6km) attracts both budding photographers and professionals alike, and for good reason. Each which way you turn is a viewfinders dream. Amateur snappers can delight in the fact that it's nigh impossible to take a bad photograph on Redang.
Returning to Redang Island, off the east coast of Peninsular Malaysia, for the second time in 18 months, I'd be fibbing to say I wasn't there basking in the knowledge that lazing around on said beach for days on end is generally assumed to be entirely acceptable.
Redang Island is such a cliché: the azure waters sparkling as they lap gently on the white sand shoreline, the palms swaying gently in the warm breeze. Yes, this island truly is as gorgeous as they say which is why people come here to pose and take lots (and lots) of photographs.
I realised this fact quite recently while taking a well-earned break from work (and nursing a very inconveniently broken toe). On day one I made a hobbling beeline for the beach loungers, donning my sunglasses and opening my book, I was all set for an entire 8 hours doing absolutely nothing.
Kicking back to read my book, it was a mere 12 pages into my novel that I find my attention distracted from the sun lotion-smudged pages of my book, to a group of 20-somethings larking around on the sand nearby taking photos. Loads of photos. With youth fuelled enthusiasm, I observed this huddled bundle of friends posing with gleaming smiles and the ever obligatory peace, v-sign hand gesture. But the photographing didn't stop there. The pose possibilities seemed endless: the wobbly human pyramid; star jumps; leapfrogging; peek-a-boo; faux surprise; break-dancing; holding hands….
"Could there be any different pose postures left?" I thought. Yes, apparently there could; next was those choreographed team portraits: in the water, out the water. In the hammocks, beside the hammocks, under the hammocks. Sitting, standing. Lying, kneeling. Arms flung up, then down. Smiling, then not. You get the picture – no pun intended.
The island politely provides endless awesome backdrops and beachy props for such photo madness – the sandy bottomed seashore, the rocks at either end of the bays, a wooden walkway, anchored sail boats and aforementioned hammocks to name but a few.
Lowering my novel, enabling me to survey the entire beach scene, I suddenly became aware that the beach was teaming with other tourists, all doing the exact same thing; quietly posing for photographs. Family groups, couples, friends – it seemed that this was an entire new beach activity I'd previously been oblivious to.
And I thought visitors flocked to this tropical paradise for the spectacular coral reefs and marine life where qualified divers can sign up for "discovery dives" and snorkelling off the beach which is incredible. Jungle trekking, bird watching and kayaking are also prominent activities readily available on Redang.
Who would have thought it? In just 40 years, Redang has evolved from having its beaches populated by early settlers (believed to be from Celebes, Indonesia) setting up villages, to having its beaches utilised by the current tourists (believed to be from all over the world) setting up tripods.
Back in the 1970's, the locals were living on stilted water bungalows with not a hotel in sight. The first tourist resorts arrived in the 1980's and with the declaration of Redang as a Marine Conservation Park in 1991 the gradual increase of interest to this unspoiled island gathered pace. Known within diving circles as a hotspot for turtle sightings and with very high coral and fish varieties, it is considered to be a globally important area of coral biodiversity. It was never going to be a secret for too long.
On top of all this, the resounding success of the Hong Kong Movie, Summer Holiday, in 2000 brought instant Asian fame to this little Malaysian island, soon delivering swarms of Chinese tourists to Redang in search of their own "Summer Holiday"
Wedding photography packages to this and surrounding islands are popular options nowadays. Happy couples stroll hand in hand along Pasar Panjang, waggle their feet off the jetty and lean nauseatingly close to kissing against palm trees, all the while being snapped for official wedding shots. Some of the larger resorts offer all in one wedding/honeymoon packages too which means you're very likely to spot a bride and groom leaping around, post nuptials, in the sea spray at sunset.
When the Berjaya Group opened the island's first airport in 2004, suddenly Redang was wide open to a further surge of camera clutching visitors on direct flights from both KL and Singapore. movie moments, captured on film.
Luckily, even with 17 hotels now established on the island, Redang somehow manages to retain its idyllic beauty and pristine beaches. The camera shenanigans are fascinating and massively entertaining to watch but don't let that put you off, it seemed to last but a few hours and then suddenly it's like everyone leaves the island,
or into heads in for a shower because the peaceful haven empties and you can enjoy having the beach all to yourself again.
And do you know what I did when I realised we had the beach all to ourselves again? You guessed it, we marched down to the shore, shook our hair, straightened our swimwear and started shooting snaps for our own holiday album…
Getting There
Although flights to the island are available, the most common way of getting to Redang is to drive or take a bus to Kuala Terengganu and, from there, board a ferry to the island. Driving from Kuala Lumpur is now easier with the partial completion of the East Coast highway. Simply follow the highway from Karak all the way to its end and, from there, follow the signs pointing to Kuala Terengganu. The last leg of this journey takes you through a number of coastal towns and villages where you can stop for a breather and a bite to eat. Depending on what time you arrive in Kuala Terengganu, you can opt to spend the night at one of the local hotels or head straight to the jetty if travelling overnight. Ferries normally depart in the early morning up until lunchtime.
Source: The Expat August 2010, article by Susie Hogg
Get your free subscription and free delivery of The Expat
This article has been edited for ExpatGoMalaysia.com
---
"ExpatGo welcomes and encourages comments, input, and divergent opinions. However, we kindly request that you use suitable language in your comments, and refrain from any sort of personal attack, hate speech, or disparaging rhetoric. Comments not in line with this are subject to removal from the site. "
Comments