This post was written by Chad Merchant

AMONG THE WORLD'S MOST STORIED HOLIDAY DESTINATIONS, BALI HAS INSPIRED COUNTLESS SCRIBES TO WRITE OF ITS CHARMS AND BEAUTY. EDITOR CHAD MERCHANT REFLECTS HERE ON HIS FIRST VISIT TO THIS INDONESIAN JEWEL AND SORTS OUT WHAT KEEPS BRINGING HIM BACK.
The small island of Bali, one of over 17,000 in the vast Indonesian archipelago, is no stranger to press coverage. Indeed, more ink has surely been spilled over this one island than over all the other Indonesian islands combined. Over 80% of tourists visiting the country of Indonesia go to Bali and Bali alone. Last year saw over 2.7 million visitors touching down at Bali's Ngurah Rai International Airport. In 2012, it was already well over a million by the time May was over. Bali is, arguably, the most well-known and most popular single vacation destination in the whole of Southeast Asia.
With that in mind, I'll eschew the usual poetic waxings about the Kuta sunsets, or the terraced rice paddies, or the rhythmic kecak dances. Any travel guide you pick up will give you all the prose on those topics you could ever want. Instead, I'd like to offer my personal views on a place in which I've not only spent a lot of time (I've been to Bali 10 times already), but that is also, in a very real way, responsible for me living in Malaysia today.
AN AMERICAN LANDS IN ASIA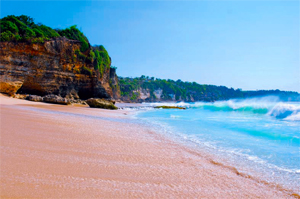 Nearly a decade ago, the world – still reeling from the September 11th terrorist attacks on America – was stunned to learn of a savage terrorist bombing on the peaceful island of Bali. Australians were particularly horrified: For years, Bali had been their chosen playground, and when Islamic terrorists parked a white van loaded with a full metric ton of powerful explosives outside the popular and jam-packed Sari Club, Australian holidaymakers perhaps paid the greatest price. Of the 202 fatalities in the massive explosion, 88 were Aussies. The bombing and its aftermath strained Indonesian-Australian relationships for years and it also took Bali years to recover from the psychological damage wrought by the blast, which even today remains one of the worst terrorist bombings in history. All told, innocent people from 21 different countries, including 38 Indonesians and 24 Britons, were killed. The vast majority of the casualties were Westerners and, overnight, Bali's tourism industry collapsed. Holiday bookings were cancelled, flights were shrugged off, and for months, Bali's once-teeming streets and sidewalks were utterly desolate. Oddly enough, that's what brought me to Bali.
Eight months after the bombing, I came across a promotion being run by the tourism arm of Singapore Airlines. Quite desperate for tourist dollars, Bali was pulling out all the stops to help people set aside their fears and return to their island paradise. What was being offered is, to this day, astounding to me: round-trip air from the US to Bali (via Singapore) on Singapore Airlines, and a week in a five-star luxury resort in Nusa Dua for a jaw-dropping US$599 total. I simply couldn't afford not to go. Like most Americans, I didn't even have a passport, but I booked the trip all the same, then paid a bit extra to get my passport rush-processed. Two weeks later, a good friend of mine and I set out over the Pacific Ocean, bound for Bali.
That fateful trip in June 2003 – my first time venturing beyond North America, mind you – was my introduction to Asia, the place I now call home. In the interim time between booking the trip and actually taking it, I consumed everything I could find on Bali, learning about the people, the history, and the spectacularly rich culture. Suffice it to say I fell in love with this amazing island before I even stepped foot on it.
So it was that tragic bombing and the resultant low price of visiting that initially got me to Bali. What is it that's kept me returning?
THE PRICE OF POPULARITY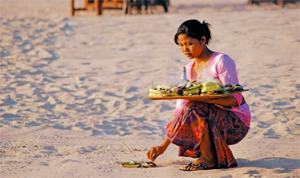 It isn't Indonesia's shameless money grab for Western dollars, that much is certain. When I first started visiting Bali, a 60-day visa was free of charge. Around about 2005, they got the idea to start charging for visas, and it affected primarily visitors from non-ASEAN countries. The 60-day visa was eliminated and new 30-day and 7-day visas implemented, with corresponding US$25 and US$10 price tags, respectively. Once I moved to Malaysia, a 7-day visa was sufficient, and ten bucks wasn't too big a bite; but now, they've done away with that option altogether. Whether you stay one day or one month, you'll pay US$25 now. And the international departure tax, which is levied on everyone, is an eye-popping Rp.150,000, payable in cash. That means you can add a total of roughly US$40 per person to your trip costs just to get in and get out.
It also isn't the general chaos present in the sprawling Kuta-Legian-Seminyak conurbation. It's safe to say that tourists have returned to Bali in droves, and the expansive, bustling labyrinth of souvenir shops, food stalls, and every manner of anything you could probably want or need finds itself jam-packed more often than not. Driving anywhere in south Bali can be a chore at times, and the ferocity of the traffic congestion on the narrow streets makes KL's jams pale by comparison. And it's certainly not the transformation of Bali into a glitzy, luxury destination. Private villas costing hundreds of US dollars per night are now the norm in Seminyak. (My note: If a hotel is trumpeting their prices in US dollars, rather than Indonesian rupiah, that's the twin marker of luxury and expense.) Another example is Dreamland. Once a surfers' hidden paradise, a little patch of exquisite beach and pounding waves off the southern coast, Dreamland Beach has been developed and, by most accounts, utterly ruined. As recently as a few years ago, this was a place most tourists weren't even aware of, it wasn't placarded or noted on maps, and even getting to the beach often involved some local knowledge.
There were a few warungs (food stalls) and the most basic of cheap accommodations. Now, a luxury hotel and golf course have been built, all the warungs have been demolished, and new owners have tried to brand it as "New Kuta Beach," despite it being far away from Kuta Beach, and different in every conceivable way. And as usual, it's all about money: In one place, where you could once stand on a lonely cliff and take in sweeping, stunning views of the Indian Ocean for no charge will now cost you Rp.100,000 (about RM35) to access. Whatever charm and appeal Dreamland Beach once held has been wholly stripped away.
THE HEART OF BALI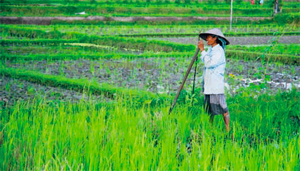 What keeps me coming back, I think, is the genuine friendliness and openness of the Balinese people. Once you peel yourself away from the madness of Kuta, and leave behind the naked glut of tourism run amok, you can feel inexorably seeping into your soul that almost mythical of things, "the real Bali." No one is quite sure what that is, and to be certain, the pulse-quickening nightlife of trendy clubs in Seminyak is as much a part of life in Bali as the spectacular Danau Bratan lake temple or the celebratory air of the night before Nyepi, sort of the Balinese version of New Year's Eve. The Balinese have a wondrous capacity for absorbing and assimilating all manner of outside influences while maintaining their own marvelously unique culture. And clearly a defining characteristic of that culture is and unaffected and sincere friendliness. While cycling through rural Bali, happening across small villages, I've been welcomed and greeted as not only a visitor, but as a friend. Everyone has a smile at the ready, and those times being among the Balinese people while on holiday remain some of my most treasured experiences in life. The culture, the food, the people… there's a richness there that has captivated Westerners for decades. This is truly where Bali's heart lies.
Of course Bali has beautiful beaches. And the volcanic nature of the island ensures a soil flush with nutrients to sustain those iconic terraced rice paddies. But there are loads of picturesque holiday spots in the world, and even if you love the colour green as much as I do, rice fields can only interest you for so long. It's clear that Bali offers something else, something deeper and more enduring than picture-snapping opportunities and good prices on sarongs and bootleg DVDs. Ultimately, it's the people that define a place, and Bali's people are indeed her greatest treasure. I was honoured on one of my visits to be invited to a village-wide pitra yadnya, the cremation of the dead and the final ceremony in the life cycle of a Balinese. As the elaborate sarcophagus and the remains of the deceased went up in a dramatic blaze, I asked one of the villagers what happened next. She told me that the ashes are taken to the sea, and the spirit of the deceased would go to heaven. "And what is that like?" I asked. She smiled warmly, ever the defining feature of the Balinese, and replied, "It's just like Bali."
———————————————————————————————————
Direct daily flights from KL to Bali are available on both Malaysia Airlines and AirAsia. Bali's Ngurah Rai International Airport is undergoing a massive US$211M refurbishment scheduled for completion in November 2013.
Source: The Expat July 2012
Register on ExpatGoMalaysia and be updated with the latest news, articles, and events.



" ExpatGo welcomes and encourages comments, input, and divergent opinions. However, we kindly request that you use suitable language in your comments, and refrain from any sort of personal attack, hate speech, or disparaging rhetoric. Comments not in line with this are subject to removal from the site. "



Comments