PHOTOGRAPHER AARON KOK STRIKES THE PERFECT WORK-LIFE BALANCE THANKS TO HIS ABILITY TO COMBINE MANY OF HIS PASSIONS INTO ONE SATISFYING WHOLE. SARAH REES CAUGHT UP WITH HIM AND DISCOVERED AN ENTHUSIASTIC FAMILY MAN WHO IS ALWAYS READY FOR THE NEXT ADVENTURE.
Aaron Kok is, first and foremost, a family man. The charming and natural portraits he manages to tease out of youngsters reveal an ease with children, and he admits that it was due to his own kids that he picked up a camera and sought to capture moments.
"Photography was never a particular interest when I was growing up," he admits, "but once I had family of my own I wanted, like most people, to start snapping pictures of them."
His two little ones – a daughter aged 6 and a son aged 4 – are well-practised in posing, and they are fortunate that Daddy turned out to be so much more than an enthusiastic amateur thanks to his technical mind and his desire to learn and improve.
"I always worked in IT. My degree was in Software Engineering and I am interested in computers, so photography is a natural progression as photographers end up spending a lot of time in front of a screen." He immersed himself in all the technical information he could find, and quickly mastered the skills necessary to produce good photographs. The interest would never have been more than a hobby, however, if it hadn't been for some unforeseen circumstances, which his positive personality enabled him to use as a springboard for a new adventure.
"I was retrenched," he says with calm indifference. "The company went bust and it gave me the kick I needed to do something different." The self-confessed computer geek became "by.aaron.kok.photography," and now, Aaron specialises in portraits of youngsters, as well as capturing events such as birthday parties and weddings. This would seem to many of us to be three of the most stressful things to be involved with, but Aaron shrugs amicably and admits he enjoys it.
"People are always happy during moments like that, so I get to share in that. Plus I've always been good with kids," he says, "and I am good at being silly; teasing them, trying to create the right moment to capture their picture."
He admits, however, that having to maintain an enthusiastic disposition can be demanding. "Sometimes it's difficult to make yourself happy even if you're tired or sick," he admits. "And being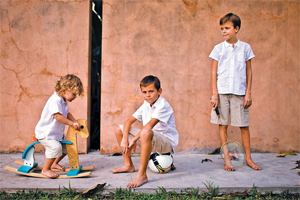 unhappy can affect your photos because photography is an art form and emotions come into play. That's why my holiday pictures are always good!"
The word "holiday" suggests lazing on a beach, but industrious Aaron is far more interested in what happens beneath the waves. "My wife and I started diving a few years ago because it was something we had never done," he explains. "We love it!" The camera comes along for the ride – of course – and Aaron has delighted in the new challenges that capturing underwater worlds and their creatures have brought him.
"It's much more complicated underwater," he explains. "You have a lot more gear so it's tougher, and you need to be aware of yourself and your air as well as thinking about the photos." It is a balance he has mastered, and the pictures that he shows me – presented in wonderful holiday books that he shares with all the pals that join the trips – are extraordinary.
Aaron's face lights up as he explains about the creatures and their fascinating behaviours and lives. "I spend a lot of time reading about the creatures, so that I know how they will move and react, and where I can find them." These photographs bring a real sense of satisfaction to Aaron, and not just for selfish pleasure. "It's so rewarding to be able to share the marine world with people who don't dive."
As well as bringing pleasure, the new deep-sea hobby has raised his awareness of the importance of sustaining and protecting the underwater environments, as he has witnessed first-hand the degradation of the dive sites.
"The authorities are doing some things to protect them, but not enough," he laments. "People need to be made aware, divers need to know how to behave, and the local people need to realise that fishing gives them a short return and ruins the environment, but preserving the sites and making money off divers can last forever."
He speaks passionately about the cause, and it is clear that scuba diving and underwater photography have given him yet another outlet for his creativity, as well as a way to combine his love for travel with his other interests.
"Our next big trip is going to be Cenderewasih Bay," he says excitedly. This is, it turns out, an area near a northern province of Papua that only saw its first tourists two years ago so is a "very untouched space. My wife and I wanted to see what the dive sites look like before the tourists come."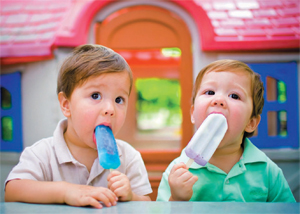 While the kids are left behind at home – for the time being, anyway – no one could deny that Aaron is still dedicated to his family, and he finds such satisfaction in his photography business partly because it gives him more time with his children.
"I am effectively a stay-at-home Dad," he says brightly. "My wife works the 9-to-5 and I am there to chase the kids around the house." Which is what is on the agenda when he bids farewell after our chat, but a dive trip is also brewing.
"I am off to Tioman at the weekend for some more training," he explains, "I am taking my Dive Master." Aaron is in that enviable position of being able to combine all his passions, and the children are already becoming a part of the whole too.
"They already snorkel and swim," he explains, "although perhaps when they are bigger my wife and I will have dived all the sites, so we might start going on other holidays with the kids. Maybe Paris?"
Wherever the coming years take Aaron and his family, you can be sure the camera will be along for the ride.
This article was written by Sarah Rees for Senses of Malaysia.
Source: Senses of Malaysia July-Augt 2012
Register on ExpatGoMalaysia and be updated with the latest news, articles, and events.




" ExpatGo welcomes and encourages comments, input, and divergent opinions. However, we kindly request that you use suitable language in your comments, and refrain from any sort of personal attack, hate speech, or disparaging rhetoric. Comments not in line with this are subject to removal from the site. "



Comments