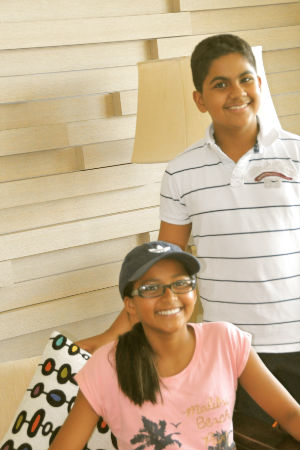 Proper parenting, a good school, and a quality circle of friends are all important in the raising of our children. But what about the place? Lynn Reutens reflects on her own children's upbringing and explains why she and her husband chose Penang as the place for their kids to call home.
BOTH OUR CHILDREN, Maximillian and Kelly Devan, were born and raised in the Middle East, and have lived almost all their lives in the Gulf. But as they were growing up, having only visited the Far East during the summer holidays, we realised there was something missing in their young lives. As they come from a mixed parentage, Moroccan-Eurasian on my side, and Malaysian-Ceylonese on my husband's, and, together with all expatriate kids in the Middle East, they too were being classifi ed as "universal globe-trotting offspring," we knew there would come a time in their lives when they would wonder, Where can we really call home?
We looked at various opportunities in Malaysia that could give them the ultimate balance in excellent education, cultural richness, and their own sense of heritage to understand with ease. My husband and I were both raised in Penang and were wavering between having the kids based in Kuala Lumpur or Penang. After taking into consideration the comfort and the rich multicultural history that Penang has to offer, we decided the exciting energy of this amazing island would be the best place for them.
It's been almost a year to date in the British academic year, and they have steadily adopted what we call a balanced "Malaysian-ised" lifestyle. They are students at the International School of Penang (Uplands). With all the changes, they were a little skeptical on the big transformation, what with moving from the fast-growing city of Dubai to the more laid-back island of Penang. We still remember their first exclamation when they read the school's menu: "They've got roti canai!" After all, we just want them to live as a Penangite… to smell durian, taste the ever-popular char kuey teow, eat from a banana leaf, and discover their home!
After almost twelve months, it is now all gradually coming together for them as they enjoy their youth in Penang, from being involved in a circle of outdoor activities to making new friends. And we were happy to receive a text message that read, "We did PE on the beach! OMG it was awesome!"
The Japan Ski trip was the highlight of Maximillian's Year 9 time as he anxiously looks forward to the next scheduled trip to Switzerland early next year. The Outward Bound wild trek experience at Pulau Pangkor was the perfect icebreaker for him to make new friends and it was an eye-opener that made him discover Malaysia's wilderness, exceed challenges and we laughed when he said, "The jungle water is too cold to shower!" He loved the road trip to Kuala Lumpur to play rugby against the Australian International School and with a positive outlook he is looking forward to embarking on the International Awards programme planned by Uplands after the summer holidays.
Kelly has always had a love for sports, as she now swims for the Penang State team and competes at National Swimming events. She loves all her out of town sports trips and, as a cellist, she is eagerly looking forward to traveling to Vietnam for the FOBISSEA Musical event. With an eye for more sporting opportunities, she tells us her next focus is to grab the PADI Junior Open Water Divers Certifi cation in Borneo. All we can wonder is what will she be up to next in Malaysia!
We can't deny the fact that there have been times when we questioned our decision, but after the last few months, we have been reassured that Malaysia as a whole will definitely give our children the cutting edge in their final high school years before they embark into their chosen fields of study. Education is important, but equally significant to us as parents is for our children to understand their individuality. Penang gives them something rather unusual and special that comes along with a potpourri of flavours.
And as they pack up to head back to the Middle East for their summer vacation, they look forward to reap in the Gulf's hearty preparations of the Iftar festivals during this Ramadan month. We can only hope that one day they can look back to thoroughly understand where they come from.For whenever they return to Malaysia, the local words of welcome, selamat datang, will never fail to remind them that they are home.
———————————————————————————————————
This article was written by Lynn Reutens for Penang International.
Source: Penang International October-November 2012
Read more:
Register for free on ExpatGoMalaysia.com



" ExpatGo welcomes and encourages comments, input, and divergent opinions. However, we kindly request that you use suitable language in your comments, and refrain from any sort of personal attack, hate speech, or disparaging rhetoric. Comments not in line with this are subject to removal from the site. "



Comments