Penang isn't just about its hot weather, tasty food, and wonderful heritage buildings.A great part of the delight of living here is the friendliness of the everyday encounters with ordinary Penangites. Neither obsequious nor snooty, most possess a genuine warmth and an interest in people that sets them apart. Join us as we celebrate a few of the human jewels of Penang.
Hussain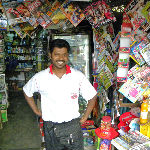 On the corner of Jalan Kelawei and Jalan Jones sits a very busy newspaper shop that was opened by Mohamed Haniff about 40 years ago. I can't imagine what the area must have looked like back then, but it is now surrounded by a bustling neighbourhood that consists of high-rise condos, a busy petrol station, hawker stands, and a brand new mosque, which is almost next door.
For the past 10 years, the shop has been operated by Haniff's son, Meera Hussain, who I first met in January 2011 when we moved to Penang from Canada.
At first glance the shop looks quite small, but upon further inspection you will find that you can buy almost anything you need here: magazines and newspapers in several languages; household supplies and personal needs; snacks of every sort; and, fresh daily goods like bread and eggs. Seven days per week from 6am until 10pm, Hussain serves a steady stream of customers with a smile and a friendly word. I am so glad to be part of his neighbourhood.
Penny Fong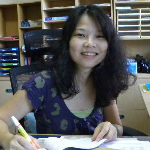 Penny started working for the IWA (International Women's Association Penang) in January 2009, and has since been the cheerful constant in an organization that, by its very nature, changes almost daily. The IWA elects a new Board annually and so, in effect, Penny has a new boss each February. There are expats coming and going all the time from countries around the world, and Penny is been the friendly first-contact for almost all of the ladies who visit the IWA office for the first time.
Penny not only handles the daily office duties, but you will also find her at almost all IWA events, whether she is taking tickets at the door, keeping track of attendance and money, helping new members fill out their membership forms, or generally being the all-round-go-to person for all sorts of questions and reference material. This is all done with a cheerful smile and grace.
Madam Low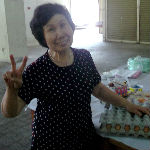 I like Madam Low because she smiles, even when I am late buying my eggs at the Tanjong Bunga Wet Market and she is almost packed down and ready to go. It didn't take very long for Madam Low to recognise me as a regular, and my tray of eggs are discretely discounted without my asking! Of course the main reason I like her stall is because of the eggs, which have never failed to hit the mark when we have "dippy eggs"!
Faizol and Nanthini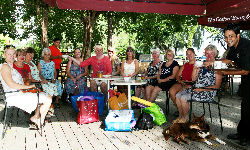 Spending an hour performing aerobics while treading water is hard yakka in any lady's Language, but that is the exquisite exercise torture that a group of expat and Malaysian women choose to undergo a couple of times a week in Penang. After that exhausting effort, we are all looking for refreshment, which is when two special people and their team make such a difference.
Mohd Faizol Abd Kadir and Coffee Bean employee Nanthini Nanthus are superstars to the coffee lovers of Gurney Drive. Faizol is the Manager of the Gurney Hotel Coffee Bean and works as hard as any of his staff. He makes coffee, cooks food, clears tables, and is an all-round sensational caffeine host. Nanthini labors mostly in the kitchen ensuring the orders come out, well, exactly as ordered.
Believe me, when up to twenty tired but talkative water aerobics gals descend at once, it can be bedlam keeping up with the special orders spouted out in the midst of excited post-exercise conversation, but Faizol does it with aplomb and a smile as big as the whole of Penang.We sit, as graceful as gazelles, under the big shade umbrellas and natter away without a care in the world while Faizol, Nanthini, and the team work their magic. Before long, our exotic orders are brought to the table, exactly as specified. Thanks Faizol, Nanthini and all the Gurney Hotel Coffee Bean staff for making our day a lot better.
Mua Ah Seng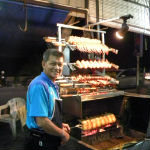 It's very difficult to interview a man whose sole purpose at the time you see him is to cook, over an open fire, the world's best chicken wings. In between rushed orders, chatting with his customers, and fanning the open fire to keep it at optimum efficiency, I was able to find out that Mua Ah Seng has been cooking at the Gurney Famous Roasted Chicken Wings stall at Song River Hawker stand for about 30 years. He took over the business from his father-inlaw, who started it business almost 50 years ago!
During our chat, I found out that, on an average day, he serves up between 200 and 300 chicken wings, and could only chuckle and say "much more" when I asked how many wings he would sell on a holiday. During the week he has one paid staff member and two on the weekends and holidays. He takes one day off every two weeks, usually a Tuesday.
Before moving to Penang, I never drank beer. Since moving here and having the luxury of living one block away from Seng's amazing chicken wings, I have discovered that beer is a glorious beverage to accompany these tender and juicy morsels.
Lim Lye Hoe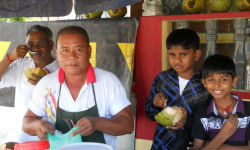 I discovered Lim and his coconut cart shortly after arriving in Penang just over a year ago, and have been a regular customer ever since. Bare-footed, he stands on the footpath outside the Hong San Si Temple at Fettes Park on most days. Lim always greets me with a smile and a nod, and makes sure that he chooses the youngest, juiciest coconuts for me.
Lim now knows my little yellow Myvi and starts preparing two "air kelapa to go" the moment he sees my car pull up by the kerbside. He has been blessing this corner and passersby with his dextrous coconut water-extracting skills for over ten years, and may he be there for many more years to come.
Veera
The temple is almost hidden behind the huge condos which dominate that area around the beach at Tanjong Bunga. Most mornings I take my dog for a walk on that part of the beach, and I invariably bump into M.Veeraarumugam, or Veera for short, who is the priest in charge of the temple.
He is usually saying prayers for people, cleaning, or putting fresh flowers by the statues of the gods.
Although he is always busy, he makes time to come and chat or pat my dog (they are now fi rm friends).
He has helped me on a few occasions, such as when the dog disappeared and also when I lost my car keys. He has also said prayers for friends of mine who have been going through diffi cult times.
The temple has been there for decades and it is dedicated to Kali, who one thinks of as "the destroyer" but her sons, Ganesh and Murugan, are more peaceful (as far as I understand).Veera told me that couples come to pray at the temple when they want children.
Adrian Cheah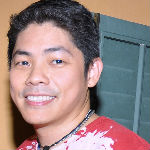 Through his captivating photography and eye for design, art director Adrian Cheah is painting a vibrant image of Penang. Every time I see a fabulously photographed book, article or website on Penang, I unfailingly fi nd his name at the bottom of the page. He makes the island where I was born new again for me.
A dedicated father to his little girl, Jean, Adrian has raised her on his love for art, and at nine, she is already taking photos like a pro.
With his infectious zest for living, learning, and exploring, Adrian will never grow old. Through his eyes, Penang and its people will continue to change and grow, blossoming through the seasons that he will capture on film as he rides across town on his motorcycle.
With thanks to Ella Schmidt, Bernadette Ackman, John Nisted, Kathy Roper, John Harper, Paula Tan, and Frances Wilks for their contributions.
Tony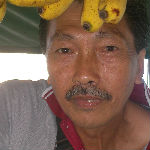 I totally adore tropical fruit, so one of my favorite places in Penang is the drive-through fruit stall in Tanjong Bunga. (It's next the food court, just off the main road.)
You pull in to the side of the street, trying not to catch the eye of the hovering parking attendant, and Tony serves you your fruit with a kind smile and often a joke. "No money, no honey, he declared to me once with mock seriousness as I was fumbling for small change in the bowels of my car.
It was a long time before I learnt his name,Tony, which somehow doesn't seem to fit him, though I can't put my finger on exactly why. Sometimes he is accompanied by a lady in a headscarf which led a friend of mine to assume he was Malay, but Malays aren't usually called Tony so I was sure that he was Chinese.The mystery remained until I, bold-faced, asked him one day and he said, with typical generosity, that we were both right – he was Chinese but had converted to Islam to marry his lovely wife!
He sells delicious fruit, and he knows his regular customers so well that he can anticipate whether you'll want your papaya to be ripe for "tomorrow" or "tomorrow, tomorrow. He always brightens my day!
———————————————————————————————————
Source: Penang International December 2012 -January 2013
Read more:



" ExpatGo welcomes and encourages comments, input, and divergent opinions. However, we kindly request that you use suitable language in your comments, and refrain from any sort of personal attack, hate speech, or disparaging rhetoric. Comments not in line with this are subject to removal from the site. "



Comments