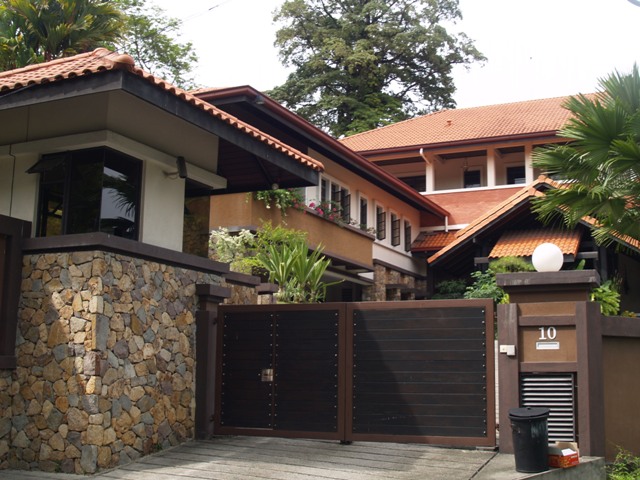 If you are looking for housing in Penang, there are a lot of things to consider when selecting an abode. Things in Penang are a bit different from western apartments, and one can easily be overwhelmed thinking of all the things to consider. After you've picked your location, here is a list of items you may want to think about during your selection of a house or apartment.

Landed Property vs. Condo
Both landed properties (houses, duplexes and townhouses) and condos (apartments, super-condos, flats and units) are widely available in most areas of Penang. You can even rent some landed houses in the Gurney drive area. Deciding which is right for you is a matter of preference. Condos are the most common type of housing and provide amenities such as gyms, pools, shared gardens/yard, playgrounds and mostly have great views. They are by nature less private, but provide a high-density community around you. A landed property will provide more privacy and easier access to the outdoors and possibly a private garden or yard. However, while you will be segregated from your neighbors, unwanted guests (insects, snakes, and even monkeys) will find it much easier to pay you a visit on the ground floor (see Security, next). Also, shared amenities are less common, so weigh in how important a pool or playground is to your family. If you have large pets, this decision will be made for you, as most apartments do not allow large animals.

Security
While Penang is generally a very safe place, there have been some reported break-ins. Consider the level of security offered by your unit. Landed properties will be the easiest targets, so look into requesting a home security system. Some expats have also installed video camera with tape delay for review. Condos vary in their security level. Some are locked down and require card access to each floor in the building. Others have security guards on staff, but are more open. It should be easy to judge the security level from when you walk up with your agent.

Noise
Open the windows and consider the environmental noise you will have day-to-day. For us on Gurney that is a mix of ocean sounds and car noise, with a bit of thumping techno at 5am some Sunday mornings as the popular parking area for parties is right outside our window. Noise diminishes the higher the floor you occupy. A major consideration should be noise from renovation. Relatively new condos may look nice and shiny, but understand there could be several years of renovation (read: jackhammering and tile sawing) on units above and below you in your future. One tell-tale indicator people are still working is an elevator that has been boarded up on the inside. Also look out the windows; an empty lot surrounded by tall blue fencing is a warning sign. A friend endured 6 months of 9-5 blasting while they laid foundation for the supercondo going up next door. Not a big deal if you are out of the house all day working, but if you are trying to get a newborn to sleep – good luck!

Appliances
Take stock of the appliances (both built-in and counter top) provided. I recommend you come armed to your housing search with a list of what you want. Look closely: that "oven" may be a useless built-in steamer; the "dishwasher" a UV-light disinfecting unit (not good at cleaning dishes, trust me). Here is a sample list:
Water Filter at kitchen tap
Hot-water heaters – these are localized, so make sure each bathroom has one, and the kitchen if you want to wash with hot water
Dishwasher
Oven (convection, fan-forced, etc?)
Microwave (analog vs. digital)
Stovetop (gas, electric, hybrid, where is the gas canister located?)
Washing Machine (hot water available?)
Clothes Dryer, or adequate hanging space in ventilated area
Ceiling Fans
Air Conditioner Units
Ventilation Fan in Bathroom
Window Screens
Shower Head (adjustable? water pressure?)
Toilet Sprayer (important if you have little ones and/or cloth diaper)
Intercom/Doorbell
Security System
Internet and Cable Setup
Storage
Outlets
Light Switches – what do they all DO??
General Furnishings: Bedrooms, Office, Kitchen, Living Room, Entertainment
Anything you are unsure of or unhappy with consider negotiating with your landlord.

Neighbors
In my opinion, who you live next to can make or break an apartment. Make an effort to talk to someone who lives in the unit or area you are considering and get the scoop from them before you commit. If you really like a place, visit without the agent and stop people going in and out (is this stalker-ish?). It has never failed me, and I've managed to move in with some built-in acquaintances!
Read More:
What are your thoughts on this article? Let us know by commenting below. No registration required.

---
"ExpatGo welcomes and encourages comments, input, and divergent opinions. However, we kindly request that you use suitable language in your comments, and refrain from any sort of personal attack, hate speech, or disparaging rhetoric. Comments not in line with this are subject to removal from the site. "
Comments