Food has long been an integral part of the Malaysian landscape and Paula Tan visits some of the oldest eating establishment in KL to savour a taste of the past.
There are places I go, tucked away deep in Kuala Lumpur's quiet, forgotten streets, when I need to reconnect with the past; places to recover my focus when the present becomes overwhelming. Behind their faded doors, time moves at a slower pace, and there is opportunity for quiet contemplation within these ageless places. These are the old restaurants and cafés of the city's capital, erected in a colonial era but still alive and stubbornly resilient, continuing to ply a brisk trade amidst their cracked marble tables and creaking table fans.
Guildhall Grandeur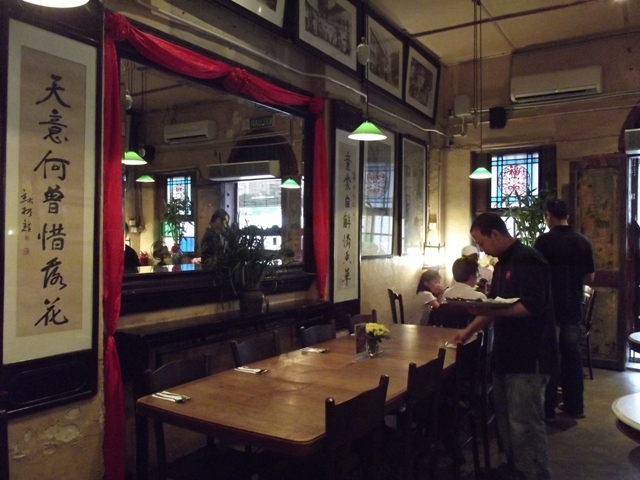 At the Old China Café, the strains of a pre-war Chinese melody hover over the clink of porcelain as you dine. Located in one of the capital's oldest and most historical districts near Petaling Street, its premises was originally the guild hall of the Selangor & Federal Territory Laundry Association.
Founded at the turn of the century, the guild was only moved to China Town in the 1920s and, unlike Chinese clan associations, this trade guild accepted members from a large variety of dialect groups. As the guild began to prosper, its founders moved again, in 1930, to the building in which the café is now located.
The two large mirrors that face each other on the walls of the Old China Café are traditional feng shui mirrors that Chinese believe constantly reflect good luck when the first rays of the morning sun light up the interior. On the walls, guild leaders still maintain their imposing glare from yellowing black and white portraits in dusty frames.
Many of the architectural details of the building have remained unchanged, and even the interior doors still feature wooden latches. Up battered wooden stairs on the second floor, an antique furniture gallery welcomes prospective buyers in its small parlour.
Sadly, this variety of pre-World War I building is slowly fading into oblivion. To date, several in the surrounding neighbourhood of Jalan Panggong, Jalan Petaling, and Jalan Balai Polis have been either demolished or renovated beyond recognition. With the revoke of the Rent Control Act at the end of 1999, rents increased substantially, forcing many longstanding businesses to move out.
On a brighter note, the café celebrates the past with a nostalgic menu featuring Nyonya cuisine; favourites that have stood the test of time. Try the crunchy pie tee (or top hats); these fried pastry shells are stuffed with vegetables and peanuts and served with chilli sauce. Old China's tangy asam laksa and spicy Devil Curry with chicken, potatoes and rich coconut milk will also have you wanting more.
In an era of change, the Old China Café bravely maintains its footing in a world that may soon forget what it once stood for: honorable men and a community spirit that once dominated all but now drifts into the shadows of the past.
Resisting Change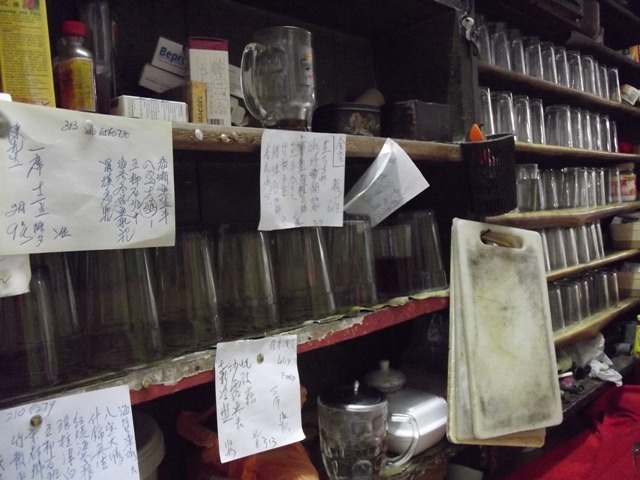 Not far away, in neighbouring Pudu, the clack of an abacus rises above the bustle as the day's takings are calculated by the elderly manager at the Sek Yuen Restaurant. With a beautiful old-school façade, this is an immediate throwback to the 1950s, and it is easy to envision women with waffle-iron waves and tight cheongsams poised at its tables with their slim cigarettes.
At Sek Yuen, there is a system that has worked for roughly a century, and one which the owners feel no pressing need to change in order to keep up with the times. When you come to dine at Sek Yuen, you will find that there is no menu; every dish has been committed to memory, and the menu has never changed.
In the steamy kitchen, poultry hangs from hooks and food is still cooked over a wood fire. Glance through the back door into the lane behind the premises and you will notice stacks of logs awaiting use. Although the formica of the tables is chipped and grey and the chopping boards of the kitchen are dark from decades of use, Sek Yuen has remained a favourite restaurant for many Chinese families for generations.
Over the lunar New Year season, customers wait up to an hour at a time for a table to enjoy its famous festive yee sang, as the restaurant does not accept reservations. Yee sang is a must-have each New Year, and it is a common belief in Kuala Lumpur that the tradition of yee sang-tossing originated at Sek Yuen. Other everyday treats include plum sauce pork and tasty yam ring, the latter of which brims with chicken, cashew nuts, and stir-fried vegetables.
The original Sek Yuen restaurant has a fractionally more modern sibling beside it, complete with the luxury of air-conditioning. However, the authenticity of its food is not compromised, as every dish served is prepared in the old wood fire kitchen.
In the years to come, the wonder that is Sek Yuen will remain a part of the local Chinese community's lives, like a benevolent relative sharing their joy at weddings, birthdays, and other special occasions.
A Secret Worth Keeping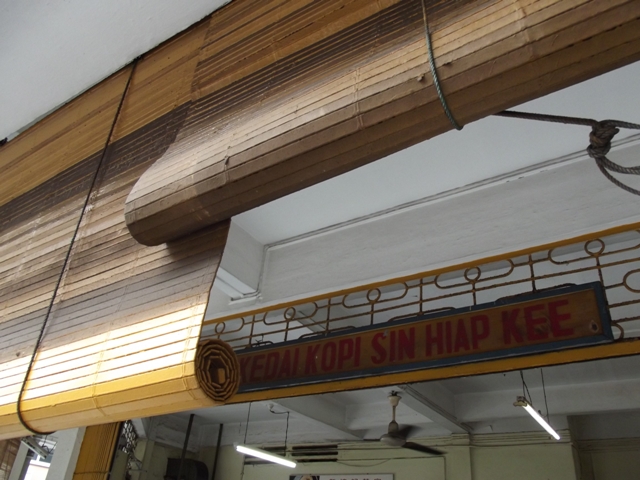 Along a narrow back lane in the Pudu area, a coffee shop that has obviously seen better days still opens its rusty grilles daily to a group of regulars and the occasional new customer. With its small mosaic-floored interior housing less than ten tables, Sin Hiap Kee is a second-generation, family-owned business that started out as a tiny wooden stall in the 1950s at the Imbi Bird Park in Bukit Bintang (opposite where Jalan Tun Razak's RHB Bank now stands). In true Chinese tradition, a pigeon in a cage still hangs from a tree beside the shop, bowing to its master in the most charming fashion when called, as if to acknowledge his authority.
Belonging to the Yong family and having recently relocated to its present premises, Sin Hiap Kee is one of the city's best-kept secrets. It is known for serving one of the most delicious Indian fish head curries – a rarity in Chinese restaurants.
The prized fish head curry is cooked daily, from scratch, by the owner's wife in their shop's tiny kitchen. These steaming hot bowls of aromatic delight are served with rice to a hungry lunchtime crowd and have kept this humble eatery buoyant throughout nearly sixty years of operation. If you are a breakfast enthusiast, the timeless Malaysian kopitiam favourite of toast, butter, and kaya (a caramel-tinged egg jam) is a taste of heaven in your mouth.
This charismatic old eatery takes up residence in a block of shophouses built by the Kapitan China Loke Yew (circa 1906) and designed by A.K. Moosdeen. The block was known colloquially as The Red House owing to its distinctive exposed red brick which has since been painted over. Although designed as a whole, each shophouse façade is different, with alternating window designs between each floor and shophouse. Sing Seng Nam features delicate stepped Dutch gables, and if you linger a moment at the entrance you can spot the wooden bars that double as security doors and ventilation points.
In the early days, the restaurant was well-patronized by planters and nicknamed the Vatican. Now, it is a popular haunt among members of the Malaysian Bar Council who work across the road. This decades-old kopitiam, or coffee shop, also serves a hearty Hainanese chicken rice and mouthwateringly crisp pork chop.
A Century Of Steak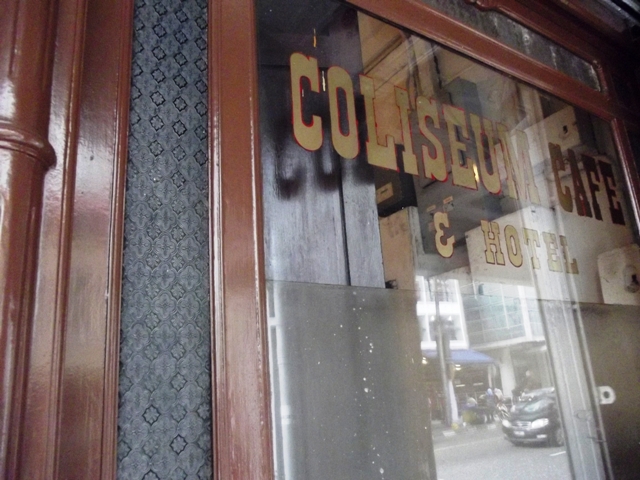 The Coliseum Café, established in 1921, still stands proudly along Jalan Tunku Abdul Rahman (also known as Masjid India) and harks back to a sweeter time.
The café is located next to the art deco-styled Coliseum Theatre, a pre-war relic built in the same year as the café by the Chua family (led by Chua Cheng Bok). Stroll through the café's swing doors and you will instantly be transported back to the World War era, when RAAF personnel danced on New Year's Eve with their sweethearts under pastel balloons tied to the rafters.
In their younger days, my own parents dated at the Coliseum, and they fondly reminisce about its uniformed waiters, one of whom retired only two years ago in his late 80s. Coliseum Captain Ho Seng Fong was born the same year the café was established and began working there as a young man on a princely salary of RM180. His favourite customers included former Prime Minister Tun Dr. Mahathir Mohamad; Datuk Seri S. Samy Vellu; and Datuk Seri Abdullah Ahmad Badawi, who used to pop in for his favourite steak prior to becoming prime minister. The Coliseum's pre-war furniture and the memorabilia that adorns its walls recalls images of people and events past, and the eatery still boasts an extensive menu with over three hundred items – both local and western – from which to choose. Popular dishes include the baked crabmeat and sizzling sirloin steak that the waiter will flame at the table.
Beside the dining room, a vintage pub still puts smiles on the faces of customers thanks to the icy pints of lager or fruity mocktails, depending on your fancy. Once the premier hotel and restaurant in Kuala Lumpur, the Coliseum has lost some of its lustre over the years, and yet it will always Coliseum be a true institution, carrying a fine reputation that lives on, here and abroad.
As time sweeps its veil across the life we used to know, the old restaurants and cafés of Kuala Lumpur take a tentative step into a new millennium. At their worn tables, we will continue to find food for the soul and comfort in the memory of those who came before us.
———————————————————————————————————
Old China Café
11 Jalan Balai Polis, 5000, Kuala Lumpur
Tel: 03.2072 5915
Sek Yuen Restaurant
313-1 Jalan Pudu, Kuala Lumpur
Tel: 03.9222 0903/9457
Sin Hiap Kee @ Imbi Bird Park
32 Jalan Lengkongan Brunei,
55100, Kuala Lumpur
Tel: 03 2148 9557 / 012.673 9721
012.673 9721
Sin Seng Nam
2 Medan Pasar, 50050, Kuala Lumpur
Coliseum Café and Hotel
98-100 Jalan Tuanku Abdul Rahman,
50100, Kuala Lumpur
Tel: 03.2692 6270
———————————————————————————————————
Source: Senses of Malaysia Mac-Apr 2013
Read more:
What are your thoughts on this article? Let us know by commenting below.No registration needed.

---
"ExpatGo welcomes and encourages comments, input, and divergent opinions. However, we kindly request that you use suitable language in your comments, and refrain from any sort of personal attack, hate speech, or disparaging rhetoric. Comments not in line with this are subject to removal from the site. "
Comments