"Pearl of the Orient" might seem a fairly grandiose title for a small island on the North West coast of the Malaysian peninsular. Yet, one need only glimpse Penang's vivid cultural traditions, encounter its intricate history, and sample its peerless cuisine to see just how well this title is deserved. From the white sands of its many beaches to the bustling, lantern-lined avenues of its urban inland, Penang is cram-packed with unique attractions.
The island's eclectic blend of modern luxury and quaint tradition is more than enough to satisfy any traveler who has ever wanted to encounter all of the wonders of Asia in one convenient, tropical location. History enthusiasts will be particularly pleased to find Penang replete with a wide variety of dazzling, and at times disturbing, remnants of the island's past. However, one need not only seek out museums to observe what life in colonial Penang was like. Numerous buildings hearkening to the British influence on the island during the 18th and 19th century – such as the Queen Victoria clock-tower – can be found in the more densely populated areas of Penang. Signs of the myriad Asian cultural contributions to the landscape can be seen at the lavish Burmese and Thai Buddhist temples at Pulau Tikus, as well as the astoundingly ornate Khoo Kongsi Chinese clan house at Cannon Square.

Although Penang's distinctive heritage is ever visible, the island also showcases the very latest in shopping, dining and luxury accommodation. Nowhere more so than Georgetown, Penang's capital, which features a rich cross-section of five-star hotels and restaurants located at a convenient distance from the islands most famed sights, as well as the sun kissed beaches of Batu Ferringhi.

Here is just a smattering of some of the best tourist attractions Penang has to offer.
Penang Hill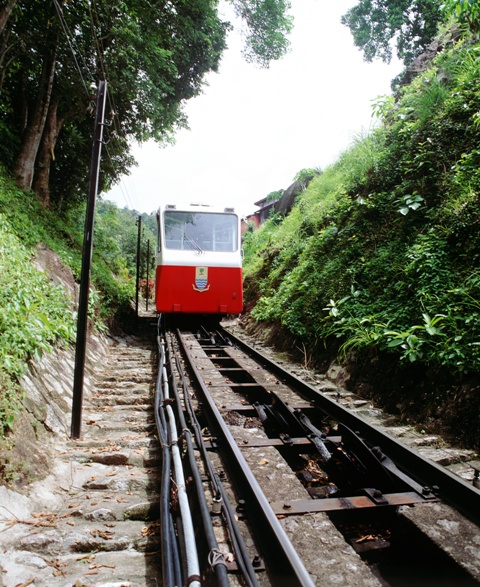 One must-do tourist attaction is a trip to the summit of Penang Hill (also known as Bukit Bendera). Taking you 821 meters above Georgetown, past guests to Penang Hill have noted its cool, refreshing climate and spectacular views (though this can occasionally be obscured by mist). The newly built funicular train system means that it only takes a leisurely 5 minutes to reach the top of the hill, allowing ample time to take in the sights and sounds of the Penang Jungle along the way. However, for those who welcome a challenge, hiking to the top will allow for a more comprehensive experience of the hill's colorful flora and fauna.
But potential visitors be warned! The monkeys that inhabit Penang Hill have been known to steal unguarded objects, so keep an eye on your camera.
The Bayan Lepas Snake Temple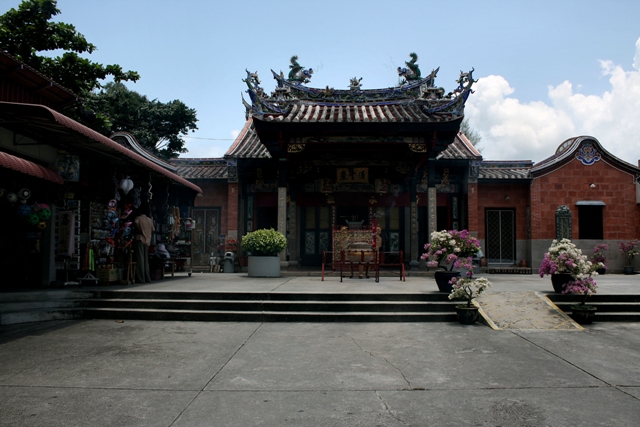 Photo credit: phalinn, Flickr
For a thrilling experience that would unnerve even Indiana Jones, one should not miss a visit to the Bayan Lepas Snake temple. Unlike any other holy place on earth, this tourist attraction's tables, walkways, balustrades and shrines are draped with a variety of pit-vipers. Though all the snakes have been de-venomed and thick incense keeps them in a docile state, visitors are strongly advised not to pick up any of the slithering creatures as their fangs remain intact. Although the temple's serpentine population has gradually waned since its founding in 1895, visitors are still promised an encounter with a number of rare snake species, including a king cobra and a colossal reticulated python, at a low fee. Curiously, the temple's devotees continue to insist that the snakes have come to the temple of their own accord.
Penang War Museum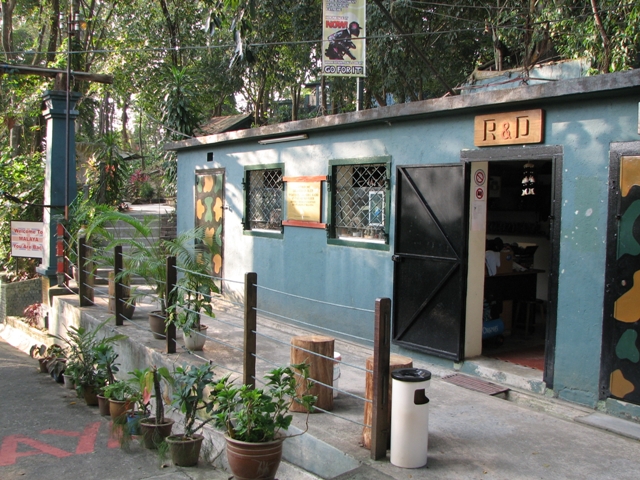 Photo credit: Pricey, Flickr
Penang's strategic geographical position during the second – and to a lesser degree the first – world wars has endowed the island with a military history which is as fascinating as it is tragic. Penang's War Museum at Bukit Batu Maung is located at the former British fortress built to repel an amphibious Japanese attack that never came. Here, one can find all manner of fascinating artifacts from the darkest period of Malaysia's history, from artillery pieces and booby traps to uniforms and strategic maps. The museum site is quite expansive, and many of the exhibits are found underground in what used to be ammunition bunkers. Several of the old tunnels used by the British soldiers remain intact and can be explored, though these are certainly not for the claustrophobic. Families should also be aware that there are several hatch-ways and pits with deep drops that are not clearly marked, so children should be kept close by at all times.

In addition to serving as a museum, the old British fort also has a paintballing arena. Ideal for team-building exercises, paintballing sessions can be booked at the museum entrance.
Penang Road

Arguably the most important street in Georgetown, Penang Road is ideal for anyone who wishes to experience the vibrant night-life of Penang to the max. Lined with spacious pubs and neon-lit nightclubs, Penang Road is lauded as 'Party Central' for the whole island. Clubs of note include the always crowded Mois: a chicly renovated old colonial establishment which features live acoustic performances as well as regular DJ's every Wednesday, Friday and Saturday night. The nearby Slippery Senoritas is also widely acclaimed among tourists for its acrobatically skilled bartenders and stylish Latin rhythms.

For those who favor treasure hunting to dancing the night-away, Penang Road is lined with all manner of market stalls selling hand-made crafts, gifts and local delicacies.
Wat Chaiya Mangkalaram Thai and Dhammikarama Burmese Buddhist Temples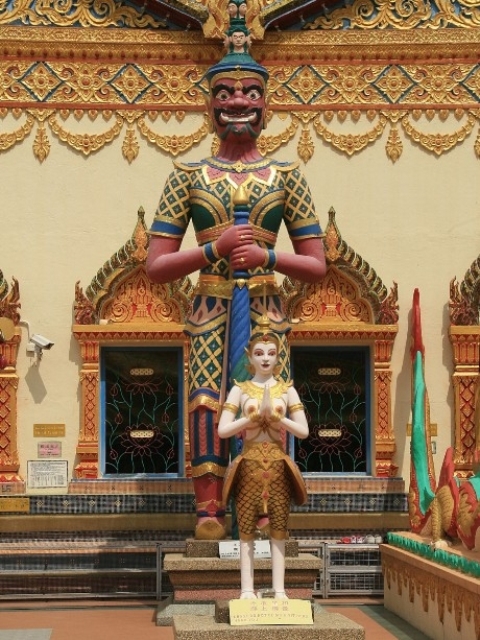 Photo credit: tk_yeoh, Flickr
Located opposite one another at Pulau Tikus, the Wat Chaiya Mangkalaram Thai and Dhammikarama Burmese Buddhist temples are a dazzling testament to the faith and architectural prowess of the two cultures. Behind the relief-studded gates and fearsome looking statues that guard the entrance to Wat Chaiya Mangkalaram Temple rests a 108 ft long reclining Buddha. This awesome statue is frequently visited by devotees who burn incense and pray, so tourists should be wary when taking photos. The temple in which the Buddha is housed is festooned with an assortment of dazzling statues, paintings of scenes from Buddha's life, and floral artworks. The wall behind the Buddha is reserved for the ash-urns of the deceased.

The Dhammikarama temple across the road is no less spectacular than its Thai neighbor, and one cannot help but marvel at the subtle beauty that differentiates the Buddhist aesthetics from those found at Wat Chaiya Mangkalaram. In addition to a wood-paneled temple housing another huge statue of Buddha – this one standing – the emerald gardens of Dhammikarama are populated by a number of statues, fountains and shrines. Most dazzling among the statues of mythical figures are the two dragon-like Chinthes who stand beside a large globe. The open-air walkways that lead through the gardens, koi-filled fountains and prayer halls mean that the visitor can explore the grounds at their leisure. Entrance to both these temples are free.
Penang Butterfly Farm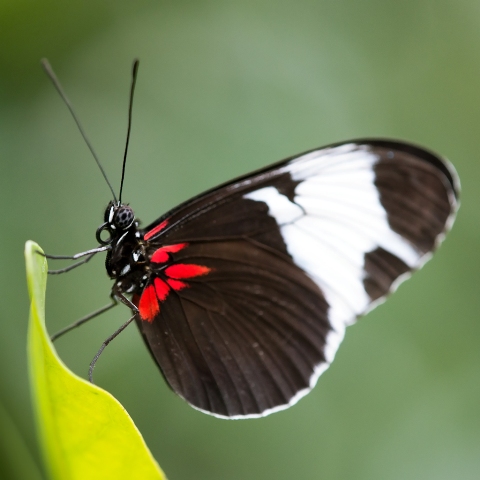 This dazzling conservation initiative, the recipient of numerous awards and accolades, is described both as a spectacular tourist attraction and a 'living museum'. The Penang Butterfly farm is home to over 4000 lavish lepidopteras derived from over 120 different species! Guests can wander-about the tranquil nature park complete with bubbling streams and vivid flowers, all the while encountering the butterflies (who frequently land on the visitor) in their natural milieu. The farm is also home to a number of other fascinating creatures including snapping turtles, millipedes and scorpions.
Though admission for adults will run at RM27 per person, the Penang Butterfly Farm is unanimously heralded as being well worth the money.
Dr. Sun Yat Sen's Penang Base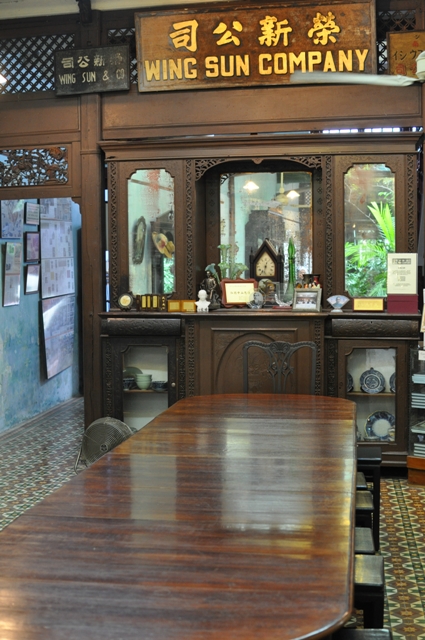 Photo credit: scotted400, Flickr
It is almost astonishing to think that in a quiet, double-storey shop house in Penang, the seeds of world-changing events were beginning to unfurl. For it was here that China's first elected provisional president, Dr. Sun Yat-sen, held a number of meetings in which the future of China's political and social structure was being radically rethought.

The shop house is now a quaint museum, though it is referred to as Dr. Sun Yat Sen's Penang Base. The exquisitely preserved artifacts and documents that comprise the pictorial exhibitions at the base make it a must for both lovers of history and decor enthusiasts alike. The wide variety of curios found at the base both chart the philosophy of the famous, and frequently exiled, doctor (hailed as the father of modern China) and the influence he had on Penang's ethnic Chinese population. Though the visitor should be aware that the privately owned Sun Yat Sen Penang base is not open every day, the custodian Khoo Salma is always willing to share her wealth of historical knowledge with her guests. For a unique slice of culture, Dr. Sun Yat Sen's Penang Base cannot be missed.
Gurney Drive
A veritable food-lovers paradise, Gurney Drive – an exquisite sea-front promenade- proudly displays a delectable cluster of hawker-stalls, food courts and restaurants. The fact that Penang is afforded the lofty title of 'food-capital of Malaysia' is exemplified by Gurney Drive's cuisine. Local dishes of note include Oh Chien (a kind of fried oyster omelet), Bak Kut Teh (a herbal stew with added pork) grilled squid and, of course, the world famous nasi lemak. For the tourist who prefers a bit of retail therapy before indulging in a delicious local meal, the Gurney Plaza shopping mall is sure to cater for every shopping need. Or for the visitor who simply wants to take in the fresh air with an afternoon stroll, the excellent views of the beaches and bungalows that Gurney Drive provides are sure to please.
Gurney drive is as popular as a point of embarkation as it is a destination. The luxurious G-Hotel is just one stunning example of the multitude of fine resorts and accommodations that Gurney Drive has to offer.
The number of exciting attractions, delicious restaurants and un-spoilt natural wonders to be found at Penang means that one visit is never enough. For the Expat who wants a unique Malaysian experience that infuses traditional charm with nouveau style, a trip to Penang Island is a must.
Top 8 Tourist Attractions in Penang

View TOP 8 PENANG TOURIST ATTRACTIONS in a larger map
Read More:
What are your thoughts on this article? Let us know by commenting below. No registration required.
---
"ExpatGo welcomes and encourages comments, input, and divergent opinions. However, we kindly request that you use suitable language in your comments, and refrain from any sort of personal attack, hate speech, or disparaging rhetoric. Comments not in line with this are subject to removal from the site. "
Comments