One visit to Penang is never enough, and no two holiday resort stays are ever alike. To help make your stay at the 'Pearl of the Orient' just that little bit more magical, we have compiled a list of the absolute best and most luxurious resorts to be found on the island of Penang. Whether you are looking for a quiet getaway, sand and surf or a just a rocking good time, the selections here are certain to tantalize and send the reader googling like mad for reservations.
Eastern and Oriental Hotel
Photo credit: Xin Li 88 / Foter.com / CC BY-NC-ND
The Eastern and Oriental Hotel (or simply "the e&o") proudly showcases the epitome of luxury and sophistication within its elegant colonial-style confines. Conveniently located within walking distance of the most sumptuous restaurants and popular shopping malls of Georgetown, the e&o has managed to fuse its traditional British-era charm with opulent suite amenities and state of the art business services. Lovers of fine-food will find plenty of options for noshing at any of e&o's fine restaurants. The chandelier-lit 1895 is the Hotel's most popular dining spot, exuding 19th century elegance from every candle-lit table and featuring a selection of vintage wines.
The e&o is fully equipped with a full-sized gym, art-gallery (depicting the story of Penang as well as the Hotel's history) and swimming pool. For the traveler who wants to complement their Penang experience with a touch of the decadent, the e&o is the ideal hotel choice.
Address: 10 Lebuh Farquhar, 10200 Georgetown, Penang
Learn more and/or book online for Eastern and Oriental Hotel here
G Hotel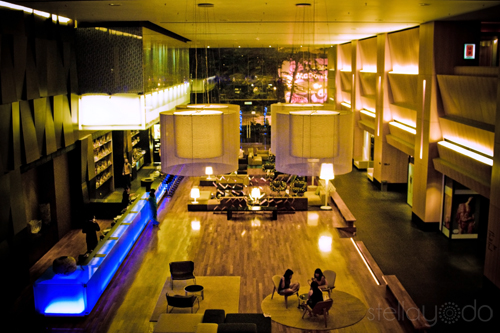 Photo Credit: S.Yodo, Flickr
The G-Hotel, located on the always thriving Gurney drive, holds the much coveted title of "most stylish address in Malaysia". Its 312 spacious rooms, sprawling pool deck, swanky lounges and complimentary ice-cream for new arrivals certainly suggests that the title is well deserved. The G-Hotel also houses five function rooms complete with tele and videoconferencing facilities, as well as two ballrooms. As if these perks and privileges weren't enough, the G-Hotel also accommodates a sumptuous variety of 5-star eateries, including the new Michelangelo's Italian restaurant and the always open G-Cafe, famed for its Saturday surf-and-turf buffets. Whether it's for business or pleasure, G Hotel's services and amenities make it the perfect place to stay whilst enjoying all that Penang has to offer.
Address: 168A Persiaran Gurney, 10250 Penang, Malaysia
Learn more and/or book online for G Hotel here.
Parkroyal Penang Resort

What could be better than relaxing, cool-drink in hand, on the sands of Batu Ferringhi? How about looking out at Batu Ferringhi from your 5-Star hotel suite?! The majestic Parkroyal Penang Resort offers the pinnacle of luxury facilities and services at the most sublime coastal location in Penang. Whilst enjoying one of the 309 palatial rooms, guests can also indulge at the hotel's invigorating St. Gregory Spa, relax at the open swimming pool, or even work out at the fully equipped gym. The Parkroyal also offers a host of action packed beach activities, including jet-skiing, parasailing and coastal fishing.
The Parkroyal is perfectly situated at a convenient distance from some of Penang's best inland attractions. Penang Hill, Gurney Drive and even the aromatic night markets can be accessed with ease from the Hotel lobby.
The Parkroyal offers a 24 Hour Online Business Centre for the guest who wants to keep in touch with their non-paradisiacal obligations. For parents, the staff at the Hotel's Koko-Nut Kids club provides limitless daily entertainment for children aged 4-12.
Address: Batu Ferringhi Beach 11100 Penang Malaysia
Learn more and/or book online for ParkRoyal Hotel here.
Bayview Beach Resort Penang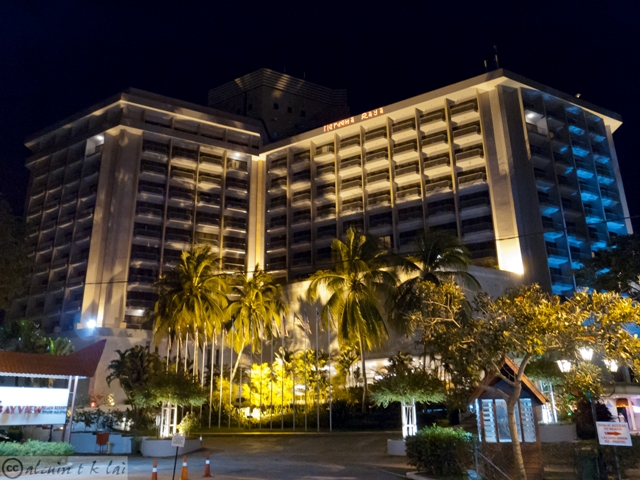 Photo credit: alcuin / Foter.com / CC BY-SA
The guest who wants to enjoy the sparkling beaches of Batu Ferringhi in stylish comfort need look no further than Bayview Beach Resort Penang. The hotel features a wide variety of sumptuous suites with both beach and hill-side balcony views. Private pool and DVD-player facilities are available for rent and, after a day's worth of exploring the wonders of Penang, guests can return to enjoy Bayview's La Veranda Coffee House. Open from 12 noon to 3:00PM daily, La Veranda flaunts a delicious smorgasbord of local delights with vegetarian options. Only 25 minutes away from historic Georgetown, the Bayview Beach Resort Penang is an ideal point of departure for encountering all that Penang's city and surf has to offer.
Address: Batu Ferringhi Beach, 11100 Batu Ferringhi
Learn more and/or book online for Bayview Beach Resort here
Hotel Penaga

This enchanting boutique hotel, located in the heart of historic Georgetown, boasts a variety of plush facilities, delicious restaurants, and comfortable rooms that are sure to suit anyone down to the ground. Once a group of pre-war shop houses and terraces looking out on Transfer Road, Hutton Lane and Clarke Street, the Hotel Penaga retains a distinguished 20th century charm whilst adding the convenience of modern amenities including Jacuzzi tubs and Wi-Fi access in every room. Guests are encouraged to take advantage of the sparkling lap-pool and spa facilities and the travelling bibliophile can relax with a coffee and a good read at Penaga's snug library. The Hotel's poolside restaurant, Cinnamon, offers the best in casual dining. Guests can also visit the fully stocked bar, The Tanglung Bar, or choose to dine in private at the Private Dining Area.
Idyllically situated close to some of Penang's best heritage trails and eateries, the Hotel Penaga is an excellent choice for the holidaymaker who wants to complement their stay with a style and elegance not easily found anywhere else in the world.
Address: Corner of Jalan Hutton & Lebuh Clarke 10050 George Town, Penang, Malaysia
Tel: 04 261 1891
Fax: 04 261 1893
Website
Email
Rasa Sayang Resort & Spa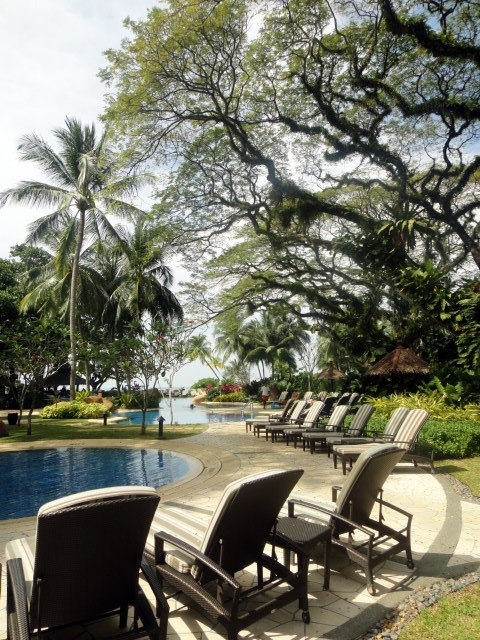 Photo Credit: [email protected]_hate_u, Flickr
Sheltered beneath the swaying palms of Batu Feringgi, this amazing resort is replete with distinct Malay charm and sinfully luxurious amenities. The 11 villas at Chi (the resorts spa area) are set amidst the confines of spectacularly luscious gardens, and the services provided include body massages, exercise, hydrotherapy and meditation classes, all of which are sure to amount to a rebirthing experience. A nine hole "pitch and putt" golf course is also offered for the guest whose idea of relaxation involves teeing off into a tropical vista.
The most intriguing of Rasa Sayang's five decadent eateries is easily the Spice Market. The amazing buffet found here offers the pinnacle of Nyonya-Baba, Indian, Thai and Chinese cuisine as well as a tapestry of rare herbs and spices which will doubtlessly make clear to the guest why the produce of the straits were so coveted by traders.
The Rasa Sayang Resort and Spa has longed been renowned as a popular spot for weddings and events. The resort's ballroom can house three hundred and twenty guests with full catering and decoration services provided.
One would be hard pressed to find a better place to be pampered than Rasa Sayang. The number of satisfied (and returning) customers it has produced makes its 5 star rating seem well deserved.
Address: Batu Feringgi Beach, Penang, 11100, Malaysia
Learn more and/or book online for Rasa Sayang Resort and Spa here.
Lone Pine Hotel Penang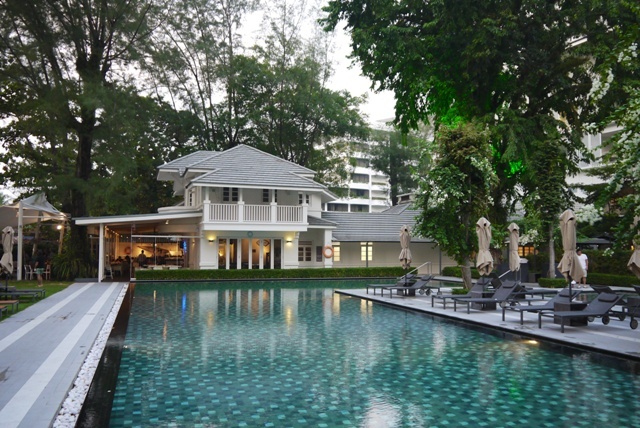 Photo credit: newformula / Foter.com / CC BY-NC-ND
The only luxury boutique hotel to be found on Batu Ferringhi, Lone Pine Hotel Penang offers stunning views and exclusive first class services that are the envy of most hotels found on the island. The spacious rooms and suites, many with sea-front terraces and private courtyards, perfectly distill the tranquil beach atmosphere.
In addition to a sprawling pool and gymnasium, guests are sure to find the hotel's Gerai (little shop) an exquisite feature of the Lone Pine. Antiques and keepsakes that epitomize Penang's eclectic vibrancy can be found at the Gerai, and guests are encouraged to peruse at their leisure.
The Lone Pine also makes for an excellent choice of venue for that important business conference or seminar. The Angsana and Areca rooms are fully equipped with the latest tools and amenities that will make corporate responsibilities seem like just another facet of an excellent vacation.
Address: 97, Batu Ferringhi 11100, Penang, Malaysia
Learn more and/or book online for Lone Pine Hotel here,
Golden Sands Resort Penang
Photo credit: ~W~ / Foter.com / CC BY-NC-ND
As the name suggests, Golden Sands Resort Penang is a sun-kissed tropical sanctuary, fully equipped with all the nautical niceties you could ever ask for. Waterskiing, Banana Boating, fishing and catamaraning facilities can be easily accessed at the Golden Sands, as can tennis and volleyballing. The whole family is sure to be entertained and informed at the hotel's Turtle Cave, which organizes egg hunts, where guests can observe first-hand the life-cycle of these amazing creatures.
Golden Sands houses 387 sumptuous rooms and suites, as well as a garden café that features mouth-watering buffet lunches.
Nature walks are also offered by Golden Sands for RM70 per person, and guests are guaranteed unforgettable rainforest experiences.
For a resort that showcases the best of Penang's marine and land-based wonders, Golden Sands Resort is the perfect choice.
Address: Batu Feringgi Beach, Penang, 11100, Malaysia
Learn more and/or book online for Golden Sands Resort here.
Hotel Equatorial Penang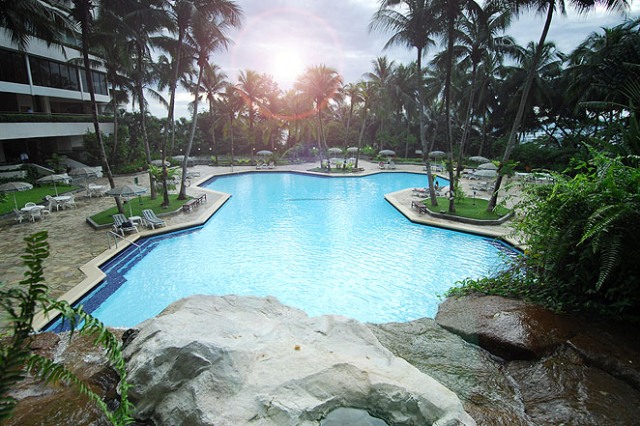 Golf lovers are sure to feel on par with the Hotel Equatorial Penang. This colossal, five star convention resort houses an 18-hole international golf course as well as two grand ballrooms (the largest on the whole island). The myriad function, seminar and exhibition facilities make the Hotel Equatorial an ideal choice for the corporate jetsetter. However, guests who simply want to holiday should not be dissuaded from lodging at the Equatorial. The hotel also contains exceptional French and Japanese restaurants, fitness centers, an outdoor swimming pool and tennis courts.
The Hotel's location is as sublime as its features, for it is only a seven minute drive from the international airport and a mere twenty minutes from George Town.

With its accommodating staff, countless rooms, and gargantuan halls, the Hotel Equatorial promises to have the visitor wishing that business trips came more often.
Address: 1 Jalan Bukit Jambul, Bayan Lepas 11900 Penang, Malaysia
Learn more and/or book online for Hotel Equatorial here.
Hard Rock Hotel Penang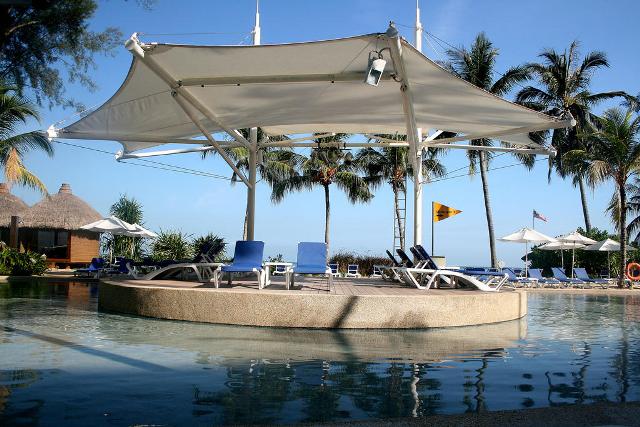 Photo credit: phalinn / Foter.com / CC BY
Hard Rock Hotels are famed throughout South East Asia for their friendly staff, contemporary décor, and memorable cuisine and the Hard Rock Hotel Penang is certainly no exception. Guests can enjoy a relaxing rock-spa by day and hot live performances at night. Also, for the guest who wants to really enjoy a rock star lifestyle, poolside foam parties are held on the first Saturday of every month. Guitar and DJ lessons are also offered by the Hard Rock Penang, making it a popular choice for budding musos.
Guests who prefer chillaxing to head-banging can enjoy a cool drink at the hotel's lobby lounge, which offers dazzling sunset views, or chow down on a slice at the Italian style pizzeria.
For a hotel experience that is perfect for celebration, exploration, or just plain reclination, the Hard Rock Hotel Penang is the place to be.
Address: Batu Ferringhi Beach, 11100 Penang, Malaysia
Learn more and/or book online for Hard Rock Hotel Penang here.
Top 10 Places to Stay in Penang

View The Top 10 Holiday Resorts Penang in a larger map
Read More:
What are your thoughts on this article? Let us know by commenting below. No registration required.



" ExpatGo welcomes and encourages comments, input, and divergent opinions. However, we kindly request that you use suitable language in your comments, and refrain from any sort of personal attack, hate speech, or disparaging rhetoric. Comments not in line with this are subject to removal from the site. "



Comments