It's just a short drive from Penang, so join travel photojournalist David Bowden as he wanders around old-town Ipoh and discovers how the past is being preserved with a modern-day twist.
I'm not really sure of Ipoh's tourism profile. Most tourists probably hurtle past it on their way south to Kuala Lumpur and few expats would consider it as a destination for a weekend escape. However, all that appears to be slowly changing and recent developments could soon see it included on many people's travel itineraries, especially as it is just a one-hour drive south from Penang.
Historical Influences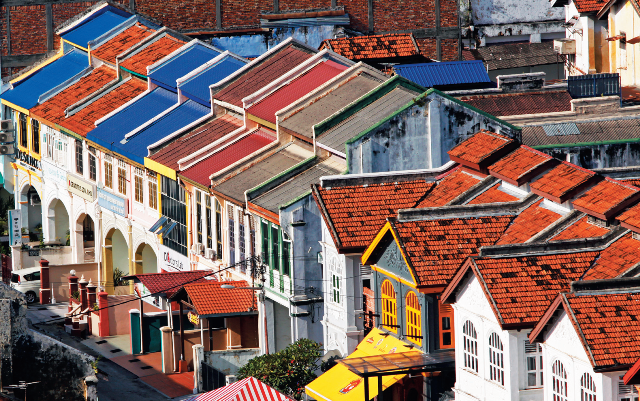 Ipoh's reputation as a tin town is well established but, taken on its own, tin is hardly a reason to visit what is Malaysia's third-largest city after the capital and Penang. It cannot be ignored, however, that Ipoh was largely built on the strength of tin, discovered here in the 19th century.The deposits found in the area made some people in Perak's Kinta Valley very wealthy, as testified by its many large bungalows in certain parts of the city.
The importance of a nation's heritage has been recognised in Penang with the rejuvenation and restoration of many of George Town's old buildings. Likewise, a closer look at Ipoh's historic old town reveals many fascinating aspects of the city's past and of the wealth that was generated after tin was discovered.
Arguably the finest building in the city is the train station, it was built in the mid-1800s along the lines of Moghul architecture, though much of the interior has been modernised. Developments continue, naturally, and the former gardens in front of the station have been fenced off, with little indication of what is going on behind the fence. One can only hope that whatever the development is will be sympathetic with the station's appealing architecture.
The old hotel within the station also appears to have closed, but hopefully a white knight will appear to take charge of a renovation programme and restore it to its former glory.The former hotel was once the place to stay in Ipoh and surely a hive of activity in the heyday when railways ruled Malaysia's public transportation network.
The Royal Ipoh Club is located just past the High Court building. It overlooks extensive playing fields and the Tudor-style clubhouse is built in a similar style to the Royal Selangor Club in KL.
Opposite the Royal Ipoh Club, on Jalan S. P. Seenivasagam, the imposing three-storey St Michael's School is another historical building of national signifi cance.The school features decorated gables and wide-arched verandas running the length of the building. Ipoh is also famous for its rounded limestone hills which ring the city. Some caves have been converted into Buddhist and Hindu shrines with Sam Poh Tong, located 7km south of Ipoh, notable as the district's largest cave temple. It's worth the short detour here to admire the colourful temple's architecture and to buy some pomelos from one of the many nearby stalls.
Indulgent Living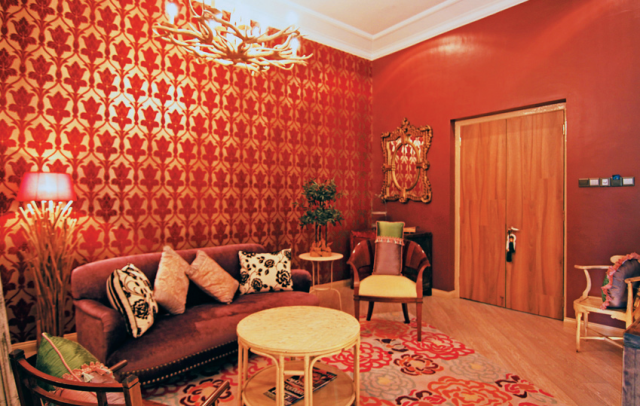 There is no shortage of accommodation in the city but very little attains international standards.Things are changing though with Indulgence Restaurant and Living leading the charge in offering creative food, fi ne wines, and boutique accommodation that will pleasantly surprise most guests.
I can recall, several years ago, attending a hospitality awards ceremony in which Indulgence carried off several awards and joined in with most who attended in being astounded that a property in Ipoh could win anything, let alone national awards.
Determined to find out how this was possible, I visited the restaurant soon afterwards and was immediately impressed with the culinary creativity plus the chic and luxurious surroundings of the boutique hotel located above the restaurant.
Julie Song is the inspirational force driving Indulgence, but she is supported by an excellent team who provide attentive, informed, and professional service. The seven themed rooms in the hotel are luxurious in their décor, comfort, and styling. No two rooms are the same, so it is important to check the internet before booking to match the room with your requirements. Contemporary styling is important these days and each room includes the essentials of travel such as rainforest shower, mini-bar, fl at-screen television, and Wi-Fi.
Quirky Café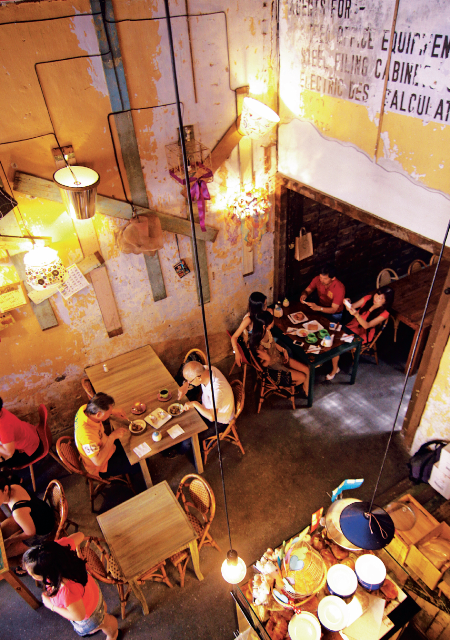 Nothing moves too quickly in Ipoh, but maybe that is changing.The recent opening of Burps & Giggles café in Ipoh's historic heart clearly indicates that things are on the move.While Penang has championed the rejuvenation of heritage buildings, Burps & Giggles could be a sign that things are about to follow suit in Ipoh.
Not surprisingly, Julie Song is involved in this wonderfully quirky café that combines luscious coffees, pintxos, wines, and creatively presented comfort dishes in two adjoining rejuvenated shoplots. My companion on my most recent visit was an old Ipoh boy who became so excited in seeing his former barber shop now offering Wagyu beef pattie burgers, chicken and pea pies, banana crêpes, and a bottle or two of Joseph Drouhin Pouilly-Fuissé from an enticing wine list.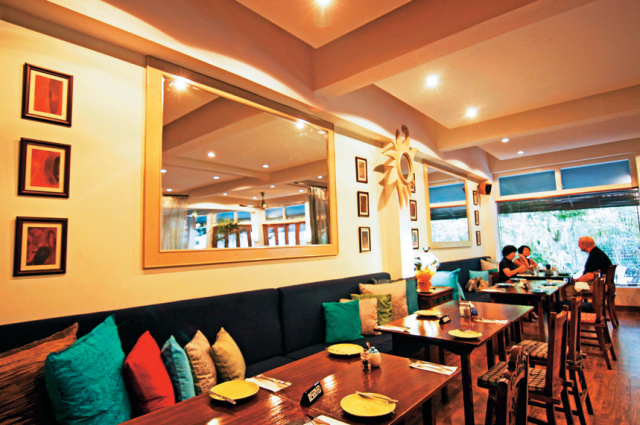 This neighbourhood lifestyle hub is owned by five Ipoh natives who banded together to not only save the adjoining Sekeping Kong Heng coffeeshop from development, but to rejuvenate it into a café, art gallery, library, boutique hotel, and courtyards.
Upon closer inspection, I realised that very little had been changed in the complex – in Burps & Giggles, walls had been scraped back here and there to reveal multiple layers of paint, tree roots enveloped some walls as they do in Angkor's famous Ta Prohm Temple, and darkened timber beams remain exposed. However amongst all this are flashes of modernity – a colourful lounge here, a modern mural of Marilyn Munroe there, and a funky piece of recycled art work in the corner. Bits and pieces from the property have been reused and recycled, with colourful pendulous light shades, doors being used for tables, and tables being recycled into artistic sculptures.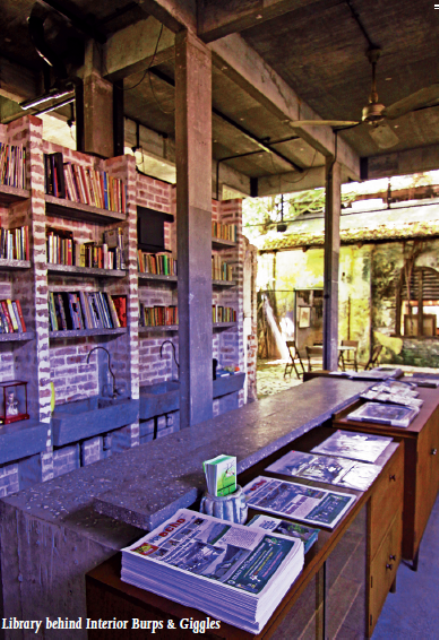 At the rear of Burps & Giggles, visitors squeeze through a narrow opening in the fence to drop into the art gallery, boutique hotel, and library belonging to Sekeping Kong Heng.This all adds to the maze-like effect of the adjoining old buildings and to its charm. I found myself regularly wondering "what is behind that?" or "what is that over there?" All very distracting while sipping on some of Malaysia's finest coffee and nibbling on delicious crêpes.
I also discovered that this was just the beginning of the site's rejuvenation.There are plans for Benjamin Yong's outfi t (Ben's) to open soon, as well as a craft shop, cooking classes, and a live music venue.
For those who have never been to Ipoh, there is really a lot to see.You can obtain a guidebook or pamphlet on Ipoh's heritage trail from the Kinta Heritage Group and set off for a weekend of admiring the city's historic sites without compromising on life's little indulgences.
——————————————————————————————————–
Getting There
While most visitors will drive to Ipoh, another possibility is to travel on the train using the ERL, which operates several daily services from Butterworth.The ride is very comfortable in modern coaches and train speeds that approach 150km/ hour on certain sections of the track. Those who use the train will arrive in the ornate Ipoh Train Station.The building's grandeur is best admired once you step back to look at the exterior.
Contacts
Indulgence Restaurant and Living
14 Jalan Raja Dihilir
T: 05.255 7051
W: www.indulgencerestaurant.com
Burps & Giggles
93 & 95 Jalan Sultan Yussuf
T: 05.242 6188
W: www.allegraessentials.com
Sekeping Kong Heng
75 Jalan Panglima
T: 05.227 2745
W: www.sekeping.com
Kinta Heritage Group
The group produces some excellent heritage resources such as trail notes.These are available in the Ipoh Tourist Information Centre, Ground Floor, Ipoh City Council Office, Jalan Bandar; 05.208 3155.
———————————————————————————————————
Source: Penang International April 2013 – May 2013
Read more:
What are your thoughts on this article? Let us know by commenting below.No registration needed.



" ExpatGo welcomes and encourages comments, input, and divergent opinions. However, we kindly request that you use suitable language in your comments, and refrain from any sort of personal attack, hate speech, or disparaging rhetoric. Comments not in line with this are subject to removal from the site. "



Comments