The authors of the following blogs have all cited a distinct lack of sufficient information about the expat lifestyle in Malaysia as a primary source of information. As such, readers from all backgrounds will be pleased to discover that the archives of these sites are veritable treasure troves of colloquial information that are sure to make the expat experience seem just that little bit more enjoyable.
1: Retired in Malaysia: Steve Sovie
Nationality: American
Location: Penang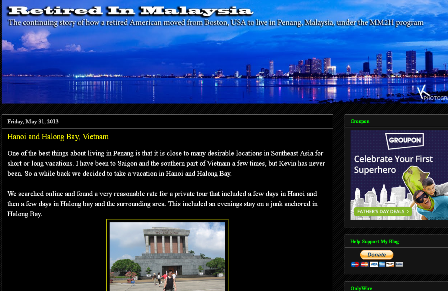 http://www.ifoundmalaysia.com/
In this informative, down to earth and easy to read blog, Steve Sovie provides the reader with a detailed account of his experiences living in Penang, as well as his thoughts regarding the expat experience. Having lived in Boston U.S.A before retiring and immigrating to Malaysia under the MM2H program, Steve believed that a great deal of cultural acclimatization would be needed in order to settle down. He was pleasantly surprised to find the locals extremely welcoming and the climate easy to adjust to.

As the driving motivation behind Steve's blog is to give prospective expats first-hand information about day to day living in Malaysia, the reader will be happy to find numerous helpful hints including: what to expect during Chinese New Year (and why it is important to stock up during this period, especially in Penang), how to minimize your chances of falling afoul of crime, and the best places to nosh on fish-head curry! One article that Steve has penned that is sure to be appreciated by expats of any background is entitled "What's a typical day like for an Expat in Penang" in which he neatly fuses his own encounters and daily activities with other options and suggestions that the reader may find equally appealing.

One aspect of Steve's blog that is sure to be appreciated by American expats is the way his articles always draw comparisons with the customs of his home country in order to better contextualize the Malaysian subject matter.
2: UK Expat Living the Good Life in Johor Baru: John J Foster
Nationality: English
Location: Johor Bahru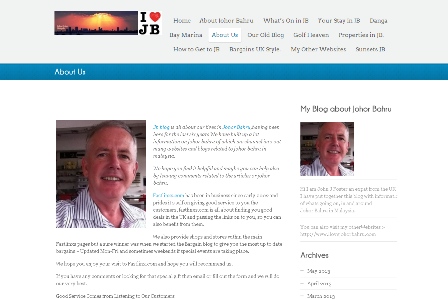 http://jbblog.fastlinxs.com/about-us/
This extremely informative and well-presented blog gives handy advice to anyone considering leading the Expat lifestyle in Johor Baru (including where to find some excellent home furnishing bargains here. John J Foster, hailing from the UK, has made Johor Bahru (JB) his home for six years and, during this time, has garnered a considerable level of know-how when it comes to getting around the area, what events are on, what new expats can expect, etc. What makes the blog so appealing is the way in which the entries are neatly divided up into categories so the browser can locate the subject he/she is looking for (e.g Fitness in JB) with relative ease. There are also sections on what makes Johor Baru a golf heaven (including a link to course lists and golf events) and the picturesque Danga Bay Marina. Some specific articles of note entail the comparisons between condo and professional gyms, and one (which road trip enthusiasts are sure to appreciate) on tips for acquiring a B2 motorcycle license in Malaysia.
3: The Kuantan Blog: Duncan Horne
Nationality: English
Location: Kuantan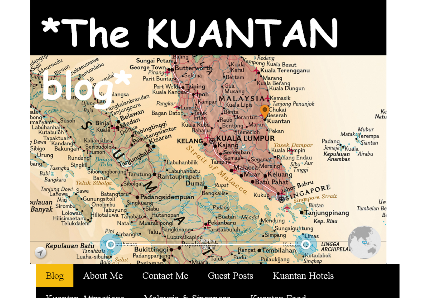 http://duncaninkuantan.blogspot.com/
Most would consider the idea of uprooting oneself without a plan, a contract, or a great deal of money and settling down in a new homeland, to be an extremely daunting experience. Not Duncan Horne. Identifying himself as a 'self-made expat', Horne returned to Malaysia from England in 2006 to marry his fiancé (a Malaysian Local). He had previously lived in Malaysia from 2002 to 2004 as a volunteer (during which time he had fallen in love with the country). What makes Duncan's blog stand out is the way his writing truly conveys that he has immersed himself comfortably in the Malaysian lifestyle in Kuantan (Capital of the state of Pahang, West Malaysia). Having set up his own English teaching business from home (an enterprise which he describes as being extremely fulfilling) Horne has been able to absorb the many sights, sounds and cultures that permeate Kuantan. His blog has useful sections on where the best places to eat in Kuantan are located (complete with temptingly colourful photos), the best places to while away the free hours, and even a separate blog that deals exclusively with the vivid natural wonders of his new home. In addition to this, Horne has also documented the various stages of his journey to Kuantan in an exceedingly clear and readable fashion that is sure to whet the interests of anyone considering a similar move.

For a blog that is thoroughly readable and cut from a distinctively more unusual and enlightening cloth than most other expat pages, check out Horne's experiences in Kuantan: recipient of the 2012 silver award for expatsblog.com.
4: Malaysian Meanders: Michele
Nationality: American
Location: Penang
http://malaysianmeanders.blogspot.com/
This cheery little blog, written by a former stay-at-home mother from Texas, is filled with useful nuggets of information about how to make the most of the expat experience in Malaysia. Not only does the blog contain a host of reviews and observations of the numerous tourist destinations and festivals the peninsular has to offer (including a delightful humorous account of the Thaipusam celebrations in Penang) it also contains exceedingly useful information about how to best acclimatize to life in Malaysia whilst not getting too out of touch with events back home. Readers are sure to find the entry about 'Online Resources for Expats Moving to Penang' and 'The Joys of Overseas Voting' particularly instructive.

Fully supplemented by color photos, Malaysian Meanders is an excellent resource for anyone looking for ways to ease the transition process as well as keep the whole family entertained in an exciting new location.
5: Beyond Toxicity: Doc Gelo
Nationality: Filipino
Location: Penang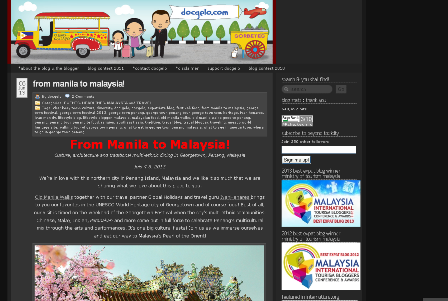 It is easy to see why Doc Gelo was the recipient of the 'Best Expat Malaysia My Second Home Blog Award' at the 'Malaysia International Tourism Bloggers Conference and Awards 2013' event (as well as a slew of other online distinctions). Evidence of his sound acumen when it comes to all things related to living in Penang can be found in each of his entries. A general physician and educator hailing from the Philippines, Doc Gelo's observations about Penang's rich cultural traditions and intermingling faiths are tinged with a unique attention to detail and a refreshing introspective tone (most distinct in entries that refer to his family, such as this one about masjid kapitan keeling)

As vivid as Doc Gelo's writing is, the many photos that accompany his entries are equally dazzling, and are sure to stimulate the inquiring minds of the prospective traveler. Penang's many culinary masterpieces in particular are sumptuously captured in high definition.
You can click on the links below to check out the other winners for the Malaysia International Tourism Bloggers Conference and Awards 2013.
What are your thoughts on this article? Let us know by commenting below. No registration required.
---
"ExpatGo welcomes and encourages comments, input, and divergent opinions. However, we kindly request that you use suitable language in your comments, and refrain from any sort of personal attack, hate speech, or disparaging rhetoric. Comments not in line with this are subject to removal from the site. "
Comments