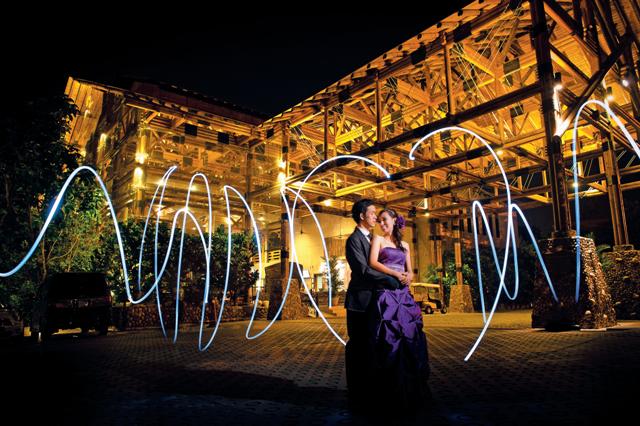 He may be young, but Aaron Chin is garnering attention in wedding photography circles thanks to his ability to capture the moments that matter. Sarah Rees caught up with him to find out why he swapped computers for cameras and just what he loves about weddings.
Aaron Chin would be an easy man to hate. At just 29 years old, with boyish good looks and a gorgeous air-stewardess wife, Aaron has a thriving photography business that takes him all over the world to snap pictures of luxurious weddings in such destinations as London, Perth, India, and Bangkok.
Luckily for him, Aaron is also a soft-spoken, thoughtful, and thoroughly likeable young man, brimming with such a passion for his work that it is hard to believe it is such a recent addition to his life. Even more intriguing is to hear him admit, somewhat paradoxically, that it wasn't so much the act of photography that drew him, but the nature of wedding pictures themselves.
Starting Out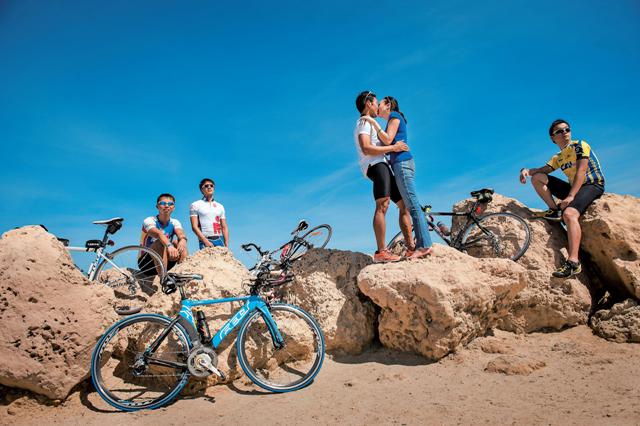 "It was a few years ago, I was in KLCC and I walked past a gallery showing wedding photographs," Aaron recounts. "The pictures really spoke to me. I felt connected to the people, inspired by the pictures; 'how do you capture that?'" His wonder led him to pore over photography books and internet "how-to" videos, purchasing equipment and then asking professional wedding photographers to allow him to shadow them on their jobs.
Gradually, he learnt the skills and gained the confidence to take that first, frightening, step of shooting a wedding solo. "It was really difficult," he admits, "I really had to think about how to get the right shots, but after a year or so, it became second nature."
Making the decision to go pro four years ago was one that caused some consternation in his family, who had been content to see Aaron maintain his Aaron Chin reliable job as an IT consultant, the logical step from his Computer Engineering studies at a university in Sabah. "Mine is a traditional Chinese family, they wanted me to have a desk job and they disagreed with my idea to be a photographer," he remembers. "But my Mum loved me, she loves us all, so she eventually said 'try it out if you want to.'" After a year of working part-time, Aaron dedicated himself full-time and has now, after a few shaky years, secured himself the position of reliable, enviable jobs and high recommendations.
Daily Grind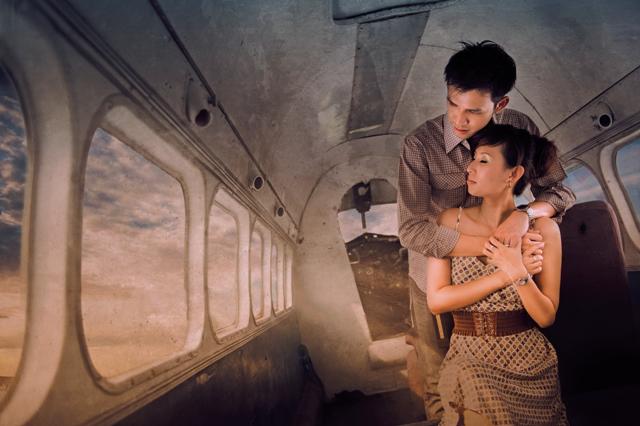 "I have been lucky to meet some great people," says Aaron, playing down the determination, talent, and hard work that surely contributed to his success. "I team up with a studio in Penang for the destination weddings, and I also have a contact with a family portrait photographer who I work with."
Luck is only part of it: what counts is the product, and Aaron's pictures capture moments that seem honest and beautiful, betraying his enthusiasm for the ceremony of marriage as much as the happiness on display.
"Indian weddings are my favourite," he gushes with a happy smile. "There is lots of colour, lots of noise, lots of dancing, lots of laughing and crying. There are so many emotions to capture and you are constantly stimulated." One of his most memorable took place at a beach resort in Thailand where a power couple from Dubai splashed out millions on a wedding like no other. "There was free-flow alcohol, free-flow sushi, parties every night," recalls Aaron. Sounds like an ideal sense of photography sense of photography job, but Aaron is quick to point out that these "destination weddings" can be far more demanding than the Malaysia-based jobs. "You are there all the time, so the clients expect you to be present for every moment, which is tiring! But then you really build up a relationship with the people and the family. By the end you are all friends, you feel like a guest!"
It is testament to the skill of Aaron and his team that many of the clients approaching them for their services hail from different parts of the world. Aaron is jetting off to India and then London in the next few months; more jobs for clients from far afield.
But it is not all exotic destinations and endless booze; Aaron takes on a lot of local weddings as well as shooting prewedding pictures and dabbling in the odd bit of portraiture. "December was a crazy month," he says with a laugh. "I did five Indian weddings and two Chinese weddings. I lost about 5kg in weight!"
Special Moments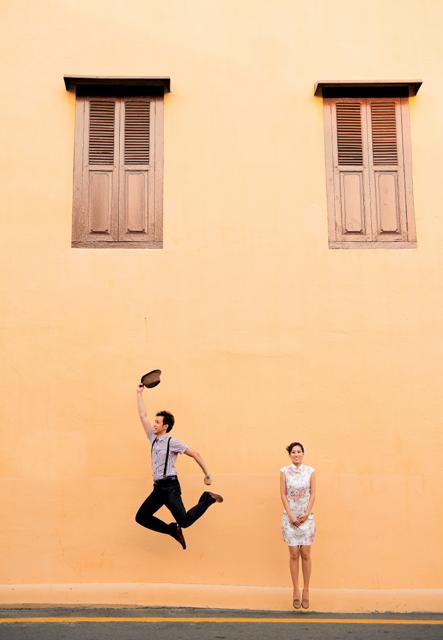 However intense or stressful it can get, Aaron still adores what he does, and has clearly never lost that wonderment at being able to capture special, spontaneous moments.
"A wedding has a purpose, and when the couple are so in love, and their family and friends are being so supportive, it all just comes together. There are those moments…when a father is making his speech, basically handing his daughter over to her husband and asking him to take care of her." Aaron shakes his head, clearly moved. "Moments like that are so real. It doesn't matter how much you spend or what food you serve; that's what it's all about."
Aaron got to experience the high emotion for himself when, last October, his longterm girlfriend Susan became his wife in a ceremony in KL. "It's definitely more tiring as a photographer than a groom," he laughed. "It was fun to have my own wedding after seeing so many. And you'd think I'd know how to prepare and make everything go smoothly, but there were loads of hiccups!"
Getting a photographer to shoot his big day was one struggle, with many of his professional photographer friends refusing: "They said it would be too stressful!" In the end he persuaded one of them to undertake the task, although the pre-wedding pictures were shot by Aaron himself in Switzerland using a tripod and a lot of patience. "It was a lot of fun! It was quiet and we just took our time," he explains. The pictures – the couple posing against a variety of stunning alpine backdrops – are as beautiful as they are oozing with happiness and love; just like the images that inspired him all those years ago when a stroll through KLCC altered the path of his life.
Looking Ahead
So what is next for the young wedding photographer? Unlike many others who see wedding photography as a stepping stone to more glamorous jobs, Aaron clearly adores his current position too much to consider altering his tack. That said, the business man in him is hoping to expand his operation. "I work from home at the moment, so it would be nice to have a studio," he says. "I am also training some juniors, so once they are good enough I will be able to handle the business while they go and do the shoots."
He is also working with videographers, although he is not sold on videos, confident that the moving image will never out-manoeuvre the frozen one, no matter how much technology advances and develops. "Photographs are very important," he stresses. "One picture provokes so much. You look at it and everything comes back, you get to relieve the memories that you thought you had lost.
"Oh, photographs will always be important. People will always want something to hang on the wall."
And it is fair to predict that many more walls will be adorned with images courtesy of Aaron Chin in the years to come, and many more special moments will be captured forever courtesy of the lens of a man who, when all is said and done, just loves weddings.
———————————————————————————————————
Aaron Chin Photography; www.blog.aaronchinphoto.com; [email protected].
———————————————————————————————————
Source: Senses of Malaysia May-Jun 2013
What are your thoughts on this article? Let us know by commenting below.No registration needed.



" ExpatGo welcomes and encourages comments, input, and divergent opinions. However, we kindly request that you use suitable language in your comments, and refrain from any sort of personal attack, hate speech, or disparaging rhetoric. Comments not in line with this are subject to removal from the site. "



Comments