The Spice Islands in present-day Indonesia created much wealth as their nutmeg, cinnamon, mace, and cloves fetched fabulous prices in the european markets. Such natural bounty should made them rich beyond compare, but today they are virtually destitude. Frances Wilks went abord the vega to find out about her humanitarian voyages to help the people of the spice islands.

The first member of Vega's crew that you are likely to meet is Scourge, the boson's cat, as she languidly strolls along the boat's wooden deck. She is a Singaporean by birth but seemingly at home in any port of call. As your eye takes in the smart brass, coiled ropes, furled sails, and exquisite woodwork of this classic sailing ship, its owners and restorers, Shaun Granger and Meggie Macoum, an American-German couple, arise from the cabin. "Sorry about the mess on deck," says Shaun cheerfully. "We're collecting medical supplies and we haven't had time to stow them all below."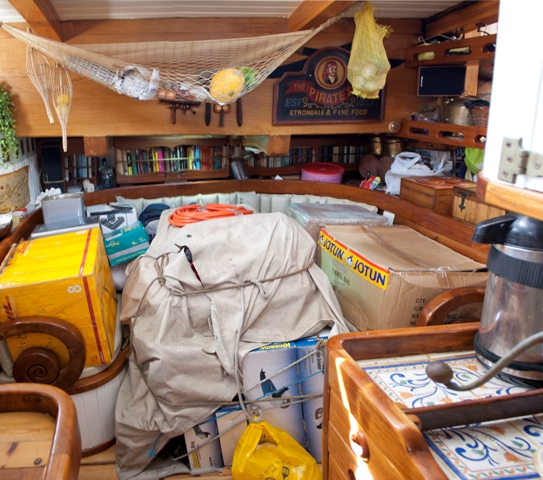 "We're masters at packing," adds his wife, Meggie. "We use the boat to transport things that the islanders in remote parts of Indonesia and East Timor desperately need, like medical equipment and educational items. Last year the German-European School in Singapore donated school bags for an island school which was so poor that that the children had to share one pencil."
Each child packed an individual school bag with items like pens, paper, coloured pencils, and notebooks and was allowed to put in one item of their own choice, such a toy. Each student wrote a letter and put in a picture as well which gave the gift a very personal touch. The teachers weren't left out either, receiving a teacher's kit with books, including environmental educational materials and stationery.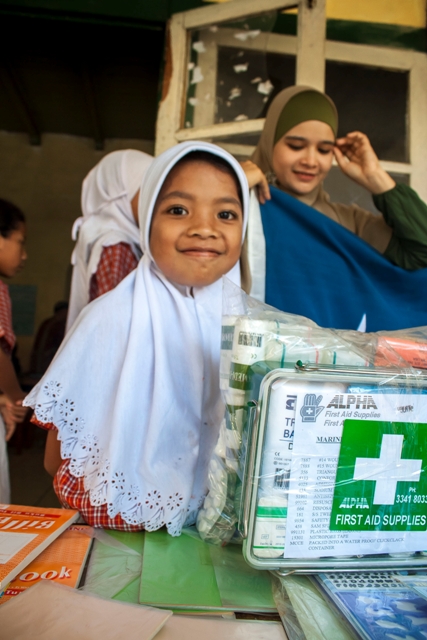 The other things that the islanders need are basic medical supplies. Shaun and Meggie collect the supplies that midwives require to deliver babies safely, ranging from syringes, gloves and sterile dressings to foetal heartbeat monitors and naval clips. They also take medical volunteers who conduct education sessions for local health care workers. "We don't carry passengers, everyone who comes has to be prepared to do their bit," says Shaun. "Sometimes we all have to sleep on deck, as the cabins below are packed literally to the gunwales."
Returning from the Islands was a different matter, as the boat was usually empty, but now things are about to change. Shaun and Meggie would like to help the islanders better themselves by transporting spices and coffee grown on the islands. The coffee is fresh and delicious and the spices are sweet and juicy, not surprising, as they are grown on fertile soils. Indeed, the aroma of cloves wafts over the water as you approach Pulau Nila.
Some of the nutmegs come from 400-year-old trees from an island that was traded for Manhattan. (It's interesting that in those days the islands were considered of equal worth, which would not be the case today.) A local spice expert pronounced these spices of very high quality, and the revenue from these sales could be used to start basic projects like communications and electrical generators.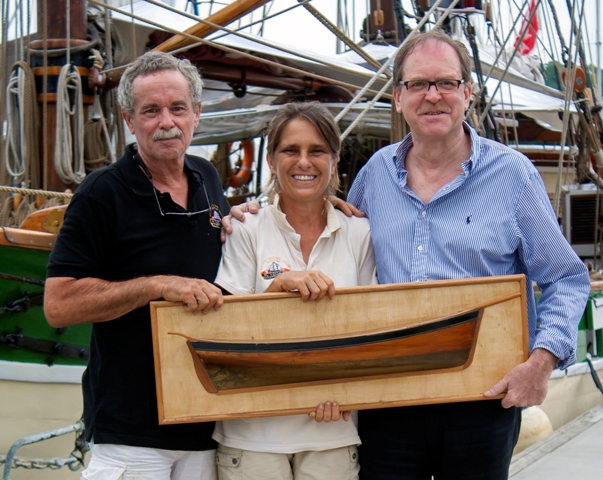 Meggie and Shaun are no strangers to international aid, having met in the 1990s in Africa when they were working on relief projects. They purchased Vega, a wooden sailing vessel originally built in the Baltic over 120 years ago, and set about restoring her. Shaun has a background in boat restoration for American museums and Meggie meticulously researched many of the naval fittings from the 1800s. They found it was cheaper to get carpenters to make the fittings in hardwood and cast them in bronze than to buy imitations. But the restored boat isn't just the bus; she also acts as a catalyst, attracting attention wherever Shaun and Meggie go in the port, marinas, and boat shows of the Far East. "People like to come aboard and find out what we do and sometimes they want to help," says Shaun.
How You Can help
Shaun and Meggie are looking for:
Shops or outlets that would be preparedto take a consignment of spices or coffee. They can provide beautiful rustic packages, and picture boards with the story of the spices.
A factory making medical supplies whowould be interested in donating some.
A school in Malaysia that would liketo become involved with packing and donating bags for school children and possibly even twinning with a school in the Spice Islands, creating links and pen pals. As the islanders can communicate in Bahasa Indonesia, this would present a good opportunity for school kids to practice writing in Bahasa Malaysia (as the two languages are very similar).
———————————————————————————————————
Further information is available on their website www.sailvega.com. If you would like to donate medical supplies, contact [email protected]. If you are interested in being involved and would like to arrange to meet Shaun and Meggie at Port Klang, contact Shaun on [email protected] sailvega.com.
———————————————————————————————————
Source: The Expat May 2013
What are your thoughts on this article? Let us know by commenting below.No registration needed.
---
"ExpatGo welcomes and encourages comments, input, and divergent opinions. However, we kindly request that you use suitable language in your comments, and refrain from any sort of personal attack, hate speech, or disparaging rhetoric. Comments not in line with this are subject to removal from the site. "
Comments