Malaysia is a country full of sensory delights. It has both natural and man-made treasures, unique and tantalizing tastes not found anywhere in the world, and it features both modern and old-fashioned lifestyles living in parallel. With its right foot raised to the future while its left foot remains entrenched in the nation's rich history and cultures, Malaysia has much to offer adventurers the world over. The nation features a kaleidoscope of races, religions, cultures, and traditions, all mashed up in a single realm.
Beautiful, spectacular, and downright sublime, this article features 25 of the best Instagram photos of Malaysia to show everyone the joys of this one of a kind tropical nation.
1) Petronas Twin Towers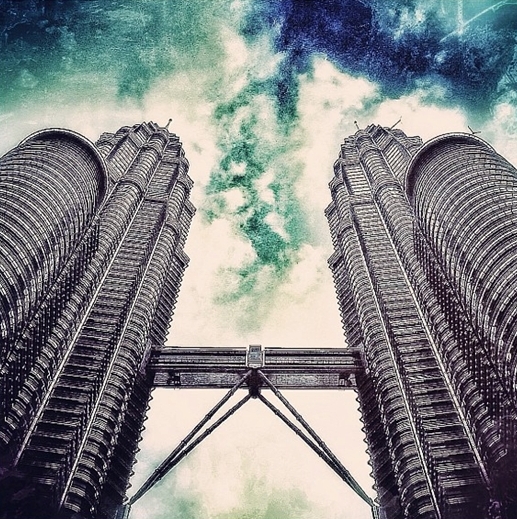 Photo Credit: shawsuizzophotograph, Instagram
The Petronas Twin Towers was built to give Malaysia a 21st century modern icon. It is a constant reminder to the citizens that we can reach for the skies if we put our heart and soul into it.
2) Field of green at Bukit Hijau, Jeram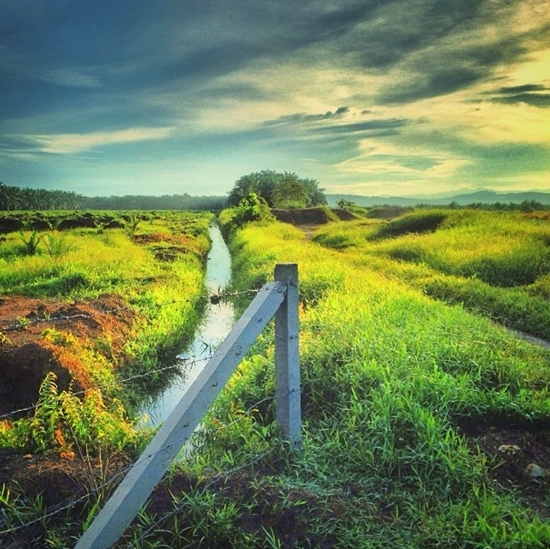 Photo Credit: larnlibbi, Instagram
Mother Nature thriving in the aptly named Green Hills at Jeram.
3) JapaMala Resort on Tioman Island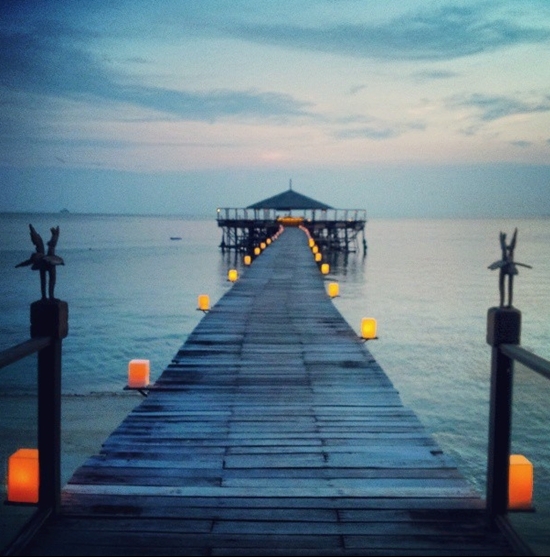 Photo Credit: thisistimc, Instagram
An almost fairy-tale like view of a spectacular resort on Tioman Island. Let the lanterns guide your way into the sea of dreams.
4) Overview of Genting Highlands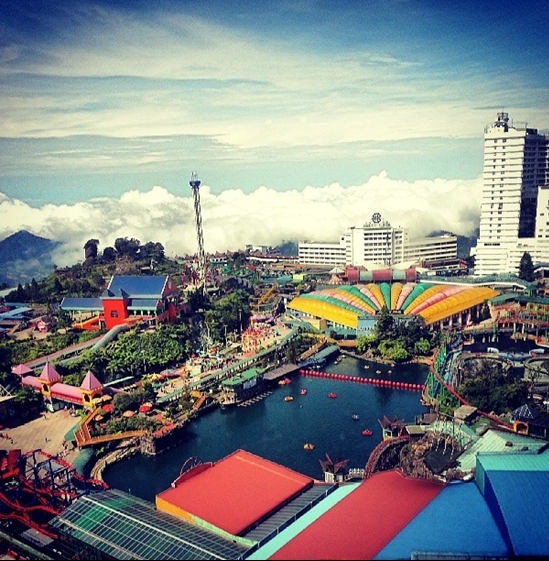 Photo Credit: mamalid, Instagram
Taken high on the hilltops of Genting Highlands, this picture gives off an almost man-made Shangri-La like allure of Genting with its cloudy surroundings and various attractions.
5) Worldwide Oil & Gas oceanic platform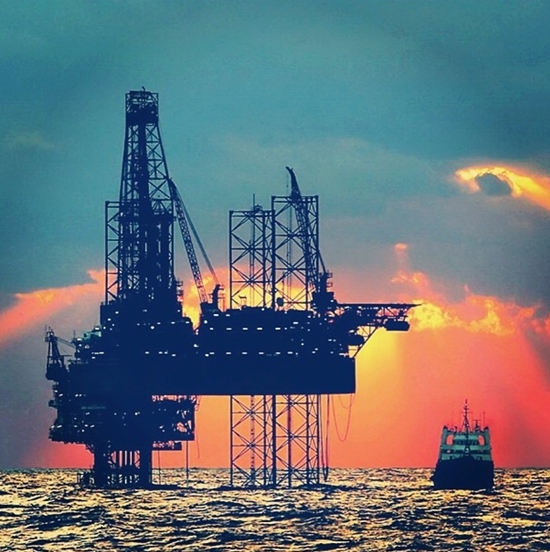 Photo Credit: pojiesyarifdini711, Instagram
Oil is one of Malaysia's most renowned natural resources. This picture showcases a breathtaking sunset view of an oil and gas platform in the country.
6) Kuala Lumpur City Centre Park
Photo Credit: coffeeliqueur, Instagram
(A nice view of the KLCC Park during the night, with a backdrop of slightly illuminated buildings.
7) Nasi Lemak KL city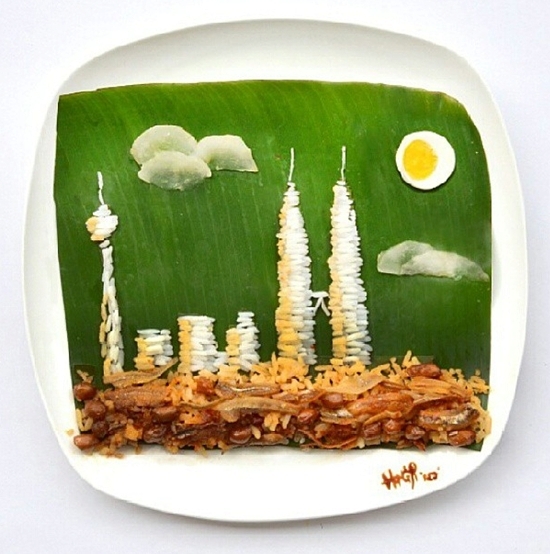 Photo Credit: cherelleyc, Instagram
Nasi Lemak is one of the quintessential Malaysian foods. This food art is made to imitate the KL city landscape, and looks as delicious as it is gorgeous.
8) Old School Takeaway Teh Tarik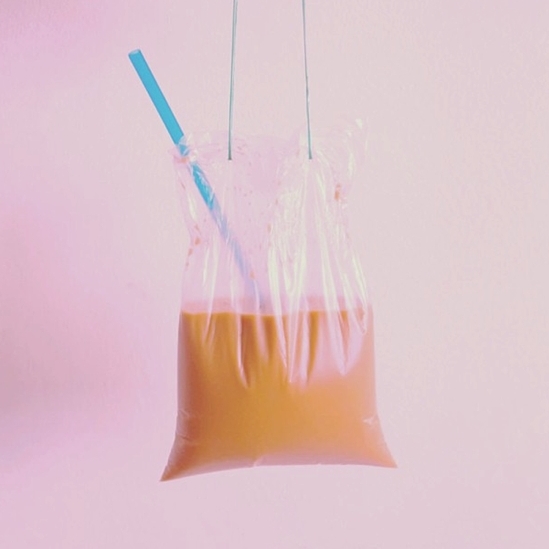 Photo Credit: bendbutdontbreak, Instagram
Teh Tarik is a pulled sweet milk tea in Malaysia that is loved by almost all locals. The process of pulling the tea with two mixing cups cools the drink to optimum drinking temperatures and gives it a frothy top. It perfectly compliments any Malaysian meal.
9) Petaling Street Chinatown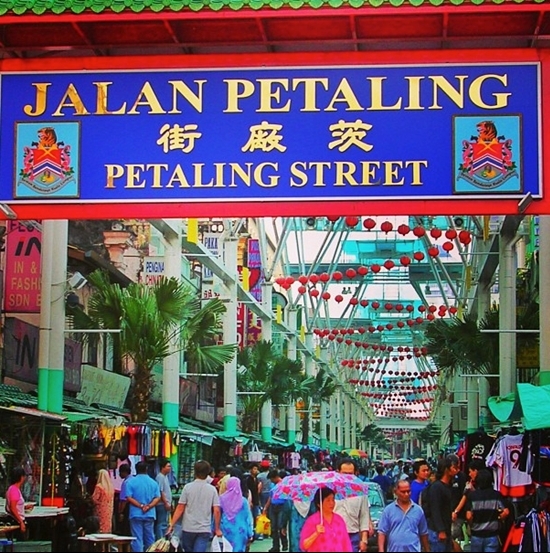 Photo Credit: alanmastert, Instagram
(Petaling Street Chinatown is a great downtown place to shop and eat. Forever bustling with people from all walks of life, it is definitely a destination to visit when in KL.
10) Penang Bridge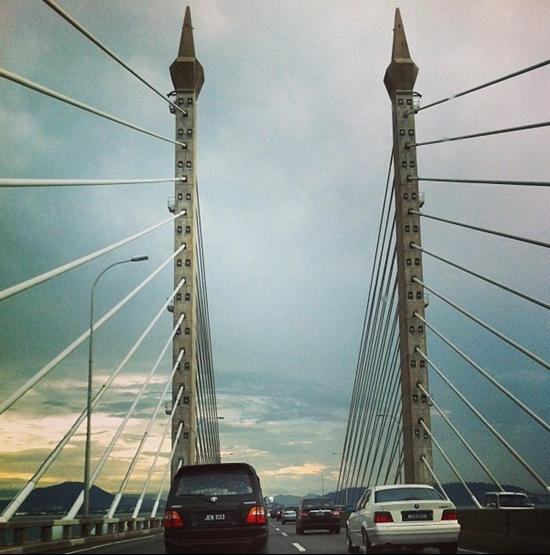 Photo Credit: xuann74, Instagram
Famous for its food and island lifestyle, Penang is a must go for anyone who enjoys a throwback to good food and old fashioned fun. Those who drive to Penang will have to cross this iconic bridge in order to reach the island.
11) Istana Negara (National Palace) gates
Photo Credit: buddario, Instagram
The Istana Negara is where the Malaysian King and Queen reside. A huge majestic estate secured by guards, those who visit the estate will witness a grand piece of Islamic architecture.
12) Stadthuys in Dutch Square, Melaka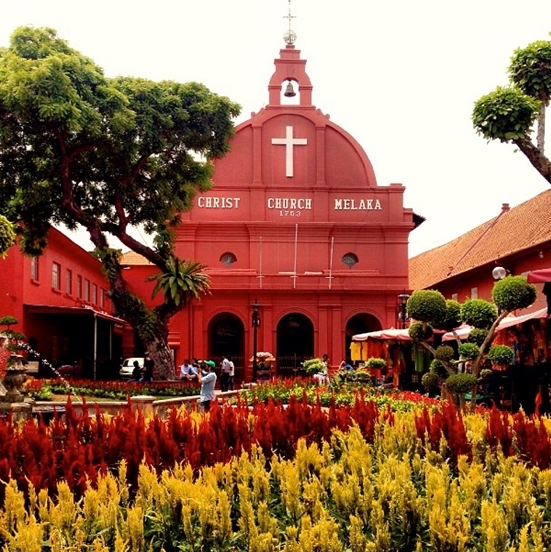 Photo Credit: ipixxi, Instagram
A former landmark and centre of importance for the Dutch during their reign in Melaka, Stadthuys or red square, is an iconic piece of landscape. Its presence reminds local residents of a time when foreign intervention was commonplace.
13) BOH Tea Plantation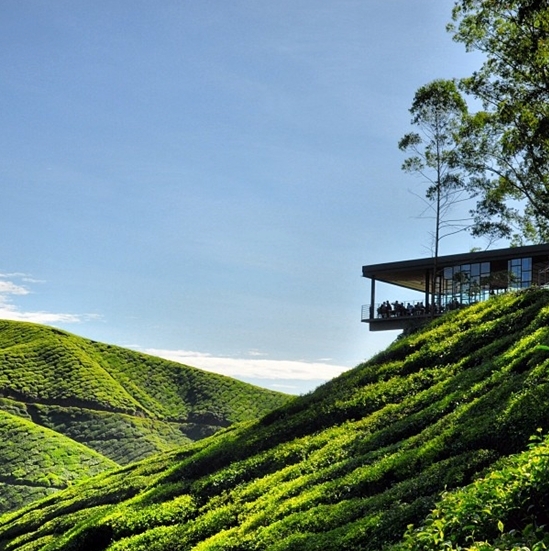 Photo Credit: fredmadsen, Instagram
BOH Tea is the biggest black tea plantation and manufacturer in Malaysia. Located in cool Cameron Highlands, their tea gardens are lush, serene, and a refreshing sight for those who had enough of the dull greyish colours of modern day city life.
14) Inside Batu Caves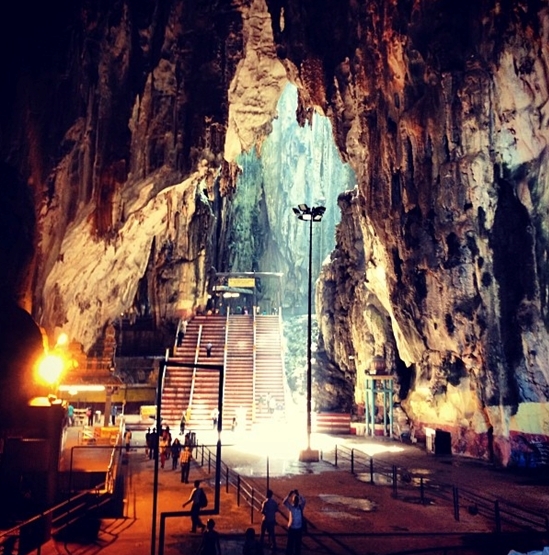 Photo Credit: playbackfilm, Instagram
Looking more like the inside of a hidden temple from an Indiana Jones movie more so than a religious holy ground, Batu Caves is nonetheless a Hindu temple dedicated to Hindu Lord Murugan. It is often an important place of worship during the Hindu Festival of Thaipusam.
15) Kinabatanang River, Sabah
Photo Credit: maddelotion, Instagram
The second longest river in Malaysia known for its wildlife and diverse habitats, the Kinabatanang River in Sabah stretches over 560km. A great place to get in touch with Mother Nature.
16) Baby Orang Utan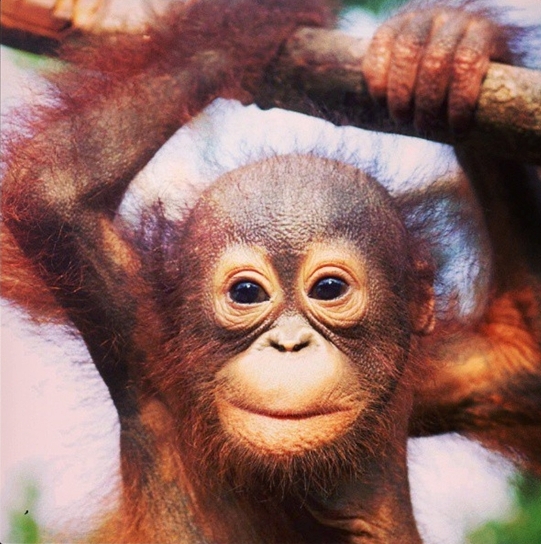 Photo Credit: mayanggta, Instagram
Orang Utans are a Malaysian native species of Asian apes. They typically call the rainforest of Borneo home and their namesake, which translates to 'person of the forest', indicates that they spend most of their time in the tree tops of the forest.
17) Bunga Raya (Hibiscus)

Photo Credit: nicks_picks, Instagram
The national flower is beautiful and dazzling. Red in colour, it also smells nice and instantly attracts the attention of many.
18) Yee Sang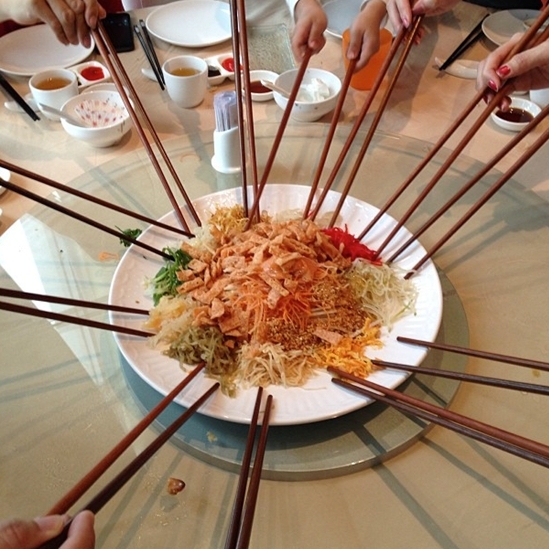 Photo Credit: leeyw81, Instagram
Yee Sang is a cold Chinese fish salad dish commonly eaten during Chinese New Year to usher in prosperity and good fortune. The higher you mix the salad, the more luck you bring in. While of Chinese origin, it is used by the Chinese in Malaysia and is not commonplace in China.
19) Football in the kampung
Photo Credit: thestar_rage, Instagram
(The village is the humble origin of many Malaysians, regardless of race or creed. Simple life combined with a close knit community, going back to one's hometown or kampung is an annual trip for most Malaysians to visit and reconnect with family and friends.)
20) Bukit Bintang Intersection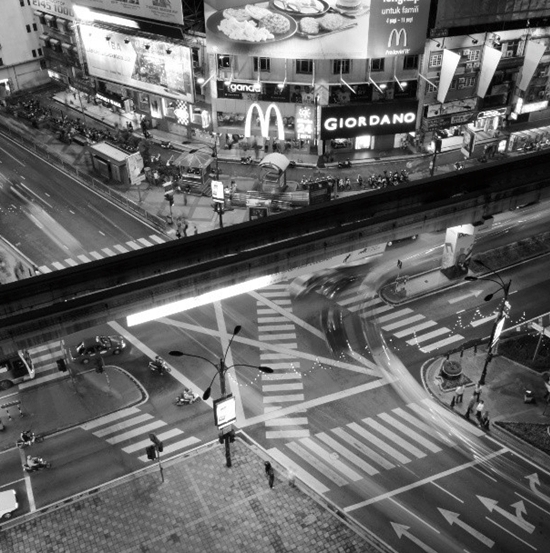 Photo Credit: leonardmak, Instagram
Bukit Bintang in downtown KL is a prominent shopping haven for many. A place to find all sorts of goods and food, it is a popular destination for visitors and locals.
22) Marini's on 57 skybar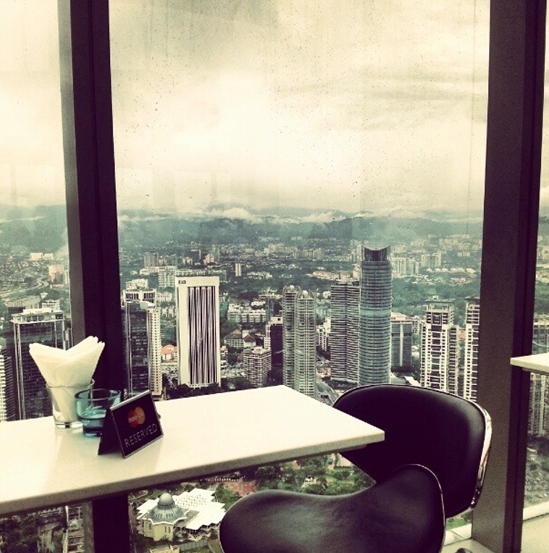 Photo Credit: venuga_devi, Instagram
A modern themed skybar set on the 57th floor of the Menara 3 Petronas, Matini's on 57 features remarkable views of the city landscape be it day or night. It is a perfect place to enjoy a few drinks and laughs with friends.
23) A swirling school of barracudas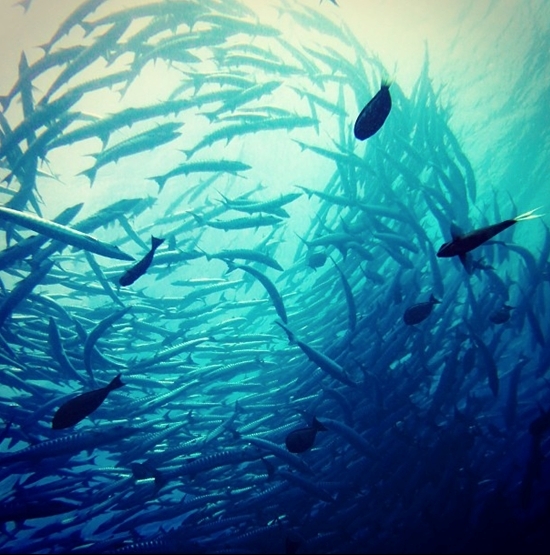 Photo Credit: mibatu, Instagram
Diving in Sipadan is a dream come true for divers with its awesome array of underwater life. Rated as one of the best diving spots in the world, it would be a shame to miss this experience when in Malaysia.
24) Panorama Langkawi Cable Car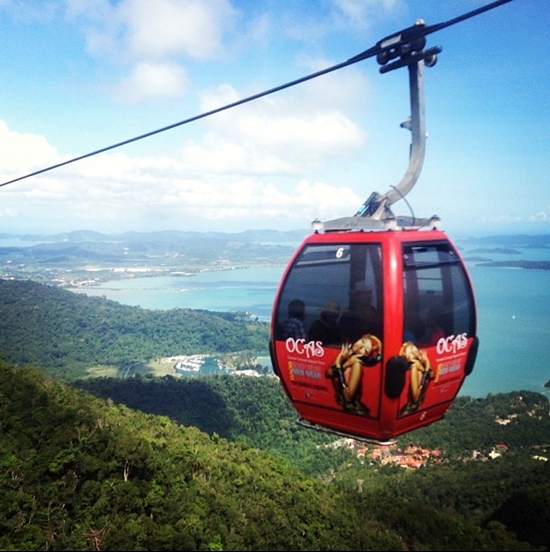 Photo Credit: supergirl2u2d, Instagram
Enjoying a cable car ride in Langkawi is the optimal way to bask in the island's glories and magnificence from an aerial perspective. Views like this can only be enjoyed from a high altitude.
25) A skyline view of the city from the Menara KH helipad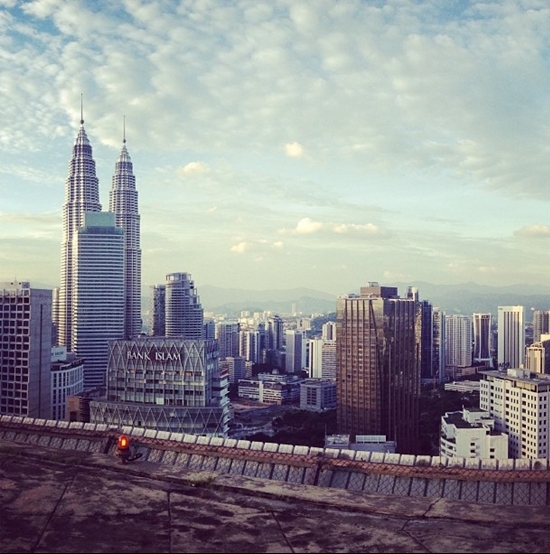 Photo Credit: acenld, Instagram
The view from the top of Menara KH's helipad offers a sensational view of KL's skyline. Combined with a drink and a loved one, it becomes all the more remarkable. Don't fall of the ledge though.
What are your thoughts on this article? Let us know by commenting below. No registration required.
---
"ExpatGo welcomes and encourages comments, input, and divergent opinions. However, we kindly request that you use suitable language in your comments, and refrain from any sort of personal attack, hate speech, or disparaging rhetoric. Comments not in line with this are subject to removal from the site. "
Comments