Malaysia is blessed with some of the best beaches and islands in South East Asia. With its wonderfully diverse wildlife and culture, the country offers a tropical playground for travellers of all types that is unique and without equal. From the duty free shopping island of Langkawi to the untainted shores of Rawa Island, there is a beach here to suit the needs of every type of traveller.
Here are seven great beaches in Malaysia. Note that these are listed in no paritcular order.
1. Langkawi Island, Kedah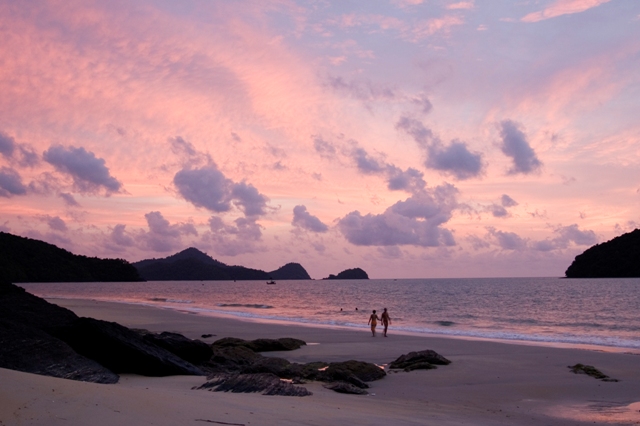 Langkawi is an archipelago located north west of Malaysia's capital city, Kuala Lumpur, and rests near the borders of Thailand. It is a popular tourist destination for locals and foreigners due to its numerous beaches, bountiful resorts of all ranges, growing nightlife activities, and cheap duty-free shopping.
Visitors can easily reach Langkawi by means of air or sea travel and are able to rent both motorcycles and cars on the island for a private means of transportation around the island. When not relaxing at your beach resort on the island, various exciting activities await those who wish to explore the local scenery. Some of the top things to do on the island include taking a ride on the cable car to the top of Gunung (Mount) Machinchang for a spectacular aerial view of the island or taking a trip to the Underwater World at Pantai Cenang (Cenang Beach) and Wildlife Park. Langkawi Island is fortunate enough to have dozens of natural sights and sounds unique to the island, waiting to be explored by adventure seeking travellers.
Key Takeaways:
Duty free shopping along with spectacular luxurious hotels make it hard not to stop by this island in Malaysia. It is also easy to reach the island, while renting private transportation is a cinch. Although it is a popular tourist destination, you will still manage to find both tranquility as well as an exciting nightlife should you choose to look for either of them. However, if you're looking for clear water and white sand, your best bet is to check out Malaysia's other beaches and diving spots, such as Sabah, Rawa or Tioman, which are mentioned further below. That being said, Langkawi does offer some nice private beaches depending on where you stay and which side of Langkawi you spend most of your time at.
Recommended articles about Langkawi:
2. Sabah – Kota Kinabalu, Sipadan Island, & Gaya Island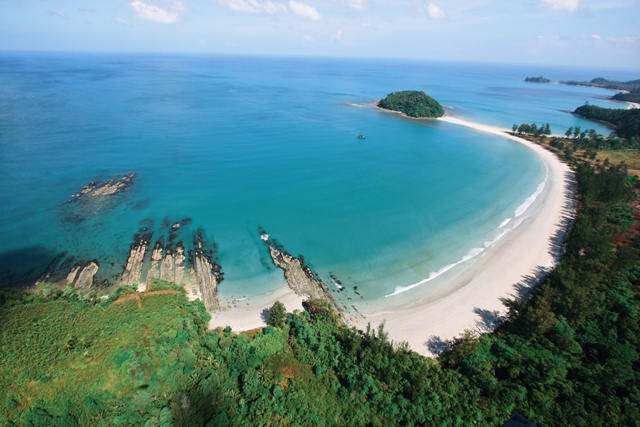 Kota Kinabalu (KK) is the capital of Sabah in East Malaysia (also known as the Malaysian part of Borneo Island – the third largest island in the world) and offers some of the best beaches on that side of the Malaysia. Although the city is not as big as Kuala Lumpur, it is nonetheless modern, albeit with its roots grounded in traditional Sabahan culture. Easily accessible by air travel, the city features a few quality beaches along with several pristine islands off its coast that has attracted people for decades. Sabah also has some of the best beach resorts in Malaysia.
Gaya Island is one of the most popular islands shortly off of KK's coast (15 minutes from Sutera Harbour Marine) thanks to its untouched tropical charm, offering majestic resorts and waters that compliment the islands attractiveness. Sipadan Island on the other hand, might take awhile to reach (45 minutes off the coast of Semporna, Sabah, which itself needs to be reached by plane and bus respectively at Tawau) but its water villages and immaculate waters will be worth the wait. Additionally, the Scuba Diving Magazine rated Sipadan Island as a mecca for divers in 2012. Those who don't necessarily want to spend all of their precious time holidaying on white sandy beaches can also take to the nearby Mount Kinabalu. This mountain gave the city its name, for various trekking options or to the championship golf courses that inhabit the city's outskirts. ��
Nightlife in KK is also beginning to take off in terms of quantity and quality, and those tired of drinking with resort guests can take a quick trip downtown to mingle with the locals. Diving and snorkeling is also an extremely popular activity in KK due to rich underwater life working in tandem with its clear aquamarine waters, although it cannot put up a fight to Sipadan's waters. Sabah definitely has some of the best islands in Malaysia.
Key Takeaways:
Sabah features some of the best diving experiences in Eastern Malaysia due to its clean and rich waters. Some even say that its waters even surpass those found in Malaysia's other popular diving spots – Redang and Tioman. Kota Kinabalu itself offers modern amenities for those wishing to enjoy both the beach and a slice of modernity at the same time. Gaya and Sipadan Island on the other hand, guarantees an almost unforgettable experience thanks to its beautiful resorts, villages and waters. Sipadan is often considered a diver's haven. While nightlife in KK is not particularly as lively as its KL sibling, Sabah makes up for it by having some of the best flora and fauna Malaysia has to offer.
Recommend articles about Kota Kinabalu:
3. Cherating Beach, Pahang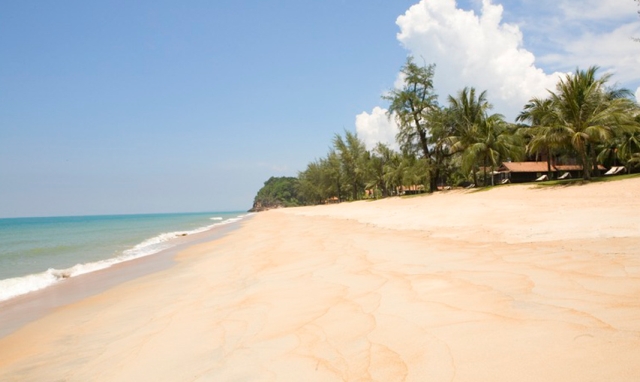 Cherating used to be a quaint little fishing village but has long transformed itself into a leisurely popular beach resort area. Still considered to be one the go to beaches in Malaysia on the East Coast thanks to its close proximity to KL, Cherating manages to draw in crowds of weary travellers from all locations in search of a little rest and relaxation. Cherating can be reached by either driving or flying. The beach contains plentiful bars, places to have good Malaysian food, friendly locals and tourists, and even budget shacks for those who want to kick it back old school style near the waves of the ocean. Traditional cultural performances such as the wayang kulit (shadow play) and silat (the Malay art of self defense) can also be witnessed while staying at Cherating, allowing better insight into long practiced Malay traditions. When the sun goes down, several pubs near Kampung (Village) Cherating Lama begin to see thirsty patrons in need of some fun. While its beaches and waters cannot match those of many other famous islands around Malaysia, Cherating's cool and calm atmosphere will certainly win the hearts of visitors.
Key Takeaways:
Filled with a laid back atmosphere, Cherating offers travellers a mainland alternative to islands in Malaysia, putting it within driving distance from Kuala Lumpur and Singapore. Turtle sanctuaries and family friendly resorts make this beach a popular choice for those wishing to spend some quality time with loved ones. Furthermore, spending a holiday at Cherating would be comparatively cheaper than the other destinations listed here due to its ease of access and affordable resorts. Cherating's golden sandy beach does have a relaxing atmosphere but it can't compare to Redang and Rawa Island or even KK's high quality beaches and waters. Nightlife here persists in small quantities but pales in comparison to the nightlife at Langkawi's Cenang Beach.
Recommend articles about Cherating:
4. Pulau Redang, Terengganu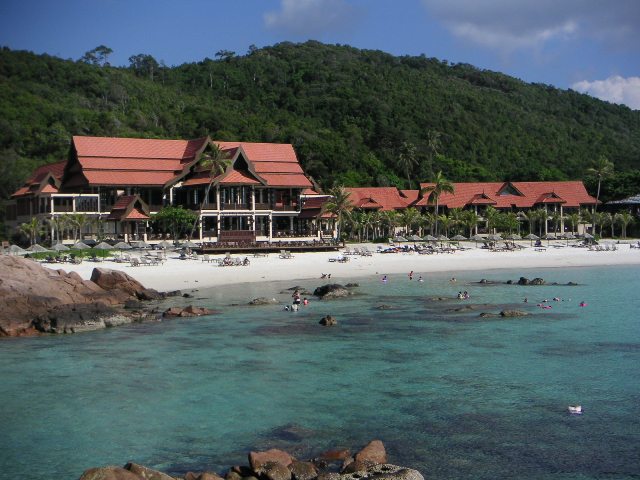 Coming back to life on the islands, Pulau Redang, or Redang Island in English, is one the largest crown jewels of Malaysian tropical islands in terms of size and atmosphere. The Redang archipelago consists of nine islands that form a conservational marine park, with the biggest island holding the archipelago's namesake. Accessible by air travel through Berjaya Air or by ferries on the mainland, Redang is sprawling with tourists during the holiday seasons and is definitely one of the more popular and well-known island areas in the country.
Attractive activities that draw in local and international crowds are diving and snorkeling in the five marine parks that surround the Redang archipelago. Underwater enthusiasts rejoice at the chance to witness a diverse array of life under the sea, coral reefs included. The underwater gardens of Redang are sure to delight people of all ages. The islands also serve as home to a turtle conservational organization that ensures the protection of newborn turtle hatchlings to give them the maximum probability of surviving in the wild through natural causes.
Key Takeaways:
Amazing, beautiful beaches, and great water quality make it a great place to unwind and relax. Redang's fairly large size makes it possible for tourists to enjoy its natural offerings both off and on land, and also allows travellers the chance to meet other individuals. Snorkeling or diving is a must while staying here thanks to a diverse coral and fish habitat, thus making it a haven for underwater lovers. Redang features some of the best beaches and waters in Malaysia that gives Sabah's beaches and Tioman's waters a run for its money.
Recommended Articles about Redang:
5. Pulau Tioman, Pahang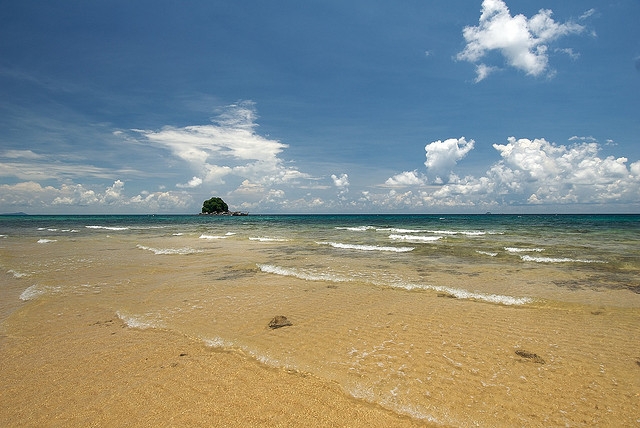 Photo Credit: HooLengSiong, Flickr
Located in the South China Seas is one of the world's most beautiful islands, Pulau Tioman. Hardly an understatement, Tioman Island features sun baked beaches, a rich rainforest, a diverse cultural history, numerous villages, duty-free shopping, and adventure for those willing to partake in it. With an island teeming with life, it is hard for travellers and visitors not to be swept up in a blissful bohemian state of mind when enjoying the island's various attractions and amenities. Tioman is also accessible by air and sea travel, and (as with most islands) features unspoilt waters, snorkeling and scuba diving. For the weary traveller, Tioman also features two spas and an 18-hole golf course.
Even though Tioman does have its feet deeply entrenched in centuries of tradition, heritage, and culture, it also features modern provisions such as highways, island wide electricity, health and medical services, police enforcement, as well as shopping. Nightlife on the island typically involves visiting a nearby bar or enjoying the company of friends or loved ones. Tioman also has some of the best beach resorts in Malaysia.
Key Takeaways:
Duty free shopping, a diverse underwater life, attractive aquamarine coloured waters combined with truly amazing beach resorts makes Tioman an immensely viable alternative to the more commercialized and bigger Redang Island. Its extraordinary resorts should definitely be one of the key factors to consider when planning a trip to Tioman. Easily accessible by Berjaya Air and extremely beautiful in its own way, Tioman should be one of the stop offs for any type of traveller wishing for a stress free environment during their trip to Malaysia.
Recommended articles about Tioman:
6. Rawa Island, Johor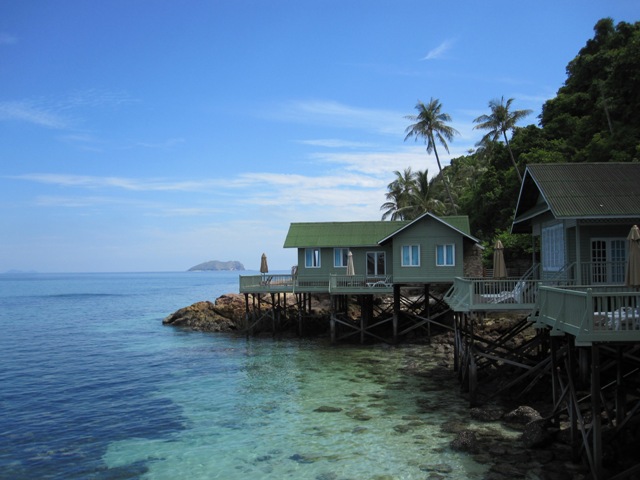 There are times when less is more and in the case of Rawa Island, small definitely works to its advantage here. The isle of Rawa is tiny compared to other major islands in Malaysia, but what it lacks in geographical depth, it more than makes up for it in serendipitous beauty. Being so tiny, Rawa Island only manages to have enough room for two resorts that act as the resting destinations for travellers. It is nonetheless, equipped with lush jungle vegetation, impeccably clear waters and serene soft sands, making it easily one of the best beaches in Malaysia. Accessible only by boat, the island itself features no major attractions save for its natural landscapes, other locals and travellers, and its rich waters, but it will put a smile on your face upon arrival. Refreshingly minimalistic, the island allows one to seep in everything great about spending time on an island. If you get bored, you could always take part in the numerous water activities that the resorts offers or you could simply strike up a conversation with a fellow seeker of bliss.
Key Takeaways:
Being tiny makes Rawa Island cozy and refreshingly simple. Travellers should go to Rawa to soak in the sun, enjoy stunningly clear water and its white sandy beaches. It is a perfect destination for both couples and families to relax. Take note that the resorts on this island are more basic than grandiose and the island is small; the island only comprises the two resorts. You can even kayak around the island in about 45 minutes. That being said, it has one of the best beach in Malaysia.
Recommended articles about Rawa Island:
7. Perhentian Islands, Terengganu, Malaysia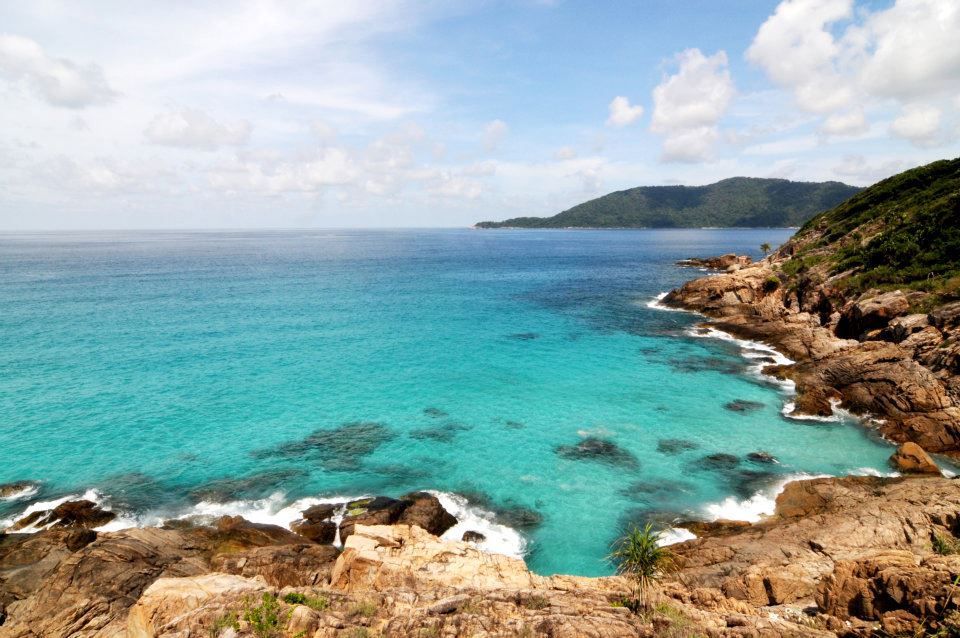 Perhentian Islands consists of two main isles, Perhentian Besar and Kecil (big and small), and a few other small islands. The name Perhentian translates to "stop over" or "stopping point" in Malay, harking back to the time the islands were used as a resting point for traders who crossed Malaysia's eastern coast line. The main attraction on Perhentian is nature tourism, thanks to the islands rich natural splendours: long stretches of virgin white sandy beaches, undamaged and protected reefs, crystalline waters, and an amazing biodiversity of wildlife on land and underwater. Perhentian Island resorts range from small simple chalets to moderately luxurious medium sized resorts, coming off as a mix between Redang Island and Rawa Island. The island is only accessible by boat, taking slightly under an hour to reach from the shores of Kuala Besut, a small fishing town in between Kota Bharu, Kelantan and Kuala Terengganu, Terengganu.
Key Takeaways:
Less commercialized than Redang Island, Perhentian Islands shines at being stunning through being simplistic. Where resorts on Redang aim to be more grandiose, Pulau Perhentian's resorts are sincere and unpretentious, resulting in a more down to earth island experience. Those who come to Perhentian shouldn't expect an over the top lavish experience, but instead should expect to find decent resorts and chalets that focuses on the island's main attractions – Mother Nature's endowments.

View Malaysian Beach Resorts At Their Finest in a larger map
Homepage Highlight Photo Credit: Nicolas Lannuzel, Flickr
---
"ExpatGo welcomes and encourages comments, input, and divergent opinions. However, we kindly request that you use suitable language in your comments, and refrain from any sort of personal attack, hate speech, or disparaging rhetoric. Comments not in line with this are subject to removal from the site. "
Comments