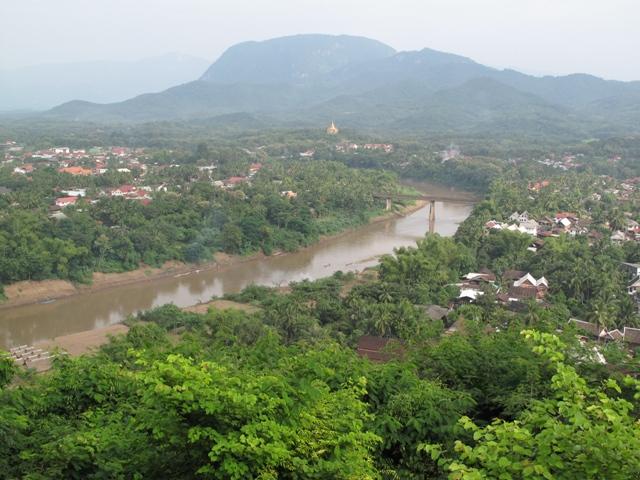 After a rough week in Laos, Luang Prabang greeted Sarah rees like an old friend and worked its magic, soothing the weary traveller and laying the foundations of a love affair.
It had been, by all accounts, a very bad week. I had been in Laos just seven days but each one seemed to be tarnished: I spent one getting soaked on a bike, another having my camera snatched from my hands, four lying sick as a parrot in my hostel bed worried I was dying from malaria, and one in a hot, stuffy minivan swerving along country lanes wondering if my backpack would fall off the roof.
And then I arrived in Luang Prabang. It was nightfall, a bustling, colourful night market was in full flow along the city's main street, and as I sat on a plastic stool eating a baguette worthy of any French baker that was stuffed to the gunnels with pork, vegetables, and delicious sauces and admired the glittering temples glowing in the dusk, it all seemed worth it.
Lost In time
Luang Prabang is one of those cities that hasn't yet realised how lovely it is. This UNESCO World Heritage Site sits at the confluence of the Nam Khan and Mekong rivers, 425km north of the Laotian capital of Vientiane, which took the glory of being the seat of government away from Luang Prabang in 1975 when the communists came to power.
For a place that was once the capital of a kingdom of the same name and is now a firmly ingrained stop on the tourist trail, Luang Prabang is pocket-sized and charmingly low-key. With just four roads and a smattering of alleyways that connect the traditional wooden houses with those grander colonial structures, the town moves as slowly as the muddy river that chugs alongside it. Locals live out a life much as their predecessors did, their existence unhampered but hopefully improved by the fact that their home has become a mecca for the camera-wielding culture seekers.
Spending The Day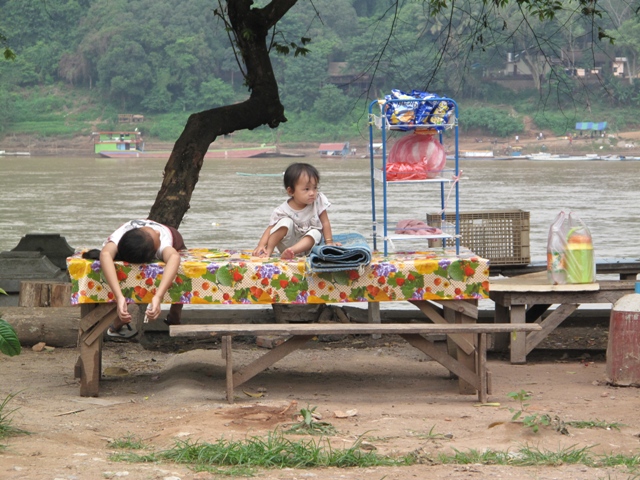 Mornings start early in Luang Prabang: the streets are lined with tourists and locals, kneeling on bamboo mats, clutching pots full of rice, crackers, and sweets, as the sun begins to peep over the horizon. In the grey dawn, the brilliant orange of the monk's robes seems curiously otherworldly as they line up neatly and begin their procession, shaven heads bowing gracefully as their pots are filled with daily provisions.
The next stop is the market, which explodes into life in an alley that seems too small to accommodate such as a throng of sellers and buyers, Laotians and foreigners alike ambling down the narrow gap between the bamboo mats on which wrinkled Laotian women sit with their wares. The market offers a feast for the eyes and the locals seem good natured when the camera comes out, happy for you to snap their piles of violent red chilis, their fish the size of frying pans, the warm fluffy pancakes that emerge from their waffle-like pressers, and the mounds of fruit and vegetables of more size and variety than you ever imagined.
The bulk of the day evaporates in lazy ambles around town, as temple after temple accosts you and demands a visit, a picture, an hour of your time. Each temple is unique, glowing with colour and humming with shimmering gold in a manner that would seem obscene were it not for the beauty. Novice monks scuttle around the temple grounds while old, wrinkled monks eye tourists with patience, happy to nod and smile as you try to capture this combination of sheer splendour and humble simplicity through the lens of your camera.
As the sun begins to make its descent, the crowds flock up the hill in the centre of the "city" to where Wat Chom Si – yet another holy structure – reaches up to the sky. Those seeking to avoid the crowds head down to the river, where the approaching dusk brings out the locals, who sit and chat over tea at wooden stalls along the bank.
The night is about the night market, which stretches the length of the main street and bamboozles the tourist with every souvenir imaginable, classily arrayed under colourful awnings and lit with rainbow lamps. One browses the stalls just to marvel at the range and scope of tourist tat, before the nose leads the feet to the many food stalls where bellies can be filled on Laotian edibles that cost a song but taste of heaven, whether you opt for the spicy-sweet salads and curries with sticky rice or the stuffed baguettes, the latter a legacy of the French colonialists.
Trips Out Of Town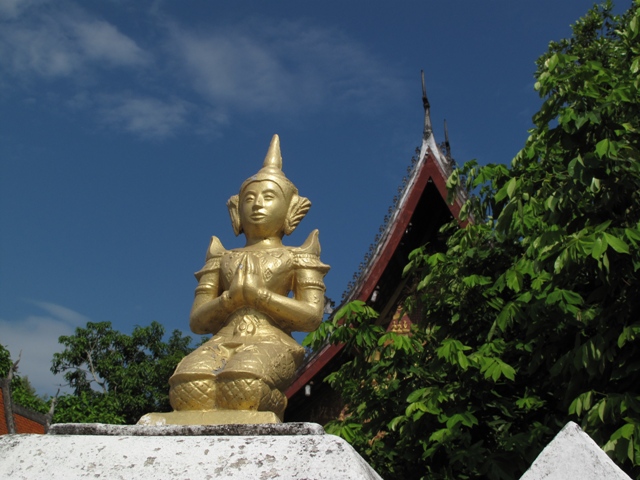 It is easy to while away the days ambling the streets of Luang Prabang, but for those wanting a broader taste of the pleasures on offer, a visit to one of the many tourist offices will enable you to pick from an array of day trips and activities.
Many tourists opt for a trip to an elephant camp, and while I had reservations about just how authentic something priced in US dollars could be, my three days/two nights at the riverside elephant camp was an experience I will never forget. I rode elephants, I fed elephants, and I bathed in the muddy river with the mighty beasts, dodging the tree stump sized elephant droppings that bounced around with us. I travelled around by long boat with a team of petite and patient Laotian men who tended the elephants with the care and attention that did them credit, and I watched the sunset over the river from my wooden chalet in the jungle.
Another option for the active is a hike to a local village, and while the countryside I tramped behind a middle-aged Australian and our lithe Laotian was that of unabridged attractiveness, nothing prepared me for the encounter with a very humble way of life. As we entered the edges of a scrubby village environ, tiny boys with dirty faces came racing out to meet us, their inadequate assortment of clothes striking us as deeply as their delight.
The local people were intrigued to see us, staring blankly down our camera lenses and then laughing with surprise and awe as they spotted themselves on the LCD screen. They watched us buying can of drink at the village shop – a dull and dusty wooden hut with nothing more than a few packets of crisps and cartons of soy milk – and stared at us as we waved and retreated back to civilisation, wondering if our own lives could be considered anything but indulgent.
I didn't really want to leave Luang Prabang. After my week of everything going wrong, Luang Prabang arrived to rejuvenate my spirits and strip away life's complications. It reminded me why travel is so important, so insightful, and so enjoyable. It charmed and delighted, it surprised and reassured, and when I boarded the empty coach that was to transport me and the driver's dog over the hills to my next destination, I felt Luang Prabang had been the wake-up call I needed to lift me from my self-pity and remind me that I was truly fortunate.
———————————————————————————————————
Source: The Expat June 2013
What are your thoughts on this article? Let us know by commenting below.No registration needed.
---
"ExpatGo welcomes and encourages comments, input, and divergent opinions. However, we kindly request that you use suitable language in your comments, and refrain from any sort of personal attack, hate speech, or disparaging rhetoric. Comments not in line with this are subject to removal from the site. "
Comments