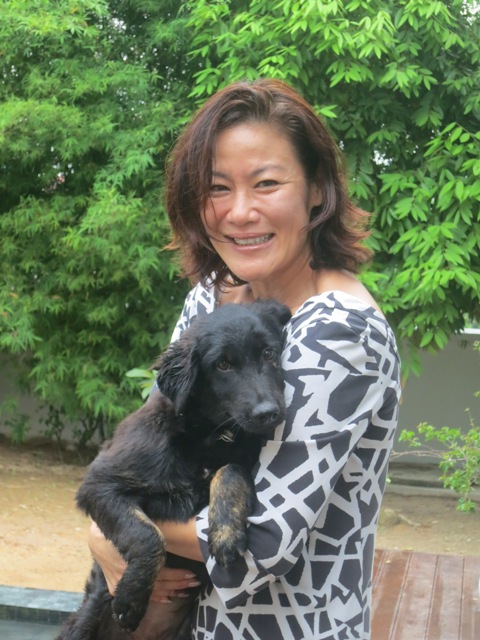 Christine Chin may have had a successful career as a stockbroker, but she always retained a refreshing attitude towards work. "I didn't want to put all my efforts into making my boss rich," she says, "I wanted to make a more meaningful contribution. You do as much work as you need to and get your salary, but this is different."
"This" refers to her current position of Chairman for the Society for Prevention of Cruelty to Animals (SPCA) Selangor, a role in which Christine can find no distinction between life and commitment to an organisation she joined 22 years ago as a weekend volunteer. "If I do something, I want to do it very well," she says. "Sometimes I am typing memos to the government at two in the morning, but I love the drive and the excitement of being busy."
It was self-improvement and a love for animals that initially led her to the SPCA – "I was turning 30 and thought 'I'm getting old, I need to do something that matters!'" she recalls – but she was quickly engulfed in the logistics and management of the non-government organisation. She became one of the youngest members of the committee and was disappointed at what she found when poring over the figures. "I wanted to improve the SPCA 200%," she explains.
As the years ticked upward and her positive influence made a real difference to the organisation, chairman seemed like the logical next step. "The committee pushed me to do it for a few years before I took it. I think I gradually just became the natural leader," she explains.
Christine has made big changes during her tenure so far, bringing in talented staff and enhancing the facilities at SPCA. One of the major milestones in recent years was the establishment of Klinik Kembiri,the first permanent and designated neuter/spay clinic in Asia where staff have neutered over 25,000 animals in the 10 years since it opened. "It has just been so popular," smiles Christine. "People are really becoming aware of the importance of neutering the animals; its vital, because the problem of stray dogs is really a human problem."
Humans are to blame for most of the sadness that Christine comes across in her role, and she laments what she sees as a lack of interest in the work of NGOs and lack of education on animal welfare in schools; two things the SPCA are determined to change.
The Centre welcomes school parties on a regular basis and makes visits to the schools in the area. "We deal with around 4,000 students a year," says Christine, "which is great! They are our agents for change. I want to create an industry, to make animal welfare a viable career path and not just something people to do volunteer."
Christine's contact with animal welfare organisations in countries such as the US has opened her eyes to the difference in approach to the industry, and so she has continued to push the government to make long-term changes that will shape the future. "We have lobbied them for the past two decades for better protection for companion animals and to increase the cruelty fine. There should be a new Animal Welfare Act this year and an Animal Welfare Board, which we hope to be a part of," she says proudly.
It sounds exhausting, and somewhere along the way Christine has managed to maintain her own entrepreneurial projects, raise a family, build a house, and adopt 60 dogs of her own.
"I bought some land and built a sanctuary to house them," Christine explains. "I just see them come in to the centre and I can't resist!"
Christine may find it easier to resist once the new EcoShelter is built; a spacious, "green" facility on two acres of land that places emphasis on recycling and sustainability. "We got approval a few months ago, and we already have some great sponsors, so we hope it will be ready for the animals by 2014," explains Christine happily.
It goes without saying that Christine and her team would welcome any help Expat readers can offer, whether it is organising fundraising events or simply coming to visit. "Just come and cuddle the animals; bring them biscuits, show them some love," encourages Christine. Expats who can't commit to adoption can also consider fostering an animal for three months to help prepare the animal for adoption.
Christine is hopeful for the future, and has seen definite improvements in attitudes during her time with the SPCA. "There are a lot of animal lovers out there," she admits, "but more of them need to reach out!"
———————————————————————————————————
For more details on the SPCA Selangor and how you can get involved, visit www.spca.org.my.
———————————————————————————————————
Source: The Expat June 2013
What are your thoughts on this article? Let us know by commenting below.No registration needed.
---
"ExpatGo welcomes and encourages comments, input, and divergent opinions. However, we kindly request that you use suitable language in your comments, and refrain from any sort of personal attack, hate speech, or disparaging rhetoric. Comments not in line with this are subject to removal from the site. "
Comments