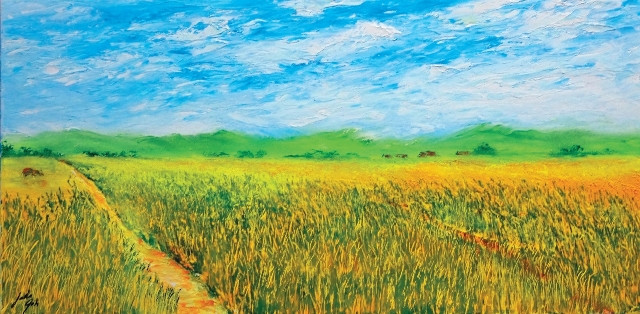 I've known Jake Goh for about ten years. Back by popular demand, this is his third time on The Expat cover. His works are very popular with expats. This is most likely due to their vibrant colours and joyful presentations. One feels truly happy while viewing his paintings and as many of his buyers have told him over the years that his paintings bring them cheer and joy, which is why they hang them in their homes. They brighten up lonely spaces or hidden crevasses in a home, calling attention to the beauty hanging just a glance away.
Jake is a self-taught artist with his talent and skill evident from a very early age. Yet, like most Chinese parents of that day, becoming an artist was not seen as a viable career option. Therefore, it was not until he was finished with secondary school, that he struck out on his own and started painting. He always knew he wanted to be an artist and was fiercely determined to make his dream come true.
He has owned a small kiosk for almost 20 years in the Ampwalk Mall and from there takes consignments for all types of paintings, including portraits. From the beginning, he would hang up new freshly painted scenes done in oils on canvas. For the first 10 years, he painted sunflowers in rich hues of yellows on blue backgrounds. He became known as the Sunflower Artist and his work was much in demand.
Although not academically trained as an artist, Jake is a keen observer of life around him and a copious reader, too. He met many of the great Masters through books, and his travels throughout the states of Malaysia, have provided him an inspiring insight into the bottomless beauty that nature holds. He would return and paint from his memory, able to capture the excitement he felt when first viewing his subject.
Jake has done a lot of self-teaching and is therefore well-versed on the technical sides, too, of a skilled and well-proportioned composition.
We sat down recently to catch up and he told me, "When I started, I was painting simply, using different types and sizes of brushes. I've now transformed to using palette knives. The texture can now be so much richer and some textures can be even softer. I have explored the impasto technique which I think is so interesting to view because it makes the viewer really feel the painting. It gives me a sense of satisfaction not only in the works produced but the intriguing feeling knowing how the subject of the painting can build and dazzle up in my mind, while I make each stroke unique and none of them are exactly replicable."
He continued, "I feel this new approach gives me a strong sense of fulfilment. I love the colours used boldly, the effects they give, and the composition which is important to draw and primarily to focus and provoke thoughts. Brushes give a more reliable approach on what I like to paint, but given these two choices, I would prefer to take risks because life is uncertain after all. And to confine myself to the norm, it's like putting myself into a cage and living in moderate comfort. Therefore, many artists are not willing to take the challenge of change and if that's so, then I believe they are in the wrong profession. I need to have some fire of passion burning inside which is the core driving power that keeps me going. I need challenges in my life in order to slap the face of reality. I need to stand on my own to see that life is indeed full of adventures and rewards. If I were to let go of this, I would not be an artist today."
Jake does quite a bit of charity work with NGOs, The National Cancer Society of Malaysia (NCSM and he often is invited to the international schools to give lectures and do hand on hand teaching. Recently he was participated at the A-Heart for A-Heart programme at Gleneagles Hospital.
Jake relates to me emotionally, "Guiding kids who had recovered from congenital heart problems in a painting activity organised by the hospital was a gift to me. And, just looking at these unfortunate children, their suffering must be hard for them to express. So I chose the Sunflower as our subject matter because it always sparks a ray of hope in their newly healthy lives. I want to keep finding things to do that help people and showing them how to paint is the best way for me." During June, Jake will be having a one-month exhibition at the Prince Court Medical Centre. If you like lovely, colourful paintings, then you will definitely enjoy browsing through Jake's latest exhibition. Prince Court Medical Centre has aligned itself with local artists in an endeavour to both promote local art and to lift the spirits of their patients.
———————————————————————————————————
For any information on Jake, please contact Marybeth Ramey via email at [email protected].
———————————————————————————————————
Source: The Expat June 2013
What are your thoughts on this article? Let us know by commenting below.No registration needed.
---
"ExpatGo welcomes and encourages comments, input, and divergent opinions. However, we kindly request that you use suitable language in your comments, and refrain from any sort of personal attack, hate speech, or disparaging rhetoric. Comments not in line with this are subject to removal from the site. "
Comments