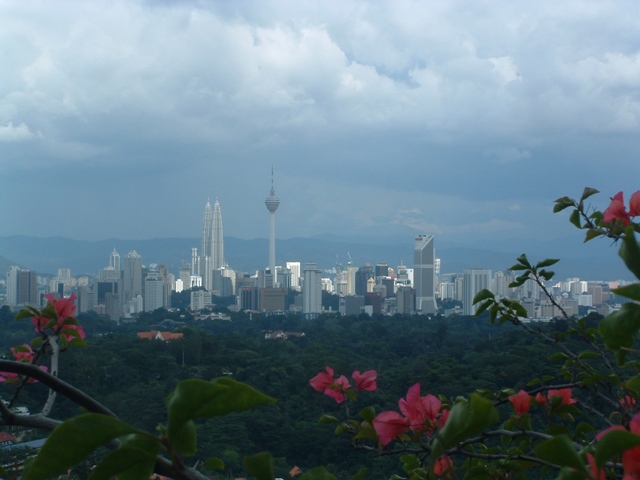 The Malaysian capital has completely transformed since The Expat Group's CEO, Andy Davison, arrived on the scene. He looks back and shares here his memories from the past and his observations of some of KL's more noteworthy changes.
My first visit to Malaysia was in the 1970s when I was working for American Express. At the time, I was living in the Philippines as a result of my boss's decision to relocate our regional office from Hong Kong to Manila. President Marcos had just passed a Presidential Decree offering incentives to multinationals which set up their regional headquarters in Manila although my boss had been more attracted by the size of the properties he could rent on his housing allowance, compared with high priced Hong Kong.
Manila was a city undergoing a major transformation. It was already a bustling, energetic city with a significant divide between rich and poor. Martial law had been lifted and the city was being essentially rebuilt and expanded into neighbouring Makati. Part of Manila Bay was being reclaimed for a hotel and a convention centre. However the city still struggled to provide continuous power and "brown-outs" were common.
With a population of 10 million, mostly-low income, Malaysia was not considered a significant market in Asia, so the company used a representative in lieu of its own office. My trip to KL was ostensibly business, a courtesy call on our rep, but I also planned to meet a friend who had recently been posted there.
I had just visited Vietnam where our company had decided to set up an office as a goodwill gesture to the South Vietnamese government in case they won the war. Saigon was a rather wild city in those days with war raging around it and I was looking forward to few quiet days in KL.
A Malaysian Introduction
Indeed, Kuala Lumpur was a far cry from both Manila and Saigon. It could best be characterised in those days as a small rural town. I stayed in the city's only five-star hotel, the newly opened Hilton Hotel, which subsequently became the Crowne Plaza and is now being knocked down.
My friend lived in a bungalow a few kilometres from KL. It was only a short distance from KL, but we seemed to leave the built-up area very fast and we were soon surrounded by trees and countryside before reaching a lovely colonial bungalow with a well-manicured, English style garden.
During dinner, he and his wife explained how much they loved Malaysia and living in KL, but I left them and the country feeling very grateful I had not been assigned there. As a young single man, I rather liked the nightlife and having plenty of things to keep me occupied I only visited one more time before my company advised me they were appointing me as the Country Manager for Malaysia in 1988. They had already set up a wholly owned operation in Malaysia, which was doing quite well. By then, I was living in Tokyo, married with two small children. On one hand, I was a little apprehensive about the life we would have in Kuala Lumpur, while on the other, I welcomed leaving the very crowded city Tokyo had become, to say nothing of the frequent earthquakes.
First Steps
My wife and I went through a very pleasant cultural shock. There was so little traffic on the roads compared to Japan that it was delight to drive around. It was also lovely to have so much green countryside close by, not to mention the open spaces and many trees which were few and far between in Tokyo which had become something of a concrete jungle.
The warmth of the Malaysian people after the less-hospitable crowd in Tokyo was another welcome change. Of course the widespread spoken English helped, as I had already reached the conclusion that I am linguistically challenged.
The only shock was when I told the real estate agent I was looking for an apartment of between 2,500 and 3,000 square feet, like we had in Tokyo, and she looked at me in amazement, telling me it would be very difficult to find such a large apartment in KL. It's interesting that today, 25 years later, there are buildings where the smallest apartment is that size and in some cases bigger. In the end, we settled for a house.
My office was in what was then the MAS building, and I looked across the street at the Equatorial hotel and the race course behind it. A lovely view, but it was not to last long as plans commenced to relocate the race course to make way for the thenworld's tallest buildings and a large park. Soon after, construction of the iconic PETRONAS Towers was underway.
There was a much smaller expat crowd than in Tokyo, but we still found plenty of places to go and things to do. We often took road trips out of KL, even though there were no highways. In Tokyo, we always came across a massive traffic jam, but apart from public holidays we rarely had that problem in Malaysia. How times have changed.
Back then, roads were being built everywhere, including the North-South highway from Singapore to Thailand and many more roads in and around Kuala Lumpur. When I moved to Section 17 in PJ, people asked why I chose to live so far outside KL; today, the residential communities have moved out much further. The narrow road I once travelled to get to my house is now a major three-lane highway.
A City's Continuing Evolution
The rapid population growth has changed the way people live. Apartment living, which was once relatively uncommon, is now people's first choice. The gated communities which have sprung up around KL have become very popular with more affluent residents. The number of new, high-priced, luxury condominiums with amazing facilities seems to be limitless.
Construction was evident all over the city and appears to have continued almost uninterrupted until today. It has been both exciting and fascinating to watch the slow but constant transformation of the city. The first modern shopping mall, Lot 10, was opened soon after I moved to KL, to much fanfare. It was attractive and very different to the typical shopping centres with their open-fronted, non-airconditioned shop lots. It seems hard to believe that it received so much interest then when today, large modern shopping malls are an accepted part of life and attract tens of thousands of Malaysians and visitors every day. Amazingly, Malaysia now boasts three of the world's ten largest shopping malls. It has also been ranked as one of the best places to go shopping in the world.
Recognising the increasing congestion in Kuala Lumpur in the '90s, the government decided to build a new city, Putrajaya, 25 kilometres away which would house all the government buildings and departments as well their employees and homes. It was expected that moving a few hundred thousand government employees out of KL would significantly ease congestion, but the rapid expansion of KL meant that when it was completed at the end of the decade, and the government offices finally moved out of KL, there was little noticeable impact.
At the same time, it was decided the city needed a new airport. It was hard to argue with the decision as Subang airport was a long way from world-class. It was, however, incredibly convenient: I could get there in about fifteen minutes from my house. Its proximity, combined with the more liberal rules in those days regarding check-in, meant I could leave my house one hour before take-off and still catch my flight. Now KL has a beautiful and impressive airport, but you have to leave home several hours before your departure time!
When I had important business meetings or hosted overseas visitors and wanted to take them out for a nice dinner, I invariably went to a hotel unless they wanted some local flavour. Fine dining restaurants outside of hotels were virtually nonexistent. This changed in the 1990s when there was an explosion of small, Western-style food and beverage outlets opening in shop lots and bungalows across the city. When I left American Express and came here to start my own business, I jumped on the bandwagon and opened a small restaurant and bar in Bangsar Baru which almost overnight was being transformed into a popular nightlife destination. This caused property prices to rise rapidly and landlords were quick to raise rents which ultimately contributed to its loss of popularity, although a few talented F&B operators have survived. I was not one of them.
Despite the enormous changes that have taken place since I moved here 25 years ago, it is still a city I love and I never regret setting up home here. Witnessing the city's transformation has made my life here all the more enjoyable. The current government now plans to move KL up to the next level and make it one of the world's top cities for liveability and economic growth. It is certainly an ambitious plan but having seen what has been accomplished since I moved here, and being witness to KL's evolution, it's certainly possible.
———————————————————————————————————
Source: The Expat June 2013
What are your thoughts on this article? Let us know by commenting below.No registration needed.
---
"ExpatGo welcomes and encourages comments, input, and divergent opinions. However, we kindly request that you use suitable language in your comments, and refrain from any sort of personal attack, hate speech, or disparaging rhetoric. Comments not in line with this are subject to removal from the site. "
Comments