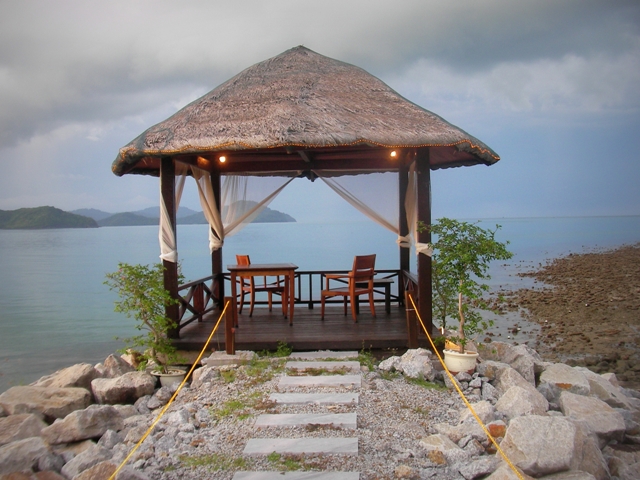 Just off the western coast of Langkawi lies Rebak Island, a 400-acre private island which houses a five-star resort and a yacht marina. It's one of the 99 emerald islands that make up the Langkawi Archipelago, and Frances Wilks sampled the natural beauty of its rainforest and unspoilt beaches.
"You will love Rebak," declared my brother as soon as I told him about my proposed trip. He knew the island because he had sailed there last year when he was circumnavigating Langkawi, but if you're not on a yacht, the way to reach Rebak is by high-speed launch from Port Langkasuka, itself a short taxi ride from Langkawi International Airport.
After 15 exciting minutes of crashing through the waves of the Senari Straits, which separate the smaller island from its larger sister, the launch noses its way into a secluded inlet.Tucked inside is a yacht marina – its forest of masts echoing the tall trees of the surrounding virgin jungles.The resort itself is short walk away.You take a deep breath and feel the gentle peace and pace of an island without traffi c.
Relaxing Retreat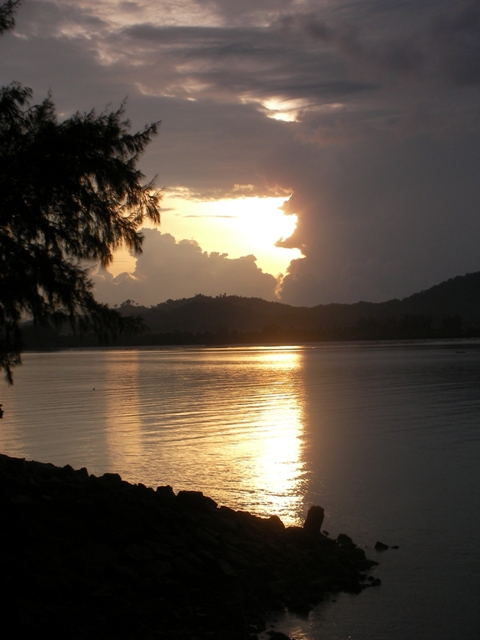 Nestling in tree-filled gardens leading to the beach is the hotel.The guest rooms are dotted about in low rise wooden vernacular buildings which softly blend into the natural environment.Their rustic exterior gives way to well-appointed, luxurious interiors with delicate touches of ethnic culture to make you feel that you're really in Asia.
The resort is managed by the Indian-based company Taj, which places a high premium on the comfort of the guests. As General Manager Sandip Mukerjee says "Service is essential in a five-star resort, guests have to feel comfortable and welcome in all
circumstances."They are good at special events, such as a silver service authentic Indian dinner I enjoyed on the beach just a stone's throw away from a private cabana overlooking the Andaman Sea which can be hired for a truly unforgettable meal.
Above all, Rebak is a place where you can relax. I slept so well there and felt the long term tiredness that city dwellers accumulate start to leave me.You get to notice the small things, such as a monitor crossing the beach or the first rays of dawn on the coconut tree outside your window.
As one guest who'd been there for a week said, "There's lots going on here but you can just chill out in perfect surroundings if you like. Playing a game or two of tennis and going to the spa takes up most of my day."The resort attracts honeymoon couples for its profoundly romantic setting, but it's also very family friendly, and there is much for children to enjoy and learn about on the island.
Keeping Busy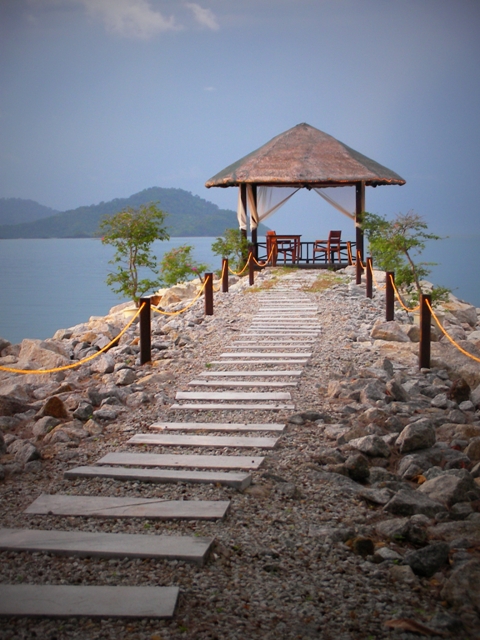 Some of the activities available on the island include bird watching, cookery lessons, and kayaking as well as nature walks.The walks are led by an energetic nature lover whose father was an Ayurvedic health practitioner, so he was brought up knowing all the different plants and what ailments they assist.
"This good for constipation," he says, enthusiastically proffering a handful of leaves. "If you boil this root and use the water to take a bath, it helps women after they have delivered a baby." As I wasn't suffering from either condition, I can't tell you how effective they are. He takes you on jungle paths deeply scented by the wild aromatic plants of the islands, pointing out the local trees, some of which are extremely valuable (their exact location a closely guarded secret). But we never found the Rebak tree – for which the island is said to be named. It may, in fact, be mythical.
Mixing with the "Yachties"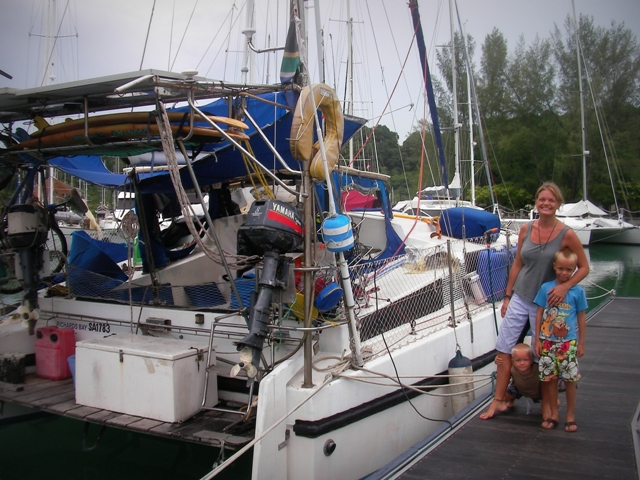 One of the things that really makes a stay at Rebak special is the fact that the yacht marina is twinned with the hotel. The "yachties" are encouraged to use the hotel's facilities and mix with the guests.
The longer-staying residents of the marina have developed their own way of life. In the morning the marina is quiet, except for a few yachtsmen making the necessary repairs to their boats. Other parents homeschool their children. Quite a few families are sailing around the world and some have given birth to children in various ports along the way.
As Jacolette and Joop Adam from South Africa said, "We set sail around six years ago with one child, and now we have three. We've managed to work on the internet while we've been away but the children do need to go to school so we're heading home." Formal schooling is impossible, so most of the parents use books and web-based learning programmes to create an education for these "sailor kids."There's a yoga class, and all are welcome to use the resort's launch to go Langkawi for supplies and a change of scene.
Last year, an artist, Elspeth McEachern, who was then living at the marina, was invited to become Artist in Residence at Rebak Island Resort and she gave lessons for children in return for studio space. She very much enjoyed her time there and painted the wildlife of the island. Now the hunt is on for a writer-cum-sailor who will give classes in creative writing for the hotel guests.
All too soon it was time to come back to the hustle and bustle of Penang, but I think about Rebak almost every day. Once visited, Rebak stays in the mind as a place of refuge and calm, and will draw me back before too long.
———————————————————————————————————
Frances Wilks stayed as a guest of Rebak Island Resort. For more details, visit www.tajhotels.com/ Leisure/Rebak.
———————————————————————————————————
Source: Penang International June 2013 – July 2013
What are your thoughts on this article? Let us know by commenting below.No registration needed.



" ExpatGo welcomes and encourages comments, input, and divergent opinions. However, we kindly request that you use suitable language in your comments, and refrain from any sort of personal attack, hate speech, or disparaging rhetoric. Comments not in line with this are subject to removal from the site. "



Comments