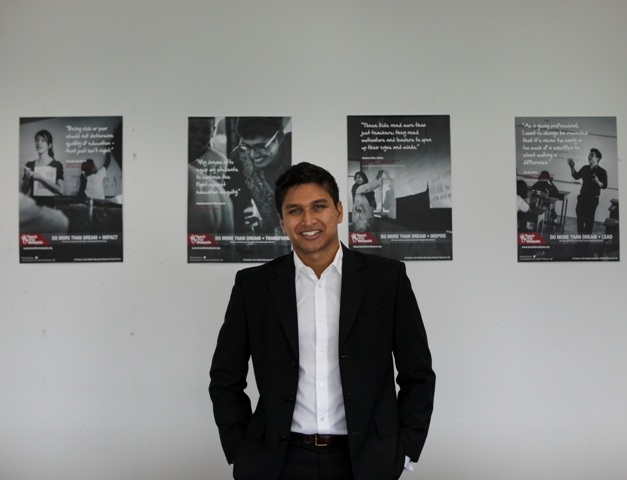 While most gen Y-ers are climbing the corporate ladder and planning their next big break, Dzameer Dzulkifli is running an NGO and working towards change. Manveen Maan has a chat with this enterprising young man who is determined to leave his mark on the country's educational scene.
Polished, professional, and impeccably dressed, Dzameer Dzulkifli is more than just your average CEO. With youth on his side and a zest for social development, Dzameer's passion for helping others has brought about changes previously unheard of in the Malaysian education landscape.
Currently Managing Director of Teach for Malaysia (TFM), a social development programme aimed at raising the educational standards in Malaysian schools, Dzameer recounts how he banded together with a colleague to come up with the innovative idea:
"Keeran (Sivarajah) and I were working as consultants at PriceWaterhouse Coopers in 2009. We realised that a lot of social issues stemmed from the lack of a basic education," he professes. "We were two years into our jobs with no management, leadership, or educational experience but thought we could work together to make something happen."
Ministry Muscle
Having "shamelessly stolen" the idea from other countries – Teach for America has been around for 22 years, while Teach for UK has been helping students for 12 years – Dzameer and Keeran found that the Malaysian government already had plans in place to close the educational gap and, quite conveniently, Teach for Malaysia provided the support to set the wheels in motion.
"We were actually lucky to be able to work together with the Education Ministry as not a lot of other TFM branches have that support," he says. Understanding that the help of the Ministry was essential to the organisation's success came quite early on: "We had a clear way of doing things where we needed autonomy to recruit and support. It took time working through the different levels of the Department [of Education] but we did not want to start something without full backing."
The programme itself is an ambitious one. Outstanding young leaders are encouraged to apply for the two-year stint during which they are sent out to low-income schools in the hope of adding educational value to their students' lives. Textbooks, true grit, and a belief in a better future have seen the inspiring efforts of TFM's "fellows" (as these teachers are called) bear fruit in ways that were unthinkable before these waters were tested.
Encouragement And Passion
Dzameer's passion for the cause comes from a place close to home – family. "My brother had dyslexia and he was labelled as naughty, disruptive, and, at one point, even a failure. He was told that he wasn't going to pass high school," Dzameer recalls. "But we found a school that believed in him, and he graduated. He did not know what he wanted to study after that, but luckily [our] dad told us to either follow our passion or strengths, so we did just that."
Being particularly adept at science and maths, Dzameer typically chose to undergo engineering at university, while his brother went down the path of passion. "He was really interested in the environment and decided to pursue zoology. It seemed to have no future career prospects but he went with what he was passionate about," he recalls. "Once he came back to Malaysia, he got a job at the Danum Research Centre in Sabah and was earning three times more than I was! He then got offered a PhD at the University of Zurich and took it. Now he gets paid to live in the Swiss Alps: snowboard for six months and collect data in the rainforest for the rest of the year. It's a tough life," he says, grinning.
Finding A Vocation
Although following his interests turned out favourably for his brother, it turned Dzameer's attention to the many Malaysians who are not in such favourable conditions and are unable to achieve their full potential. "We believe that a child's background should not determine his or her outcome in life, and that equal access to a good education is essential."
His own educational background involved attending private school in Malaysia and a stint at an international school in Singapore, followed by tertiary studies in the United Kingdom. Deeming himself as "lucky" to have been given these opportunities, Dzameer then went through the motions of getting a job in the corporate world before realising that sticking to the consultancy path was not the option for him. "My brother taught me an important lesson in life – follow your passion. I knew growing up I liked interacting with people and helping them solve problems and this line of work does just that."
He also cites his parents as an unwitting influence on the creation and development of Teach for Malaysia. "My parents did not work in education but made sure they instilled in us the importance of community service. I remember them dragging me to paint murals, fix up old folks' homes, take part in turtle conservation, or get involved in cleaning up the zoo," he explains. "When I went to university and started working, there was a clear gap in my life because it had become ingrained in me. So to all the parents out there who are making your kids do social service – watch out, they might start a social enterprise!" he jokes.
Wing And A Prayer
Surprisingly enough, Dzameer attributes much of his success to that often unheralded quality – youth. "It gives me more credibility," he says thoughtfully. "When you are young you do not have all the answers. So when you approach someone and say 'I have a dream and I need to your help to make it happen' there's a type of mentoring effect that kicks into place, willing them to support you."
Going hand-in-hand with youth is the other unlikely asset of inexperience. The development of the organisation happened slowly, with Dzameer and his team conquering one task at a time. "It's about taking small steps. There's also a sense of fearlessness that comes with not knowing what roadblocks you will face," he confesses. "If we had thought about it in great detail, there would have been a thousand roadblocks to throw us off track. So we just winged it and then solved each problem as it happened."
Overcoming these obstacles came as a boost of confidence for Dzameer and his young team: "My confidence is definitely still growing. We've gone from two to 45 staff members, so every day is a huge learning curve."
The driving force behind the rapid expansion of Teach for Malaysia is its team of bright, young minds and Dzameer is quick to point out the remarkable accomplishments his staff has achieved: "All of them are utterly outstanding," he beams. "The team does everything – from recruiting to planning training sessions to working on communications and fundraising. There would not be any [teaching] fellows without them." The changing of one's mindset is one of the most challenging parts of the job – but not impossible. "We work with kids who often feel that because no one else in their community has achieved anything, they would not be any different," he states. Recounting his own childhood experiences, Dzameer recalls how his own perception of success altered as he grew up. "As a kid I had a fixed mindset where I believed you were either good at something, or not. Over time I met so many people who completely shocked me in terms of how hard they worked to be outstanding at their craft. It made me abandon the one-dimensional view I had and start adopting a growth mindset."
After all the long hours in the workplace, the hard work put in by fellows, and the improved report cards, Dzameer's wish still remains a simple one: "I want to be able to say that if my child was assigned to any school in Malaysia, he or she would get a decent education." If life is about putting in the hard work and time and reaping the rewards later, Dzameer is well on his way to extraordinary success.
———————————————————————————————————
For more information on Teach for Malaysia, visit www.teachformalaysia.org
———————————————————————————————————
Source: Senses of Malaysia Jul-Aug 2013
What are your thoughts on this article? Let us know by commenting below.No registration needed.
---
"ExpatGo welcomes and encourages comments, input, and divergent opinions. However, we kindly request that you use suitable language in your comments, and refrain from any sort of personal attack, hate speech, or disparaging rhetoric. Comments not in line with this are subject to removal from the site. "
Comments