Malaysia is a gastronomic wonderland. Good food is one of Malaysia's quintessential qualities and we don't disappoint when it comes to providing phenomenal culinary delights. While we have a vast selection of sumptuous food fare available at any time of day, not all restaurants are universally affordable.
Fret not however, as amazing and inexpensive food can easily be found throughout the Kuala Lumpur landscape. These places often serve mouth-watering dishes for only half the price it would cost you to have a meal at McDonalds, while being equally as fast and is a hundred times tastier. It is almost impossible to not eat well when in Kuala Lumpur, no matter your financial situation.
1. Chinese coffee shops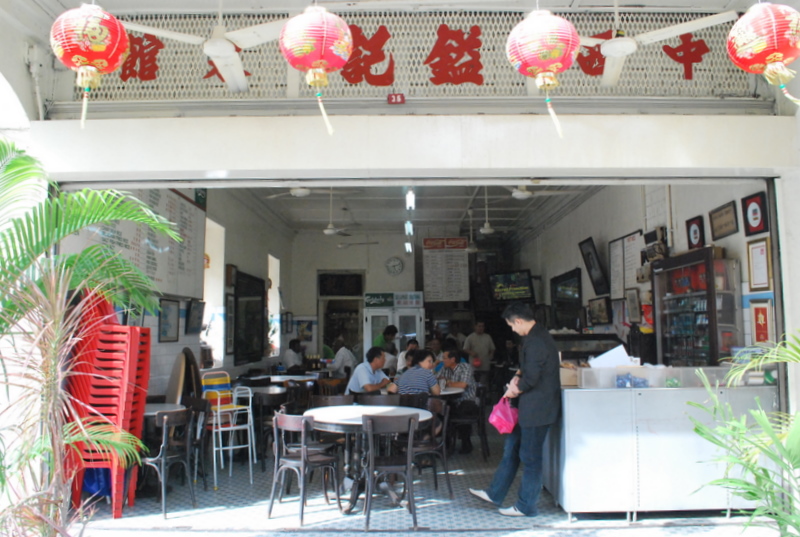 Scattered throughout the city are Chinese coffee shops commonly referred to as kopitiams. These shops serve delectable dishes at reasonable prices. For example,  a plate of wan tan mee which a dish of springy egg noodles served with a side of soup with pork dumplings and char siu (Cantonese style barbecued pork), can set one back around RM4.50 (~USD$1.50).
Other food treasures vary from coffee shop to coffee shop and usually depends on what each vendor specializes in but you can expect to find staples like stir fried noodles called char kuay teow, chicken rice, and some form of noodle soup, which all cost around RM4.50-RM5.00, depending on the sizes available.
For those with a big appetite, ordering two portions of different types of dishes would still only cost you around an estimated RM10.00. So, if you have a hankering for tasty food but don't wish to splurge tons of money, Chinese coffee shop restaurants are your best bet. They can be found at almost any major streets in Kuala Lumpur as well as around the Klang Valley. Just ask a local where the best kopitiam is and they'll be more than happy to point you in the right direction.
2. Mamak restaurants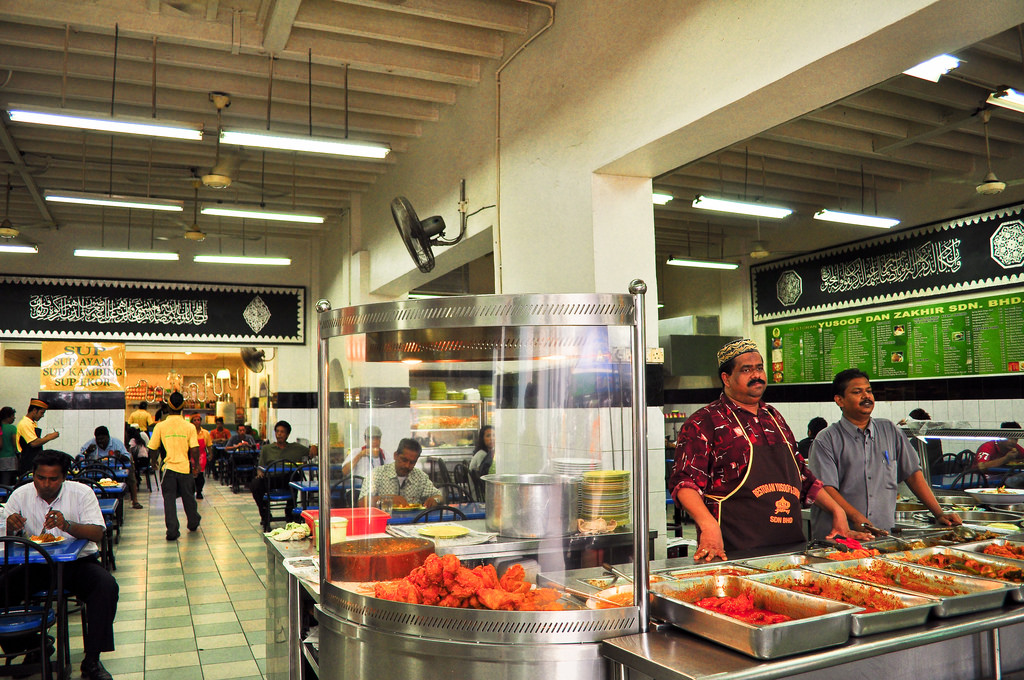 Another common eatery easily found in abundance on almost every street in KL is the mamak restaurant. Mamaks serve predominantly Indian-Muslim food fare and offer affordable, tasty delights that range from Indian-styled flatbreads, fried noodles, to rice with curry.
These Malaysian cafés cum restaurants typically serve nasi kandar, which consists of a bevy of different types of curries, vegetables, seafood, and fried meats you can choose from to eat with a serving of white rice. This mixed curried rice dish typically sets one back about RM10-12. Dishes like roti canai, maggi goreng (fried instant noodles), tandoori chicken, and naan also usually cost less than RM10 while drinks are extensive and reasonably priced as well, with most drinks ranging from RM2.00-RM3.00+.
Different mamaks specialize in different things with some offering better dishes than others, so be sure to ask some locals about their favourite mamak joints. Pizza naans, dry-curried chicken, teh tarik (pulled tea), mee goreng, mutton soup, and a plethora of other yummy goodness await the budget-conscious hungry traveller. As an added bonus, most mamaks around the city are open 24/7 and are a popular hang out spot for the younger generation, especially during football season, so you might make some new friends while you're there.
3. Street side stalls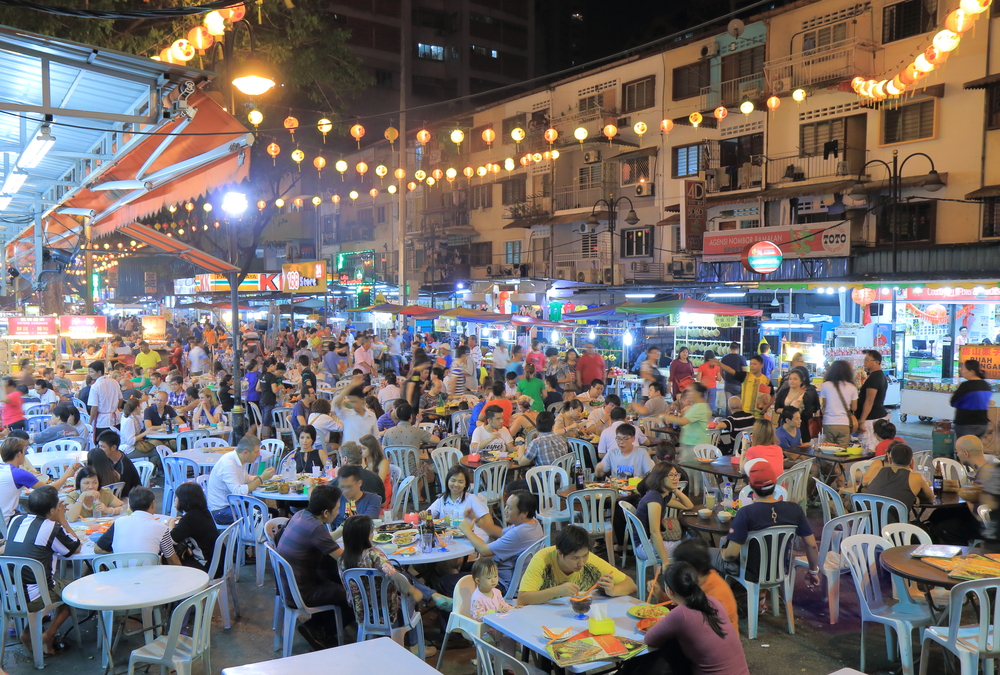 Another viable option to enjoy good and cheap food is to visit one of the many street stalls that are spread all over the the city. Street food is one of the best ways to sample a culture's gastronomic pleasures as it is often unpretentious and simple. Street side stalls selling Malay, Chinese, and Indian food and desserts are often affordable and delicious, usually costing around RM10 for a meal with a drink, and maybe slightly more if you're really hungry.
In fact, some Malaysians will even tell you that the best versions of certain Malaysian dishes such as nasi lemak, chicken rice, or beef noodles are found at specific street side stalls. Everyone has a favourite. With a relatively low operating cost, these stalls charge very little in return for delicious food.
But be warned, not all street side stalls serve scrumptious and hygienic food. A good way to see if the food is fit for consumption is to take a look at the  general cleanliness of the stall and the popularity of it before you decide if it's worth dining there. Popular places in KL that have a concentration of street vendors include Jalan Alor and Chinatown.
4. Restaurants that offer set lunches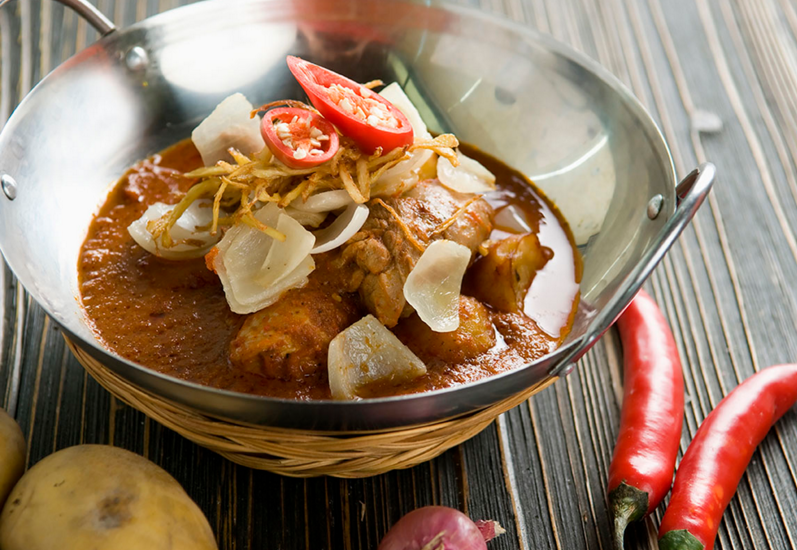 Since KL has a diverse variety of places that serve good food, restaurants around town have long offered set lunches to compete with more affordable eateries like mamaks and kopitiams. These restaurants typically range from middle to upper class establishments and they generally offer various set lunch menus ranging from cheap to expensive in hopes of attracting the working lunch crowd.
Restaurants that typically offer good lunch deals usually include a main meal and drink with prices averaging around RM10-RM20+ while other more affluent restaurants tend to offer three to four course set lunches at higher prices. It is relatively easy to find restaurants that offer set lunches around the city and many establishments are more than happy to let you examine their set-lunch menu upon request.
A quick tip: if the restaurant is empty, it generally means the food is not that great, however reasonable the prices might seem. Malaysians are diehard foodies and a full-house isa great indicator if the food is worth your time and money. It should also be noted that some restaurants offer dinner sets as well, albeit for a higher price than their set lunches.
Check out this article on our sister site, EatDrink.my, for a list lunch sets under 20 that you can find around Bangsar and Bangsar South.
Honourable mention
5. Annalakshmi Vegetarian Restaurant
While the aforementioned food joints are the most typical places KL's residents usually flock to, one unique place in town falls into the 'pay anything you want' food category. Annalakshmi is an Indian vegetarian eatery in Brickfields that works on the extremely modest 'you-pay-what-you-want' principle. With all proceeds going towards the Temple of Fine Arts, this place is essentially a charity restaurant.
The food here is cooked by volunteers and is as tasty as it is tempting. Annalakshmi serves a daily buffet spread that changes everyday; all the while focusing on providing healthy and wholesome food to the community. While it opens for both dinner and lunch from Tuesdays to Sundays, it is typically busiest during lunch hours as the working crow takes over the dining area. The restaurant itself is styled with classical Indian furnishings and the scent of delicious vegetarian Indian fare will surely tempt even the meat-lovers.
This article was originally published in 2013 and was updated in May 2016.
---
"ExpatGo welcomes and encourages comments, input, and divergent opinions. However, we kindly request that you use suitable language in your comments, and refrain from any sort of personal attack, hate speech, or disparaging rhetoric. Comments not in line with this are subject to removal from the site. "
Comments