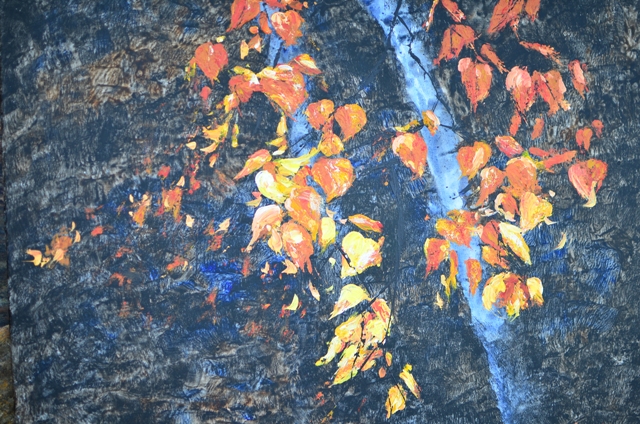 Almost every month in 2012 and most of 2013, we featured female artists all attending the same art class at Inspire Academy where their teacher, Mr. Yeo Eng Peng, is a longtime, renowned artist himself. Most of these ladies are middle- aged and after leaving careers or raising children, they have turned their attentions once again to their initial passions for art. Many of these ladies are extremely talented and several have been collected into some major collections. They asked me to check out their classmate, Swee Kim Tio's work in the hopes I would be impressed enough to want to profile her and put her paintings on our cover for July.
Well, I was indeed impressed. Her use of bold, primary colours next to each other is a technique I have often admired. Her paintings tend to leap off the canvas because they are extremely vivid and one can feel the artist's emotions as reflected by the paintings.
I decide to let "Kim" as she is known, speak directly to our readers so they could experience first-hand her emotional passion about art, so I interviewed her recently.
Why do you like painting?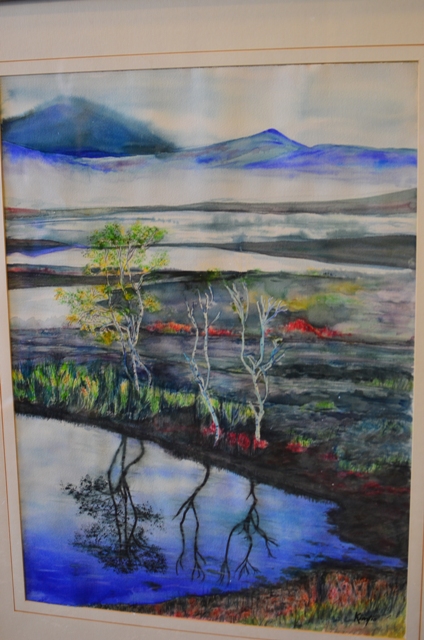 Painting is a very therapeutic and relaxing activity for me. I can share my innermost feelings with others through my interpretations of what I see around me and what I imagine by painting them onto a canvas. Sharing my feelings is of paramount importance to me.
I'm completely immersed in a world of my own while painting, free of stressful and negative thoughts. My mind feels relaxed enough to become stimulated with ideas whenever I want to create a piece of work. While I paint, I'm not thinking about selling it or what art critics might say. My primary reason for painting is to feel satisfied when I know I have completed a good work. The fact that other people also like my paintings, buy and even collect them is just extra to me.
When did you first notice you liked art?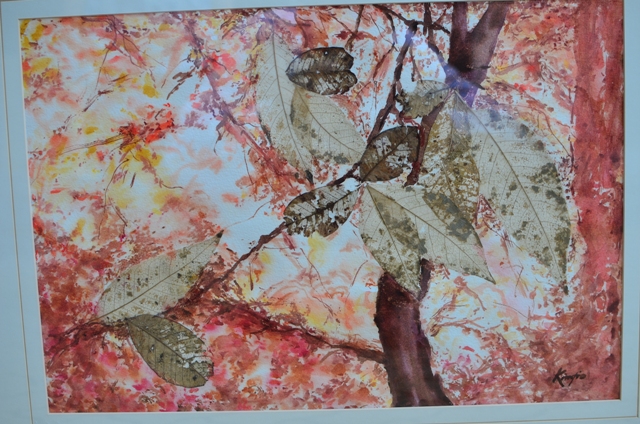 When I was first starting primary school. By secondary school, after winning several art prizes, I realised, "Hmm, I am quite good in art!" and believe I might have a genuine talent for it. This made me feel very happy because I personally love art of all kinds including the Masters and so many others over the centuries.
What media do you like best to work in?
I started at Academy Inspire in 2005, primarily with watercolour. However, I actually retired from teaching in 1993 and spent years trying to find a good watercolour tutor. It seemed all the tutors only taught in poster colours, oils or acrylics. Finally, I found a great teacher in Mr.Yeo Eng Peng. He teaches many different, classic and modern, techniques while allowing me the freedom to experiment with my own style. After a few years of watercolour painting, I ventured into acrylics, incorporating my watercolour techniques. Painting in acrylic is much more "forgiving" than watercolour, as "mistakes" can be covered up, painted over and corrected.
How do you use colour to make your points to the viewer?
Colours can best used to express moods. Through colours, the viewers can sense calm, vibrancy, strength and a whole lot of emotions, just as I do. Colours lend the artist the tools to express their feelings and to skilfully arrange their compositions. I like to take risks on canvas with my bold colours, often placing them side by side. However, I don't think they clash with each other but rather enhance the painting. Colours enable me to give energy and movement to the painting, too.
Do you plan on being a full-time artist?
I hope to be able to continue painting full time from now on. Painting is my genuine passion and I am extremely grateful that I have a talent for it as it really adds so much extra quality to my life.
What are some of your specialty themes and topics?
I believe I have a diverse range of specialties. Many artists here in Malaysia will spend their entire career painting only one topic like one specific type of flower, or painting buildings or painting trees. I prefer to paint many different things so that I can grow as an artist. However I would say that the topic I like best of all is to paint things from nature. Items like flowers and plants. I have a technique used since 2005 where I put real, dried leaves into my paintings creating an extra media. I also love to paint landscapes and I like to use my skill in demonstrating different perspectives by painting lanes and paths to show depth.
If anyone is interested in purchasing any of the paintings displayed on these pages, Kim has put a special Expat price on each; note that some are framed. Just email me directly at [email protected].
I would also like to inform you that we have a dozen paintings by our May artist, May Ling hanging throughout our 7th floor office. You are welcome to drop by to view them or purchase them; kindly just email me prior to visiting.
———————————————————————————————————
Source: The Expat July 2013
What are your thoughts on this article? Let us know by commenting below.No registration needed.
---
"ExpatGo welcomes and encourages comments, input, and divergent opinions. However, we kindly request that you use suitable language in your comments, and refrain from any sort of personal attack, hate speech, or disparaging rhetoric. Comments not in line with this are subject to removal from the site. "
Comments